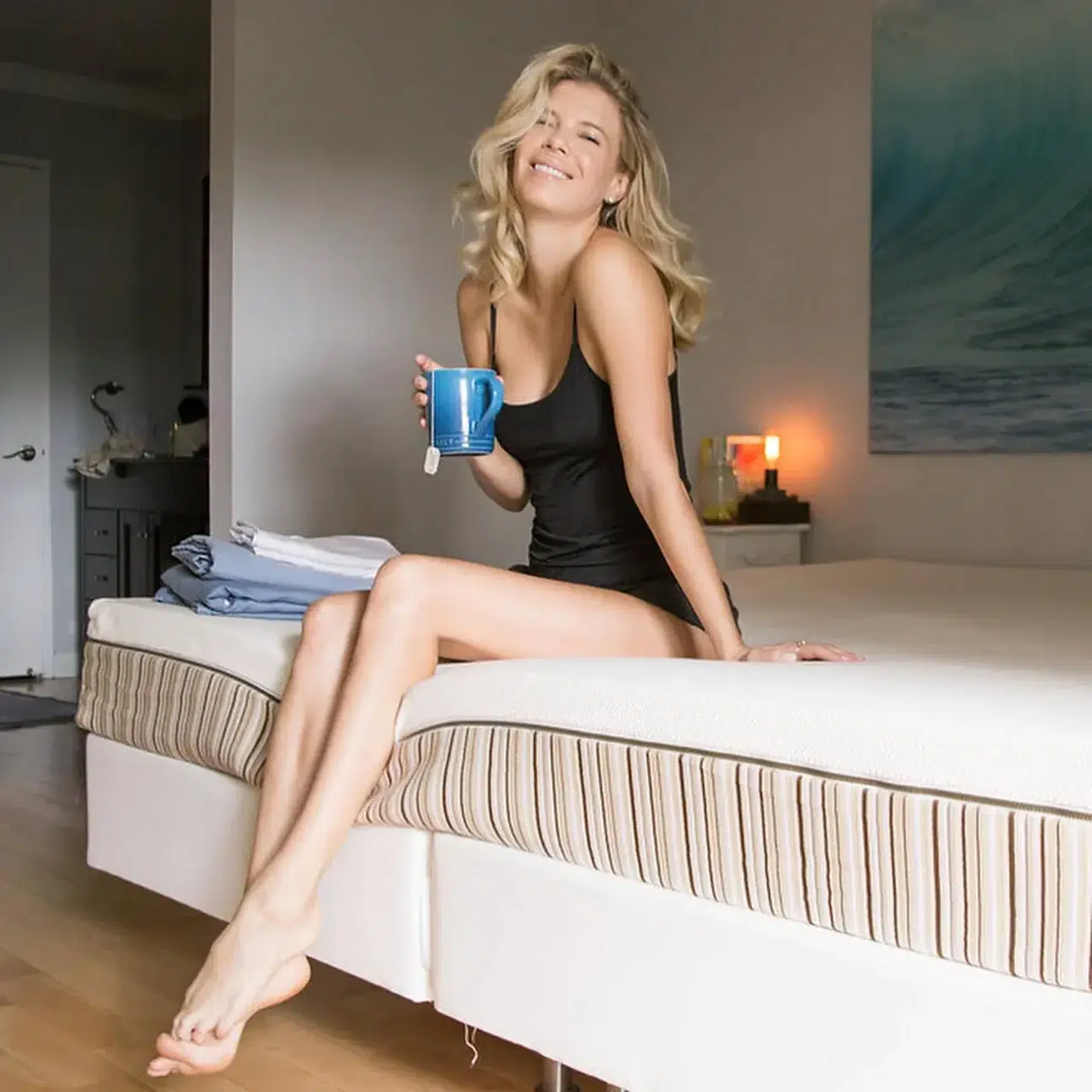 We earn a commission if you make a purchase, at no additional cost to you.
The Essentia Tatami Hybrid mattress is the first spring and latex mattress offered by Essentia. They label it their, Essentia Crossover™. There's a reason that hybrid mattresses are trending and that's because they give you the benefits of spring with the benefits of foam or in this case, latex. Essentia uses a patented natural memory foam formula that actually feels like foam instead of latex which gives it a completely different feel from the competition. What you get is a mattress that is lighter than their other offerings, comes shipped in a box and is relatively affordable for an Essentia mattress.
Overview of the Essentia Mattress
You can order your Essentia directly from their website. This mattress comes with free shipping and a 120 day trial period. Just keep in mind that Essential will charge you a transportation fee which according to their website is 9% of the cost of the mattress.
Here's a video showing how the Essentia works Pay attention to how the latex reacts. It is slower to recover than typical latex which was unexpected.
Construction of the Essentia Tatami Hybrid Mattress

Below are the construction specifications of the mattress from their website.
No Chemical Flame Retardants
Made in Essentia's GOLS and GOTS certified organic factory, there are no chemical flame retardants used on any Essentia product.
Organic Cotton Cover

This GOTS certified organic cover features a full zip making it easy to remove and washable.

Comfort Layer

1.5" Essentia patented natural memory foam on top of 0.5″ natural support latex foam. This one of a kind comfort core offers contouring pressure relief and support as your body transitions to the pocketed coil support core.

Support

8″ individually pocketed support coils made of recycled steel, on top of 0.5″ base cotton padding for zoned ergonomic support that offers reduced motion transfer and edge support that won't bottom out.
What Makes Essentia different from other Latex Hybrid Mattresses?
Essentia is 1 of only 2 latex foaming companies in North America. That means they make the latex foam in America and have complete control over feel and quality. Essentia imports rubber tree sap and then make foam from that. It takes significantly less space than importing finished foam and therefore cuts down on fuel consumption during transportation.
How Much Does the Essentia Tatami Cost?
Here are the prices of the mattress as of this writing.
[table id=88 /]
My Essentia Tatami Findings
Unboxing the mattress was a little difficult. The mattress is not folded so it comes in a longer box. Instead of being able to simply pull it out of the box, I had to tear the box open from the side. It was a small inconvenience but did take extra time and effort. Once you get it out of the box and on your bed, you will notice that the mattress has an easily accessible cover that can be washed but I would recommend using a mattress protector.

As you can see the natural memory foam layer is softer than traditional latex even though it is an all-natural material. This is what really sets the mattress apart from the competition.
The Tatami has adequate edge support because of the coil system underneath. This is a zoned coil system that has perimeter edge support.

Here's a shot with my 14 lb. bowling ball to further illustrate sinkage. There is just a little extra fabric in the cover to allow the material to fully conform to your body.

Here you can see how it conforms for side sleepers. This mattress feels very similar to a foam and spring hybrid without all the chemicals. If I didn't know this was latex I would have it pegged as foam.

Here you can see how the natural foam will leave an impression. I put my hand directly on the natural foam layer for about 5 seconds.

As you can see it leaves a distinct impression that recovers after about 4-5 seconds.

My Essentia Tatami Recommendation
Essentia is the only company that I know of that makes a natural memory foam. This is no gimmick. Out of the hundreds of mattresses I have reviewed, none have been able to achieve this feel with all-natural materials.  I highly recommend this mattress for side sleepers that want great contouring and excellent pressure relief without the drawbacks of foam which are primarily off-gassing and the environmental impact.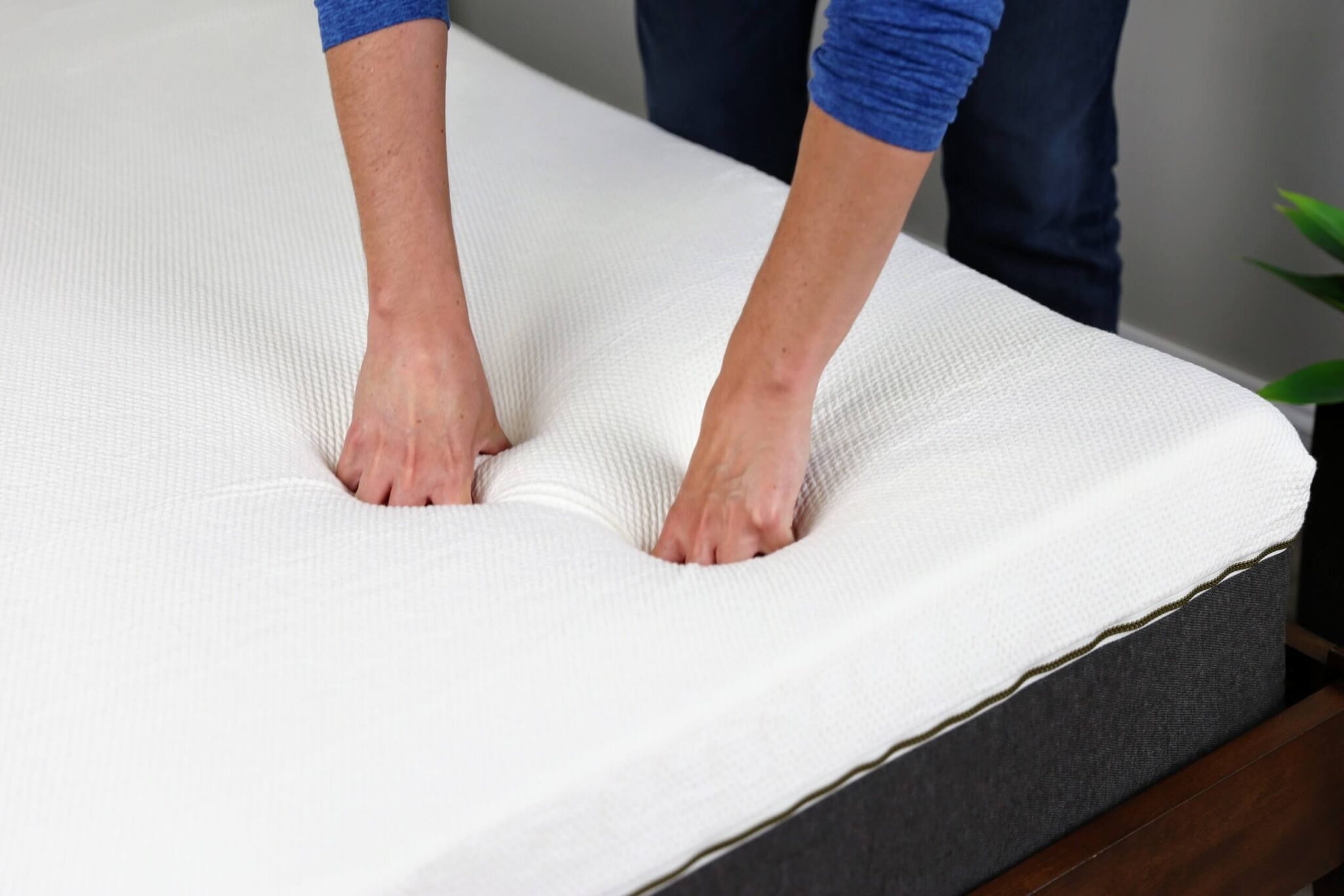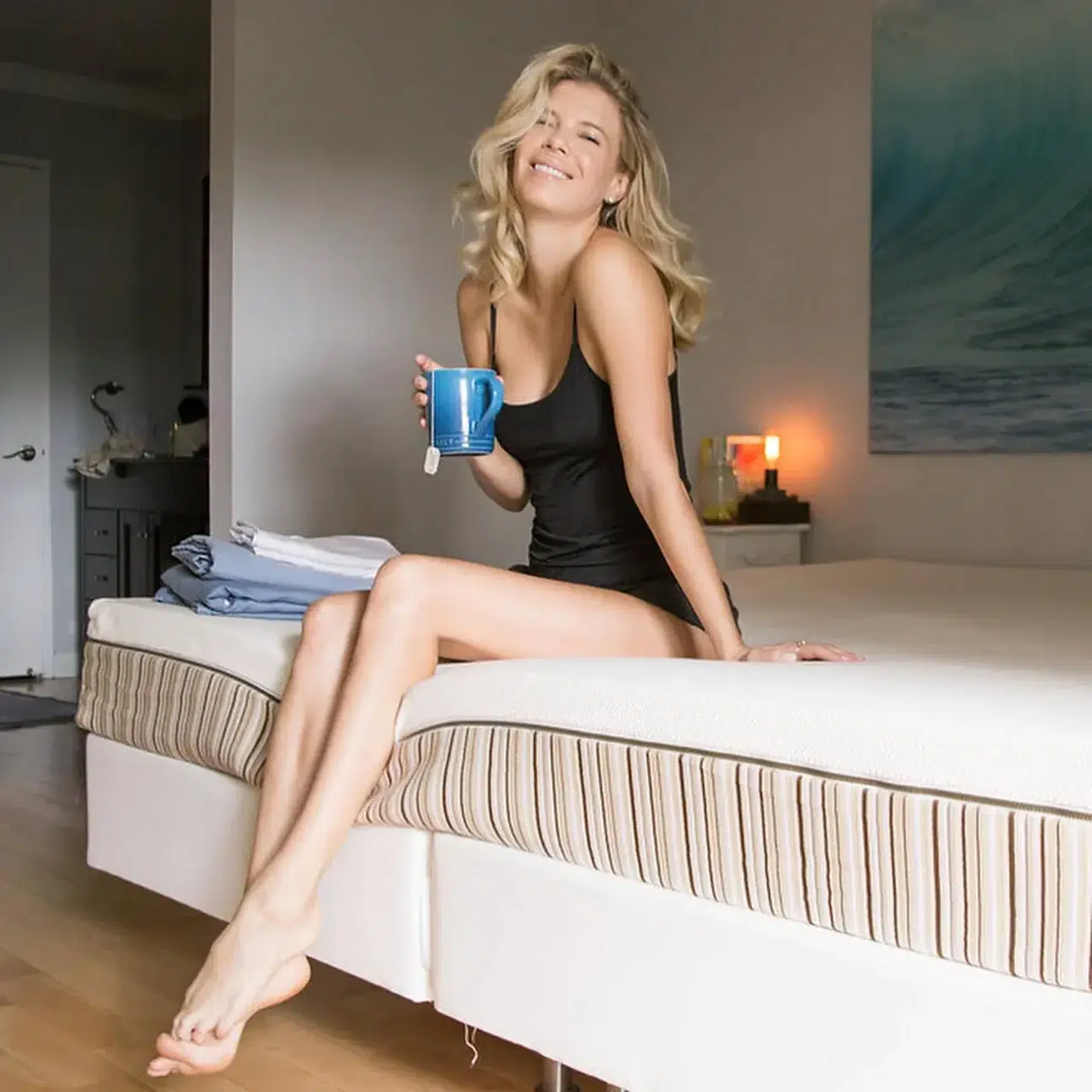 We earn a commission if you make a purchase, at no additional cost to you.
Why Are Essentia Mattresses So Expensive?
Essentia mattresses tend to be more expensive than many other mattresses on the market for a variety of reasons:
Materials Used: Essentia mattresses are made from natural and organic materials, like natural latex. The process to harvest, process, and produce organic latex is more labor-intensive and costly than synthetic or blended materials.

Certifications: Essentia mattresses come with various certifications, like GOLS (Global Organic Latex Standard) and GOTS (Global Organic Textile Standard). These certifications are indicators of high-quality and organic materials but come with additional costs associated with ensuring compliance and getting certified.

Manufacturing Process: Unlike many mainstream mattresses that are mass-produced in factories, Essentia mattresses have a more hands-on and meticulous production process to ensure quality.

Health and Environmental Benefits: Essentia mattresses emphasize non-toxic, VOC-free, and environmentally-friendly benefits, which appeal to consumers who prioritize health and environmental sustainability. These features can add to the cost due to the rigorous standards and testing involved.

Durability and Longevity: Higher quality materials and construction often result in longer-lasting products. Investing in durable materials and processes can increase initial costs, but the idea is that the product will last longer, providing better value over time.

Marketing and Branding: Like any premium brand, part of what you're paying for is the brand reputation, marketing efforts, and the promise of a particular kind of experience or quality associated with that brand.

Special Features: Some Essentia mattresses come with added features, such as customization options, zoned support, or specific designs intended for certain sleep preferences or issues.

Direct-to-Consumer Business Model: While bypassing middlemen and selling directly to consumers can sometimes result in cost savings, it also means the company bears the entire overhead cost of showrooms, customer service, and other business operations, which can influence pricing.

Research and Development: Companies that prioritize innovation and invest in R&D to continuously improve their products might incorporate those costs into the product pricing.

Satisfaction Guarantees and Warranties: Offering generous trial periods, return policies, or warranties can influence the final price point, as companies anticipate potential returns or warranty claims.
It's worth noting that while Essentia mattresses might be pricier than some alternatives, many people find value in investing in a quality mattress that aligns with their health, comfort, and environmental priorities. When considering any expensive purchase, it's essential to weigh the benefits against the cost to determine if it's the right choice for you.
Essentia Mattress Models and Prices
| Model | Price (Queen Size) |
| --- | --- |
| Tatami | $2,448.00 |
| Stratami | $2,915.00 |
| Classic REM5 | $3,382.00 |
| Dormeuse REM9 | $5,362.00 |
| ProCor P1 Custom Mattress | $8,790.00 |
All Essentia mattresses are made with organic materials and are certified by the Global Organic Textile Standard (GOTS). They also come with a 120-night sleep trial and a 10-year warranty.
Pricing Notes:
Prices are subject to change.
Essentia offers discounts for military, teachers, and medical professionals.
Essentia also offers financing options through Affirm.
Which Essentia Mattress is Right for You?
Essentia mattresses are available in a variety of firmness levels, so it is important to choose one that is right for you. If you are unsure which firmness level to choose, Essentia offers a sleep quiz to help you decide.
Here is a brief overview of each Essentia mattress model:
Tatami: The Tatami is the softest Essentia mattress. It is ideal for side sleepers and people who prefer a plush feel.
Stratami: The Stratami is a medium-soft mattress. It is a good all-around mattress for people of all sleep positions.
Classic REM5: The Classic REM5 is a medium-firm mattress. It is ideal for back sleepers and people who prefer a supportive feel.
Dormeuse REM9: The Dormeuse REM9 is the firmest Essentia mattress. It is ideal for stomach sleepers and people who need extra support.
ProCor P1 Custom Mattress: The ProCor P1 Custom Mattress is Essentia's most customizable mattress. You can choose the firmness level, thickness, and other features to create a mattress that is perfect for you.