The CBD Pillow is a pillow that is capitalizing on the latest CBD trend by infusing CDB into the pillowcase to help you relax and get a better night's sleep. There is growing evidence regarding the benefits of CBD oil, and not only for sleep. I received a free medium CBD pillow for review. The way this pillow works is that it delivers a microdose of CBD that is infused into the pillowcase. The company claims that it is enough to last 6 months. At which point you can order a new pillowcase. Considering a pillow currently sells for $99 and a replacement case is $49 it could be expensive but certainly less expensive than dosing with a CBD tincture every night.
Unboxing the CBD Pillow
The packaging for this pillow is incredible. It was really fun opening it up. The first thing you see is the pillow cover which is housed it its own separate packaging, presumably to preserve the CBD infused inside.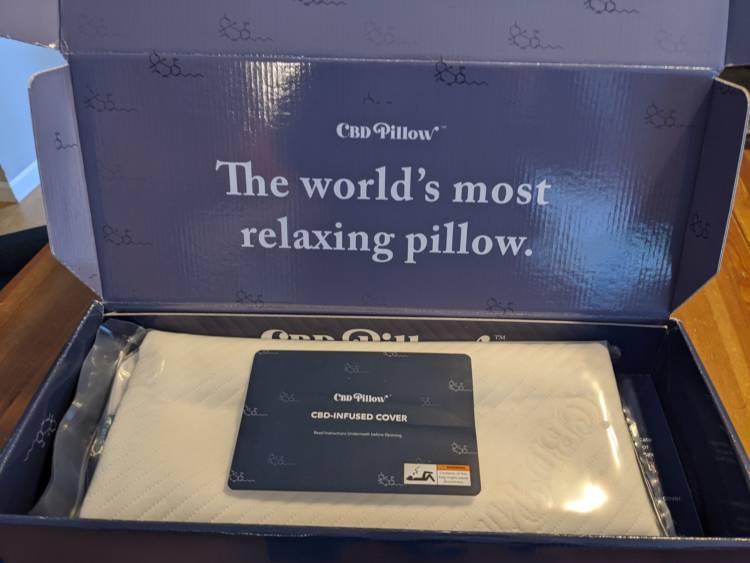 Underneath the pillow cover is are instructions and how it works. I have never taken CBD so passively before so there's really nothing you need to do other than lay down on it while you sleep.
Underneath that, you get to the pillow itself. The pillow is vacuum packed, rolled and wrapped so it looks smaller than it actually is.
The bottom of the box has more info on how the CBD is released and when to replace the cover.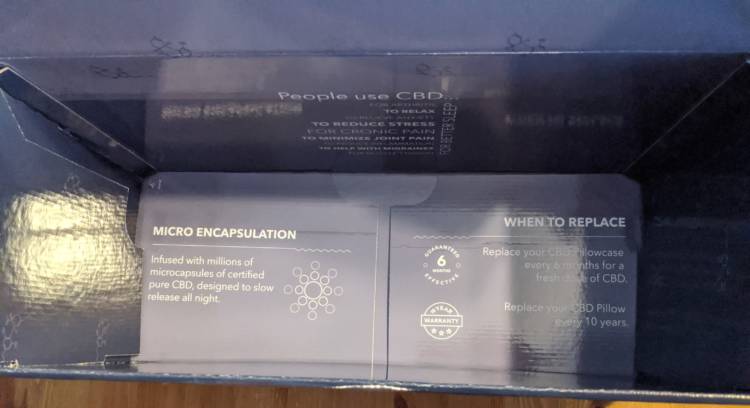 Construction of the CBD Pillow
According to the company each pillowcase contains the equivalent of 170 mg of CBD. That sounds like a lot but remember that you aren't ingesting this and it is slowly released over time.
Below are the construction specs of the pillow according to the CBD Pillow website:
Specs:
Dimensions: 30″ x 20″ x 5″
Weight: approx. 2.5 lbs.
Outer liner: machine washable, cooling bamboo-derived breathable rayon also serves as a built-in pillowcase.
Inside: Zippered, breathable inner chamber
Fill: Medium-firm customizable blend of hypoallergenic certified shredded memory foam and plush microfiber.
feels dry & silky to the touch
unscented
Features:
Durable, supportive gel memory foam core that supports your head and neck in any sleeping position.
Perfect for side sleepers, stomach sleepers and back sleepers
Dial in your perfect firmness level with our customizable fill system
Proprietary blend of fill for the ultimate comfort formula
Certified by CertiPUR-US® and GREENGUARD Gold to ensure low chemical emissions for safety, which means zero headaches or dizziness, just all natural better sleep.
My CBD Pillow Findings
Obviously setup is super simple. Just cut open the plastic around the pillow and open the pillow cover bag.
The pillow cover has a smell to it which I attribute to the CBD. I think it is something you could get used to and for people that normally use CBD, it shouldn't be an issue. The cover is soft and silky. The Pillowcase is what comes into contact with your skin and will deliver the CBD transdermally. My assumption is that you can still use a pillowcase over this to keep it clean and still get the benefits.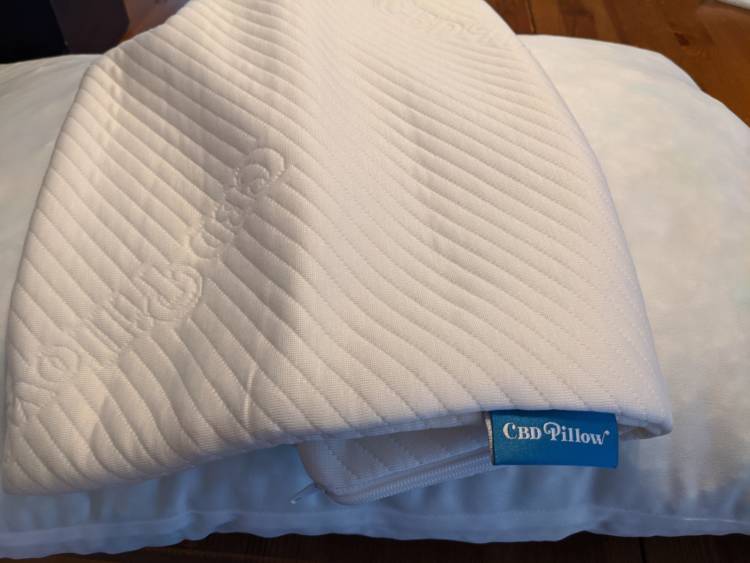 The pillow itself also has a zipper. This may come in handy if the pillow is too high. You can simply remove some of the shredded foam.
Here's a look at the foam. It is spongy so gives you a nice cushy feel that is also breathable.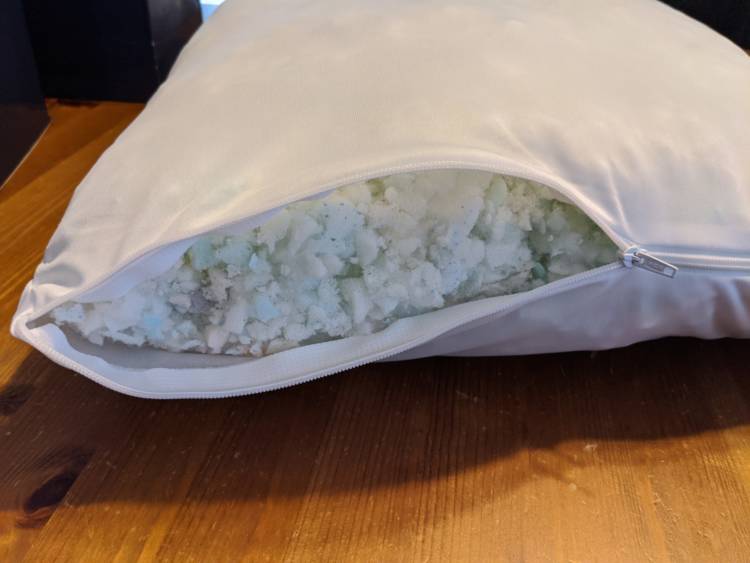 Heres the pillow with the pillowcase on it.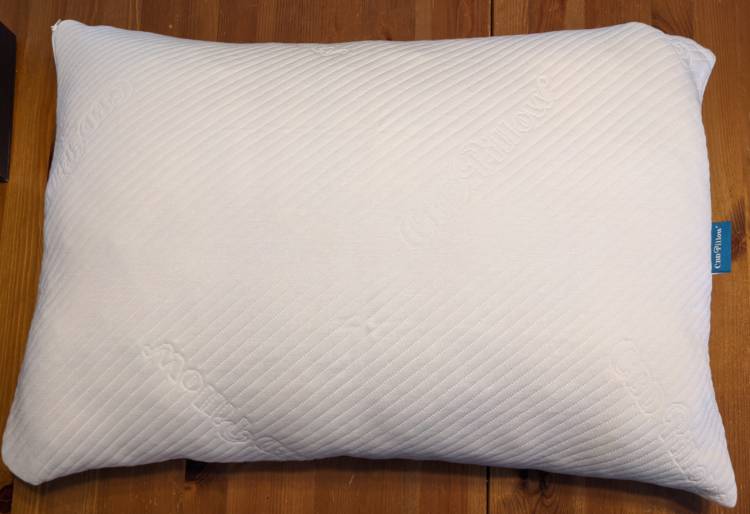 And finally, here's a profile view.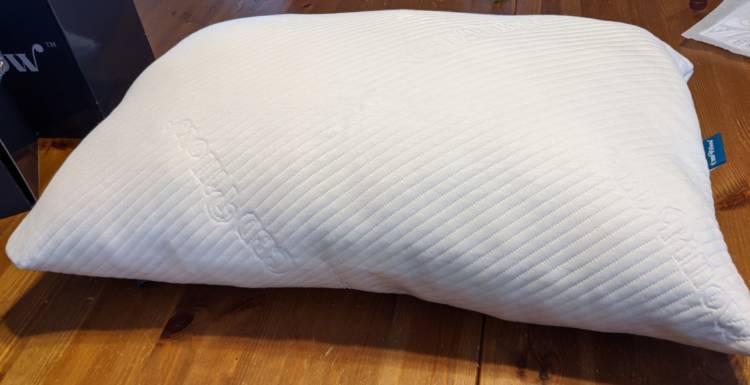 My Take on the CBD Pillow
First off, this is just a comfortable pillow. I found that the medium didn't offer enough support for me but I have a larger frame so would be better suited for the larger size. It was smart of this company to use a shredded foam as I think that's the best type of foam to use in a pillow, vs. a solid piece of foam.  I noticed a subtle effect from the CBD, I used a pillowcase over it but certainly not as strong as some tinctures I have used in the past.
I think this pillow is a great way to experience the benefits of CBD in a more passive manner. If you are already in the market for a new pillow, rest assured, this one will feel great. If for whatever reason you don't like it, you can return it within 30 days of purchase. CBD Pillow also has a 10-year warranty which is a bit much since I don't think you will want any pillow over 10 years but it's nice to know they warrant against defects.