How Burrow Furniture Started
Burrow Sofa Company is an American furniture company specializing in sofas, sectionals, and other home furnishings. It was founded in 2016 by Stephen Kuhl and Kabeer Chopra, who were classmates at the Wharton School of the University of Pennsylvania. The duo recognized a gap in the market for high-quality, affordable, and easily shippable furniture and set out to create a solution.
Burrow's mission was to redefine the furniture shopping experience by offering modular, customizable, and easy-to-assemble furniture directly to consumers. Their flagship product, the Burrow sofa, was designed with a focus on comfort, durability, and convenience. The sofa's modular design allows customers to choose the size, style, and fabric to fit their needs, while the easy-to-assemble feature eliminates the need for tools and complicated instructions.
Initially, Burrow launched its products through an online platform, cutting out the traditional retail middleman and reducing costs for consumers. The company's direct-to-consumer model proved to be successful, and it soon expanded its product lineup to include other home furnishings such as sectionals, chairs, tables, and accessories.
In addition to its online presence, Burrow opened its first physical showroom in New York City in 2018, offering customers an opportunity to experience their products firsthand. The showroom also serves as a hub for events and workshops, further connecting the brand with its customers.
Since its inception, Burrow has been committed to sustainability and responsible sourcing. The company uses sustainably sourced hardwood, recycled materials, and low-VOC (volatile organic compound) adhesives in its manufacturing process. Burrow's packaging is designed to minimize waste and reduce its carbon footprint by using minimal plastic and maximizing shipping efficiency.
Burrow Sofa Company has experienced significant growth since its founding in 2016. Its innovative approach to furniture design, combined with a commitment to customer service and sustainability, has made it a popular choice for modern, environmentally-conscious consumers seeking high-quality, customizable, and easy-to-assemble home furnishings.
[Tagline] Sofas dominate the living area. They are an integral part of your house décor. It is a piece of furniture that completes the home. In fact, home doesn't feel like home without the sofa there to lounge in, relax, work, and entertain. This pandemic has made this already essential piece of furniture even more important in daily life activities. Given how important your sofa is in your routine life, it only makes sense to buy one that not only takes care of your comfort levels but also provides good support and is durable. Sofa buying is made with a long term timefcn1'rame in mind since it is not something you change with the seasons. However, sofa buying is not as simple as it sounds, especially when done conventionally. Enter online shopping, and you have yourself a lovely sofa buying experience with no more rounds of shops looking at countless sofas only to buy one out of sheer exhaustion. You can easily sit in the comfort of your home and go through as many different sofa options as you want. The best thing is that it gets delivered to your doorstep. This article will take you through the Burrow Sofa. It is one of the pioneers of online sofa shopping and has redefined the concept of modular furniture, making it more comfort centric than is the market norm.
In A Nutshell
The Burrow Sofa excels in satisfying the needs of small city apartments and lofts. The company established itself with the motto to manufacture the perfect sofas for modern small spaces. The design is sleek and sophisticated to edge itself into the fast lifestyle of young working professionals as well as to satisfy the trendy urges of an American family complete with kids and pets abound. The design is just part of the package. It comes with a high comfort ranking to go with the looks. You can just as easily turn this sofa into your Sunday night Netflix binge bench as you can into a formal brunch set up. It blends beautifully into any role you want it to play. The size is great for a couple and even a couple with a kid. The assembly part is a very simple process and adds to the overall fabulous experience. All in all, the Burrow Sofa is a unique sofa that is aimed at bringing online shopping for a sofa into the forefront. It makes sofa shopping a fun and breezy affair with a fabulous product that fits wonderfully into your living room.
Pros and Cons
| | |
| --- | --- |
| Pros | Cons |
| Modern and sleek design | Limited fabric and color options |
| Easy assembly with no additional tools requirement | Only one style of sofa available |
| Features USB port and power cable | |
Full Review
Design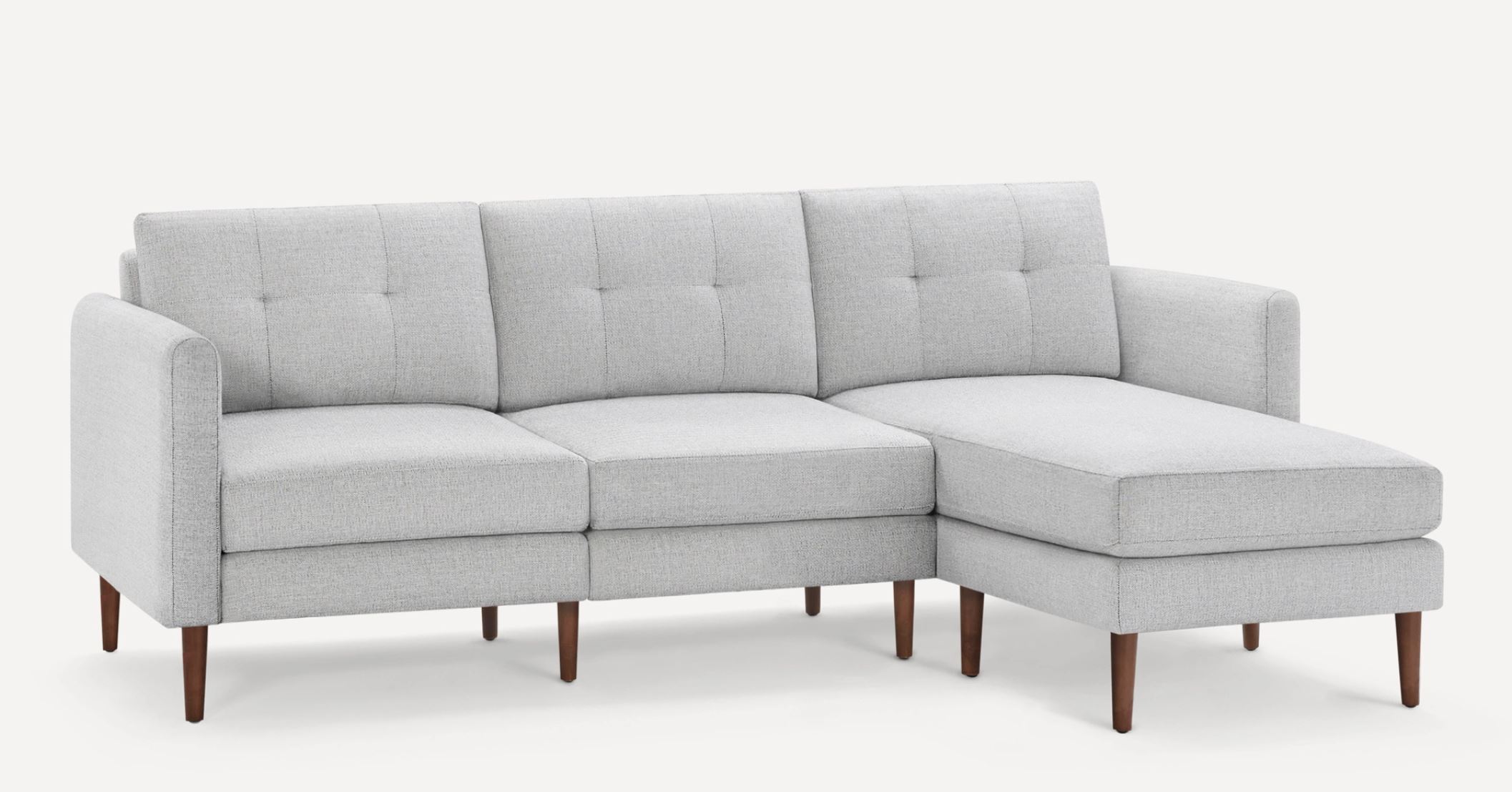 The Burrow Sofa is designed predominantly for the modern and modular lifestyle. It features a sleek silhouette, which is apt for city living. The sofa perfectly complements small living spaces of the New-York style living. This does not mean that the sofa cannot fit on well with other décors. The understated style statement of the Burrow makes it ideal for all types of living room décor. It is available in three safe colors of grey, charcoal, and blue. These colors ensure that you get a choice for personalization while making sure that any color you choose is sure to blend in well with your existing style. You also get to choose between three different sofa leg finishes, from a lovely warm walnut finish to a nice under-toned oak finish. Lastly, there is the black metal finish option for those that like a darker, more contrasting look to their sofa. Further, the sofa features a truly modular design that gives you the flexibility to set it up which way you like. All the parts can be set up together to give you different configurations making the sofa a fun furniture piece that will grow and accommodate your changing style preferences. You can add other parts to the sofa over time to expand it as well or jazz it up with other equally stylish pieces from this range. The bottom line is that you will never get bored with the Burrow Sofa. There is just too much to do with it.
Material and Construction
The sofa legs are made of parawood. This is more popularly known as the "Asian Oak" in layman's terms. The sofa frame, on the other hand, is made from hardwood and the panels are all single sheets of pliable and bent plywood. The materials are all sustainably sourced and made in the USA. The pinewood used is tested for durability and is resistant to warping with time. Tight Olefin weave material is used as upholstery. This is designed to be both stain-resistant and scratch proof. So, you do not have to worry about your cat scratching up the legs of the sofa anymore. The cushions themselves are made with medium density foam for the perfect balance of support and comfort. They are filled with shredded fill and fiber wadding to add to the sink-in and plush experience. All these materials are CertiPUR-US certified and free from all harmful chemicals and nasty toxins, making them safe for you and your family.
Comfort
Burrow has paid equal attention to comfort as well as style in this sofa. They firmly believe that a sofa is meant for lounging and reject the notion of a modular and modern sofa being inherently cold and uncomfortable. They are determined to scrap the idea that a "modern" sofa is a sofa that no one wants to snooze around in. Instead, you have a modern sofa with nice, deep, and fluffy cushions that just invite you to laze around in. These plushy and soft cushions are fitted in deep, expansive seats that accommodate the whole girth of the body well. No more perching on the edge or feeling like half your body is dangling at the corner of the seat with the Burrow Sofa. They even take care of the inevitable spills by making the cover stain-resistant and easy spot cleaning for easy maintenance and upkeep. The brand claims that any stain can be removed with a bleach solution spitz and nominal elbow grease.
Size
Burrow has recently redesigned the legs of the sofa. They now stand at 5 ½" tall. This makes for an adequate leg clearance that can easily accommodate a tall person without them having to fold their legs or slouch down to sit on the sofa.
Shipping and Delivery
You get free and fast delivery with each Burrow purchase. They do not charge you anything extra for shipping purposes, unlike most other sofa brands. So, you end up saving a cool $100 or so on shipping charges, which just adds to the positive shopping experience offered by Burrows. The sofa comes to your doorstep in 6 or fewer boxes. They are all similarly sized to be easily moved around and even carried up a flight of stairs. There are no heavy pieces involved, so moving the boxes will not be a problem.
Assembly
Most people cringe at the thought of furniture assembly. However, you can rest easy here. The company makes assembly as easy as counting one, two, and three. You just have to open the boxes, set the frames, and it is clicking them in place and latching on the legs. The legs come hardware-based, so there is no need to do anything more than screwing them securely in place. The assembly will take you about 15 minutes max. You just need to latch-up the different frames together, so the figuring-up part is which frame goes where. No heavy lifting, no additional tools, and a completely hassle-free assembly experience.
Real-Time Use
The sofa holds up very well with use. The cushions are good in supporting the weight of two adults over time. There is a slight sinking feeling to the fluffiness of the cushions, but not so much that it starts to look and feel worn out. You will not find any frayed edges or filling coming out from the seams like some other sofas in this price range, which makes the Burrow Sofa a good long term investment. The back section is very good for support purposes and has the right angle for a comfortable and extended sofa time. It does not collapse, and you don't have to worry about the sofa giving way under you. The upholstery also bears pretty well under spilled wine, pizza stains, and the occasional pasta sauce. It does a pretty good job of repelling most of these stains, but for those that leave a mark, you have a bleach solution to take of it. The sofa comes with a 30 days free trial period for the added comfort of knowing that you are not stuck with the purchase if you don't like it.
Bottom Line
If modern living in your zone style, then you should opt for the Burrow Sofa. It gives a new twist to modular taking it away from the cold styles to more warm and comfortable furniture products. The quick delivery and easy assembly only add to the overall sofa appeal. Even though you get only three color and leg finish options, these options will leave you satisfied. The durability of the sofa and the ease with which you can configure it into different styles will leave you excited to try this range. All in all, this sofa from Burrows is a keeper in all senses.
Shop Burrow
What Else Does Burrow Offer?
Burrow offers a wide variety of furniture, including:
Beds
Mattresses
Dressers
Nightstands
Wall shelves
Benches
All bedroom storage
Bedding & accessories
Burrow also offers a variety of seating options, including:
Sectionals
Sofas
Loveseats
Accent chairs
Sleepers
Sleep kits
Ottomans
Seating accessories
Burrow's furniture is made with high-quality materials and construction, and it offers a variety of styles to choose from. Burrow's furniture is also very affordable, and it offers a variety of financing options.
How Much Does Burrown Furniture Cost?
Here are some approximate price ranges for various types of furniture offered by Burrow:
Sofas: Prices for Burrow sofas generally start around $1,000 and can go up to approximately $3,000, depending on the size, fabric, and other customizable options.

Sectionals: Burrow's sectionals have a wider price range, starting from around $1,500 and reaching up to $5,000 or more, depending on the configuration, size, and customization options.

Armchairs and loveseats: Armchairs typically start at around $500, while loveseats begin at approximately $750. The prices can increase based on fabric choices and other customizations.

Tables, shelving, and storage: Prices for Burrow's tables, shelves, and storage solutions generally start around $200 and can go up to $1,000 or more, depending on the size and design.

Accessories: Burrow offers a variety of home accessories, such as throw pillows, rugs, and wall art. Prices for these items can range from around $50 to several hundred dollars, depending on the specific item and its size.
Keep in mind that these are approximate price ranges and may not be accurate at the time of your inquiry. For the most current pricing information, it is recommended to visit the Burrow website or contact their customer service team.
Burrow Trial and Warranty
Trial Period: Burrow offers a 30-day trial period for its furniture products, giving customers the opportunity to try out their new purchase in their home. If a customer is not satisfied with their purchase within the 30-day period, they can return the product for a full refund. The company asks that customers keep the original packaging for any returns and that the furniture be in good condition, free of stains or damage.
Warranty: Burrow provides a limited warranty on its furniture products, covering manufacturing defects in material and workmanship. The warranty period varies depending on the product category:
Seating products (such as sofas, sectionals, armchairs, and loveseats): Burrow offers a limited lifetime warranty on the frames and a 1-year warranty on the fabric, cushions, and other components.

Tables, storage, and shelving: These products come with a 1-year limited warranty, covering manufacturing defects in material and workmanship.

Rugs, wall art, and other accessories: These items have a 1-year limited warranty as well.
The warranty is valid for the original purchaser only and does not cover normal wear and tear, damage resulting from improper use or accidents, or issues arising from unauthorized repairs or alterations.
Is Burrow High Quality?
Burrow is known for offering high-quality furniture with a focus on durability, comfort, and style. The company has received positive reviews from customers and industry experts alike for its innovative approach to furniture design and commitment to using quality materials.
Here are some factors that contribute to the high quality of Burrow furniture:
Material Selection: Burrow uses sustainably sourced hardwood for its frames, ensuring durability and sturdiness. The company also uses quality fabrics that are soft, comfortable, and available in a variety of colors and textures. Burrow's cushions are made with high-density foam, providing comfort and support.

Construction: Burrow furniture is designed to be sturdy and long-lasting. Its modular design allows for easy assembly and disassembly, as well as the ability to customize the furniture to suit individual preferences and needs.

Design: The company pays close attention to design, offering modern and stylish options that can easily fit into various home décors. Burrow's furniture pieces are not only aesthetically appealing but also functional, with clever features such as built-in USB chargers and adjustable components.

Sustainability: Burrow is committed to environmentally responsible practices, using eco-friendly materials such as recycled materials and low-VOC (volatile organic compound) adhesives in its manufacturing process. This focus on sustainability also contributes to the overall quality of their products.

Customer Service: Burrow has a reputation for providing excellent customer service, with responsive support and a commitment to ensuring customer satisfaction.
While Burrow furniture is generally considered high quality, individual experiences may vary. It is important to research and read reviews from various sources to get a better understanding of the product's quality and suitability for your specific needs.
How Long Will A Burrow Couch Last?
The lifespan of a Burrow couch depends on several factors, including usage, maintenance, and environmental conditions. Generally, Burrow furniture is designed to be durable and long-lasting, thanks to its high-quality materials and construction. With proper care and maintenance, a Burrow couch should last for many years.
Here are some factors that can impact the longevity of a Burrow couch:
Material quality: Burrow uses sustainably sourced hardwood for its frames and quality fabrics for its upholstery, contributing to the durability and longevity of the couch.

Usage: The frequency and manner in which the couch is used can impact its lifespan. A couch that is used heavily or subjected to rough treatment may wear out faster than one that is used more gently.

Maintenance: Regularly cleaning and maintaining your Burrow couch, such as vacuuming, spot cleaning, and rotating cushions, can help prolong its life. Following the manufacturer's care instructions is essential to maintaining the couch's quality and appearance.

Environmental factors: Factors such as exposure to direct sunlight, humidity, and temperature fluctuations can affect the longevity of a couch. Placing your Burrow couch in a suitable location and maintaining a stable environment can help extend its life.
While it is difficult to provide an exact number of years a Burrow couch will last, it is reasonable to expect a well-maintained couch to last at least 7-10 years or more, depending on usage and care. Keep in mind that individual experiences may vary, and some components like cushions and fabric may show signs of wear before the frame itself.