Best Down Pillows
Brooklinen Down Pillows
Best down pillows for the money. Brooklinen always provides great quality.
We earn a commission if you make a purchase, at no additional cost to you.
Brooklinen stays true to its mission by offering affordable, quality down pillows to the masses. I had the privilege of reviewing all three different down pillows, plush, mid-plus and firm. These pillows are stuffed with down sourced from the world-famous duck farms of Brome Lake Quebec, Canada and have a 500 thread count cotton shell. To get that picture of Brome Lake in your head, here's a picture of the lake:
When you stay at a high-end hotel, chances are you will be sleeping on a down or down alternative pillow. They are very versatile and extremely comfortable. People often don't invest in them because of the cost. Pillows are finally getting the credit they deserve However it's wrong to think of a pillow as just a mini mattress for your head.  Although most online beds will appeal to most sleepers, foam pillows will appeal to far less. That's because with a pillow you really want to be able to sink in immediately and not have to wait for it to adjust. It also needs to breathe and sleep cool throughout the night. There are very few foam pillows on the market that do this. Down is just flat out softer and easier to adjust than foam so it often makes for a better pillow. Finally, these pillows from Brooklinen are much lighter than any foam pillows I have reviewed so if you switch positions at night or just want to have a good pillow fight, these are the pillows for you. Out of the three levels of firmness, I really liked the plush level of firmness. I sleep on my side and stomach so sometimes I want it flatter than normal but also want to be able to scrunch it up when I switch to my side. The other levels of firmness would probably best suited to back and side sleepers. The Brooklinen pillows are just as good a bargain as their sheets:
Compare these
pillows to the Scandia Home down pillow prices
below:
It's important to note that these pillows are made with duck down which at times be better than goose down. Most people will enjoy sleeping on down pillows so I always keep a set for guests that come to visit. I actually started my own pillow bar where they can choose their level of firmness. It's a nice hospitality touch. And it's to my advantage to have well-rested guests since they will be less cranky in the mornings! The Brooklinen pillows come in their own zip cases as seen below: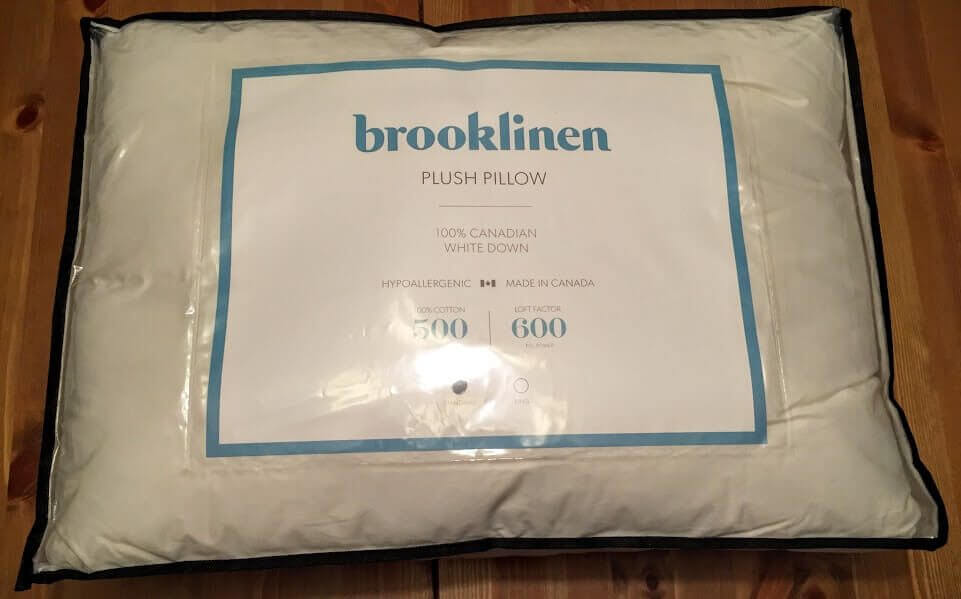 Once again, Brooklinen comes through on price and quality. It's refreshing to see all these new bedding disruptors come online. Everyone should be able to afford quality sleep products.
Shop Brooklinen
Disclosure: We aim to highlight products and services you might find interesting, and if you buy them, we may get a small share of the revenue.
Best Down Pillows
Brooklinen Down Pillows
Best down pillows for the money. Brooklinen always provides great quality.
We earn a commission if you make a purchase, at no additional cost to you.
How Do Brooklinen Down Pillows Compare to the Competition?
Brooklinen's down pillows are manufactured with a mix of down and feather fill, which set them apart from the many synthetic options flooding the market. These pillows are filled with a combination of ethically sourced Canadian down and feathers, promising both comfort and social responsibility. It's worth noting that the exact blend varies across the three firmness levels Brooklinen offers: Plush, Mid-Plush, and Firm.
With the Plush pillows filled entirely with down, they offer a level of luxurious softness hard to match, mimicking the feel of a cloud. In contrast, the Firm pillows contain a higher percentage of feathers, delivering more support for those needing additional neck and head reinforcement during sleep. The Mid-Plush, which strikes a balance between softness and support, offers a blend of down and feathers that caters to the majority of sleepers.
When compared to other leading brands, Brooklinen's down pillows continue to hold their own. Parachute, for example, another popular online brand, offers down pillows with similar eco-friendly and ethical sourcing standards. However, some users have reported that Parachute's pillows might not provide the same longevity as Brooklinen, flattening more quickly over time.
In comparison to in-store brands like Pacific Coast and Hotel Collection, Brooklinen still stands strong. Pacific Coast's down pillows, while competitively priced, might not provide the same hypoallergenic properties as Brooklinen, which employs a meticulous cleaning process for their down and feathers. Hotel Collection, meanwhile, is known for its luxurious feel, but its price point often goes beyond what Brooklinen charges, making the latter a more accessible choice for many.
Brooklinen also shines when it comes to customer experience. The company offers a generous 365-day return policy, something few competitors provide. It's a bold statement of confidence in their product and a welcome assurance for consumers hesitant about buying pillows online.
However, like any product, Brooklinen's down pillows are not without their drawbacks. Some users have reported that the pillows can emit a slight odor when new, although this typically dissipates after a few days. Also, despite the company's best efforts to cater to all sleepers, certain individuals may find that even the Firm option does not offer enough support, particularly if they're accustomed to memory foam or other solid-core pillows.
Brooklinen Down Pillows FAQ
1. What types of down pillows does Brooklinen offer?
Brooklinen offers three types of down pillows to cater to different sleeper needs: Plush, Mid-Plush, and Firm. The Plush is filled entirely with down for a soft, cloud-like feel. The Mid-Plush is a balanced blend of down and feathers, while the Firm contains a higher percentage of feathers for added support.
2. How is the down in Brooklinen pillows sourced?
The down and feathers used in Brooklinen pillows are ethically sourced from Hutterite farms in Canada. The company's commitment to responsible sourcing guarantees that the materials used are of high quality and are obtained in a way that respects the welfare of animals.
3. Are Brooklinen down pillows hypoallergenic?
Yes, Brooklinen down pillows are hypoallergenic. The down and feathers undergo a meticulous cleaning process that removes dust, dirt, and allergens, reducing the likelihood of allergic reactions.
4. How do Brooklinen down pillows compare with other brands?
When compared to other in-store and online brands, Brooklinen's down pillows are recognized for their superior quality, comfort, and value. They stand out for their ethical sourcing practices and hypoallergenic properties. However, individual preferences and needs will ultimately determine the best choice.
5. What is Brooklinen's return policy on down pillows?
Brooklinen offers a generous 365-day return policy on their down pillows. This means that customers have a full year from the date of purchase to decide whether or not the pillow is right for them.
6. What should I do if my new Brooklinen down pillow has an odor?
Some users have reported a slight odor from new Brooklinen down pillows. This is normal and typically dissipates after a few days. If the odor persists, Brooklinen recommends airing out the pillow in a well-ventilated area.
7. Are Brooklinen down pillows suitable for all sleep positions?
While Brooklinen offers three different firmness levels to cater to various sleep preferences, individual comfort can vary. The Plush is often recommended for stomach sleepers, the Mid-Plush for back sleepers, and the Firm for side sleepers. However, some people, particularly those accustomed to memory foam or other solid-core pillows, might find even the Firm option doesn't provide enough support.
8. How do I care for my Brooklinen down pillow?
To prolong the life of your Brooklinen down pillow, the company recommends using a pillow protector and a pillowcase. These pillows should not be machine washed. Instead, spot clean or professionally clean them.
Remember that these answers provide general guidelines, and individual experiences may vary. It's always a good idea to do your research and consider your specific needs when choosing a pillow.