Are you one of them who avoid camping just because you miss the cozy bed at night? Well, you can get the same level of comfort even when you are camping on sleeping cots. Yes, the sleeping cots can help you get that cozy night's sleep even when you are outdoor. These camping cots are collapsible camping beds that maintain your sleep quality while you are out on recreational camping in family-friendly campsites. Not only for camping, but these products have also found a place in homes and hotels in the form of add-on beds whenever required.
Below is a detailed guide on the best sleeping cots available in the market that can help you make an informed decision.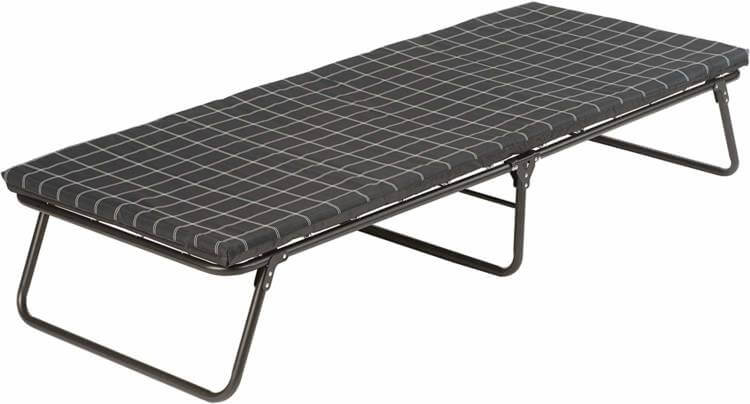 The coil suspension system of ComfortSmart Deluxe Cot makes it the perfect product for camping. It can easily fit inside a car's back and offers a near-experience of sleeping in a wooden bed. The cot legs are designed to support the structure for heavy and tall persons to fit in comfortably.
The cot has coil support as well, which makes it comfortable to sleep on without the possibility of deflating.
Pros:
Durable, strong, and lightweight
Easy setup
Heavy and tall people can use cot comfortably
Cons:
Difficult to fold for storage
The foam is thin and may not last longer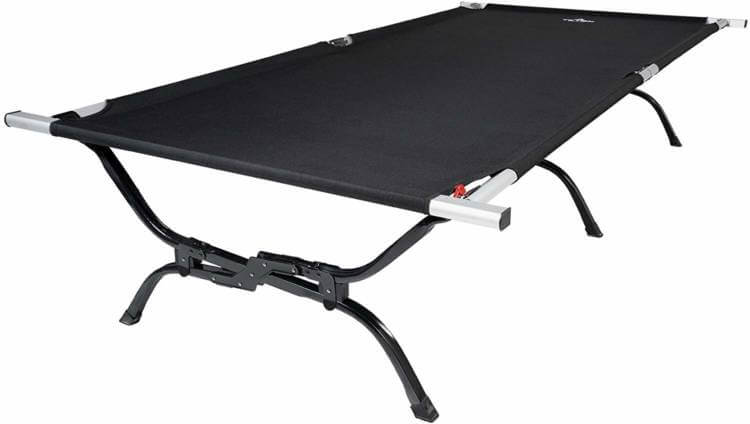 This camping cot by Teton Sports offers its users great sleeping comfort, ensuring sound sleep. When paired with a sports outfitter pad, it provides great comfort and can be used as a guest bed. This cot is stable and relatively strong and can support up to 600lbs. It is a perfect cot for outdoor activities, including base camp and hunting.
Pros
Durable and Portable
Can support heavyweight up to 600lbs
Plenty of space on the bed
Can be set up easily
Cons
A slight heavy to carry
The price is a little higher
The Kamp-Rite Oversize Tent Cot is easy to set up and assemble. It is made of a sturdy aluminum frame, which can support the weight without bulging. This cot is ideal for users who are planning to go out for car camping. This cot comes along with a 3/8 insulating foam cot. It can handle all kinds of weather.
Pros
It offers a warranty of one year against defects
Encapsulation rain fly gives protection against extreme stormy weather
It is firm so that you can sleep soundly
A heavy-duty carrying bag allows easy transportation and set-up
Cons
Slightly expensive
Slightly bigger than most camping cots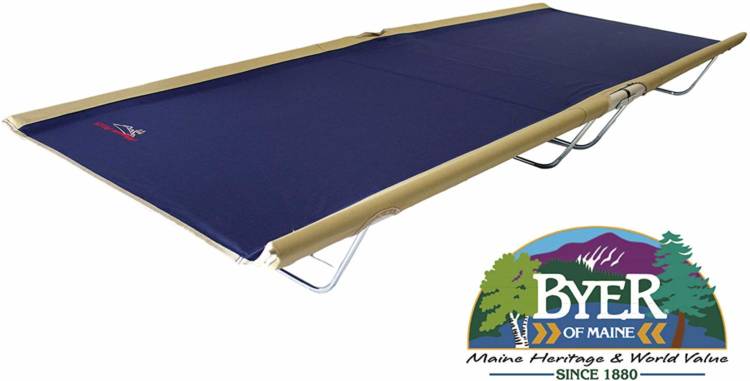 Byer of Maine has invested a lot of time and effort in designing their portable folding cot. Their portable folding cot is easy to set up and store. This cot offers the perfect solution for travel, home, and camping. Besides being portable, it is incredibly sturdy and durable. The cot may be set up within a minute, as it does not have loose parts.
Pros
Provides maximum comfort
Can be set up within a minute
Strong legs of steel
Can be folded easily for storage
Cons
The Coleman Pack-Away Cot is a traditional cot that has been given a modern look with the state-of-the-art technology. It is constructed, especially using durable and strong steel frames providing maximum support. It has a convenient folding bag along with cup holders for lanterns, glasses, and books. This cot has a portable storage bag that makes it good for camping.
Pros
It can be set up easily within a minute
Can support up to 300lbs weight
Is appropriate for both indoors as well as outdoors
The powder-coated steel frame is rust-resistant,
Cons
It cannot be shipped to all countries
The lightweight of Alpcour makes it easy to carry. The cot can hold up to 300 lbs making it sturdy and durable at the same time. It can easily fit an adult or two small children. This cot has a side pocket that can store odds, cell phones, and keys.
Pros
Made of 600D durable polyester fabric
Lightweight and has carrying case
Can hold two children or an adult
Cons
Pillow is slightly uncomfortable
This minimalist masterpiece by Mountain Tails is undoubtedly the slimmest and the most affordable model available in the market. The length of this cot makes it suitable for tall people, and the width offers adequate room for users. The legs and the frame are built using powder-coated steel, and the top is made of polyester making it a durable and sturdy product.
Pros
Offers a lot of room for sleeping
Affordable
Useful add-on beds at home
Tough cover and sturdy frame supports up to 225lbs weight
Cons
Complicated assembling
No rubber or plastic cover on legs
Weak C-shaped legs.
The Trailhead Cot from Coleman is portable and collapsible with the width of a standard bed. If you want a military-grade camp cot at a low cost that provides the premium features, then this is a good option. The cot is not big enough but can accommodate 300lbs of weight. The cot is foldable and, therefore, can be stored easily at a corner.
Pros
Can be easily folded to move and to store
Military-grade design
The X-frame can provide support for durability
Cons
A little heavy in comparison to other brands.
The cover may be tight when new
Essential Factors To Consider While Buying A Cot
Shopping for a cot is not as easy as you might think. You need to consider a host of factors simultaneously, which would help you in making an informed decision. Some of the essential factors include –
Checking Out The Fabric
Cots are available in a wide variety of fabric. The best sleeping cots are made from nylon and polyester. These fabrics help in maintaining a warm and cozy environment while you are resting. While some cots might be made out of the canvas, it makes the product heavy to carry, which can be a problem when you are trekking or camping.
Type Of Frame
Apart from the fabric, the frame type if equally important while shopping for a cot. The frames of a cot need to be lightweight, durable, and rust-resistant. Alongside this, it would be necessary to ensure a sturdy frame due to which people opt for a steel frame instead of aluminum. It is recommended to go through manufacturer reviews to help you guide through the frame selection process. The frames must consume less space and should be easy to fold.
X-Shaped Legs
This type of sleeping cot is widely favored by army men. With comfort similar to that of king-sized beds, these are a must-have for campers. The X-shape of their legs are sturdy and stable enough to carry heavy weights. However, you may need to go through the reader menu if you are a first time user.
U-Shaped Legs
These types of legs are mostly observed for sleeper cots that can be folded twice or even thrice for carrying. The underneath folding technique helps in distributing the weight of the cot evenly, making it easier to carry it to camps, hotels, and houses. Experts recommend the U-shaped legs for cots if you are a beginner in camping.
Apart from the above-mentioned factors, there are other things that need consideration, such as the size of the bed, insulation, sleeping pattern, etc. There are multiple options available in the market that can surely help you to make the right choice depending on your needs and preference.
Cot Buying FAQs
Can Camping Cots Damage The Tent Floor?
Many camping cots come with rubber coverings on their legs, making them suitable for use inside tents. Cots that do not have any protective covering may be covered up using tennis balls or small pieces of the carpet, which can be placed under the legs to protect the tent floor. So, a camping cot may damage the floor of the tent, but they don't have to if you take adequate protective measures.
Are Cots Comfortable To Sleep On?
Sleep cots provide the same sleeping experience to users as normal beds, but they are bulky and heavy. Still, many campers are willing to accept such characteristics to ensure a good night's sleep. Most cots are manufactured using an aluminum frame with fabric stretching that gets taut once assembled.
Are Sleeping Cots Difficult To Assemble?
The modern camping cots are quite simple and easy to assemble in comparison to the traditional ones. Many cots come directly out of the box ready to use, such as the Coleman ComfortSmart Delux and the Bayer Cot. But even if it requires a bit of assembling, you won't have any problem getting the things in place.
What Are Cots Made Of, And Which Is The Best For Me?
All cots are either made of polyester, canvas, or nylon. You won't find a spring coil mattress in a cot as they are too heavy to carry. It would be better for you to choose a product made from synthetic material like nylon, which is both sturdy and durable while being lightweight at the same time. Such material also dries out faster in case they get wet while camping outdoors.
The Bottom Line
It is not difficult to get hold of the best sleeping cot provided you know what and where to look for. Throughout your search process, you must remember that the most expensive and heaviest ones are not always the best. Different sleeping cots are designed for different purposes. Make sure you match your requirement with the features that a specific sleeping cot offers to help you make an informed decision.