Furniture plays an essential role in making our homes a more beautiful and comfortable place to live in. the inclusion of sleeping chairs has the latest trend in functional households as they are known to provide the comfort of a conventional chair while transforming into a bed at night to make up for that extra sleeping space.
Sleep chairs are the perfect inclusion in the household of a minimalist individual who is looking for clutter-free accommodation. While there are a plethora of options available in the market, some of the top-rated sleep chairs in the market that can be the best fit for your house furniture are listed below.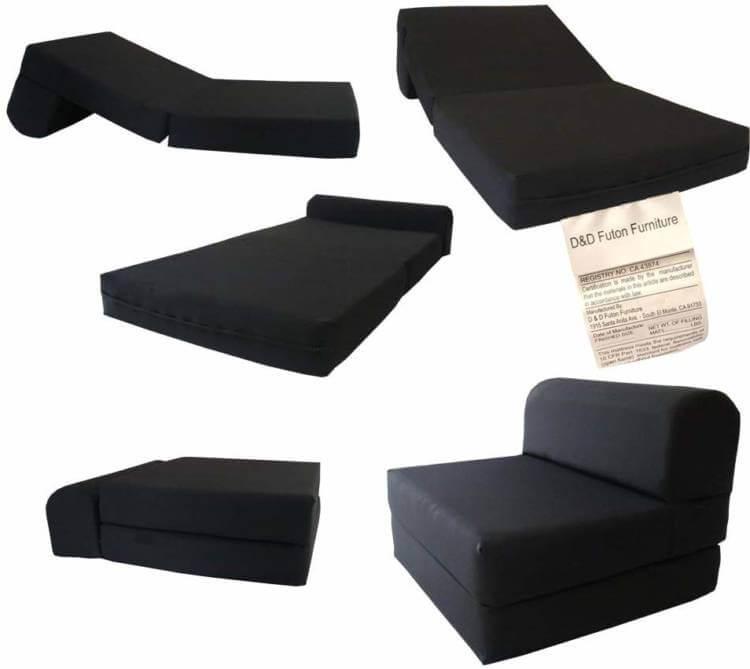 If you are looking for a fancy chair with no metal frame and high-density foam, then the D&D Furniture may just be the perfect choice for you. The versatility of this sleeping chair makes it suitable for use in your living room or any outdoor space such as the patio.
Pros:
Easy portability
Comfortable to sleep and sit-in
High-density foam
Unique design
Cons:
Relatively costly
Hot to sit on
A traditionally styled Sleeper chair with a pull-out twin bed comes in handy when there are guests in your house. The soft polyester fabric on the seat makes it easy to clean with a low maintenance requirement. The laminate frame with solid hardwood and round arms with stylish edges makes it the ultimate choice for users to stretch out and relax.
Pros:
Easy-to-clean fabric
Stylish and comfortable
Attractive color schemes
No hassles of assembling
Cons:
Not suitable for lengthier sleepovers
The sophisticated office look of the Homall sleeper chair blends it well with your living room or office space. The thick steel frame support of the recliner with double-thick foam padding enables it to carry the weight of up to 265 lbs. this chair is equipped with a wide and curved armrest that enhances the comfort and offers the required stability to the user.
Pros:
Excessively comfortable
Easy to assemble
Money's worth
Cons:
Can accommodate only one person
Possible manufacturing defects
The high-grade foam and ultra-suede fabric of this reclining chair by Giantex offers a casual yet stylish option for home interior furnishing. The five adjustable positions of this chair make it appropriate for different users with varied position requirements. The overall manufacturing of this chair follows a scientific principle that protects the spine of the user from soreness.
Pros:
No assembling required
5 different adjustable positions
Top-quality foam
Stable frame
Cons:
Difficult for older people to use
Probability of the zipper to break easily
This mini sleeper sofa by Simmons Upholstery is a perfect fit for restricted spaces with accommodation of up to two people. The frame of the chair is made from Hardwood, making it long-lasting while adding strength to the chair.
The enhanced innerspring and soft foam provides the utmost comfort and ensures shape retention. Its polyester-blend fabric is comfortable to touch and offers durability to the product.
Pros:
Soft mattress foam
Top-quality fabric
Long-lasting and durable
Cons:
Non-detachable back cushion
Available only in a single color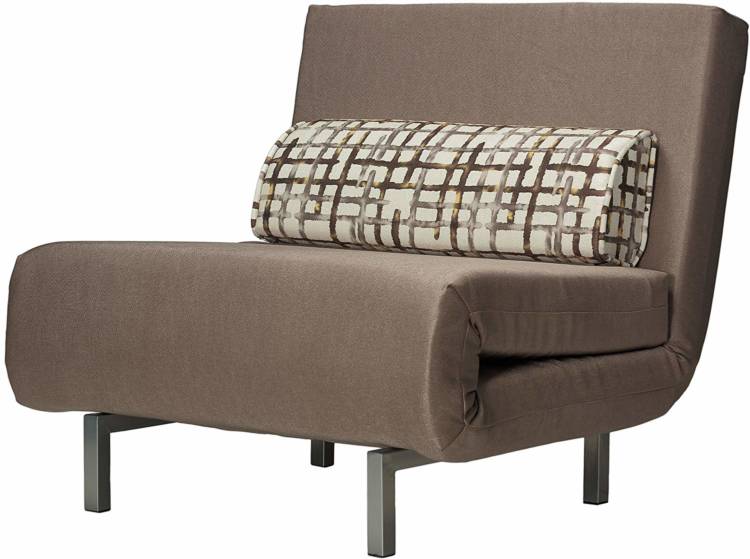 This foldable chair is a perfect fit for people who frequently encounter unexpected guests to stay overnight. The upholstered taupe fabric with simple construction upgrades the ambiance of the living area without taking up too much space. The back seat can be bent to three different angles enabling the user to lounge, sit, or lay flat on the sleeper chair.
Pros:
Attractive design
Easy to transform
Comfortable cushioning
Sturdy metal base
Cons:
Stiff surface
Unstable when converted into a bed
Different Types Of Sleep Chairs
There is a wide range of sleep chairs to choose from depending on the purpose for which it is to be used. This includes –
Fold Out Sleeper Chair: This chair type folds out perfectly to provide you a bed to sleep on. When the chair is unfolded, it transforms into a single-seater chair or sofa. It is ideal for people living alone and hesitant to invest in a separate piece of furniture.
Pull-Out Sleeper Chair: This is the most common type of sleeper chairs available in most households, which can help you accommodate some guests without the need to include a separate bed for the same. Its solid constructions with pleasant upholstery make it the perfect option for rooms with small spaces.
Twin Bed Pull Out Sleeper Chair: This classic armchair with a solid frame and fabric upholstery is spacious enough to accommodate up to two individuals.
Loveseat Set Sleeper Chair: This type of sleeper chair is popular for its extra-supportive headrest and quality upholstery, making it functional and stylish at the same time.
Armchair For Camping: There is also an option to get an inflatable sleeper chair that you can carry while camping. If you are a part of any active camping community, then this chair type will be the perfect choice for you.
Essential Features Of A Sleeper Chair
To purchase the best sleeper chair from the market, it is necessary to know the features associated with quality sleeper chairs to help you make an informed decision. This includes –
Thickness Of The Foam: Comfort should be the topmost priority when it comes to either sitting or sleeping. The varied foam thickness of sleeper chairs makes them unique for different types of needs. However, you need to keep in mind that the more the density of the foam, the higher will be the cost of the chair.
Chair With Wheels Or Normal Feet: If you need to move your chair frequently from one place to another, you should consider purchasing a sleeper chair with wheels. Else, a chair with normal feet would do the job.
Quality and Comfort: Since a sleeper chair assists in performing the dual task of sitting and sleeping quality and comfort should be the primary consideration. So, make sure the chair you are going to purchase needs to be sturdy with a supportive structure. Browse through verified reviews to make an informed selection.
Fabric Cover: The fabric of the sleeper chair should be easy to clean and machine washable. Make sure that the cover and not hard to remove, which can make cleaning a tedious task. Try to opt for dark fabric with bright colors to complement your living space.
The Bottom Line
Buying a sleeper chair is no easy job as you need to consider a host of factors while purchasing one. Compare and contrast from the list of available alternatives to see which one suits your needs the most. Fortunately, there are a plethora of options, each with its own set of features and specifications that can meet the needs of different classes of customers.