Mattresses are a big investment. They are also very prone to getting soiled, snagged, or otherwise torn during storage and transport. While most people think that it is enough to simply wrap the mattress in a plastic sheet, the fact remains that the plastic sheet does not do a very good overall job. At the end of the day, you will be riddled with a moldy, torn, and scuffed up mattress.
To properly store and transport your mattress with minimal damage, you need to encase it in a proper mattress cover. While it might seem and sound like a waste of money, it is saving you the extra buck you will have to shell out to replace your bruised and battered mattress. This article will highlight all the key points you need to consider while buying a mattress cover to protect your mattress and list the top 7 mattress covers in the market to help narrow down the list for you.
Benefits of Mattress Cover
While it sounds good to have a proper mattress bag, you might still not be sold on the idea when a normal cover seems to serve the purpose just as well and is cheaper on the pocket too. Well, here is a rundown of the benefits of having a proper mattress bag:
Dust Free: Mattress bags are what you want to have if you want to keep your mattress away from all the dust and grime. You will be shocked at how dirty a storage container is. You do not want your mattress touching any of these surfaces. A normal cover will not do half as much of a good job as a proper mattress cover. For starters, it will not fit your mattress properly, leaving nooks and crannies where the dust mites might zone in.
Even if you are not moving or transporting the mattress but just storing it in the outhouse, you want it to have a good cover protecting it from all the dust that is bound to settle on it.
Bugs and Mite Safe: Bed bugs are a horrific reality, and unfortunately, one of the most common things that are picked up by the mattress. Given the dirty surroundings your mattress will be exposed to during the storage and moving process, odds are pretty high that you will get a mattress that is riddled with bed bugs. A mattress bag or cover is the easiest way to prevent these nasty critters from moving into your mattress as their new home. Given how nasty bed bug bites can be, this reason should sell you on the idea of a mattress bag instantaneously.
Protection from Rips and Snags: Mattresses are handled very roughly during transport. The main reason behind this is that they are unbreakable, and they are very bulky to move around easily. This means that your mattress is manhandled to a great extent. This also means that though you will not get a broken mattress, you will get one that's battered and bruised with snags and rips all over. The best way to protect it from these rips is by encasing it in a mattress bag. Mattress bags are made of good quality plastic or rubber material that is highly durable to withstand these conditions. Rest assured, when packed in a mattress bag, your mattress will remain safe and sound from the jostling and accidental snags.
No Nasty Odors: Mattresses tend to take on nasty smells when exposed to them. This is a high possibility when they are moved around in a truck or as cargo. Mattresses are also at the risk of taking on odors when stored in the garage or any other smell. You will get a funky smell whenever you pull your mattress out of the garage. The reason behind this is simple.
Mattresses are made of cotton and foam, and as such, they absorb the smell into their fabrics. Once that odor permeates the fabric, it is very difficult to get rid of it easily. It might not sound like a big problem but imagines trying to sleep with a nasty gasoline smell or even a musty, damp odor. You are bound to have the worst night of your life, not to mention the allergies this might trigger. To avoid this situation, it is best to safely pack your mattress with a nice durable mattress cover that will keep it away from such odors.
Important Factors to Bear in Mind While Buying
Now that you are updated with the importance of mattress bags, it behooves to understand the key points you should be looking at while going on a mattress bag shopping spree. These are listed below:
Size: This is the most important factor to consider when you look at a mattress bag. Almost all mattress bags come in extra-large sizes to accommodate all sizes of mattresses. Some of them have extra space for your pillows as well. The one thing to bear in mind is that the mattress bag dimension should be larger than your mattress dimension. If you do not find your size, then opt for the customization option.
Material: You want a mattress bag that is both protective and durable enough to last for several years. Look for a cover that is made of good quality material. You get both plastic and polyethylene options in the market. Plastic is the better option if you are only looking for protection and durability. If you are looking for a more eco-friendly option, then settle for polyethylene or other recyclable options instead.
Transport Durability: Some mattress covers are only meant for storage purposes. If you are looking for options that are suitable for transport purposes, then look for mattress covers that offer transport features. These come equipped with better stability, more thickness, better sealing options, and handles for ease of carrying.
Price Tag: At the end of the day, the price makes all the difference. Look for a mattress cover that offers a better value for money than the ones that are cheaper priced. Any mattress bag should be over $20 at best. So, price is not that much of a deciding factor here.
Top Mattress Bags to Buy
To help you through the wide variety of mattress bags available in the market, below is a compilation of the top 7 mattress bags. They all have excellent customer reviews and rank high on the protection and durability factor.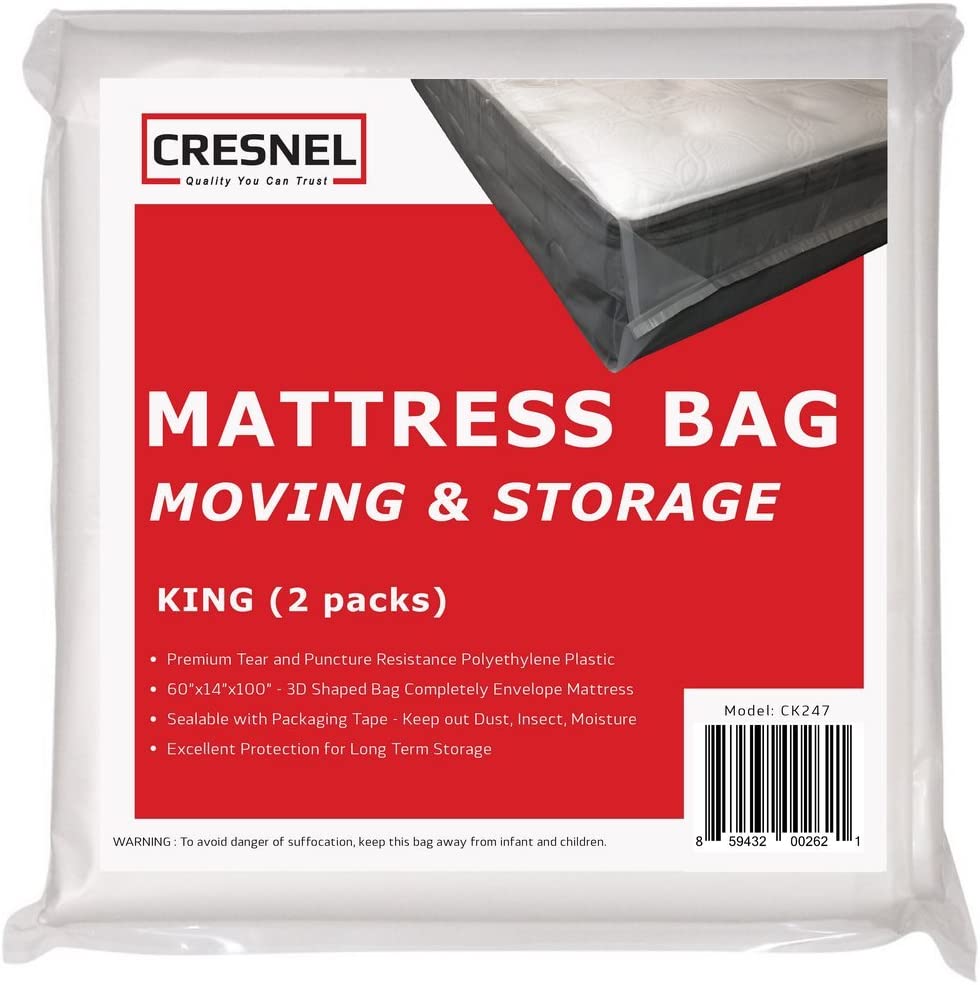 | | |
| --- | --- |
| Pros | Cons |
| More durable plastic | Not eco-friendly |
| Proper seal with no vents | High price point |
| Available in all sizes | |
| Accommodates pillows | |
If you want a mattress bag for long-term usage, then you cannot go wrong with Cresnel Mattress Bag. It is easily one of the best mattress bags on the market. Cresnel makes its mattress bags with plastic that is two times in thickness as compared to other manufacturers. This extra thickness ensures that your mattress is well protected against pretty much everything. You could even drag it across the path and still have a perfectly fine mattress sitting snugly inside it.
The polyethylene also helps in preventing any bed bug and dust mites from taking up residence in your mattress. The cover is also shaded to mask any stains your mattress might sport. Further, the mattress bag from Cresnel is also a perfect solution for long term storage purpose. You just have to tape the seal shut to prevent any moisture from seeping in, and you are set.
The bag is oversized in all three standard sizes to accommodate your pillows as well as the mattress. The only flip point in this product is that it uses polyethylene instead of real plastic. This means that even though it is highly durable, it still falls short of the durability provided by real plastic. But given the global environmental awareness, this might just be a selling point instead.
Key Features
Available in three sizes of twin, king, and queen
Made of 5 mil polyethylene
Weighs 1.7 pounds
Features 3D mattress design
No vent holes
Slightly shaded color
30 days manufacturer's warranty
| | |
| --- | --- |
| Pros | Cons |
| Available in 4 sizes | Does not hold pillows |
| Can be used on box spring as well | Has vents |
| Recyclable plastic | |
The U Haul mattress bag is available in 4 different sizes to accommodate all types of mattresses. It not only covers mattresses but is suitable for covering box springs as well. However, it can only accommodate up to 10 inches in height, so you might want to buy two bags if you are looking to cover both the mattress and box spring. Apart from mattresses, you can also use these bags to cover other household items for storage or transport. They are very helpful in keeping dust and moisture away from the items it is covering.
On the flip side, the U Haul mattress bags do not have space to accommodate pillows along with your mattress. So you will have to get separate bags for your pillows. It also means that these covers are not suitable for pillow top mattresses or mattresses with integrated toppers.
Key Features
0 mil polyethylene plastic material
Available in 4 sizes
Has ventilation holes
Pull-on closure type
Accommodates up to 10 inches height
Needs tape for secure sealing
Recyclable
| | |
| --- | --- |
| Pros | Cons |
| Made of tarp material | Expensive price tag |
| Side handles for easy carry and transport | Poor zipper quality |
| High durability | |
| Good warranty period | |
If you are on the lookout for a durable non-plastic option, then the Mattsafe mattress bag from Nordick Elk is the perfect choice for you. Made from high-quality tarp material, it is more durable than your average plastic covers and also more environmentally friendly.
It is designed keeping in mind multiple uses and can hence be used for storing objects other than mattresses. It comes with eight side handles, which makes it easy to carry the mattress inside and for transporting it from place to place. The side handles are god and sturdy and can even be used for dragging the bag from one point to another. The bag features a convenient zipper, which can be sealed more securely by masking it with tape if required.
Over time or due to water exposure, the zipper might rust and give away under pressure, but if used properly, the zippers do not give any problems. The same goes for the handles. If you use excessive force, then the handles might tear, but that is only under extenuating pressure or misuse.
Key Features
Made of tarp material
Available in 7 sizes
Zippered closure type
Features 8 side handles
Five years full refund warranty
| | |
| --- | --- |
| Pros | Cons |
| Dual-use for mattress and box spring | Tears under heavyweight |
| Budget-friendly | No closure provided |
| Customizable options | |
The Linenspa mattress bags are heavy-duty mattress bags that work well in protecting your mattress against wear and tear. It is available in three standard sizes of twin XL, king, and queen and is sure to accommodate the mattress you have. It is sturdy and durable enough to be used for both storage and transport purposes.
Made of polyurethane material, this mattress bag does an excellent job at keeping dust and bugs at bay. It is also water-resistant and hence protects the mattress well against moisture and mold. You have the option to customize the bag for size. Hence you can easily order a bigger sized version to accommodate pillows as well as your mattress.
The drawback to this mattress bag, aside from it being made of plastic, is that it tends to tear under undue or heavyweight. You will have to be careful not to overload it unnecessarily.
Key Features
Made of polyurethane material
Available in 3 standard sizes
Can be customized
Come as a set of two covers
Needs to be secured with tape
Two mm clear polyurethane material
Can be used for disposal of bug-infested mattresses as well
| | |
| --- | --- |
| Pros | Cons |
| Ideal fit for all standard queen mattresses | Only available in queen size |
| High durability with reinforced stitching | |
| Uses robust, reusable material | |
The Moving Host mattress bags are sturdy, durable, and highly robust. It is also waterproof and hence affords protection against humidity and moisture. The mattress bag comes only in queen size, which might be a bummer, but the manufacturer offers customizable options to help you get the size you specifically desire.
It is a good option for both storage and transport purposes. You can easily use it for storing your mattress in the basement or elsewhere or for other things as well. The zip closure makes it convenient and easy to secure the cover.
Made from good quality tarpaulin material, this mattress bag is also environment friendly. It features reinforced stitching on the sides to prevent any tearing from heavyweights. Moving it around is also a breeze thanks to the eight side handles it sports. The customer support provided by the manufacturer is one of the best, and you can easily return the product if you find any defect in it.
Key Features
Made of high-quality tarpaulin material
Reusable and recyclable
Reinforced side stitching
Eight side handles
The queen size cover fits standard queen, king, and full-sized mattress
82x 16x 63 inches in dimension
3-year manufacturer's warranty against any defects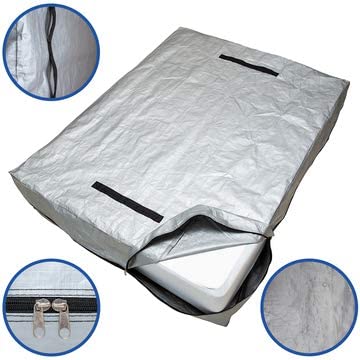 | | |
| --- | --- |
| Pros | Cons |
| High durability | Handles are prone to breaking |
| Available in various sizes | |
| High-quality material used | |
Caloona mattress bags are a good choice when you are looking for a good protective mattress cover. It is one of the most heavy-duty tarp material mattress bags you will find in the market. Being of tarp material, it also has the added benefit of being environmentally friendly. It has a patent-pending design and comes in an attractive silver color.
Featuring a heavy-duty zipper, it can easily be sealed to protect your mattress from dust, grime, moisture, bugs, and all the other little things that like to nestle in it. It also has reinforced double-stitching for that extra durability. The eight side handles make it easy and friendly to use as well as convenient to store and transport.
It serves well for multiple purpose use, including accommodating pillows, pillow-top mattresses, box springs, furniture, and any other household items. The quality of the product is guaranteed by the manufacturer, and you can ask for a full refund if you are not entirely satisfied with it.
Key Features
Made of PE tarp material
Available in 7 sizes
Zip closure
Eight side handles
No vents
Multipurpose usage
Recyclable and Reusable
Lifetime guarantee
| | |
| --- | --- |
| Pros | Cons |
| Reusable and recyclable plastic used | Tears easily when stuffed to full capacity |
| Six mil thickness for added durability | |
| Comes with two wide adhesive strips for ideal sealing | |
The mattress cover from UltraBlock is ideal for those on the lookout for a professional standard cover meant for individual use. You get commercial-grade durability with this mattress cover. It features a six mil thick plastic material that is perfect for heavy-duty protection. It is also reinforced to be tear and puncture-resistant.
It is a fully covered cover with no vents for any moisture to seep in. This also makes it ideal for disposal purposes, especially if you have a bed-bug infested mattress that needs to be thrown away. Using it is super easy with the extra-wide adhesive strips on the side and the eight handles for convenient moving and transport.
This one also caters to eco-friendly people. It is made of 100% recyclable polyethylene material making it perfect for the environment-conscious segment.
Key Features
Made of 100% recyclable polyethylene material
Six mil polyethylene
No vents in the cover
Two extra-wide adhesive strips for sealing
Tear and puncture-resistant
Reusable
Good for storing, transport, and disposal
Q&A Section
Which Material Is The Most Durable For Mattress Cover?
Plastic is the most durable mattress cover material in comparison to polyethylene or other materials.
Is The Mattress Bag Also Dust And Bug Resistant?
The material used for mattress bags is generally by nature resistant to bugs, especially if you are looking for the plastic option. The recycled materials might not be as bug resistant as plastic. However, you can reinforce the bug resistance by adding a few moth crystals to the inside of the mattress cover.
Are Mattress Bags Suitable For Long-Term Storage Purposes?
Yes, mattress bags are the perfect way to store your mattresses for a longer duration without fear of any damage.
Are The Dimensions Of Mattress Bags Customizable?
Some certain sites and vendors allow for customized mattress bag sizes. However, most mattress bags are already oversized and hence would not pose any size problems.
Final Notes
Given how expensive mattresses are, it is better to preserve them properly so that they will last longer. Mattress bags are a cheap, safe, and good option when you are trying to secure the safety of your mattress. They not only protect against dust but also keep the nasty bed bugs away. Apart from safe storage, they are also good for transport and disposal purposes. Mattress bags are a great option all in all.