Kathy Kuo of Kathy Kuo Home in this article beautifully breaks down the budget of setting up a high-end and a standard bedroom. Of course, all the items mentioned are must if you want your bedroom to be cozy and tasteful. One important thing that's missing from the list of items is a mattress. And it's critically important.
So why is it missing despite the fact, when at home, a person spends maximum time on the mattress?
Now consider this – according to Statistic Brain, the innerspring mattress is the most common type of mattress sold in the US. However, the satisfaction level is lowest as compared to other forms of mattresses. For instance, mattress made from latex has 80 percent satisfaction rate whereas a memory foam mattress has 81 percent satisfaction rate.
The problem is that a mattress lasts for almost 10 years, and once it's placed on the bed, people just tend to forget about it. And as they say, out of sight, out of mind. Interestingly, people spend more on the bed, pillows, sheets, and duvet.
They even spend more time and effort when buying a bed or a bed sheet, than they do when buying a mattress forgetting that mattress is more important than anything that's spread over it.
It should not be forgotten that the quality of the mattress decides the quality of rest or sleep we get. The mattress is also responsible for various aches and pains in different parts of the body.
If you suffer from back pain or spondylitis, the wrong mattress will make you uncomfortable. If you have mobility problems or suffer from conditions like arthritis, the right mattress is essential to ensure that you sleep well and wake up feeling refreshed.
A high quality, comfortable, and medically approved mattress not only gives you a good night's sleep but also boosts overall health.
Things are changing though. There are mattresses of various types available on the market today. Out of all the available choices, latex mattresses have started to gain recognition because they have significant benefits over other varieties. If you have experienced problems in the past with foam mattresses, latex could be a better choice.
What is Latex?
It is tree sap that's thick and milky white in color obtained from various plants, such as rubber, poppies, and spurges. The sap slowly tapped (extracted) from the rubber tree is the biggest source of naturally occurring latex. Thailand, Indonesia, Malaysia, India, China, and Vietnam are the largest latex rubber producing countries in the world.
For further processing, this tree sap is whipped into a foam and heated to form latex. Latex solidifies on being exposed to air and becomes rubbery. This rubber or latex then is used to manufacture various items, including latex mattresses. It is known to last longer than other mattress materials like foam or polyurethane.
As there are various kinds of latex mattresses available today, and it can be confusing to choose the right one. But before we delve into the different latex mattresses, let's talk about the various latex varieties.
What Type of Latex is Used in Mattresses?
There are three types of latex used in mattresses:
100 percent natural latex– made from completely natural rubber latex
Natural latex– made by combining 85 percent natural rubber latex and 15 synthetic latex
Pure latex– made from 20 percent natural rubber latex and 80 percent synthetic latex
These three varieties are different forms of rubber latex obtained from the rubber tree but have a lot of differences.
The 100 percent natural rubber latex mattresses are the most expensive. But even though it costs a lot more than regular mattresses or synthetic latex mattresses, they offer incredible comfort. Natural latex is completely organic, and mattresses made from natural latex are a top pick among those who subscribe to an organic lifestyle. Buying a mattress is a long-term investment, and if you are trying to cut down on the synthetic or artificial substances in your life, organic latex mattress will be extremely beneficial for your health in the long run.
Latex itself offers a better ergonomic experience than most materials. Moreover, natural latex has unsurpassed elasticity, conforming to your body shape and reducing the pressure on muscles while boosting proper circulation. The comfort and gentle support offered by 100 percent natural latex cannot be found in any other types of mattress.
On the downside, because natural latex doesn't have any synthetic substance added, the inconsistencies at the molecular level cause these mattresses to wear out more easily than synthetic latex mattresses. Although this doesn't mean that a natural latex mattress will deteriorate quicker than normal, it does have a shorter lifespan than other synthetic varieties.
If you want the feel of natural latex but want a better lifespan and lower price, the second option should be right for you. Although called "natural" latex, it is actually a combination of 80 percent latex and 20 percent synthetic latex.
The mattress industry is flooded with this type of mattresses. If you want to buy natural and environmentally friendly mattresses that will provide good comfort and help you sleep better, while also being value for money, this kind of latex mattress is ideal.
It has all the benefits of 100 percent natural latex, such as flexibility, elasticity, comfort and luxurious feel, and also the durability of synthetic latex. If you test both 100 percent natural latex and the natural and synthetic blend, there is little difference in how the two feel.
The third option, pure latex, is the most commonly used latex blend for latex mattresses. Because it has only 20 percent natural latex, it is easier to manufacture and is also cheaper. Pure latex offers excellent support and comfort but isn't as natural in feel as the other two types. It doesn't have all the benefits of natural latex either. But it has great stability and durability while being a much affordable choice.
What are the Benefits of a Latex Mattress?
Latex often isn't the first choice in mattresses. Several people are actually surprised to learn that latex mattresses are more beneficial to health compared to foam or polyurethane mattresses. Some of the reasons to choose latex mattress are:
Organic and Healthy: Natural latex has nothing synthetic or artificial about it. It is a product of nature, obtained from the sap of the rubber tree. Latex occurs freely in nature and is derived from renewable resources, which means it is environmentally friendly and biodegradable. Latex doesn't contain any of the solvents or toxic chemicals found in synthetic mattresses. Besides, the trees don't need to be cut in order to obtain the sap. This means the environment is not harmed during the manufacturing of the mattress. Rubber trees also perform an important function, absorbing carbon dioxide from the atmosphere and reducing emissions.
Comfortable and Flexible: Rubber is flexible and elastic, and since latex is obtained from rubber, the mattresses have incredible flexibility, offering great comfort. Latex is neither too soft nor too hard, and the natural resilience offers the perfect resistance to the weight of the body in every position. No matter what position you sleep in, latex ensures you are in shape. This is called 'progressive comfort' – this means, that the greater the pressure on the mattress, the greater the support it offers. Latex is great at body contouring, keeping your back and spine perfectly straight.
Antibacterial: Dust mites and fleas are a common problem with memory foam mattresses. But latex is naturally antibacterial, anti-dust mite, and resistant to mold and mildew. This is the reason latex is suitable for everyone, including those who are allergic to the latex used in latex gloves. Latex is manufactured by vulcanizing it a high temperature for close to an hour to eliminate all the allergens. Latex is also free from toxins carcinogens found in other mattresses.
Breathability: If you sleep hot, you could have a problem with most synthetic mattresses because they retain body heat and warm up. Mattresses that don't keep cool are uncomfortable and interfere with sleep quality. Latex, on the other hand, has an open cell structure, which makes them highly breathable. They don't retain heat and manage to keep cool even on warm nights. You don't have to keep windows open or turn on the air conditioning just because the mattress doesn't keep cool. Latex is one of the coolest bedding material you can find today.
Support and Pressure Relief: The natural elasticity of latex provides excellent support to the body's natural curves and movements, keeping the back and spine straight. Latex mattresses also offer great muscle relaxation and pressure relief, helping you fall asleep easily and improving circulation. The support provided by latex mattresses is good for those suffering from back problems or certain aches and pains. Latex also has minimal motion transfer because it compresses only in the point of contact. There's little sinkage and bounce, which means people sharing the bed can sleep without getting disturbed.
What are the Disadvantages of a Latex Mattress?
Although the cons of latex mattresses aren't too big, they should still be considered before purchase. Some of the downsides of latex mattresses are:
A new latex mattress might be too firm in the beginning and cause discomfort. But the mattress softens within a couple of days of use.
If you buy a synthetic latex mattress, it might compress in particular areas over time. If you intend to exert heavy pressure on the mattress for long periods, you should choose a natural latex mattress or a blended latex mattress.
As discussed earlier, natural latex mattresses are very expensive.
Latex mattresses are heavy. If you move frequently, the mattress could create portability problems.
What is the Difference Between Dunlop and Talalay Latex?
Dunlop and Talalay are two different kinds of latex bases upon which the manufacturing process is done. The Dunlop technology is the oldest and standard manufacturing process, started in 1929. The Talalay technology is much newer and more complicated, time-consuming, and expensive. As a result, Talalay mattresses are generally pricier than Dunlop ones.
Both Dunlop and Talalay methods use natural latex to produce mattresses in any of the three blends. There are differences between the two types, but they are subtle. The most important difference is the way the mattress is manufactured.
The Dunlop production process is energy efficient. It involves foaming the liquid latex and pouring into a mold. The mold is then sealed and vulcanized. After vulcanization, the foam is washed to remove any soapy residue or excess materials. Next, the foam is dried to remove all moisture.
The Talalay process is more time consuming and complex. The two major differences in the process is the addition of the vacuum and freeze in the Talalay technology. Once the mould is partly filled with latex and sealed, the latex expands by vacuum. The expanded foam is then frozen, and carbon dioxide gas applied, converting the foam to gel. The foam is then vulcanized and washed.
The differences between the two are so subtle that they are hard to tell. In fact, most people won't be able to tell one apart from the other. The reason why the differences are hyped up is that they are used as selling points by retailers. But Dunlop and Talalay foam look and feel very similar.
Differences between Dunlop and Talalay latex:
Dunlop latex is springy, Talalay is bouncy
Dunlop latex is denser than Talalay latex
Dunlop is a simpler, energy efficient, and cost-effective process than Talalay
Talalay mattresses are not softer than Dunlop mattresses.
A common myth is that Talalay latex is softer than Dunlop mattresses. This isn't true, because both the Dunlop and Talalay processes can be used to manufacture different kinds of foams in various degrees of firmness. Although Dunlop mattresses are heavier and denser, it isn't necessarily firmer.
Should You Buy Synthetic Latex?
Synthetic materials do have similar physical properties as natural materials, but synthetics are manufactured using petrochemicals that contain harmful substances and carcinogens. Synthetic latex mattresses are made with styrene-butadiene rubber, resulting in cheaper latex beds.
If you cannot buy a natural latex mattress, synthetic latex may be your next best option. But there are some downsides to synthetic latex that you must know of:
Synthetic latex mattresses wear out more easily than natural latex
Synthetic latex doesn't have any kind of certification
Synthetic materials also produce strong gases and smell in the beginning
Factors to Consider When Buying Latex Mattress
Since a mattress is central to sleep and comfort, it should be chosen with a lot of care. The type of mattress you choose will decide your quality of sleep, comfort, and overall health. Some of the factors to consider before purchase are:
Blend
There are mattresses that use latex in combination with other materials like memory foam, polyurethane, innerspring, or varieties of other foams. Because retailers use the power of upselling and persuasion to make people buy the blended mattresses, customers often get confused about what the right choice is. But when buying a latex mattress, there is nothing better than a natural one. Natural latex is more expensive than blended materials, so if you cannot buy it, synthetic latex is your next best choice.
Firmness
Latex mattresses come in different levels of firmness. You are sure to find a firmness that you are comfortable with, but you have to test carefully before purchase. You can also make use of the trial period, and return the mattress for a full refund if it doesn't suit you. Almost all major retailers offer the sleep trial. If you are buying the mattress online, thoroughly read reviews to see what others are saying about the product.
Breathability
If you sleep hot, you should look for a mattress that doesn't trap heat. Latex mattresses generally keep cool, but the additional materials can affect the breathability. This is again when you should utilize the sleep trial. If the mattress retains excess heat, doesn't have proper airflow, and makes you uncomfortable, you can return the mattress within the sleep trial period. Reading other customer reviews is a good way to determine if the mattress is the right fit.
Layers
A mattress these days can have anything between three and five layers. The greater the number of layers the mattress has, the better support it provides. A mattress with two layers will sink in more easily than a mattress with five layers. If you want more support and firmness, choosing a mattress with more layers is a good idea.
Warranty and Certification
Before purchasing latex mattress, make sure to check the warranty and certification. A latex mattress is more expensive than other mattresses, so it necessary to get at least ten years' warranty. The higher the warranty, the more responsibility the seller is taking for the product. Aside from the warranty, also make sure that the material is certified for human use. Natural latex comes with certifications, but synthetic latex often doesn't.
Best Latex Mattresses of 2019
The Zenhaven mattress is a two-sided, flippable mattress. That means you get two mattresses in one. A soft side and a medium firm side. This mattress is made with 100% Talalay latex.
Features of Zenhaven
This hybrid mattress has a thickness of 10 inches. You get a "5 zone" comfort layer that gives you firmer support where you need it for optimal spinal alignment. Like most natural latex mattresses this also comes with a natural wool layer that provides optimal breathability and temperature regulation. On top if it all is an organic cotton cover to complete the natural experience. You also get an industry leading 20-year warranty and a 120 night trial. Zenhaven is part of the Saatva family of brands which is well known for their excellent customer service. So if you aren't happy with it, the return is easy.
Pros
5 zone support system for optimal alignment
American made Talalay latex throughout
Generous 120 night trial
2 sided for different firmness options
Cons
more expensive than other brands
Dreamfoam Bedding is a mattress company based in the US, in business since 1995. They offer a wide range of mattresses like memory foam, polyurethane foam, and latex. Their latex mattresses come in a variety of sizes including king and queen sizes. The cover of the latex mattress is made of bamboo fiber, and the firmness of the mattress can be chosen according to preference.
Features of Dreamfoam Bedding
Manufactured in the US, you can expect it to meet all the standards of USA-made products. This one is a 10-inch bed, made up of a base foam layer, a Talalay latex comfort layer, and the bamboo fiber cover. Because of the types of materials used in the mattress, it contours to your body shape, offering support and pressure relief. The mattress comes with a 10-year warranty and a 90 day sleep trial.
Pros
Thick density for great support
The thick convoluted base for breathability and airflow
Biodegradable latex and bamboo fiber keep cool and absorb moisture
Hypoallergenic Talalay Latex
Cons
Not double sided
A little on the firmer side
Offgassing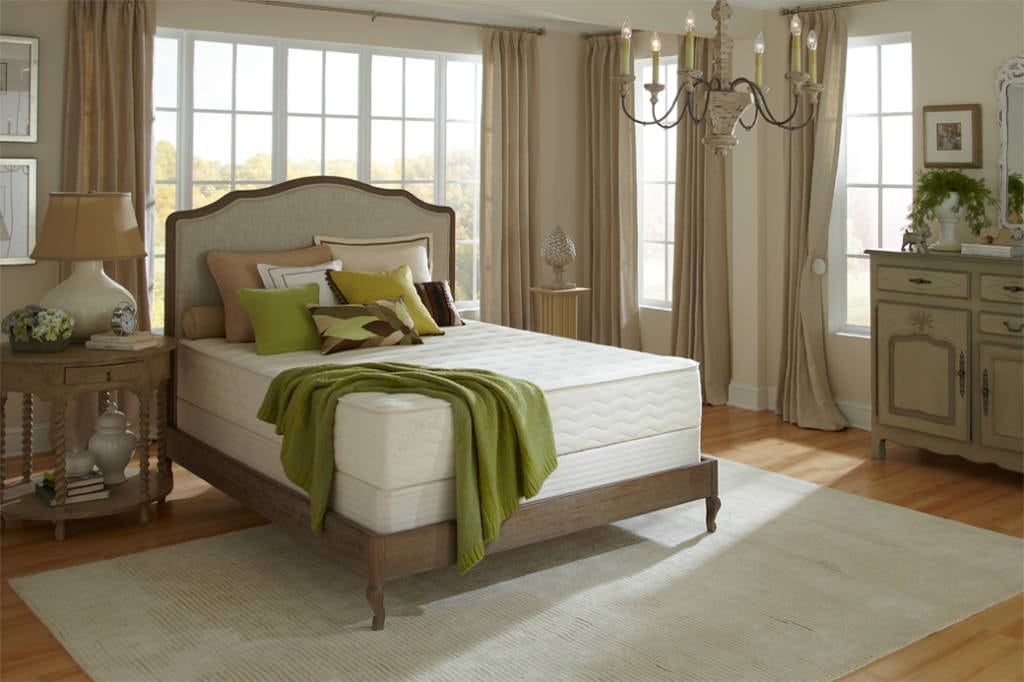 This PlushBeds mattress comes in five different sizes, with a 10-inch thickness. It is medium firm, made from organic natural latex with an organic cotton cover. The latex bed has several certifications, including GOLS, GOTS, USDA, OEKO-TEX, and GreenGuard Gold. The 30-day sleep trial and 25-year limited warranty are added perks.
Features of the PlushBeds Botanical Bliss
The Botanical Bliss Latex Mattress is one of those latex beds that are made from pure natural latex. This is the standout feature of this mattress. We have already discussed the benefits of natural latex. This mattress has no synthetic materials, so you can take full advantage of the benefits of pure latex. The core layer is made of Talalay latex foam and so is the middle layer. It is topped by a pure organic cotton cover. Because of the natural materials used, the mattress is completely for all people, including those with allergies.
Another notable feature of the latex mattress worth mentioning is the different firmness of each of the three layers. The layers are not glued together, which means you can simply rearrange them to adjust the firmness. Because of the ability to arrange the layers, you get to enjoy six different levels of firmness.
Adjusting the layers is simple. You simply have to unzip the mattress and arrange the layers the way you want. Since the mattress steers clear of chemical glue and synthetic materials, it is certified as high quality. If you are looking to invest in a genuine latex mattress free from synthetic substances, this is the one.
Pros
Organic Dunlop Latex
Pure and biodegradable material
Adjustable firmness
Layers can be rearranged Hypoallergenic
25 years warranty
Cons
One of the most remarkable features of Dreamfoam mattresses is the customized firmness. Customers are required to fill out a questionnaire, according to which the firmness of the mattress is customized. This feature is available with most Dreamfoam mattresses. Those who aren't usually satisfied with the usual firmness or softness of mattresses can pick this option.
The Dreamfoam Eurotop mattress doesn't have a pillow top cover – instead, it has a Eurotop cover. Unlike a pillow top cover, the Eurotop cover is sewn all the way to the edges of the mattress, creating a boxy look and cozy feel. The mattress is 12 inches thick and comes in five different sizes. The mattress is made of Talalay latex is, and the base layer is made of high-density foam.
Features of the Dreamfoam Eurotop Mattress
Dreamfoam bedding is manufactured in the US. If you prefer native products that are manufactured in the US, Dreamfoam is one such seller. The zipper Eurotop cover helps you in adjusting the latex density of the mattress. The cover is removable, helping to keep mattress clean by removing the cover.
The Talalay latex layer is three inches thick, and contours nicely to the curves of the body, providing support and pressure relief. The base foam layer is 8 inches thick, and the Eurotop cover made of bamboo fiber is 1.5 inches thick. Both the latex and the bamboo cover are biodegradable materials, and good for even those who suffer from allergies. The high density of the mattress offers elevated airflow and superior comfort. The Talalay latex is both hypoallergenic and breathable and also keeps cool. You can also change the firmness and density of the mattress according to your requirements.
Pros
Hypoallergenic, breathable, and biodegradable
Adjustable firmness
Zipper cover
Adjustable density
Cons
Firmness needs to be selected carefully
Gets hot sometimes
Although Spindle is a new mattress company, the products have been transforming the market ever since their launch. The defining feature of the Spindle mattress is made of Dunlop latex foam. Not many mattresses use Dunlop latex, so the Spindle mattress stands out because of this feature.
Features of the Spindle Mattress
This three-layer mattress is made of three separate Dunlop latex layers, with an organic cotton cover, free from bleach, pigments, and pesticides. The natural latex that the mattress is made of is five times more durable and breathable than memory foam. The natural materials used have good airflow and ventilation, great for keeping cool and comfortable.
The mattress comes with different firmness options, like soft, medium, firm, or extra-firm. The firmness calculator available on Spindle's website lets you customize your desired firmness. The natural latex offers advanced motion transfer, and you can also adjust the comfort level.
A special feature of the Spindle mattress is that you can assemble it yourself. The package comes in four separate parts – the three layers and the organic cotton zippered case. The assembly is extremely easy because there are instructions inside. All you have to do is arrange the layers properly, starting with the base layer and topping with the cover.
Pros
Natural Dunlop latex
Durable, with customized firmness
Different firmness options
Good airflow and comfort, with odor free organic cotton cover
365 trial period
10 years limited warranty
Easy returns
Cons
Expensive
Even the highest firmness is on the softer side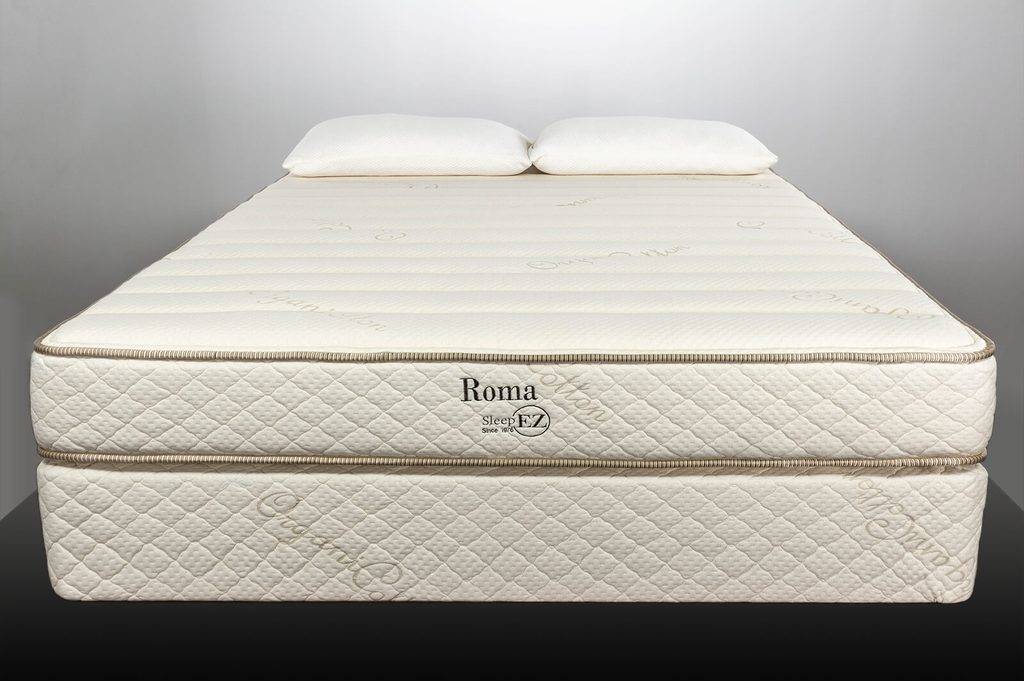 This is another mattress that is made of pure and natural Dunlop latex. This 9-inch mattress also comes with an organic cotton cover. Aside from a 10-year warranty, this latex bed also comes with a full refund guarantee. Roma is manufactured by one of the oldest mattress companies – Sleep Ez. The company has been manufacturing mattresses for more than 40 years and has built a great reputation for itself.
Features of the Roma Latex Mattress
The standout feature of this mattress is the two-in-one technology. The 9-inch mattress comes with a firm side and soft side, so you can choose the side that is more comfortable. The materials it is made from are Certi-PUR USA certified. This makes the latex bed safe for everyone, including babies and allergy sufferers. The mattress also has fire barriers made of rayon. Overall, all the materials used in the mattress are biodegradable, hypoallergenic, anti-bacterial, and mold and mildew resistant.
Pros
Easily to flip
Free from harsh chemicals
Pure and natural materials
Not too hard nor too soft
Hypoallergenic and Certi-PUR USA certified
Cons
Plush side not soft like memory foam
Only 9 inches thick
As the name suggests, this mattress is constructed from all-natural materials. This 11-inch mattress is made from completely natural latex. It is an 11-inch thick mattress offering pressure relief, resilience and contouring.
The mattress has isolated fabric-encased coils offering upliftment, support, and proper alignment. The medium firmness is just right, without being too hard or too soft. The latex is also great at motion transfer.
Pros
All-natural latex
Great support and comfort
Cons
The mattress you choose can have a direct impact on your overall health. Therefore, it is important that you consider all the factors before getting a new mattress. The right mattress should allow comfort, support, and pressure relief. Whether you buy a mattress online or from a store, the criteria for choosing one should always be the same.
For your convenience, we have also created an easy to share image that can be referred by you or your friends to have a handy list of best latex mattresses. Feel free to share it.