Recently updated on March 24th, 2023 at 12:07 am
Boho style is the new trending hot favorite of the season in both personal and home fashion. It is always a great idea to spruce up your personal space with a few statement pieces to give you a good chance of perspective and keep things exciting. The best thing about Boho fashion is that it is a simple style that works with all types of colors, patterns, and textures. You can go loud with bold colors and patterns or go you go simple with neutral shades and patterns. It depends on what suits your fancy. The one thing about Boho is that this style imbibes a carefree, relaxed, and laid-back vibe that relies heavily on different textures and patterns to give an open feel.
Whether you are new to the Boho vibe or a seasoned Bohemian fashionista, the best way to do up your bedroom with this look is by incorporating statement bedroom pieces that will refresh the look and feel of your personal resting place. Boho bedding is all about fun colors that can be bold and vibrant or soft and refreshing. The one thing that sets it apart is the fun embellishments that define "Boho Chic". You will get tassels and fringes with little side edgings to make the bedding decidedly Boho. You will find the best Boho bedding pieces to suit any budget and give your bedroom a quick Boho makeover.
Top Bohemian Bedroom Accessories and Furnishings
This is the most highly rated boho comforter on Amazon. It's also incredibly affordable. Complete the boho look with this reversible 7 piece bedding set from Lush Decor. It's perfect for giving your bedroom a quick makeover or to transform an AirBnB into an Instagram worthy bedroom.
Product Details:
100% Polyester
Bright, colorful and unique design with floral and geometric striped patterns for a mix of modern and bohemian bedding style.
Lush Décor Bohemian stripe comforter is the ideal piece for your rustic, yet chic, bohemian bedroom decor.
Soft, beautifully designed comforter made from 100% polyester – perfectly weighted, all season bedding. 230 GSM comforter.
7 piece full queen comforter set includes a reversible comforter (92 x 108 inches), 2 shams (20 x 36 inches + 2 inch flange), 2 Euro Shams (26 x 26 inches + 2 inch flange) a square pillow (16 x 16 inches) and a matching bed skirt (84″H x 72″W + 14. 5″ drop)
Both comforter and shams are easy to care for and safe to machine wash and tumble dry. Spot clean pillow. Follow care instructions on label.
There is nothing more soul-warming than a cozy blanket to curl up in with a hot mug of coffee to sip on. It brings to mind mindfulness in refreshing tones. The Annika Cozy Blanket by Johnny Was will instantly uplift your bedroom by breathing fresh life and vibrancy through its bold colors and print. It is a classic patchwork design with different bohemian prints in each square piece. The blanket is an all-season blanket that works well as a throw too. The extremely soft textured blanket brings together multiple colors like teal, yellow, pink, green, and blues in a nice paisley print.
The beautiful design is complemented with lovely craftsmanship that makes it truly special and well worth the premium price tag. It has a sherpa lining to keep you warm and toasty and comes with a matching bag. This makes it very convenient to carry around and store when not in use. It weighs a mere 6lbs making it a perfect wrap for the chilly evenings.
Product Details
Sherpa polyester
Comes with a matching bag
Weighs 6 lbs.
Size: 75 x 68 inches
Wash and Care Instructions
Machine wash in cold water
Tumble dry on low setting
No Bleach
Air dry with a warm iron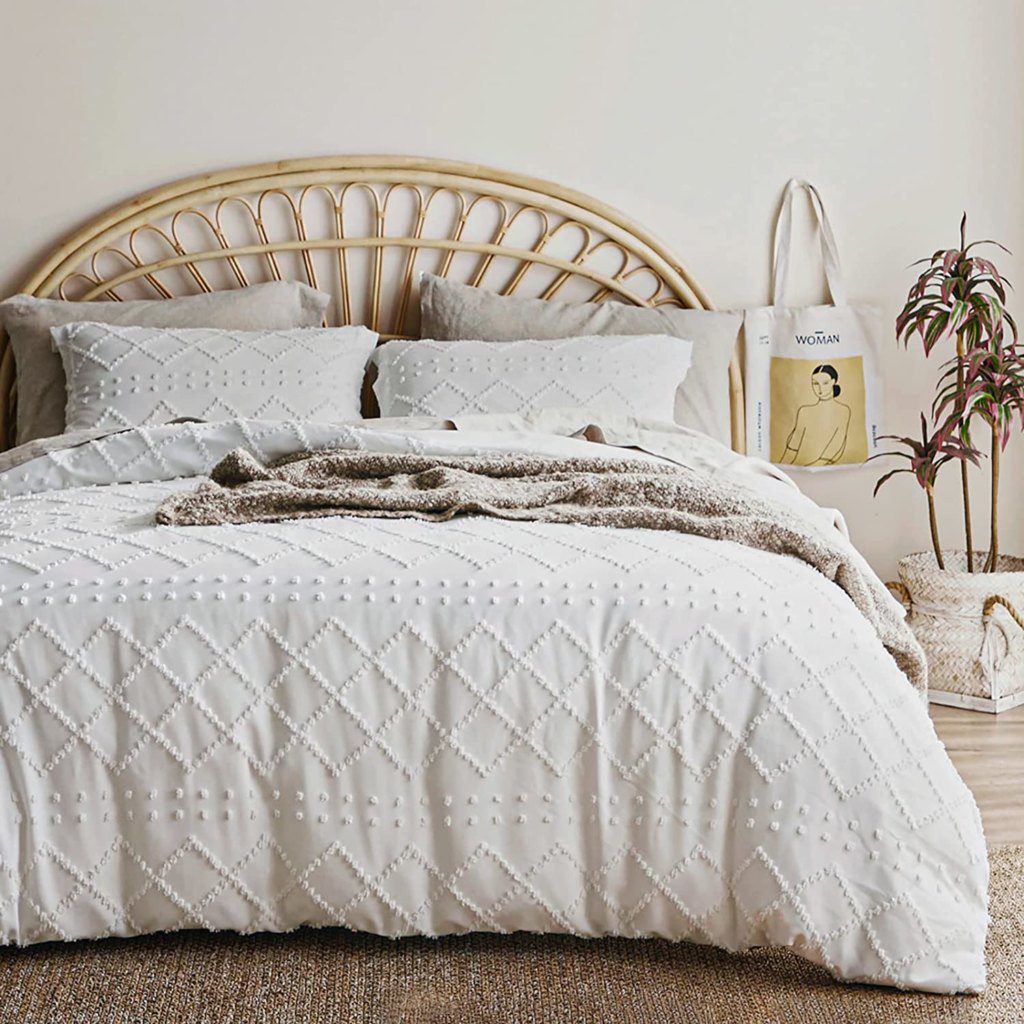 A duvet cover is one of the biggest bedding pieces in the bedroom. It not only protects your duvet from general wear and tears and from getting dirty but also serves as a fashion statement for your bedroom. The Azalea Skye Cusco Rhombus 3-Piece Reversible Full/Queen Duvet Cover Set in Beige is the perfect setting to juice up your bedroom and make it more inviting.
This duvet cover features nice bold Peruvian-inspired diamond motifs in black and paprika set against a backdrop of neutral beige. This is a very minimalistic style that makes for a rich personality. The best part apart from the great pattern and texture is that this duvet is a reversible product. You can easily opt for the other side that reverses into solid ivory if you get bored of the print and want something very neutral. Hence you end up with two products at the price of one. The matching pillows add to the charm and come with a nice complimentary print as well.
Product Details
·       100% polyester material
·       Available in three sizes
·       Pillows have a zip closure
·       Features Peruvian inspired diamond motif pattern
·       Reversible with print on one side and solid ivory color on another side
Wash and Care instructions
·       Machine wash in cold
·       Tumble dry on low
·       Can be ironed at warm heat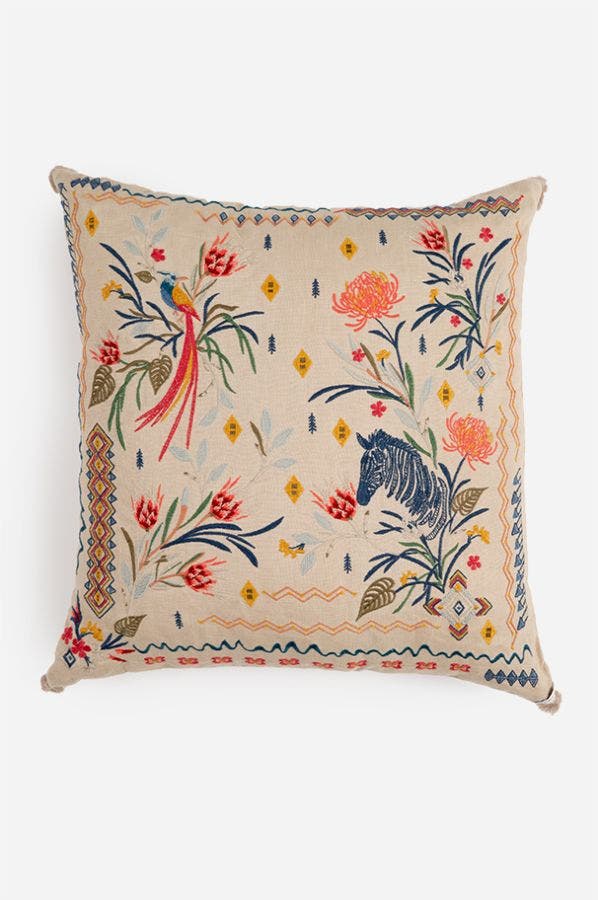 Johnny Wass is a great shop for all things Boho and Chic. The brand style resonates with cool breezy colors and wonderful textures that combine to form the soul of any Boho fashion. Their Watipaso Linen Embroidered Pillow is a great statement piece to add to your Boho structured bedroom.
It is a wonderful beige-colored pillow making it perfect for the neutral-toned aesthetics. This is interspersed with lovely multi-colored embroidery thread work. The prominent colors include greens and blues with a handful of pink, yellow, and red. You get a beautiful pattern of peacock staring at one side of the pillow and a zebra looking out from the other diagonal end. To round it off you have lovely tassels hanging from all four sides of the pillow making it an ideal accessory to your bed or the chaise in the bedroom.
Product Details
Made of premium quality linen material
Features 4 side tassels in a similar color
Exquisite threadwork embroidery
Features a lovely peacock and zebra pattern
Geometrical design on the boundary makes for a lovely contrast
Care and Wash Instructions
Hand wash only in cold water
Air dry in shade
Spot cleaning preferred
Your Boho décor is incomplete without the quintessential bed skirt.  Bed skirts never stand out by themselves but have the important supporting role to make the other décor items in the room shine like the duvet cover.
The Serena & Lily's Macramé Bedskirt instantly lends a decided boho flair and vibe to the room which makes it a must-have for any bedroom space. It also has the practical edge of covering up the bed legs and hiding the storage boxes under the bed. It is made of premium linen material and is available in five standard bed sizes. You also get to choose between three lovely colors of white, flax, and navy blue. The flax color is the closest to the boho theme but the other two are also great options. The fringed tassels at the hem are the best feature of the bed skirt and lend an upbeat mood to the room.
Product Details
100% premium flax linen
53% linen and 47% cotton for the white and navy color
Comes in five standard sizes to fit all bed sizes
Available in three colors
100% cotton fringed hem in a similar color
5-inch drop length
Wash and care instructions
Machine wash in warm water
Tumble dry on low
Remove immediately and pull straight to remove wrinkles
Do not bleach
Don't wash more than once a month
The Coyuchi Morelia Organic Duvet Cover is a great addition to have in your house. It is inspired by the African ikat textile style and is a vintage classic in its own right. Made of 100% organic cotton the material is yarn-dyed and woven on dobby looms. It uses a double beam technique to create a self-pattern of embossed zig-zag lines, diamond patterns, and geometrical outlines.
This duvet cover comes in two colors of ivory and blue. They both have patterns of grey with white and brown sprinkled to create an extremely attractive duvet cover. The cover comes to your doorstep pre-washed to give you a soft and crinkly feel for a perfect texture. You can also use this as a top sheet by itself if you want. The duvet cover has inside ties and organic coconut shell buttons that act as fasteners and is delivered in an organic bag that can also be used as its storage bag.
Product Details
100% organic cotton
Yarn-dyed with dobby weave looming
Comes in an organic bag for storage
GOTS certified
Available in two colors and five sizes
Wash and care instructions
Machine washable with similar tone colors
Use only soft detergents preferably plant-based detergents
Do not bleach
Fabric softeners are also not recommended
Place wool dryers in the drying cycle to soften the cover
Warm iron as needed
One of the easiest ways of infusing new life into your bedroom space or any other space for that matter is by getting on new pillowcases for your pillows. The Decklyn Pillowcase from Johnny Wass is a perfect example of Boho Elegance. A lot of people misinterpret Boho as too loud and maximalist. However, Boho can just as easily be "chic" and "sophisticated" as observed by this pillowcase.
This pillowcase features the signature Johnny Was print in a bold backdrop of indigo and violet. The fabric used is of premium quality and adds to the high quality exuded by this pillowcase. This is a perfect addition to your bedding and will help you sink into a perfect slumber with its rich and silky feel. The flowery design is the perfect Boho style and will easily blend into the theme of your space.
Product Details
Made of silk material
Features an invisible zipper
Size: 20 x 26 inches
Indigo and violet backdrop with flowery print in red, yellow, and pink
Wash and care instructions
Hand wash only in cold water
Air dry in shade
Spot cleaning or dry cleaning for stubborn stains
How To Achieve the Perfect Boho Style
If you feel a little out of breath and character thinking about the boho style and don't know how to go about getting the style right, then these helpful pointers will get you on the fast track to the boho style junction. It is very easy when you get a basic understanding of the concept and work around a few rudimentary principles.
Mix and mix
The best way to get bohemian in your house is to mix as much as you want. This means that you finally have the upper hand in mixing colors, patterns, and textures that might or might not match or compliment each other. Bohemian is a very open style that does not conform to the traditional sense of décor. So, no more worries about styles matching. Just go crazy here.
Try layering
Nothing is more bohemian than throwing textures on top of each other. You can easily put a rug on top of another at a slight angle to create more depth to the room or you can lay a nice chunky throw on the bed for a multi-dimensional vibe.
Experiment with Different Styles
Bohemian style is all about fun and mix-ups. You do not have to stick to a particular style if you are going after a boho look. Jazz things up by mixing mid-century furniture pieces with a modern geometrical design artwork and shaggy rugs to create the balance of traditional and contemporary.
Think Trims, Tassels, and Hems
If you are in doubt about the boho style then opt for décor and accessories that come with surface trims, hemmed edgings, and shaggy tassels at the edges. Look for neutral colors and organic materials with these trappings to get the perfect boho vibe.
Plant Up Your Space
In a bohemian, you can never have enough plants. Make plants your new décor statement and try sprucing up the setting in cloth hangings and macrame planters. You can even add some wicker-style potters to create the perfect setting.
Try Earthy, Organic, and Glamourous Textures Together
The fun part about bohemian style is that it does not conform to any one style or pattern. The boho style is a little all over the place while being understated at the same time. If you are after a sophisticated boho vibe then pair up the rustic earthy tones with your glamourous decors. You can always pair stylish wooden chairs with polished chrome textured leatherette seating to create an inviting ambiance. Bring it up a notch with neutral curtains and a deco wall to tie it all together.
Bottom Line
It is super easy to get on the boho wagon and the style speaks out to the relaxed and casual vibe. It is a mix of random colors, textures, and patterns that somehow all come together to give you a nice inviting ambiance. This list will help you find the best bohemian-style bedroom accessories and pieces to create the perfect boho charm.
Johnny Was for the Best Boho Style
Johnny Was is a fashion and lifestyle brand that was founded in 1987 in Los Angeles, California. The brand specializes in creating bohemian-inspired clothing and accessories for women, with an emphasis on natural materials, unique patterns, and vintage-inspired designs.
The company was founded by Eli Levite, who had a passion for vintage clothing and a desire to create a brand that incorporated elements of bohemian style. He named the company after his late grandfather, who had a love for colorful and eclectic clothing.
In the early years, Johnny Was primarily focused on creating one-of-a-kind vintage pieces and selling them at local markets and festivals. However, the brand quickly gained a following for its unique and eye-catching designs, and in 1996, Johnny Was opened its first retail store in Santa Monica, California.
Today, Johnny Was has expanded to include a wide range of clothing, accessories, and home decor items, all with a focus on bohemian-inspired style. The brand has also collaborated with a variety of artists and designers to create limited edition pieces, adding to its reputation for offering unique and one-of-a-kind designs.
Overall, the history of Johnny Was is rooted in a love for vintage and bohemian style, and the brand has remained true to its roots by continuing to create beautiful and eclectic pieces that are beloved by fans of bohemian fashion around the world.
Johnny Was is a fashion and lifestyle brand that offers a wide range of clothing, accessories, and home decor items with a focus on bohemian-inspired style. Here are some of the most popular Johnny Was products:
Embroidered Tunics: Johnny Was is perhaps best known for its embroidered tunics, which feature intricate embroidery and unique patterns on lightweight fabrics like cotton and silk. These tunics can be dressed up or down and are a staple of the brand's bohemian-inspired style.
Printed Dresses: Johnny Was offers a variety of printed dresses in both long and short styles. These dresses often feature bold prints and vibrant colors, adding a playful and free-spirited touch to any wardrobe.
Scarves: Johnny Was scarves are another popular item, often made from luxurious fabrics like silk and cashmere and featuring unique patterns and prints. These scarves can be worn as an accessory to complete any bohemian-inspired outfit.
Kimonos: Johnny Was kimonos are a must-have for any bohemian-inspired wardrobe. These flowy, lightweight pieces often feature embroidery, fringe, and unique prints, adding a touch of elegance to any outfit.
Home Decor: In addition to clothing and accessories, Johnny Was also offers a range of home decor items such as bedding, pillows, and throws. These items often feature the brand's signature prints and embroidery, adding a bohemian touch to any living space.
Overall, Johnny Was offers a wide range of products that appeal to those who love bohemian-inspired style. From embroidered tunics to home decor, the brand's unique and eclectic designs have made it a favorite among fashion and design enthusiasts around the world.