Amerisleep Recover + Comforter
Breathable materials and Recover+ technology for better sleep and recovery. Enjoy year-round comfort that feels like hugging a cloud.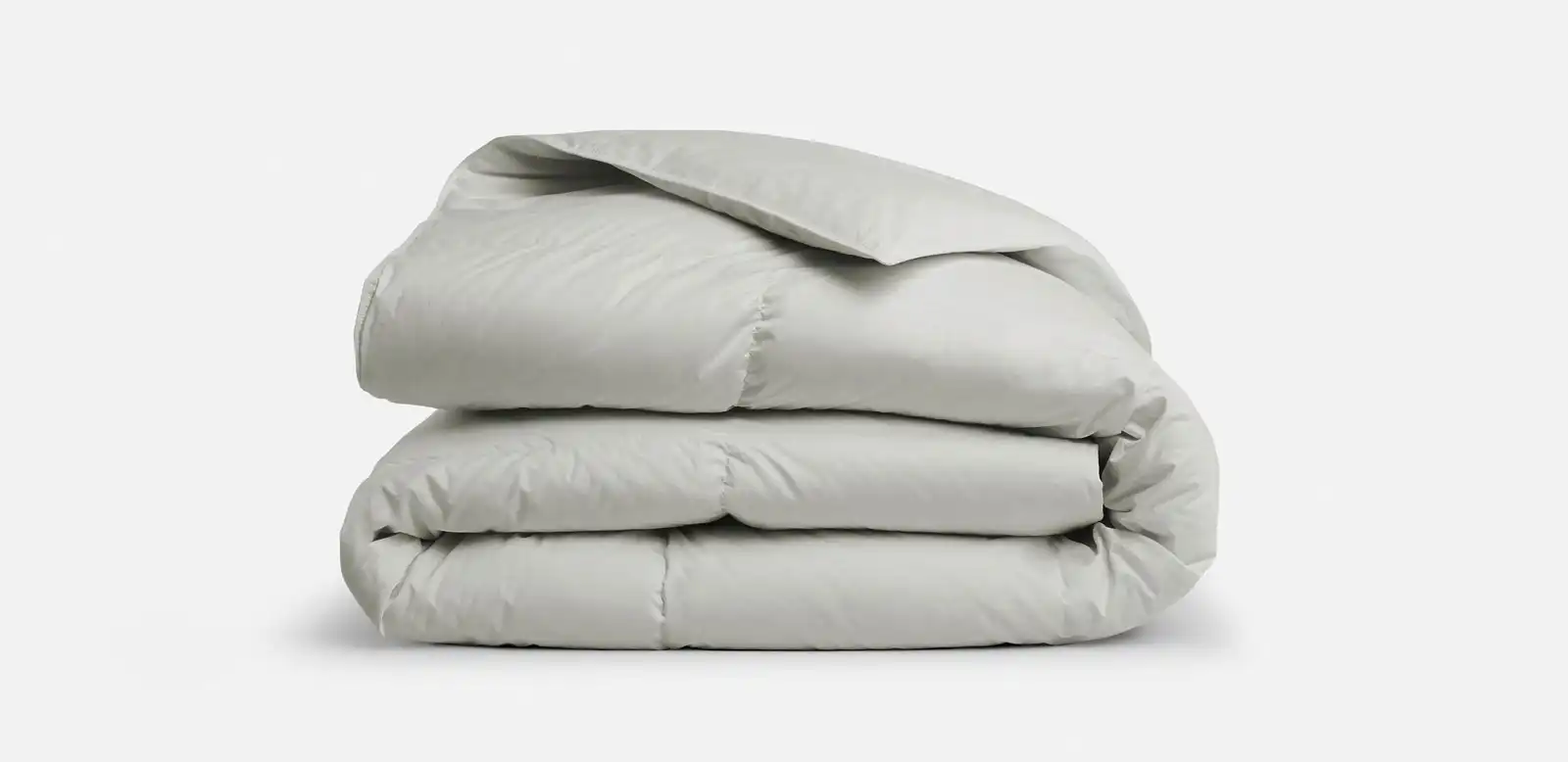 Amerisleep is best known for its line of mattresses. Over the years they have expanded their offerings to include pillows, bases and bedding. Most recently they have launched the Recover+ Duvet. This is a duvet insert that is made with Celliant technology. Celliant is a fiber that can turn body heat into infrared energy to promote circulation and improve sleep. Amerisleep incorporates Celliant fibers in their mattresses as well.
Overview of the Recover+ Duvet
This duvet is available exclusively through their website. My duvet took about a week to arrive at my doorstep. It comes in a standard box but inside the box you will find that it is protected in a zippable bag which can be reused to store the duvet when not in use or to store your old duvet.


How Much Does the Recover+ Duvet Cost?
The duvet comes in 3 sizes.
Twin XL – $250
Full/Queen – $290
King – $350
Construction of the Amerisleep Duvet
Below are the key construction details provided by Amerisleep.
Fabric: 46% Celliant®, 54% Cotton
Fiber fill: 42% Lyocell, 29% Celliant®, 29% polyester
Twin XL
68″ W x 88″ L
5.28 lbs.
Full/Queen
90″ W x 94″ L
7.92 lbs.
King
104″ W x 94″ L
8.36 lbs.
The Recover+ Duvet comes with a 1-year limited warranty. If you experience any manufacturing or cosmetic defects, we will replace your duvet free of charge. (This includes seams that come apart from faulty sewing.)
The Recover+ Duvet comes with free shipping. Provided we have the size you want in stock, your order will ship within 3-5 business days. After your order ships, it should arrive within 5 business days.
My Amerisleep Recover+ Duvet Findings and Recommendation
The first thing that struck me about this duvet is that it is grey. Duvet inserts are normally white and I was concerned that the color would show through my white duvet cover but that wasn't the case.
I have been sleeping on this duvet for over a month now and it does a great job or regulating temperature, not too hot and not too cold. I now live in San Diego where the nights can get chilly and if you leave your window open at night it can get cool in the bedroom. This duvet kept me cozy all night.
Conversely, now that it is May, the days are getting considerably warmer and my house stays warmer at night. That said, my wife still enjoys sleeping with this duvet which says a lot. Normally we switch to the Buffy Breeze during the summer but that may not be necessary with this duvet. The duvet is made with 42% lyocell which is a great material for keeping you cool and is the same material found in the Buffy Breeze.
The Amerisleep Recover+ also has loops on each corner so that you can easily tie or clip the duvet cover. Tying is my preferred method as I find the clips eventually come loose and you have to hunt for them when washing your bedding.
The label tag asks to dry clean only but I was able to wash it in my washing machine without issue. I also dryed it on low heat. My washing machine does not have an agitator and you should always wash according to the instructions but if necessary washing with a newer high-efficiency washer without agitator may be OK.
The king size duvet covered by bed completely so it will fill up the duvet cover nicely. It is pocket stitched so the material won't bunch up towards one end.
For a duvet insert, the Amerisleep Recover+ is not cheap. My king size duvet retails for $350 but the justification for the price isn't necessarily the look or feel, its the technology. This is the only duvet I'm aware of that has Celliant. Yes, there are now a handful of mattress brands, including Amerisleep that have Celliant technology but if you want to get the benefits of this technology without having to change mattresses, this is a great option.
Overall this is a great choice for people who are active and want to get the recovery benefits that Cellaint provides without having to switch their mattress. This duvet regulates temperature well and will fill up your duvet cover nicely making it a nice upgrade to your nightly sleep experience.
Amerisleep Recover + Comforter
Breathable materials and Recover+ technology for better sleep and recovery. Enjoy year-round comfort that feels like hugging a cloud.