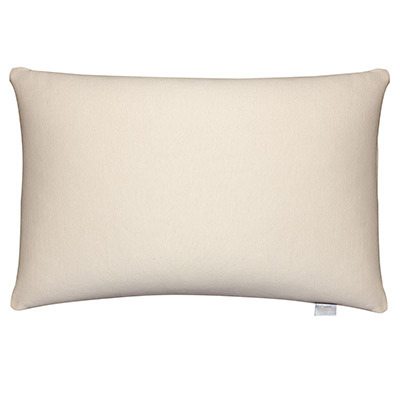 Ever tried sleeping on buckwheat? Me neither, until I was given an organic buckwheat filled pillow from Bucky. Bucky Inc. is based out of Seattle, WA and has been in business since 1992. According to their website, their manufacturing is increasingly done in the USA. Like bamboo, buckwheat is a sustainable material that Bucky Inc. has made available in the USA.
If you have neck soreness or pain when you wake up in the morning, it could be due to your pillow. I have found this to be especially true with traditional pillows that are filled with down or even foam. A typical nights sleep on these pillows starts out just fine but then I often find myself shifting positions and readjusting my pillow because it has sunk or shifted during the night.
With the Bucky pillow, I was able to mold the perfect support for my head and neck and noticed there was no sinking. Obviously you will still notice some shifting during the night if you change sleep positions but it is very easy to get the pillow back into your favorite position. Sleeping on buckwheat takes some getting used to. The Bucky pillow felt too hard at first, especially against my ear, but after a few more uses I grew accustomed to it. To alleviate this minor discomfort, I could have used a sleep mask to provide another layer of softness. I have already acclimated after just 2 nights with the pillow and it has become my favorite by far.
I had a great night's sleep with my Bucky pillow. My wife gave it a try the following night with the same results although she also mentioned that it was a bit hard. However, that's a small price to pay for alleviating neck soreness. And, like I said, the hardness sensation goes away after a few uses. Buckwheat pillows seem to be ideal for back and side sleepers as they provide good spinal alignment.
Aside from the amazing support, the Bucky pillow does not trap heat like a memory foam pillow. This would be a great pillow for people that sleep hot or live in warmer climates. Since it is filled with buckwheat, the pillows are on the heavier side but I see that as a plus since they won't move around as easily. It also has a pleasant smell since it is made from all natural material. You can even add your own scents such as lavender to the pillow by unzipping the cover and putting in the desired amount.
If you're in the market for a new pillow and are a side or back sleeper give the Bucky pillow a try. It is a completely different sensation compared to traditional pillows and may be the last pillow you ever need to buy!