Overview of the SoundAsleep Dream Series Air Mattress with ComfortCoil Technology & Internal High Capacity Pump
The SoundAsleep Dream Series Air Mattress with Comfort Coil Technology is the luxury air mattress, or inflatable air bed, that I never knew existed. Air mattresses are known for their compactness, portability, lack of weight, and ease of use. However, they are also unfortunately known for their short half-life but this one is definitely a game-changer. The SoundAsleep Dream Series Air Mattress comes with a 1-year warranty, which can allow even a skeptic to take a breath and a safe leap of faith. It's designed specifically for at home use but don't let that stop you from taking it on your camping trip but do please keep in mind that it belongs nowhere near water. With its internal high capacity air pump, throwing it in a lake or river will render it completely useless. So don't do that. 🙂

Purchasing The SoundAsleep Dream Series Air Mattress
For anyone who is an avid fan of Amazon, you can take comfort in knowing that purchasing this air mattress is as simple as it gets. If you're a Prime Member, even better, as it qualifies for Free One-Day Prime Shipping.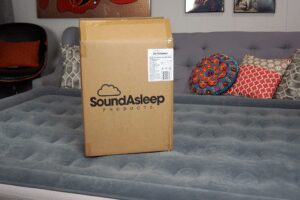 The mattress arrived in an 18″ x 14″ x 8″ size package. It's packed in a nice carry bag and comes with a manual that provides installation instructions and further information. In terms of weight, this is no light air mattresses. While it's packed compactly and can be folded back to the same, the SoundAsleep Dream Series Air Mattress weighs 20lbs, due to the durable materials that were used in its creation, as well as to accommodate for it's internal air pump.

How Much Does the SoundAsleep Dream Series Air Mattress Cost?
The SoundAsleep Dream Series Air Mattress in a Queen Size costs $119.95, and a Twin Size runs for $94.95, both available on Amazon.
Construction of the SoundAsleep Dream Series Air Mattress
Unlike many other air mattresses that I've seen, this one won't require getting up and out of bed to feel like a strain, due to its raised double height. The measurements below are as follows:
Queen Sized with Inflated Dimensions of: 78″ x 58″ x 19″
Twin Sized with Inflated Dimensions of: 73″ x 38″ x 18″
One of SoundAsleep's unique features in this bed is their Comfort Coil Technology. What that refers to is the 40 internal air coils inside the mattress, which were designed to provide a balanced amount of air all throughout when inflated. It's meant to add durability and support, allowing the bed to remain firm. It's made with Eco-Friendly PVC and top flocking. The flocked top adds comfort and a feeling of smoothness to the bed and it's also waterproof. A carry bag is also included.
My SoundAsleep Dream Series Air Mattress Unboxing & Findings
The only air mattresses I've been familiar with are those designed for camping so this was a new find to me. I've slept on air mattresses with the initial thought being that I'd be fine for the night, only to find myself wrapped inside it like a cocoon since it deflated while I slept. I've also seen friends toss their own air mattresses into a river, to laugh and float on a gentle stream. It too had a flocked top but was ⅓ the size and nothing close to this.
When it came to the SoundAsleep Dream Series Air Mattress, at first I wasn't sure that its raised double height was necessary but after trying out the bed for myself, I realized how useful it actually was. And how comfortable it was. Now that I've experienced it, I wouldn't want anything otherwise. When one sleeps too low to the ground it can feel incredibly awkward and this was definitely not the case here. Unboxing was simple but folding it out took a minute or two, primarily because it was so heavy but I knew that it's weight was there for a reason.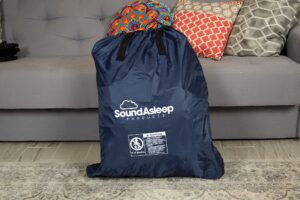 Once I had it laid out, I was shocked at how quickly it inflated. On their Amazon product page, they say it inflates within 4 minutes but it felt a lot more like 3 for me. Once I sat on the mattress and then laid across it, it felt extremely comfortable. My body and back felt well supported and overall, it felt great for an air mattress. It definitely exceeded my expectations.
In addition, despite having the bed inflated for quite a few days, I saw absolutely no reduction in air. That too was pretty astounding. When it came to deflating the mattress, I assumed it would take a while but it also deflated very quickly. The internal air pump allows you to both inflate and deflate the mattress, so you don't have to roll the mattress and then roll yourself on top of it to get all of the air out. This mattress does both!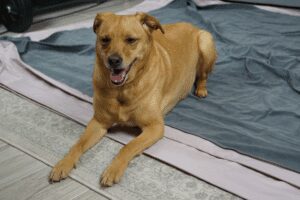 My SoundAsleep Dream Series Air Mattress Recommendation
I am definitely impressed with this bed. Many people mention using it in their homes for guest bedrooms and I can see why. It doesn't look cheap, it's not cheaply made and it doesn't feel cheap either. I think this is a pretty great find and worth a shot for anyone considering it for at home use, or even to take camping a few times a year.
The only thing I feel it worth mentioning is that one should be mindful due to its poor edge support. That can be a risk with any mattress but it's almost a given with an air mattress. I wouldn't let that be a deal breaker, with all of its other amazing qualities, including SoundAsleep's generous 1-year warranty. It's pretty clear that they know they've created a top-notch product and their 4.3 out of 5 star rating, based on 14,164 individual customer reviews on Amazon, makes that absolutely clear.