Reflex Pillow: A Side Sleeper's Dream
The Reflex Pillow was specifically designed to relieve and eradicate the neck pain and back pain that is usually a result of inadequate support during sleep. But even more, the Reflex Pillow is best suited for side sleepers.
Sleeping on your side, for those that do, just feels natural. It's even how we prepared ourselves for the real world while still in the womb. There is a certain comfort to it that is difficult to shake, and even more difficult to shop for. So many pillow manufacturing companies try to create products that are a one-size-fits-all but this rarely works.
Overview of the Reflex Pillow
Noel O'Conner, the Irish inventor behind the Reflex Pillow,
is a specialist in the treatment of back and neck pain since 1987.
After having to both see and treat countless patients, he was motivated to create a pillow that could alleviate so many of the issues that come from poor sleep such as neck pain, spinal alignment, sleep apnoea, snoring, insomnia and even teeth grinding.
Most ideal for side sleepers

Created in Ireland

Reflex foam is 50% softer than memory foam

An expensive pillow no doubt but with the quality to match

Item must be purchased directly through the Reflex Pillow website

Shipping is $30 (since it's coming to you from Ireland)

They have a 14-day return policy
The Reflex Pillow is fully patented and trademarked. It is also an approved medical device and CE certified.
"CE marking is a certification mark that indicates conformity with health, safety, and environmental protection standards for products sold within the European Economic Area (EEA)"The Reflex Pillow retails for €79.00 which comes out to be roughly $97.53. Being that it's being shipped to you directly from Ireland, shipping on top of that is €25.00 which is roughly $30.87. The pillow can only be purchased directly through their site.
Construction of the Reflex Pillow
The Reflex Pillow is 610mm long x 412mm wide x 110mm high. In inches that means it's  24" long x 16.22" wide x 4.33" high. It has a flat bottom base along with a shaped top surface. It weighs 2 kg which is about 4.4 lbs. It's suitable for all standard pillow cases.
It's specially formulated with a non toxic foam material, also known as Reflex Foam, which was specifically created to be used in this product. Reflex Foam is 50% softer than memory foam.
My Reflex Pillow Findings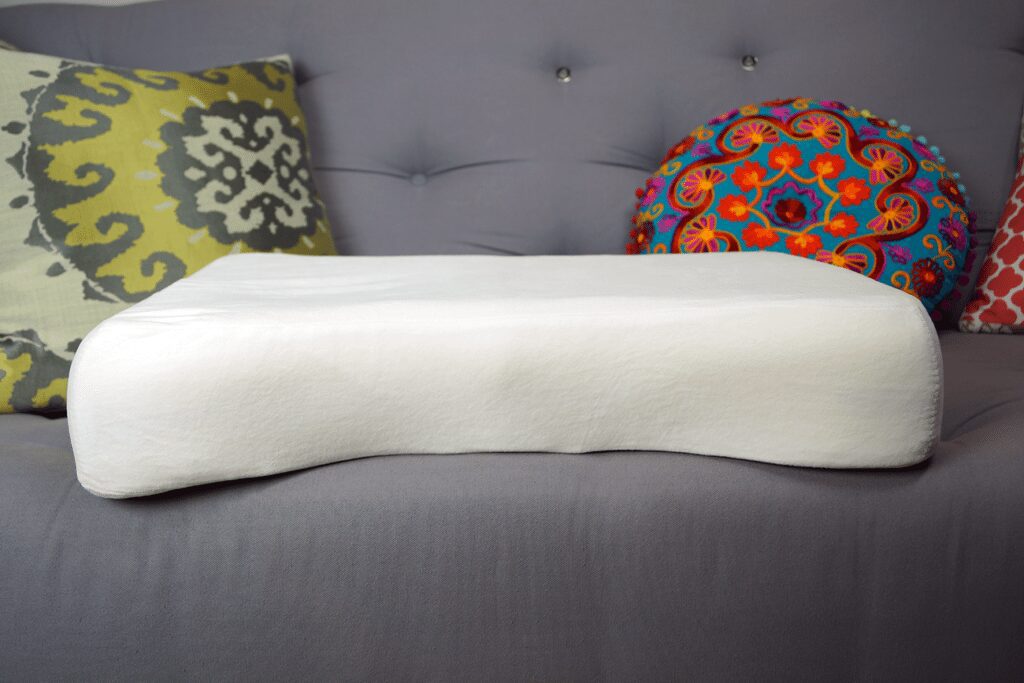 I really consider the Reflex Pillow to be a substantial and high quality product. Given it's price that's precisely what it should be and that's exactly what it is. While it isn't said to be for side sleepers only, this is the impression that I was given when reading this: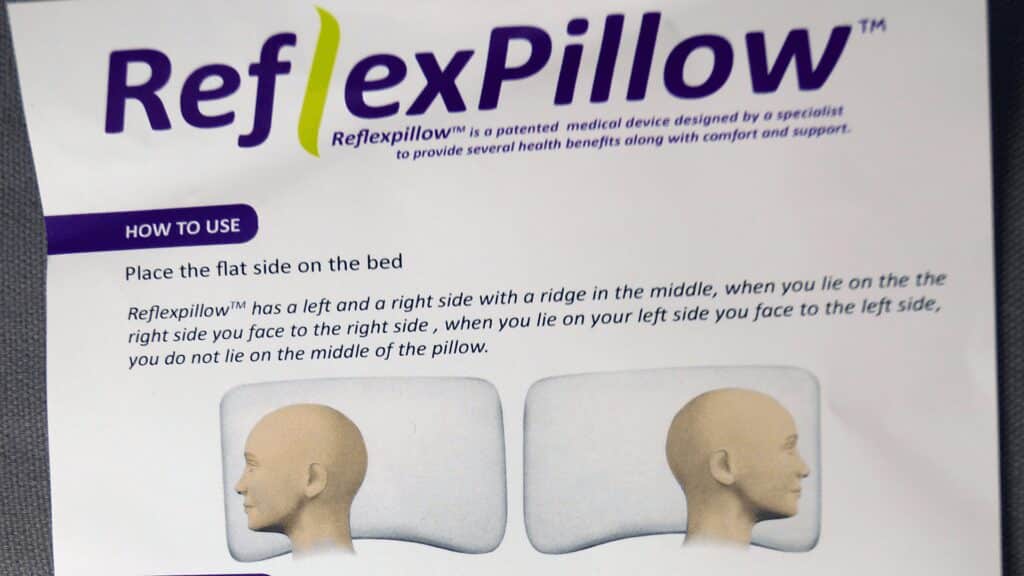 The Reflex Pillow is constructed with some amazing contouring. It's a pillow that finally pays mind to the all of the details of the body when considering the head, neck and shoulders. There is an anti-headroll ridge in the center, there are 2 head dips, as seen in the image above, and then there is a neck support and shoulder slot. And let me tell you, that shoulder slot is heavenly.
In in the information guide that came with the pillow, there is no indication of how to sleep on the Reflex Pillow if you were sleeping on your back because I don't believe it was designed for that. If it were, why else have the ridge in the center?
I am usually reluctant when it comes to foam pillows but this one is really different because it's not created with memory foam. In fact Reflex Foam is 50% softer than memory foam. Reflex foam is soft, comfortable, pleasant but also supportive. When laying on it for the first time I could tell that it still provides adequate support for the neck and shoulder. Overall it gives stability without feeling stiff.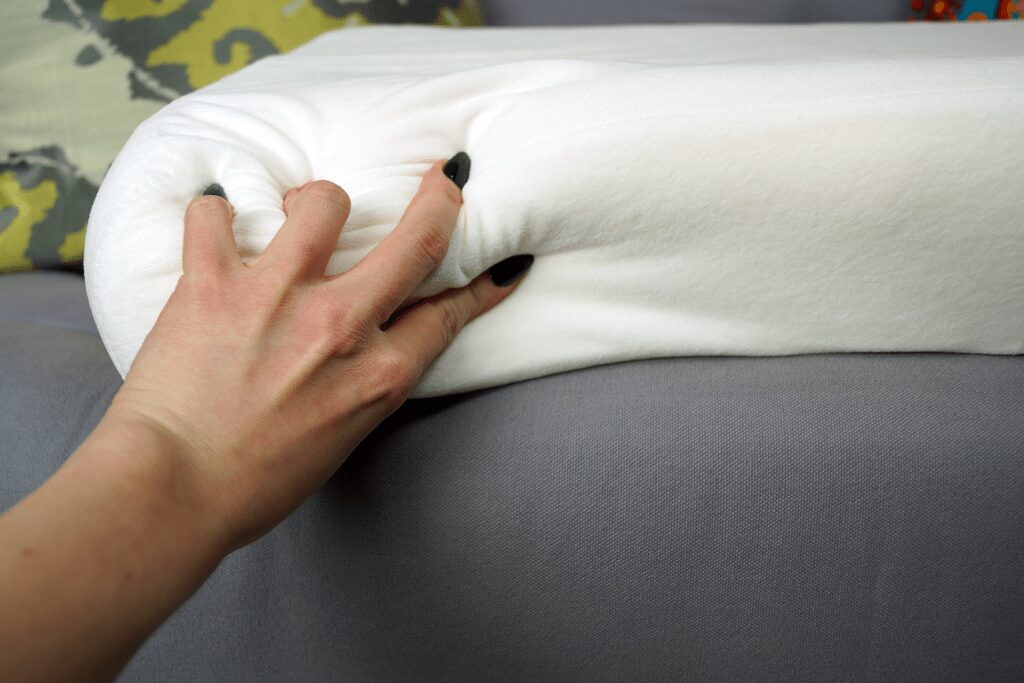 My Reflex Pillow Recommendation
One of the first things that stood out to me about the product was the passion involved in creating it. Noel O'Conner, a back and neck pain specialist, put himself out there on crowdfunding websites like Kickstarter and IndieGoGo to fuel his dream and create a product that would be effective in helping people overcome their neck pain and spinal alignment issues. He ended up raising twice the amount of his original goal, which gave me the awesome opportunity to try it.
The pillow is costly, there's no doubt about that but you pay a high price for high quality goods, that's just the reality. I also actually like that you have to purchase it from their website directly. It says a lot about how important it is to the company to handle their own product and their own customer service. For people who are truly suffering with pain from sleeping or pain overall, that can easily worsen with poor pillow support, the Reflex Pillow is absolutely worth the investment. I've slept on it only for 1 night so far but can't express just how impressed I am with it. It looks and feels like a high quality product in every way. Reflex Pillow's 14-day money back guarantee is also comforting.
Learn more about the Reflex Pillow
Disclosure: We aim to highlight products and services you might find interesting, and if you buy them, we may get a small share of the revenue. I have an affiliate relationship with Reflex Pillow