After the day's endless hectic demands, there is nothing more relaxing than lounging on a comfortable sofa with our feet up and lovely drink in hand and the TV turned on to your favorite show. It is the ultimate stress buster. Whether you admit it or not, a sofa is your best friend at any point of the day, especially in the evening when you want to unwind and relax. Make that sofa a "reclining sofa," and you have the ultimate relaxation pleasure you can find.
Relining sofas help you become nice and comfortable in your favorite snuggle position, be it with your feet tucked in at an elevated level or your upper body in a semi-reclined position. You name the angle your body is craving, and the reclining sofa will do the rest. They are both cozy and restful with a design that is aimed specifically to create a nestling snugness for your tired body. A sofa is the most prominent piece of furniture in any home. They essentially make up the living room. Reclining sofas do more than just be a furniture item. They double up as an aesthetically pleasing setup with high comfort taking up space next to formal socializing furniture items.
A good reclining sofa not only allows you to create that perfect space for your dinner parties but also provides the perfect place to relax, unwind, and simply put your feet up after a tiring day. It is a sofa where you sip beverages, have popcorn, and watch your favorite shows on Netflix or snuggle up with your cozy book on Kindle. However, with the popularity, there is also a deluge of choices in the market. But worry not and simply sit back and relax while this article takes you through the finer points of buying your best reclining sofa and gives you a head start with the top 7 reclining sofas in the market that you will want to buy immediately.
What is Reclining Sofa?
First things first, what is a reclining sofa? Before you start coveting a reclining sofa for your living room, you should understand the concept of a reclining sofa. It is simply a sofa that has hinges allowing it to recline to different angles both in the upper section and the leg section.
In other words, a reclining sofa allows the back portion and the leg portion of the sofa to angle backward and forwards. So you can tilt the upper portion of the sofa backward, and you can raise the footrest section upwards. Both these features combine to allow you to get the best angle you want for yourself. You can either lay flat on the sofa, be in a completely upright position, or any other lounging angle in between these two extreme poses depending on your preference.
Different Types of Reclining Sofa
All types of reclining sofas work on a similar concept. They are put together in sections that are hinged on levers. These levers or hinges allow you to change the position of the upper and lower segments, respectively. However, even though the basic concept is similar other features give rise to differences. Based on these different features, all reclining sofas can be categorized under the following types. These are:
Different Types of Reclining Mechanism
Manual or Physical Recliner
The manual reclining sofas are the most popular form of reclining sofa. They also make up the majority of reclining sofas in the market. About 70% of all reclining sofas in the market are manual recliners. These sofas have a button you can press or a tab that you can pull to change the angle of the sofa. There will be separate controls for the upper and lower segment, or they will feature a single control for both the upper and lower segment depending on the particular sofa you buy.
The control is not power-operated and relies on the physical force of the body or a tag/ lever pull. The angles in the manual reclining sofa are pre-set, and you cannot tweak it to get the perfect angle you might desire. There is a spring in the bottom segment that releases the footrest. Manual reclining sofas involve some getting used to the controls to release the levers and spring smoothly, but once you get the hang of it, the adjustment comes through pretty smoothly. People prefer this setup since it does not involve a power aid and has lesser moving parts. On the flip side, it cannot give you the angle flexibility that a powered recliner can.
Powered Recliner
The powered reclining sofas make use of an electric motor to control the adjustment feature of the sofa. They have a control panel on the side of the sofa armrest from which you can easily control the recline and retraction of the sofa. The control panel can be in the form of remote control as well for a smoother and more convenient experience.
The powered or electric reclining sofas are preferred over manual ones because of the smooth and even adjustment process and the fine-tuning angle feature it supports. With manual recliners, the sofa changes angle abruptly, which can cause discomfort, especially to those that have an existing medical condition. Powered recliners, on the other hand, adjust slowly and smoothly with no sudden changes. Secondly, manual levers can be taut and difficult to release, but powered controls do not require any effort. However, with this ease comes to an attached price tag as well, which might put you off the powered recliner.
Semi Adjustable Recliner
These sofas are semi-adjustable. They allow for one recline position between upright and flat, which can provide you with a good lounge position. If you are tight on a budget, then this is a good choice for you. It does not support footrest and leg angle adjustment but can be a  good option for a semi lounge position.
Different Types of Upholstery
One of the major features that set your sofa apart from the others is the upholstery you choose. Just like normal sofas reclining sofas also come in a variety of upholstery options, which you can pick from. The popular ones are:
Leather
Leather needs to introduction. It is one of the most sought after upholstery materials for its class, looks, and fine aesthetic appeal. Real leather upholstery is made from real leather, but it is made by scraps or leftover pieces of real leather that are stuck together with adhesive. The result is leather that is every bit as strong if not stronger than polyurethane, but it is also quite prone to elemental damage, especially liquid damage. This leather is also not as durable or versatile as high-quality leather.
Top-Grain Leather
This variation of leather is the more popular upholstery option used by manufacturers. The top-grain leather is more durable, supple, and offer better flexibility than the normal version of leather. It is also often pre-treated to give a better texture than the other leather variations. This type of leather is perfect for upholstery since it is a very tough material that is highly resistant to stains and water damage.
Polyester
Polyester is a very popular fabric choice for sofas in general. This is in part due to its high resilience to water damage. It repels water naturally, making any spills easy to clean up, and has the added advantage of stain resistance as well. It is a more durable material than other more natural options, which makes it a very attractive option. It is also significantly cheaper and easier to work with than others, which only adds to the appeal.
Polyvinyl Chloride
Polyvinyl chloride, also known as PVC, is the least expensive upholstery material that is used by manufacturers. Needless to say, it is also one of the more popular options used by them. It is generally advertised as "faux leather" to add to its appeal.
PVC is low on durability and prone to developing scratches and lines. However, this downside is overshadowed by the low cost and the waterproof feature. PVC is the only material that is waterproof. It is also known to resist stains way better than its other counterparts. Apart from not absorbing any liquid, it also doesn't exhibit any water damage over time with water exposure. This is a good choice for those with kids and toddlers that are prone to spilling liquids and other things on the sofa.
Polyurethane
Popularly known as PU, polyurethane is essentially a plastic material that is synthetically produced. It is a non-toxic substance that is widely used for faux leather production. PU is very similar to PVC in its basic structure. They are both waterproof and exhibit high stain resistance. Just like PVC, PU also does not break down with regular water exposure.
The difference lies in their torsion strength. PU has better torsion potency than PVC. This means that PU is more resistant to cuts, punctures, and other force damage than PVC. This, coupled with the fact that PU is only marginally more expensive than PVC, makes PU a much better choice than PVC.
Different Types of Frame
Metal
Metal is a popular frame choice. It is more durable and versatile than the other options and tends to stand true to its form over time. Metal is also easier to work with and manipulate than wood. It is also cheaper than hardwood but a tad bit more expensive than manufactured wood. The comfort level with metal is on the lower end of the spectrum, and it does tend to create pressure point problems if the sofa is not properly refurbished with cushions periodically. It also tends to creak and groan with time, especially at the joints.
Manufactured Wood
A manufactured wooden frame is the weakest of all the three frames used in reclining sofas. It is best to give any reclining sofa with this frame a miss unless you are looking to buy a replacement in a short period. Some manufactured wooden frames are treated with chemicals to make them more durable, hard, and stronger, just like hardwood, but this type of treated manufactured wood is generally not found.
This low durability and strength mean that the manufactured wooden frames will also exhibit low weight capacity. If you have children that will jump around on the sofa or pets that are likely to climb it, then it is best to look for a sturdier frame.
Hardwood
This type of frame is by far the most popular of all frames. It is both durable and versatile. Hardwood frames are known to stand the test of time without any changes to their structure and flexibility. The high durability ensures better comfort for the user. Hardwood also does not allow any pressure point development, which is great news for your body. The only flip point to hardwood is the price it comes at. Hardwood is the most expensive of all frames, which drives the final product price high as well.
Buying Guide for Reclining Sofas
Variety is an amazing thing. However, it is also a double-edged thing. It is great to have numerous choices on hand when looking to buy something, but those choices can also make the task of finalizing the product equally challenging. In this case, it is helpful to know the major points you should be considering. This will help you stay focused and not end up buying something on a whim. The important considerations to keep in mind when looking at reclining sofas are:
Frame: Frames are a very important consideration when you buy a reclining sofa. Above everything else, it is the frame that determines the weight your reclining sofa can bear. It also dictates the durability and lifespan factor of the sofa.
If the frame is weak, then you cannot expect it to last long. Also, a weak frame directly translates to a poor recliner. The angle adjustments will be weak and shoddy, with your reclining sofa unable to give you the level of comfort you desire. Hence you must choose the right frame for your sofa.
Upholstery: Different sofas come in different upholstery. You can even get one made in the fabric of your choice. When choosing the reclining sofa, you should pay special attention to the upholstery you want. Some are more resistant to water and surface damages than others. If you are prone to spillages, especially with pets around or have little kids in the house, then it is better to opt for PU upholstery than a leather one.
Design: This is an important element while buying a reclining sofa. Some sofas are made with premium quality materials but still end up getting bad ratings. This is because a design affects the functionality of the sofa. It can be a high back sofa with little attention to the back curves making it impossible to lounge on it, or it could be a sofa with curved edges and sectional padding to contour well with the body shape. Choose wisely when you are up and about looking for the perfect fit.
Size: Reclining sofas typically take up more space than your normal sofas. You need to look at the room size while deciding which reclining sofa size to buy. Depending on the room size, you might need to buy a two-seater, three-seaters, or a single corner unit. You should also factor in the number of people that you expect to sit on the sofa; this will depend on the number of family members and the average guests you expect to invite home.
Recline: Reclining sofas all employ different levels of recline. Some give you full control just like reclining chairs, and some offer only limited angles of recline. It is best to try out the sofa and the level of recline it offers before you buy it. This way, you will know if the sofa is comfortable enough or you want something that offers a different degree of the lounge.
Mechanism: Also, pay attention to the type of recline mechanism the sofa features. Whether it is manual or electronic, the advantage of electronic is more control over the angles and a seamless recline shift. However, electronic recliners also require a power source to operate and are more expensive than manual ones.
Added Features: While most reclining sofas come with basic functionality, some recliners have added features for a more diverse experience. You get features like edge lights, cup holders, and extra concealed storage space in the arms, etc. Some high end reclining sofas even come with a built-in USB port for charging your mobile devices, overhead reading lights, remote control space, and even voice control. You might want to look into some of these extra features before you buy the sofa.
Durability: The durability of the sofa is predominantly defined by the upholstery and frame. Your best bet with durability is to go in for a hardwood frame with leather upholstery. Apart from this, you should pay attention to the user reviews to quickly identify if the frame construction is well made or not.
The next point to consider in durability is the padding on the sofa. The padding should be able to retain its bounce with time; otherwise, the sofa will lose its comfort level. Once again, customer reviews are your best bet to tell whether the sofa develops indents or ripples in the upholstery after use
Warranty: Reclining sofas are an expensive purchase, and like every expensive purchase, you should have a fallback route in case things don't work out as planned. Here is where the warranty comes into play. Most manufacturers offer a good warranty on their products, but you should be careful and read through the warranty terms to know the points covered. It is best not to buy a sofa that does not offer competitive warranty conditions.
Price: Price is an extremely important consideration, especially when you are indulging in a long-term, expensive purchase. Reclining sofas of any kind is an investment that needs to be made thoughtfully. It will be prudent for you to have a figure in mind before you step out to buy the sofa. You should also try to avoid the ones on heavy discount if the product seems low on value for money. Look for a sofa that ranks high on durability and features even if it is a little more expensive than others.
Caring For Your Reclining Sofa
Any furniture is only as good as the care you give it. You can buy a top-notch sofa, but if you do not care for it well, it will begin to show in the dirt, constant wear and tear, stains, and all the other little things that sneak up on you with use. Before you know it, your brand new sofa will start to look old, shabby, and faded. But don't despair. You can easily prolong the life of your furniture by taking a few precautions and caring for it well. Some of these caring tips are:
Covers: It is best to cover your sofas with an appropriate cover. This will act as a barrier between your sofa and the outside elements. It will take care of any dust, dirt, stain, pet hair, or dander.
Regular Cleaning: Another advantage of having covers is the ease of cleaning the sofa. You just have to remove the covers and wash them in a washing machine. For the sofa itself, wet cloth wipe-down will suffice to keep the upholstery spick and span. For suede, velvet, and other cloth upholstery, simply wipe down with a dry cloth or vacuum cleaner.
Inseam stitch cleaning: The stitches within the sofa segments tend to accumulate dirt with time. It is best to remove this with the help of a tiny brush. You can use the brush to dislodge the dirt and then wipe it off with a cloth.
Cushions: You need to air the cushions and regularly flip them over so that they do not get deformed over time with use.
Top 7 Reclining Sofas
| | |
| --- | --- |
| Pros | Cons |
| Microfiber polyester upholstery | Cushioning tends to compress with time |
| Best budget buy | Not good for smaller spaces |
| All metal frame |   |
| Comfortable extra-wide seating |   |
The Hogan Signature Design Reclining Sofa from Ashley is a great buy for those looking to get a good reclining sofa at a budget point. Ashley Furniture is a well-known brand name in the furniture world. They are known for their classic and contemporary furniture designs with extra attention to durability. It is a very small family-owned business that caters to the budget-conscious class without compromising on quality.
This is exactly what you get with the Hogan reclining love seat. It is a contemporary reclining loveseat that fits your budget well and adds quality to your living space and life. Made of microfiber upholstery, it gives a soft and comfortable feel to the skin. The polyester used is of high quality and not prone to damage. The cushions are of good resilience add offer high cushioning to aid comfort.
The frame of the sofa is designed as a corner block frame and has a metal reinforced backing. It is available in the neutral tone of soft mocha beige that makes it ideal for any space and allows it to blend well with any décor.
Key Features
Microfiber upholstery
Available in soft mocha beige color
Metal frame structure
74x 44x 42 inches in dimension
21-inch seat height
Pillow-top armrests
Manual reclining mechanism
Requires assembly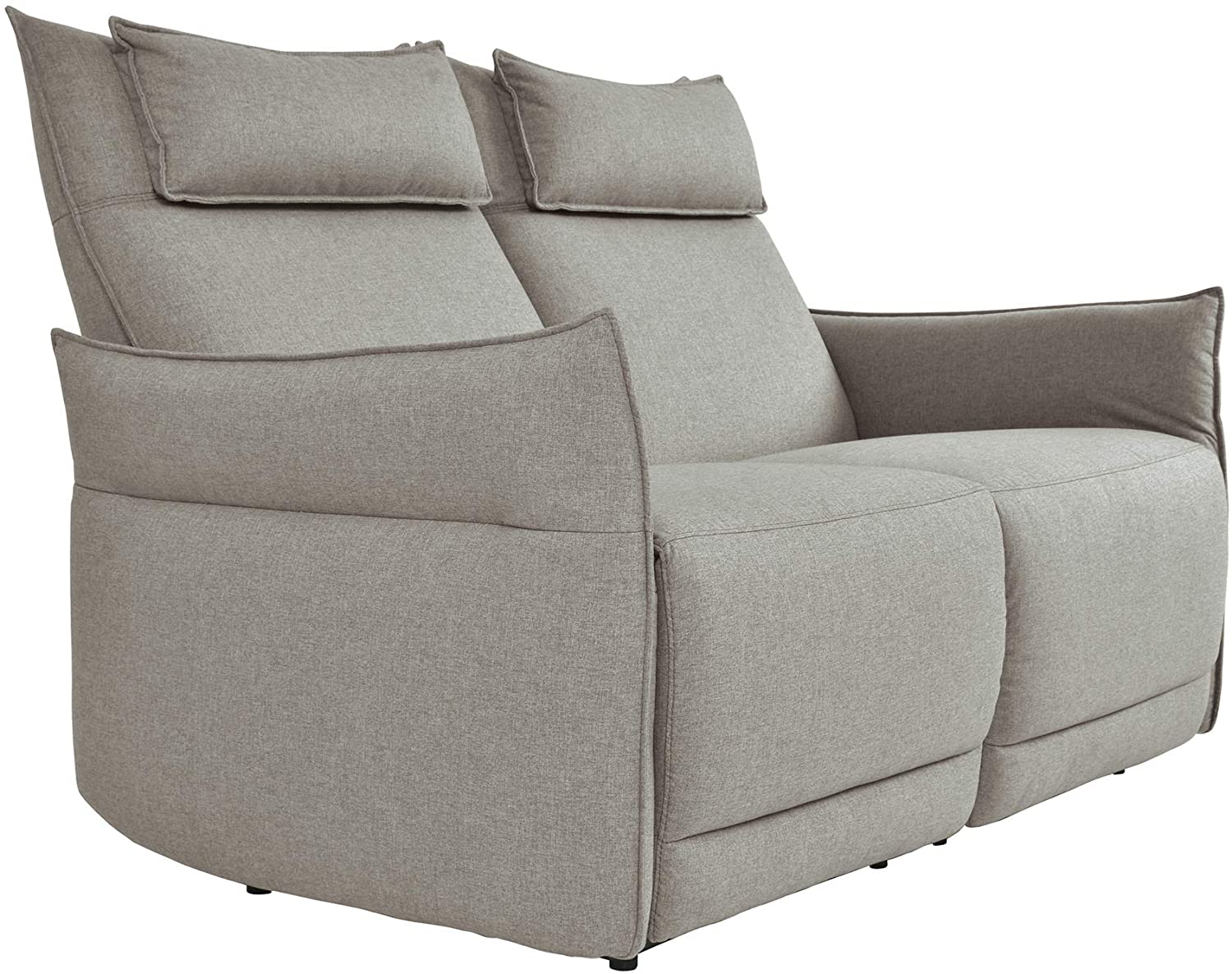 | | |
| --- | --- |
| Pros | Cons |
| Dual reclining position | Back segments are attached separately |
| Bonded leather upholstery | High price point |
| Aesthetically pleasing with tufted design |   |
| Comes with a 5-year warranty |   |
This reclining sofa from Homelegance offers you quality and style rolled in one. The 90″ bonded leather sofa makes for a great addition to the family living space. It comes in dark brown color with a tufted back design and nail accents all through the armrest to the bottom. This gives it a luxurious old class charm that is hard to come by in this age of contemporary furniture designs.
The cushioning is perfect for elevating any aches and pains you might have developed during the day, and the leather itself makes cleaning this beauty a breeze. The upholstery is nice a stretched with impeccable stitching that stands true and will not come off at the seams with use. It features a manual double recline mechanism, which is ideal for those wanting more flexibility in their recliners. The footrest goes into the rocking mode when not unlocked. It springs up very smoothly when required and adds great comfort to the overall seating posture.
It is a roomy recliner with plenty of space between the sofa seat and the armrests. It is also wide enough to accommodate an adult with kids or any toddler that want to squeeze in.
Key Features
Bonded leather upholstery with 74% polyester, 18% leather, and 8% cotton
Dark brown color
Rolled arms with a tufted back design
90x 41x 40 inches in dimension
Manual dual reclining mechanism with an option for a powered mechanism
20.5-inch seat height
176 lbs sofa weight
Assembly required
| | |
| --- | --- |
| Pros | Cons |
| Good storage space in armrest | Too expensive |
| Provides optimal back support while reclining | Only available in leather upholstery |
| Color customizations options | Medium firmness |
| Pop up headrests for more comfort |   |
A great option for storage purposes is the Enzo Leather Reclining Sofa by Westelm. This sofa redefines elegance and sophistication. It is also a great choice for those that rank practicality and functionality high on their list. It comes as a two-seater cozy loveseat. You get to customize the armrests to be normal ones or ones with storage space. Apart from this, you also get to choose the upholstery color. All upholstery options are in leather, but you can choose the leather type you want.
The reclining mechanism is power-operated, and the switch between positions is smooth without any abrupt glitches. The sofa features a solid pine wood frame that is kiln-dried for extra strength and durability. The storage arms give you ample room to keep your drink glasses and also come with a USB port for a convenient charging station.
The design and construction are done, keeping in mind both residential and commercial use for the sofa. The cushions are semi-attached to the sofa and feature a polyurethane core for high resilience. The sofa reclines to various angles, which are easily controlled by the button on the side of the armrest. The headrest is also a pop-up variety that ratchets up when the seat reclines to give you added comfort.
Key Features
Leather upholstery
Choice of 6 color options and leather type
Pinewood frame
Power recline mechanism
41.5x 30.5x 31 inches dimension
22-inch seat depth when upright
44-inch seat depth when fully reclined
13-inch cable length
Easy assembly required
30-day return window
| | |
| --- | --- |
| Pros | Cons |
| Power reclining method | Has individual seating |
| High weight capacity of 500 pounds | Not good for children |
| Features USB support |   |
| Supple spring design for optimal comfort |   |
Zimmerman range from Coaster Furnishings is a highly specialized range of products aimed at optima home-usage. The company aims to bring you a range of products that combine high-quality features at a pocket-friendly price point. They bring to you a host of high-end feature enables products at a fraction of their otherwise market value. This feature palette combines with high quality and functionality makes the pillow top arm recliner from Coaster furnishings ideal for any home space.
The frame in this two-seater recliner is made of wood and plywood. It uses power to operate the reclining mechanism and offers you a convenient USB port in the middle section to charge your electronic devices. It has a central console between the two seats, which gives each individual their own private seating area. The central console also features cup holders, which makes it easier to avoid spillages.
It features top-grain leather upholstery that gives it added durability and resistance to stains and water damage. The spring system design allows the sofa to come back to shape after use and prevents undue sagging. Add to this the weight capacity of 500 pounds offered by this seater, and you have a winner on your hands. The only flip point is that the sofa does not allow for snuggling and might be too wide for the younger members of the family.
Key Features
Top grain leather upholstery
Metal frame structure
72.75x 42x 41 inches in dimension
20-inch seat height
Power reclining system
Available in dark brown color
Weight capacity of 500 lbs
Assembly required
| | |
| --- | --- |
| Pros | Cons |
| Upholstery material and color customization options | On the expensive side |
| Ranks high on the comfort factor |   |
| Power recline mechanism |   |
| Sinuous spring feature |   |
If you are looking for a recliner that combines comfort with luxury and gives you the option to choose your style of upholstery and color combination, then you should look no further than the Georgia Recliner Sofa from Wayfair.
The upholstery on your sofa is completely custom made as per your specifications. You can opt for fabric or polypropylene or polyester or cotton or any of the 31 upholstery options available with the manufacturer to get a sofa that is personalized to your wants. The best thing about this is that you don't even have to physically go to a shop. Wayfair ships you the samples you want to see so that you can get the real feel of the upholstery before deciding right from the comfort of your home.
The sofa comes with a power recline feature that allows you to recline it with the push of a button. It is a low profile sofa that has a low railing to cleverly conceal the footrest. The three by three design of the sofa comes with removable and flappable cushions for easy maintenance. You can remove the cushions for extra space and flip it over to use both sides of it. It comes fully assembled and requires no adult assembly. The spring seats allow for good cushioning without the sofa losing its shape over time.
Key Features
31 upholstery and color options
Wood frame structure
Three by three design with cushions
Foam covered sinuous spring seats
Power recline mechanism
85x 40x 29 inches in dimension
76x 23x 21 inches seat dimension
600 lbs weight capacity
62-inch cord length
30-day return policy
No assembly required
| | |
| --- | --- |
| Pros | Cons |
| Provides optimal comfort | Comes as a set |
| Features spring system | Only some sections recline |
| Hardwood frame | A little firm for some people |
| Steel frame system reinforcement adds to the durability |   |
Christies Home Living is not a very popular name in the furniture section, but this is primarily due to it being a subsidiary of the more popular AC Pacific Corporations than a fault in their product quality and design. Their contemporary 2 piece design comes to you with one of the best features and designs in the market. It has one of the best frame constructions you will find in the market.
The frame is made of hardwood material that lends it extra durability. The hardwood is further reinforced with a steel rail system to make the frame more durable and ensure that the wood does not lose its structure. This added steel-reinforced frame allows the sofa to carry a weight capacity of 600 lbs.
The spring system further ensures that the sofa does not sag with weight and retains its cushioning with time and use. The support it provides is optimal to the back, and you will not develop any sore points or pressure problems with continued use. The sofa is upholstered with Dacron fiber polyester, which makes it soft and smooth to touch and feel. The brown color ensures that the sofa will fit well any wall color and décor, making it easier for you to place it in the existing room decorations.
Key Features
Fiber polyester upholstery
Foam encased spring cushioning seats
Available in medium brown color
Corner block steel enforced hardwood frame
71x 35x 40 inches in dimension
600 lbs weight capacity
Manual reclining system
Comes as a set of two
Assembly required
Medora Cotton Reclining 88″ Square Arm Sofa by Birch Lane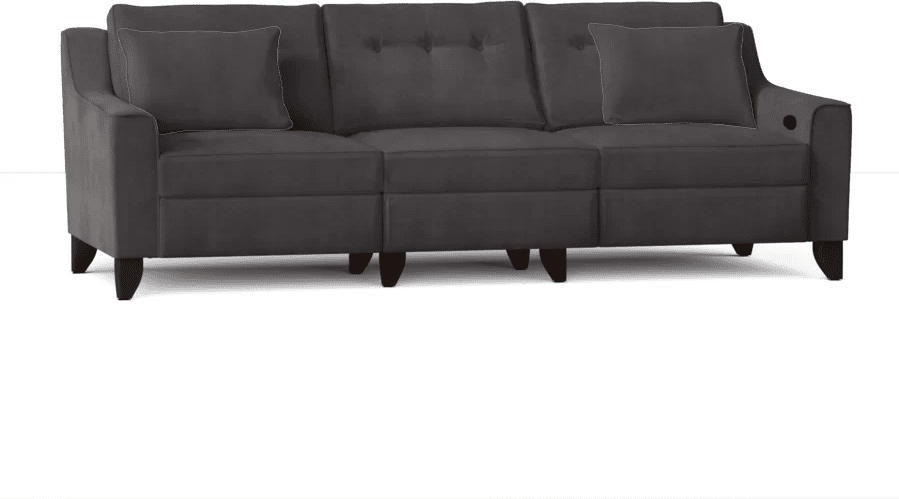 | | |
| --- | --- |
| Pros | Cons |
| Aesthetically appealing design | The frame is not as sturdy as others |
| Budget-friendly | Not suitable for smaller spaces |
| About 130 upholstery and color combination options to choose from |   |
| Sinuous springs for added durability and better comfort |   |
The Medora Cotton Reclining Sofa is a great addition for anyone looking for class and luxury at a budget point. You get to choose from 130 different colors and fabric options to make this sofa truly yours. It sports a very pleasing design with button backed, soft tufted seats on wooden legs. The arms are square for an ergonomic look. The back seats are equipped with removable cushions that are made of durable foam. The softly tapered wooden legs lend it an old school charm that will instantly light up your living room.
The sofa easily fits three people and is ideal for adults and children alike. The reclining mechanism is power controlled, and you have a button on the side of the armrest for controlling this feature. You have built-in USB ports for charging mobile devices, which adds to the functionality aspect.
Key Features
Over nine upholstery fabric option
About 130 color combinations to choose from
88x 38x 32 inches in dimension
Manufactured wooden frame
Foam-filled seat with sinuous springs
Removable cushions and pillows
Spot clean only
USB port
500 lbs weight capacity
No assembly required
One year limited warranty
Q&A Section
Are Reclining Sofas Very Expensive?
Reclining sofas are a great value addition to your living space. They give a very luxurious feel and instantly upgrade your room décor. This comes at a cost, especially if you go in for high-end brands or top-grain leather upholstery. However, you can also get reclining sofas at a pocket-friendly rate. You just have to widen your net and shop during popular discounts.
Does Regular Use Of A Reclining Sofa Negatively Affect Your Body Posture And Spine?
The concept of a reclining sofa is to lounge around on the sofa in a comfortable, relaxed position. The sofa itself is cushioned with proper segmentation to provide optimal support to your shoulders, neck, hips, and back. It supports good spinal alignment when used properly.
Will The Reclining Sofa Make You Less Active And More Prone To Laziness?
A reclining sofa by itself does not promote laziness. It only gives you a comfortable and cushy relaxing zone to unwind in. It might lull you into taking that much-needed break, but at the end of the day, laziness is something that only you can control. A reclining sofa only aids in de-stressing you. At best, it can be a convenient excuse, nothing more.
Conclusion
Reclining sofas are amazing furniture options. They can be the most relaxing and comfortable pieces to unwind and de-stress. If you are considering a furniture upgrade or simply looking to buy new furniture for your place, then reclining sofas are your best bet. They possess not only a high aesthetic value but also rank supreme on the comfort rating.
Take your pick from these amazing reclining sofas listed here are bring home a world of supreme comfort. You will be amazed at how you ever made do without these cozy little nooks of snugness.