The Polysleep Pillow

The Polysleep Pillow is yet another product in the galaxy of customizable pillows. It doesn't look very different from other customizable pillows but what is different is the ventilated viscoelastic hybrid foam inside of it. Unlike many customizable pillows, this is not one that will leave behind any type of mess, being that you're working with 4 separate pieces of foam to build the pillow to your liking. The Polysleep Pillow comes with a 30-night trial, meaning that if you aren't fully satisfied with your purchase than Polysleep will refund you in full.
Overview of the Polysleep Pillow
Here's a quick video overview of the pillow including unboxing: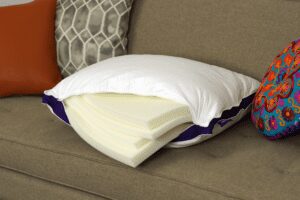 The first thing that I like about the pillow is that it doesn't contain a lot of little pieces. This can get messy whether you're taking out a lot of foam or even just a little. Polysleep has 4 different layers inside of it, each made up of its own layer of foam. It's sold at a super reasonable price which is $59 USD and I do believe that you're getting your money's worth. It's made up of a hybrid memory foam which means it's a newer generation of memory foam.
Construction of the Polysleep Pillow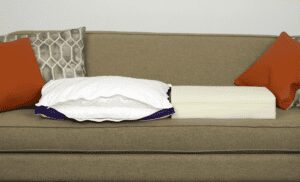 The Polysleep Pillow comes in one size which is 19″ x 26″. Just from a quick look, it seems to be within perfectly normal industry standards. Some pillows can be too long or too small, almost as if by accident like they JUST missed the mark. Not in this case. One size for their pillow is all they need, especially with the intention it was designed for, such as ease of use and personal customization.
The measurements of the 4 layers are:
1 piece that measures 1"

1 piece that measures 1 ¼"

2 pieces that measure ¾"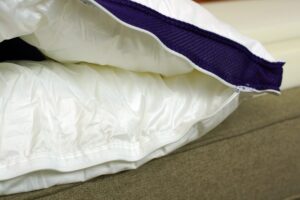 The pillow has a 100% cotton sleeve on the outside, along with inner polyester microfiber inner layer to give it some volume and softness.  It has 400mg of microfiber fill to give it that cotton-cloud-like luxurious feel.
My Polysleep Pillow Findings
One of the things that confused me the most was what Polysleep meant when they classified their foam as "viscoelastic hybrid foam." I was reading that foam is either viscoelastic, making it a memory foam, or it's not, making it a hybrid foam or something else altogether, such as latex foam. But as with most things we don't understand, all you have to do is ask. I spoke with Polysleep and I was educated about how we were dealing with a newer generation of memory foam. Memory foam was initially invented in the 60's and while it had some positive properties, it had some negatives as well. For instance, most memory foams don't react well to temperature but Polyleep's is resistant to temperature change. It also withstands wear and tear much better than original memory foam since it has better density. The foam density is 3 lbs per square foot. The term "visco" means water-like and it would explain why it had an interesting wet-but-not-really feel. As juvenile as the made-up term is, it's the best way I could possibly explain it. Let's not forget the other part of the word "viscoelastic," which is the elastic part. This pillow is malleable, meaning you can roll it and fold it but it'll also bounce back almost instantly despite the pressure exerted on it.
One big negative for me is that the pillow is not washable by traditional method. The outer cover of the pillow also cannot be washed but it can be spot cleaned and it can also be machine dried, however only at a very low temperature.
This is fine for people who can afford, and don't mind, to replace their pillow every couple of months but for people looking to hold onto something for a while, I'm not sure it's ideal.
While the concept of the customizable pillow experience is not new, their hybrid foam does seem to be.
One recommendation that I have for Polysleep, which could be seen as really appealing on the consumer's end, would be to devise a "cleaning kit" or cleaning guideline book to go along w/ the release of this or any pillow. While I'm aware that a majority of foams cannot be washed in the traditional way most of us are familiar with (aka, soap + water), apparently memory foam + hybrid foams can be cleaned via alternate methods but I did not have a chance to inquire about theirs.
When it comes to these newly released generations of foam, the company engineering the material really have ALL the power in how the general public will perceive it. I am talking about more than a good slogan. There is an opportunity to educate people on how to do things differently when it comes to materials that quite simply just did not exist before.
My Polysleep Pillow Recommendation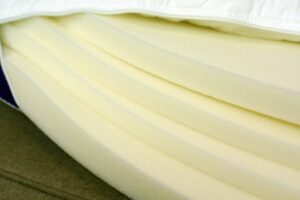 When I first saw the Polysleep Pillow I didn't think I would be impressed. I am usually all about clever marketing and I love how companies can get creative when they share products with the mass public but I wasn't exactly impressed or moved by theirs. Being told that a pillow can cater to every personality felt a little silly to me but I do understand what they were getting at. If it were to cater to "every sleeper," sure, but the wording didn't gauge much of a reaction from me. Regardless of what the marketing campaign has to say, that's a criticism to their marketing department, not to their pillow and definitely not to their engineering team.
It's such a cliche but the pillow does speak for itself. Actually, I was prepared to dislike your product but ended up actually liking it. I suppose it's easy to think you've made up your mind about something only to then have it beg you to reconsider. What can I say? You win.