Overview of the Lunesse Comforter
The Lunesse Comforter is a mid-range White Goose Down comforter made by Pacific Coast, a company who understands that the devil is in the details. The company gives you a 30 Night Comfort Guarantee to make sure that you absolutely love the comforter and honestly, it's difficult not to. The purchase includes an Allergy Free Limited Warranty as well as a 10 Year Limited Warranty. With 600 Fill Power, it's more than adequate for cold, winter days and the batiste cotton, that's known to be one of its most distinguishing features, is one of the lightest fabrics in the industry, allowing for a comforter that isn't heavy and one that can maintain it's poof with ease. The goose down is also sourced responsibly which is a nice plus.
Construction of the Lunesse Comforter
The Lunesse comforter is available in two sizes: Queen and King. The measurements are as follows:
Full/Queen: 90" x 98"
King/CalKing: 108" x 98"
The comforter's most essential ingredient, the goose down, is sewn into a barrier weave down proof fabric that keeps feathers from flying. Also, to be more specific, goose down doesn't refer to traditional feathers, (such as quills, which would be the main wing or tail feathers) but the soft material found on the breast of a goose. Down clusters are described to be light, soft and fluffy. They have no hard elements. It's known for all of this as well as it's unbelievable (aka magical) insulating properties.
This goose down comforter has been sewn with 370 thread count batiste cotton fabric which is known to be 30% lighter than other comparable fabrics. Batiste is defined as "a fine cloth made from cotton, wool, polyester, or a blend, and is the softest of the lightweight opaque fabrics." Aside from preventing you from feeling like your blanket weighs too much, or is suffocating somehow, fabric like this allows the down feathers to breathe and maintain their loft. In this case, the fabric is utilized to literally not weigh things down.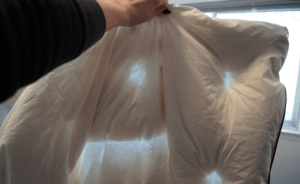 Moving on to the inside, the duvet consists of 600 fill power of Hyperclean® white goose down. One person mentioned in their review of the product, on the company page, that the comforter was "noisy," further explaining that, "it is crinkly sounding and is annoying while sleeping or even just lounging in bed. Also the loft is very thin. It is not fluffy at all. Very flat and thin."
But this individual was just unfortunately uninformed and besides, my out-of-the-box experience was much different. The company wrote back explaining that as a result of the nature of down proof fabric, that the material can be stiff when new, which can result in the noise this person was experiencing. The same remedy to soften the fabric is one that would also open up the down clusters to give it the decadent feel (and loft) it was missing from out-of-the-box. Pacific Coast Bedding recommends the following:
If you have access to a large dryer, place your comforter with a couple of clean tennis balls (or dryer balls), a fabric softener sheet, and lightly damp washcloth. Tumble your comforter on low heat until the washcloth is dry, for most dryers 15-20 minutes. The steam from the washcloth will open up the down clusters, while the fabric softener sheet will soften the fabric without adhering to the down.
As consumers, something we must keep in mind is that companies need to do a lot of different things to deliver their products to us in a way that is feasible for all parties. Pillows are often compressed and the same goes for bedding. It will always come folded. Figuring out how the product should perform best is reliant upon our own investigation.
My Lunesse Comforter Findings
When you touch the comforter by hand, or when you feel it above you, it's evident that this is a high quality product. That's because you can FEEL only softness. There are no quills, no roughness, no hard spots, nothing that appears to not belong. It's of quality because of its consistency.
I saw a tiny little cluster of down in the air only once, about 1 cm in size, and that was it. The manner in which the batiste cotton fabric was sewn must be meticulous to allow air to circulate but to not allow any of the down to escape from it. It's actually really quite impressive when you think about how much goose down, how many clusters had to be used, in a single comforter.
The sewn through box design and the comfort lock border is a must and I can't imagine a manufacturer creating a product like this without it. I have seen comforters made of synthetic materials sewn in a different manner but this grid-like compartment system is key because the down wouldn't stay in place otherwise and it also works to keep it evenly distributed, which works well not only in terms of aesthetics but also in terms of efficiency.
Their printed duvet loops were a real treat. This type of comforter is not one you just throw on top of your bed. It belongs in a duvet cover, to protect it and to dress it as you like. Without these duvet loops, the comforter would absolutely not have stayed in place throughout the night. My partner moves around in bed and it's frustrating enough to find pillows on the floor or the bed sheets all pulled to one side but it's always nice to see that the duvet hasn't moved (because it can't, yay!)
SUITABLE FOR WINTER USE ONLY?
One comment that I made in the video was that I would not recommend this comforter for any season except for winter but that might have been far too quick of an assumption. I do heat my home considerably and didn't initially factor this in when trying out the comforter. Goose down duvet regulates temperature itself and you heating up your home or heating it up too much may make this sort of comforter feel excessive.
It's not labeled to be an all-season comforter but it is said to be good for varying climates. Apparently all-season duvet comforters come in a set of 2, one which is lighter, the other thicker, so be mindful to read everything when you're shopping around. In this case, the comforter is only a single layer.
My Pacific Coast Lunesse Comforter Recommendation
In comparison to duck down, goose down is definitely the better option and not because it's traditionally the more POPULAR option. In fact, it's been the more popular option because goose down is harvested in larger clumps and makes for a lighter and more efficient insulator in comparison to duck down, which can only be harvested in smaller clumps. There are also a lot more ducks than geese, typically resulting in lower production costs but goose down is still the more premium material.
I love this comforter. The Lunesse Goose Down Comforter is exactly the kind of luxury that's been missing from my life. Winter is not my favorite season and getting through it always comes with some struggle.
While I'm from Europe, Poland specifically, and while goose down pillows and comforters are the standard in Europe, I don't remember what my experience was like sleeping with goose down products as a kid because I left the country when I was young. In America, goose down isn't the standard here because it's not as readily available. Because it is a more premium product in the states, the price of it can be just as exclusive. This comforter is no excuse in that regard but it's not the highest priced I've seen. It's also not just priced high for the sake of it; it legitimately comes down to quality and I feel that this is a high quality item. I've never felt so comforted and so warm from a comforter. I really did feel insulated as if I was in my own cocoon.
One thing that I wasn't very impressed with and that I would change immediately is the packaging. It was really nothing special. The plastic comforter blanket storage bag was relatively cheap and plain. It was difficult to unzip as one of the zippers were defective but I was happy there were two so there was no need to reach for the box cutter. The branding overall could be better and the first place I'd improve that is with their physical presentation of the product. While Pacific Coast does have affordable options as far as down comforters go, I still think there's no reason why they can't improve the covers they package they comforters in. It'd be nice if it was more durable and looked nicer, not just because I would like it but because if this is supposed to be perceived as high end, even if it is the more affordable end of high end, it still needs to look like the luxury good that it is.
The unboxing experience is always the most exciting but there was something else that upset me a little. When I had opened the package, the product cover didn't actually specify that it was in fact the Lunesse Comforter so, I had assumed that I might have gotten the wrong item. Lunesse wasn't written anywhere. I checked the item number on the order number and compared it to the invoice that was attached and it was the same. I also called the company to check the UPC code and they confirmed that I did, in fact, receive the correct item. Shortly after, I found out that they had actually decided to discontinue the item, which could be the reason behind the uninteresting packaging and why they might have gone with something more generic. You can still find the Lunesse product page online but you'll see that there's no inventory and that it has been removed from the main down comforter product listing page.
I called Pacific Coast Feather Company to get a suggestion of what comforters would work best in replacement of the Lunesse Comforter and there were two I was recommended: The Deluxe Oversized Comforter and the Supima Cotton Luxury Down Comforter. I put together a table below to help you understand the similarities and differences between the three.
Overall I'm really impressed with the company, with their products and how they carry themselves overall (customer service was very gracious and informative). Packaging appearance could use an upgrade but the actual product itself is a solid one.