The Noomi mattress has a great yummy factor. That's a term I learned from some mattress insiders that know mattresses inside out. It means that it feel soft and squishy and cozy. However it is also supportive enough so that it's not overwhelming. The Noomi feels a bit like the Endy Mattress but a little firmer and with a more substantial cooling effect.
Ordering
The Noomi can be bought direct from their website and will arrive about a week after placing your order. It comes in a box just like the majority of mattresses I review. For convenience sake, just make sure you unbox it in the room you plan put it in. You get a 365 night trial period where you can return it if you're not completely satisfied.
Unboxing
The Noomi opens up just like the box shipped mattresses. I'm starting to get a little better after unboxing over two dozen of these.  I didn't have my handy assistant (my daughter) to film so had to rely on a tripod.
Here's another view from Noomi
Findings
The Noomi mattress is on the squishier end of the specturm among the mattresses I have reviewed. You'll notice in the video below that all 3 layers, the top, transitional and base layers can be squished. Even the base layer was a little more slow to bounce back than others.
The overall effect is that you will sleep "in" this mattress more than "on" it. The mattress is still very supportive which is a hard feat to accomplish. I find that with all memory foam mattresses like this one, I change positions less during the night. That's because memory foam does the best job of relieving pressure points. A good memory foam mattress such as this one will almost make you feel like you are floating.
Because this mattress is very conforming, it limits motion transfer very well. If you're looking for a mattress with bounce you will want to look elsewhere but if you are serious about getting to sleep and staying asleep this is a solid choice.
I have now begun to use an accelerometer to more accurately capture motion transfer. Below is a chart that details how the mattress responded when I placed the accelerometer which is actually an app on my phone, r 2 feet away from the bowing ball and dropped the bowling ball from a height of 2 feet.
Here's an illustration of what each axis is capturing
Right now I don't have any comparative data but I will be using the accelerometer as a more objective measurement for you to compare mattresses. You will find that the motion dissipates very rapidly and does not peak all that high either.
Another unique feature of the Noomi is that it has two cooling gel infused layers. The top and transitional layer both have a cooling effect. This mattress does a great job with temperature regulation. The only other mattress that did such a good job with cooling was the Danican.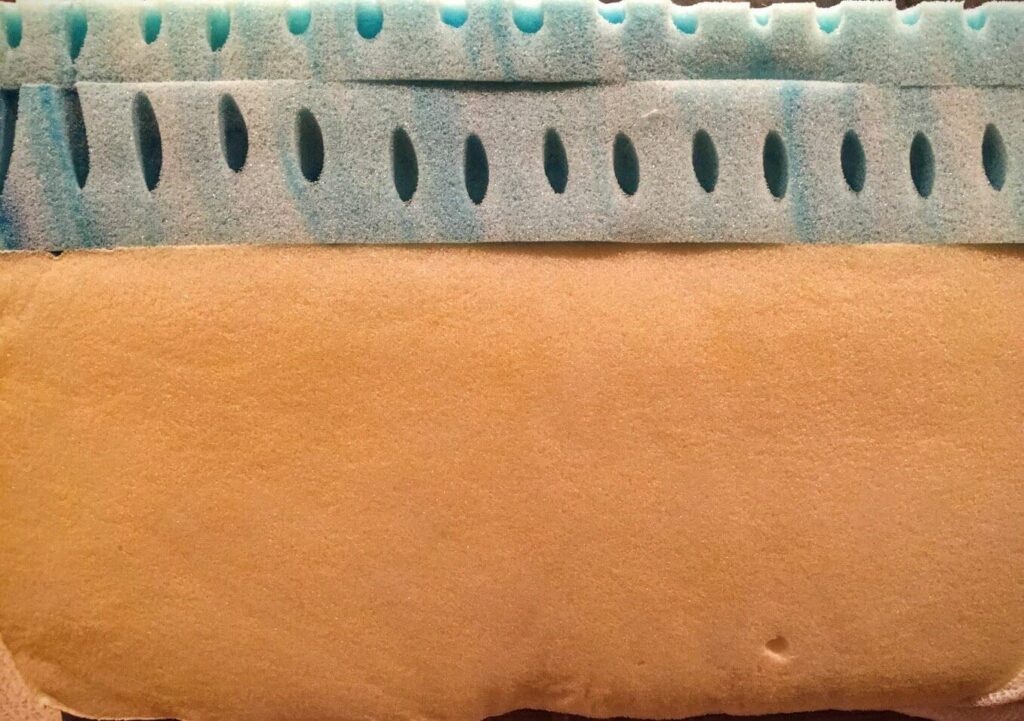 Conclusion
The Noomi may look like many of the other mattress in a box startups but they bring a new feel to the market. Memory foam can be made with almost endless levels of firmness so introducing a mattress such as the Noomi is a welcome addition. This is a soft but supportive mattress that will keep you cool. It's great for couples because of its ability to limit motion transfer and perfect for people that may have been turned off to memory foam in the past due to heat retention issues.
Get $100 off your Noomi mattress with coupon code, SLEEPSHERPA100 Shop Now
Disclosure: We aim to highlight products and services you might find interesting, and if you buy them, we may get a small share of the revenue.