Best Hybrid of 2023
We earn a commission if you make a purchase, at no additional cost to you.
Leesa is one of several online mattress companies that have sprung up in the past decade, capitalizing on the direct-to-consumer trend in the mattress industry. Here's a brief history of the Leesa mattress:
Foundation and Background: Leesa Sleep, LLC was founded in 2014 by David Wolfe and Jamie Diamonstein. Their goal was to create a luxury mattress that was available exclusively online, simplifying the mattress shopping process.

Product Development: Initially, the company launched with its flagship all-foam mattress, the Leesa mattress. Over time, Leesa expanded its product line to include hybrid mattresses (which combine foam and springs) and other sleep-related products.

Direct-to-Consumer Model: Bypassing traditional mattress showrooms, Leesa adopted a direct-to-consumer model, selling its mattresses online and shipping them compressed in a box to customers' doors. This model allowed the company to offer a high-quality product at a more competitive price.

Social Impact: Leesa has been known for its social impact initiatives. They've pledged to donate one mattress for every ten sold to those in need. They've also been involved in reforestation efforts, planting trees for every mattress sold.

Physical Showrooms: Despite starting as an online-only retailer, Leesa recognized the value in allowing customers to experience the feel of their mattresses in person. To this end, they opened their first branded store in 2018 in Virginia Beach. They also entered partnerships with retailers like West Elm and Pottery Barn to showcase their mattresses in physical locations.

Reviews and Reputation: Over the years, Leesa has garnered a positive reputation for its mattresses. Many customers and reviewers have praised the company for the comfort and quality of its products as well as its commitment to social responsibility.

Challenges and Competitors: Like many industries, the online mattress space has become increasingly competitive. Leesa faces competition from several other direct-to-consumer mattress brands like Casper, Purple, and Tuft & Needle, among others. This competition has driven innovation and a focus on customer service and quality within the industry.
Leesa continues to be a prominent player in the online mattress industry. However, the fast-paced nature of the market means that there could have been further developments or changes in the company's trajectory since then.
I received a free Leesa Mattress to review on The Yawnder. I had the opportunity to speak with one of the Founders of the Leesa Mattress Company who really knows mattresses and wanted to enhance the experience of mattress buyers at an extremely competitive price. They do this by cutting out the middleman, the mattress store. This allows them to give you a better quality mattress than what you will find in a typical mattress store at less than half the price! It's a remarkable bargain. Leesa is now the official Michael Phelps Mattress. Yes, that Michael Phelps!
Best of all you get 100 nights to try it for free. They have a no-hassle return policy where they arrange a pickup of the mattress and haul it out for you for free with a full refund!
Here's my experience with the Leesa Mattress from start to finish. It was fun and easy!
How to Buy a Leesa Mattress
Purchasing the Leesa Mattress was a seamless experience.  To shop Leesa,  just pick your size, enter your address and credit card info and presto! a new mattress in a tidy little box arrives at your doorstep in about a week. You get tracking information once your mattress ships so that you know when to expect it at your doorstep. Very convenient for knowing when to ditch your old mattress or at least get it out of the way for the upgrade. The mattress arrives in a box which makes it easy to transport to any room in your house without worrying about moving furniture or navigating narrow corridors.
Unboxing the Leesa Mattress. How soon can you sleep on it?
Here's a video of me unboxing the Leesa Mattress. It's super easy and fun! It decompresses to full size in about 2 minutes. You can hear the air coming in through the plastic as you open it. Sort of like squishing a marshmallow and letting go.
Sleep Experience on the Leesa Mattress
My first impression of sleeping on the Leesa Mattress is that is has a really soft top layer. Softer than Tuft&Needle and Yogabed so if you like a softer mattress, this is it! There is a little bit more bounce to the Leesa Bed so make sure you are aware of that. However, that makes it good for other activities.  The Leesa Mattress sort of hugs your body which makes it extra cozy but it bounces back into shape quickly so unlike memory foam you don't find yourself digging out of the bed. The bed is also firm enough so that you don't feel like you will roll off or disturb your partner.
When sleeping on the Leesa bed you get a sort of floating sensation. It almost feels like you're weightless because there aren't any pressure points to wake you up in the middle of the night. The mattress cradles your body and provides the perfect distribution of comfort and support throughout the night. I am a stomach sleeper so I have a very high standard for pressure points.
Unlike a traditional memory foam mattress, you won't find yourself trying to dig out of an impression if you wake up to go to the bathroom in the middle of the night.
I also really like the aesthetics of the Leesa Bed. It's a beautifully soft and silky cover although you won't be seeing it often underneath sheets and/or mattress protector. The cover is removable with a zipper underneath the mattress that goes all the way around to it's easy to remove and wash if you like.
With each mattress I get,  I do my own bowling ball test. Check out what happens when I toss my 14 lb. bowling ball on the Leesa Mattress.  You can see that it has lots of bounce and quickly goes back into shape. You get the best of a spring mattress without the springs and the best of a memory foam mattress without the lasting impressions.
In the picture below you can see how much my 14 lb. bowling ball sinks into the mattress.
Leesa mattress construction and technology. 
Below are the construction details of the mattress as listed on their website.
3-Layer Foam Construction
2″ Cooling Foam Top Layer 
IFD: 13. DENSITY: 3.0 PCF
2″ Contouring Memory Foam 
IFD: 9. DENSITY: 3 PCF
6″ Core Support Foam Base 
IFD: 32. DENSITY: 1.8 PCF
Seamless Iconic Four-stripe Cover
You can see the three distinct layers in the picture below.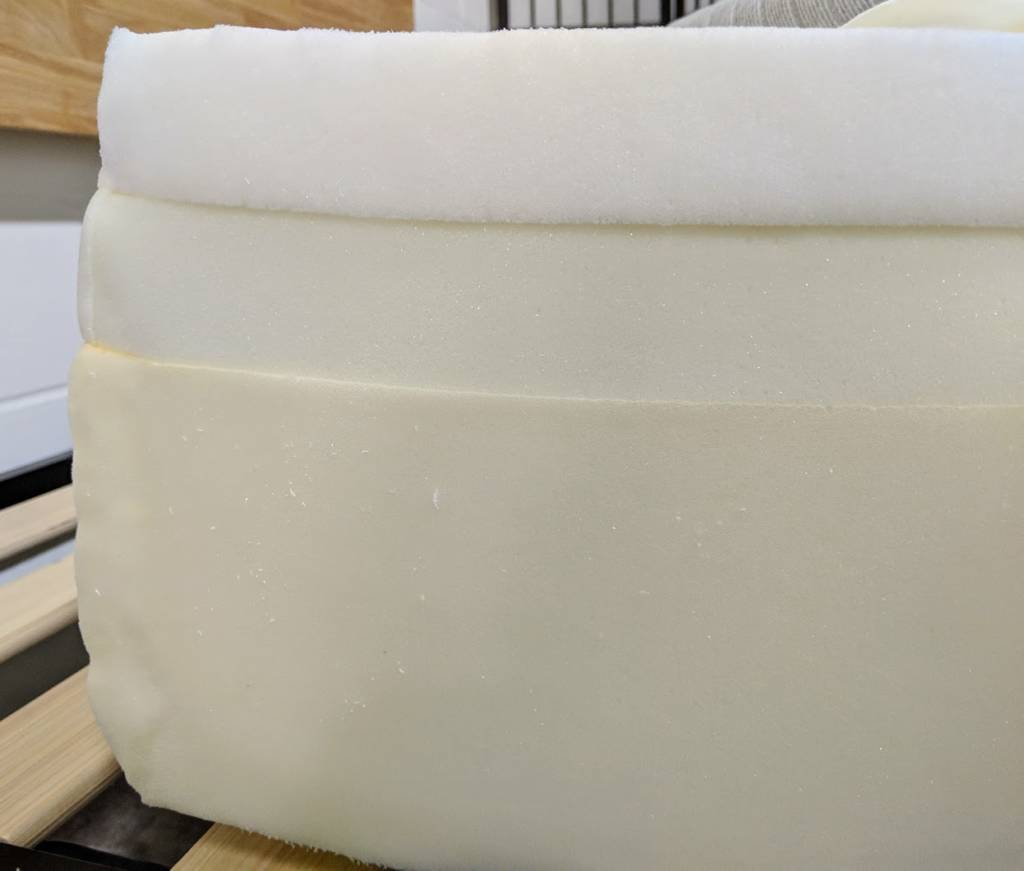 The polyester fabric lycra blend cover feels silky smooth and cool. It is very supple so you really get a feel for the actual mattress. Often mattresses have thick covers that stiffen the overall feel of the mattress.
Here's a picture of sinkage without the cover on to show you how each layer supports you.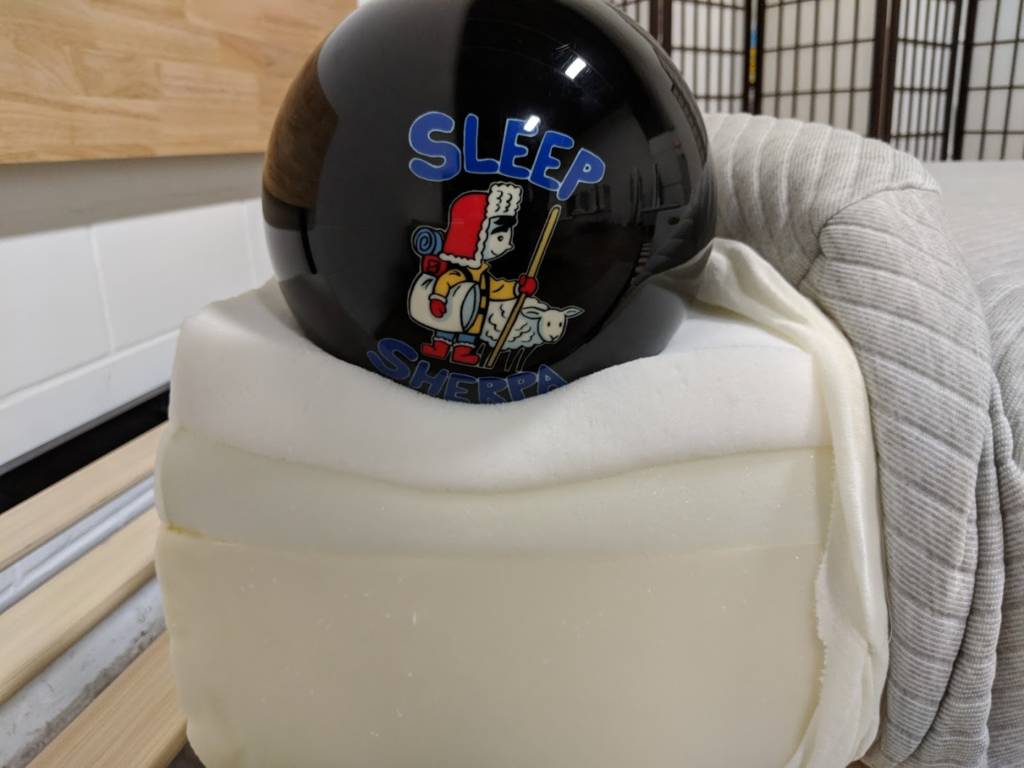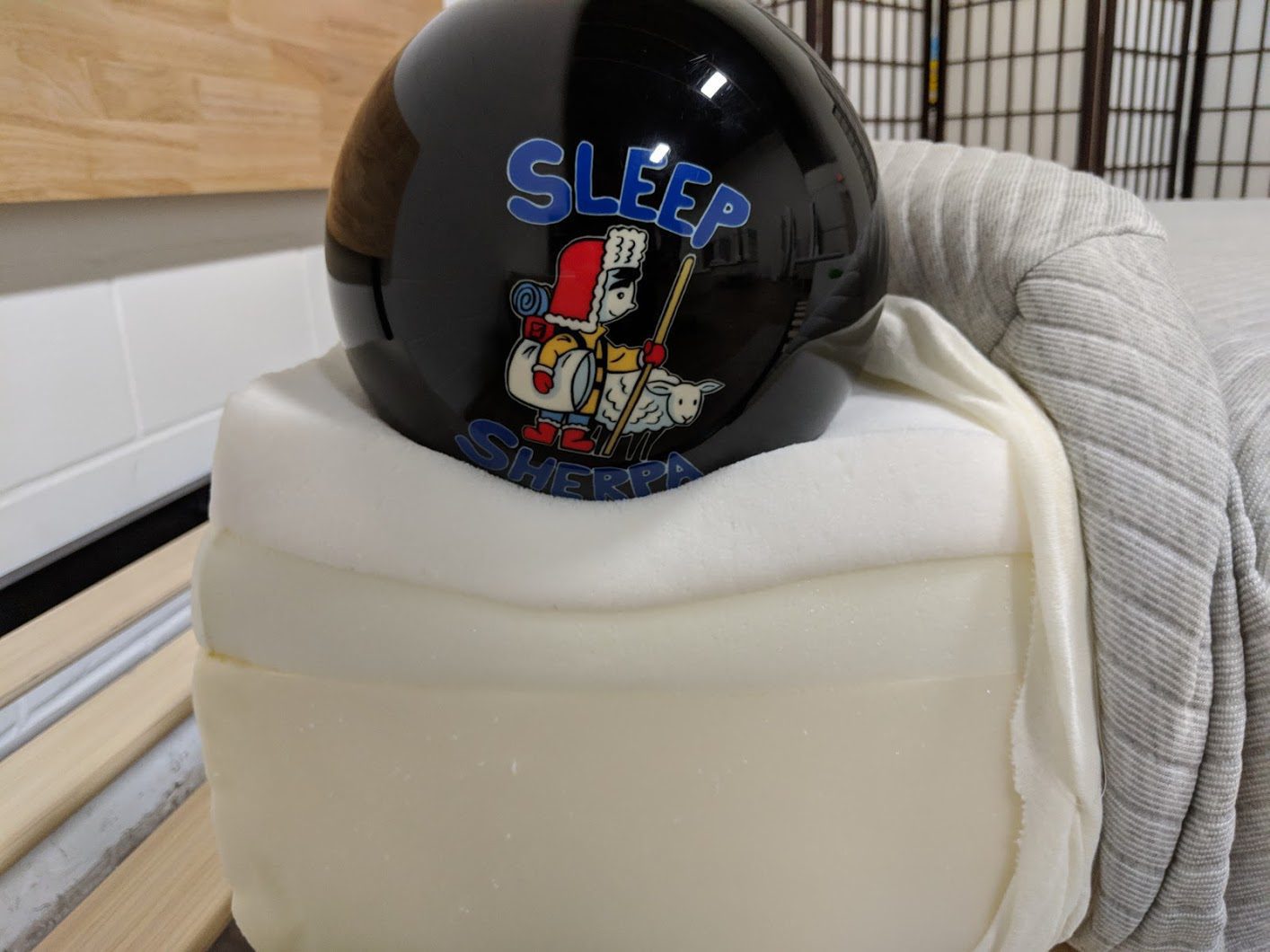 Here's a video showing how each layer of the Leesa mattress reacts.
Remember, you get a 100-night satisfaction guarantee. If you don't like it they will give you a FULL REFUND and make the return process hassle free which means no trips to the post office or anything like that. It's like they bring the showroom to you!
Here's their return policy from the Leesa website:
First, try your Leesa for at least 30 nights. This allows your body ample time to adjust to the feel of a new mattress.
We're confident you'll love your Leesa but if you don't, you have up to 100 nights to let us know. There are zero return fees and you do not have to worry about fitting your Leesa back in the box. We'll arrange to have your mattress picked up from your home with no additional effort or cost on your part. We do our best to locate a charity in your community otherwise we coordinate your pick up with our recycle partner. Then we refund your purchase in full.
My Leesa Mattress Recommendation
I couldn't recommend the Leesa Mattress more. I have slept on beds in excess of $3,500 and the Leesa Mattress provides just as much if not more comfort at a fraction of the price with a better warranty/trial period!
If you are new to memory foam or just unsure about which mattress to purchase. The Leesa is a safe bet. There's no risk so you can just try it for free to see if memory foam is right for you. The vast majority of people that go with a Leesa, love it. So chances are you will too! If not, you then have a point of reference to work from and I can help guide you to the perfect one.
Leesa was recently named the official mattress of the Washington Redskins. Additionally, Michael Phelps is the official brand ambassador for the Leesa Mattress. Watch him dive into a Leesa on their website.
Leesa Mattress Alternatives
While Leesa mattress has gained popularity as a comfortable and supportive sleep solution, consumers are increasingly seeking alternatives that offer unique features, competitive pricing, and superior performance. In this comprehensive analysis, we unveil some of the top competitors in the mattress market, presenting alternative options for those in search of their perfect night's sleep.
Casper: Innovating Comfort and Convenience
Casper, a pioneer in the bed-in-a-box concept, has emerged as a formidable competitor to Leesa mattress. Known for their innovative design and commitment to customer satisfaction, Casper offers a range of models tailored to different sleep preferences. With their Zoned Support™ technology and proprietary foams, Casper mattresses provide targeted pressure relief and spinal alignment, ensuring a restful sleep experience. Additionally, Casper's seamless online shopping experience, generous trial periods, and hassle-free returns make them a popular choice among consumers seeking both comfort and convenience.
Tuft & Needle: Simplicity and Affordability
For budget-conscious individuals without compromising on quality, Tuft & Needle offers a compelling alternative to Leesa mattress. By focusing on simplicity and affordability, Tuft & Needle delivers a supportive and comfortable sleep surface. Their Adaptive Foam technology adapts to various body types, providing pressure relief and spinal alignment. With a commitment to fair pricing and transparent policies, Tuft & Needle has gained a loyal customer base who appreciate their value-driven approach without sacrificing comfort.
Purple: Innovative Pressure-Relieving Technology
Purple has disrupted the mattress industry with their innovative approach to pressure relief. Their proprietary Purple Grid™ technology, made of a hyper-elastic polymer, offers a unique balance of support and comfort. The grid-like structure flexes under pressure, providing targeted support while promoting airflow for temperature regulation. This distinctive feature has garnered praise from customers seeking relief from back pain and pressure points. With multiple mattress options, including hybrid models, Purple appeals to a wide range of sleep preferences and needs.
Saatva: Luxury and Durability
For those seeking a more luxurious sleep experience, Saatva presents a compelling alternative to Leesa mattress. Handcrafted with high-quality materials, Saatva mattresses boast exceptional durability and premium features. Their range of firmness options, including plush, luxury firm, and firm, cater to various sleep preferences. Saatva also offers multiple mattress types, including memory foam, hybrid, and latex, allowing customers to find the perfect balance of comfort and support. With their focus on eco-friendly practices and exceptional customer service, Saatva has positioned itself as a top contender in the luxury mattress market.
Best Hybrid of 2023
We earn a commission if you make a purchase, at no additional cost to you.