Best Weighted Blanket 2023
Helix Weighted Blanket
Premium Soothing Design
Gridded internal stitching pattern for uniform distribution of fine-grade glass beads. Available in three weight options for optimal hugging comfort.
We earn a commission if you make a purchase, at no additional cost to you.
Overview of The Helix Weighted Blanket
Weighted blankets are known to mimic deep pressure touch stimulation, which allows the body and mind to feel more at ease, significantly reducing anxiety. This is possible thanks to an increase in serotonin and melatonin. The Helix Weighted blanket however isn't just "another" weighted blanket on the market. Rather, it offers some nice changes that are unique to it, one of those being it's unbelievably reasonable price without having to compromise on quality.
Construction + Warranty Information of The Helix Weighted Blanket
The Helix Blanket has a one-year limited warranty, along with a 100-day trial. It's available in three different weights: 10 lbs, 15 lbs and 20 lbs however the size of the blanket, the dimensions, don't ever change. You can find the pricing, measurements and other product details below:
10 lbs = $99
15 lbs = $105
20 lbs = $115
Blanket dimensions: 72" x 48"
Outer Cover: Fleece and sheared microfiber.
Inner Blanket: 100% cotton cover filled with fine-glass beads.

My Findings on the Helix Weighted Blanket
Before you even dive into this review, one thing worth noting is that when you're looking to jump on the purchase of a weighted blanket, you want to be super mindful of the actual weight component. The most recommended calculation to help you determine what weight is most suitable for you, you're supposed to calculate 10% of your body weight and if you're not sure how to plug that formula into a calculator, Google will even do it for you. You can literally just Google, "10% of 135" for example. You get the idea. Whatever number results, you want to round down, rather than round up. If it's too heavy, you might not be entirely pleased with it so I advise individuals to round down to play it safe.
Weighted blankets have evolved since they were first introduced to the market. In the beginning, the most common thing consumers could expect would be a blanket that was composed on tiny beds inside of it. That's what contributed to its weight. The weight was also known to shift easily, sometimes leaving people to feel like the weight distribution wasn't even. Very rarely will the distribution be "perfect" but in some ways, companies have gotten a little more clever and made some improvements.
In this case of the Helix weighted blanket, whatever material has been used to add the weight to the blanket, they're much smaller than what I've experienced in the past. With previous blankets, I've seen people even refer to some of them as "noisy" because the individual would shift, so would the pellets, making this almost rolling sound. That's not the case here. The sound of the blanket when it's moved sounds more like shifting sand than anything else. It's much more subtle than what I've experienced in the past, which is a nice change.
The competitive thing about this blanket is definitely its price. Since the release of this product, other blankets have come onto the market at lower cost but how low can you go until companies need to reduce the quality of the product in order to meet budget-minded consumers halfway? In my experience, this product does not skimp on quality due to its price. Being that Helix relies on other products for their revenue, this blanket does not make or break their brand. For companies that only produce this single product, that's surely a very different story.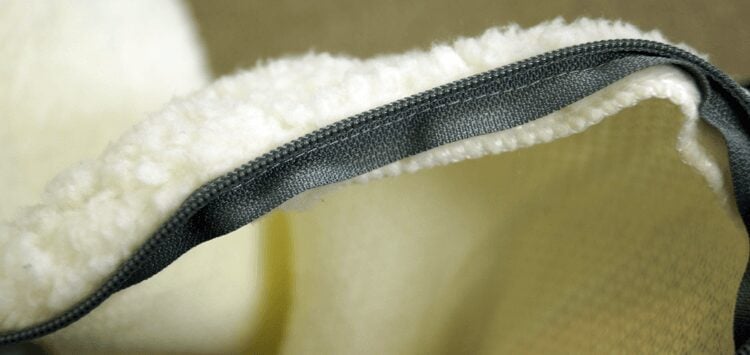 What are some other pluses? In terms of the blanket itself, the quality of the weight that makes it heavy is probably its strongest asset because it is so free of noise however, it's appearance with the sheared fabric cover is definitely a nice touch that I haven't yet seen on any other weighted blanket in the sleep marketplace. In addition to that, there are duvet ties inside the cover that attach to duvet loops on the blanket itself. This keeps the corners of the blanket in place, which helps to avoid the blanket from shifting or bunching. It also comes with a super nice carry case that can serve as exactly that or at least as a dust cover for when in storage.

My Helix Weighted Blanket
I think weighted blankets are something everyone should try at least once in their lifetime. More than anything, they're just fun because they're so unusual. Luckily when it comes to sleep products, they will almost always find a home so if you're willing to buy this blanket just to try it, there's no need to be reluctant. I'm sure a family member or good friend would be happy to adopt it if you're finding it's not exactly for you. What more? Well, their ability and effectiveness at reducing anxiety is pleasantly surprising. If you're looking to ease your anxious tendencies, this is a very natural way to do so.
Medical Disclaimer:
The information on this site is not intended or implied to be a substitute for professional medical advice, diagnosis or treatment. All content, including text, graphics, images and information, contained on or available through this web site is for general information purposes only.
Best Weighted Blanket 2023
Helix Weighted Blanket
Premium Soothing Design
Gridded internal stitching pattern for uniform distribution of fine-grade glass beads. Available in three weight options for optimal hugging comfort.
We earn a commission if you make a purchase, at no additional cost to you.