The Glad Grid mattress is a 3 layer foam mattress with a unique checker patterned cover. This mattress is designed to be soft for side sleeping and has some unique features that I haven't found in any other mattress. I was given a queen size for review and after sleeping on it for 2 weeks I have been pleasantly surprised by how it feels as a side and occasional stomach sleeper.
Ordering Your Glad Grid Mattress
Here's a quick video overview of the GladGrid and what to expect.
Right now this mattress is available exclusively through their website. Delivery was fast for me. It mine arrived 5 days after the order was placed and it arrived in a box like the one below. Keep in mind that Glad Grid has free shipping and free returns.

How Much Does the Glad Grid Mattress Cost?
It's best to check their website for the most current prices. As of this writing, a queen size retails for $788. This includes shipping and if you decide you don't like it within 120 days, it's a free return. If you decide to keep it, you are backed by their 10-year warranty.
Construction of the Glad Grid Mattress
Below are the construction specifications as listed on the website
Silver Ions Mixed Cover
Breathable cotton fiber is hypoallergenic and sweat-wicking, giving a cooler feeling to touch.
3 Layers:
1.5″ 40D12 Softest-Minus Memory Foam(Copper-Infused)
2.5″ 64D16 Gel-Infused Slow Rebound Memory Foam
6″ 25D32 Base Support Memory Foam
Copper-Infused Layer
Copper adds a more refreshing and cool feeling and helps your mattress keep clean.
Softest-Minus technology is powered by a special molecular structure to let the body heat out.
Responsiveness to body weight encouraging pressure relief.
Gel-Infused Layer
Gel creates more sweat-free sleep and encourages sleep motion absorption.
Shoulder-In system encourages healthy spine alignment and full-body relief.
Support Layer
Enhances the whole mattress stability and support level, caring for your glad sleep for the years to come.
My Glad Grid Findings
The first thing that struck me when unboxing this mattress was the checker pattern for the cover. It looks fantastic and although you will be covering it with sheets, I definitely give it credit for the design. Aside from the visual appeal, it also has handles on each side to make it easy to move or rotate.
The cover is also removable but I wouldn't recommend removing it. If you need to clean it for some reason, there is a zipper at the bottom of the mattress.
As I mentioned, I'm primarily a side sleeper and this mattress is designed to allow you shoulders to sink in without losing back support. They do this by adding more of the comfort foam in the should area as seen below.
Here's a picture of me on my side to better illustrate this.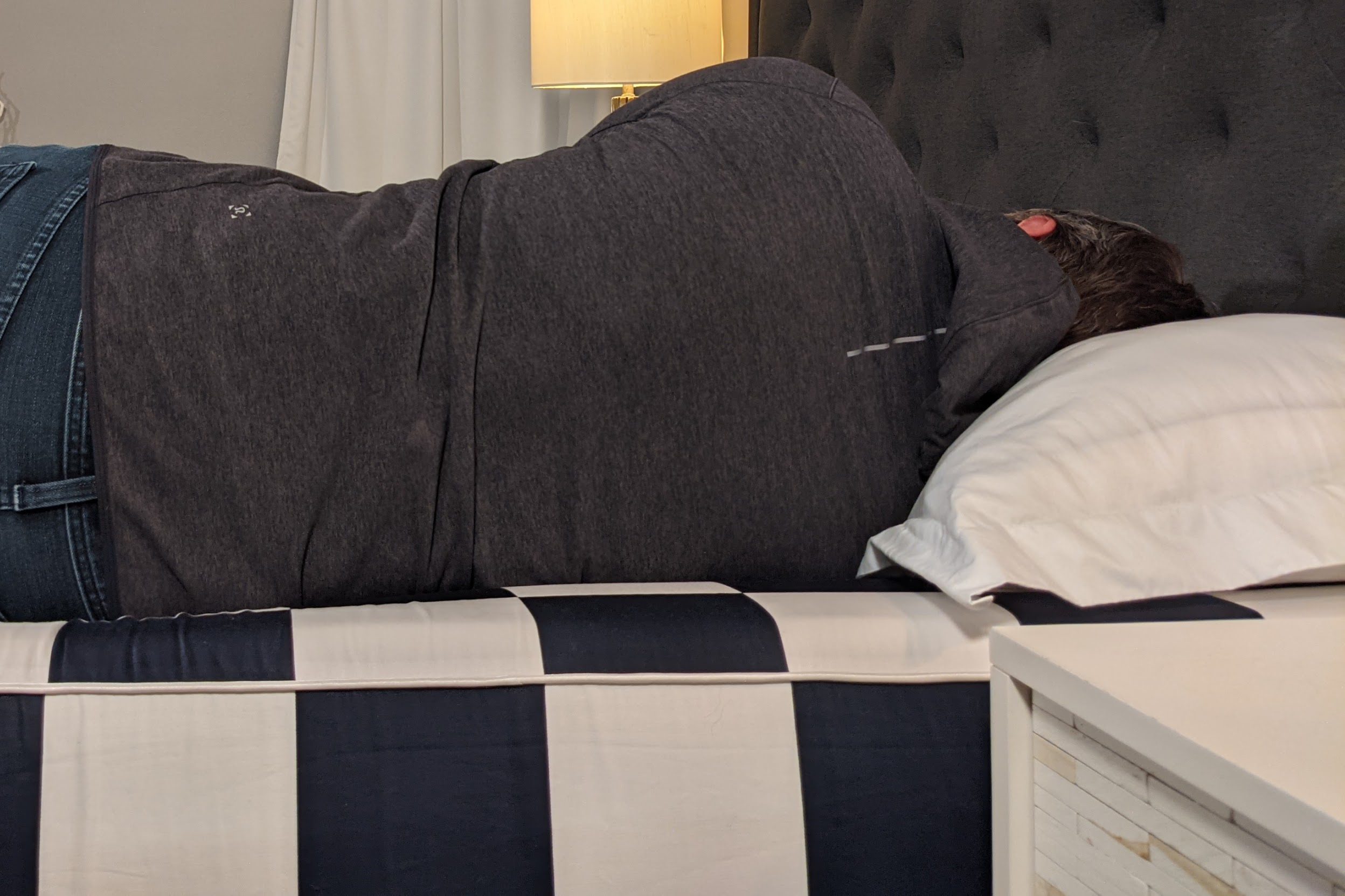 Although this mattress is marketed as being soft, it doesn't cradle you like a typical soft mattress would. That's largely because there is not a quilted over and it is not overly engineered with too much foam. Instead, it uses more of the softer foam in the right places. Here you can see that my 14lb. bowling ball doesn't sink in all that much at the middle of the mattress.
My GladGrid Recommendation
To be honest, I wasn't expecting much from this mattress and after a few weeks of sleeping on it, it has greatly exceeded my expectations. Although it is marketed as a soft mattress, I thought it would be much firmer. The reality is that it offers great pressure relief, especially for my shoulders and I have been having great sleep. On top of that, you get a quality, silver infused cover with a beautiful pattern and stitched handles. The copper and gel foams offer great cooling properties and the mattress itself is not terribly heavy. I recommend trying the Glad Grid if you are a side sleeper that tends to sleep hot and are looking for great pressure relief around your shoulders without being surrounded by the mattress while you sleep.