[Tagline]
Tuft and Needle was one of the first and most successful online mattress brands with their original, all foam, mattress. Recently, they just launched their first Hybrid mattress which I received free for review. This mattress was designed to cradle you and feel extra cozy without making you overheat at night. A queen size retails for just under $1,500 which puts it on par with most hybrids in the market but how does it compare? We found it offers a unique feel that will appeal to sleepers that crave extra contouring and an overall plush feel.
Overview of the Tuft and Needle Hybrid
Here's a video overview of the mattress which shows the inside and how it reacts and contours. This mattress comes roll packed in a box like their other offerings. Both shipping and returns are free. It also comes with a 100-night trial which is typical nowadays.
Construction of the Tuft and Needle Hybrid Mattress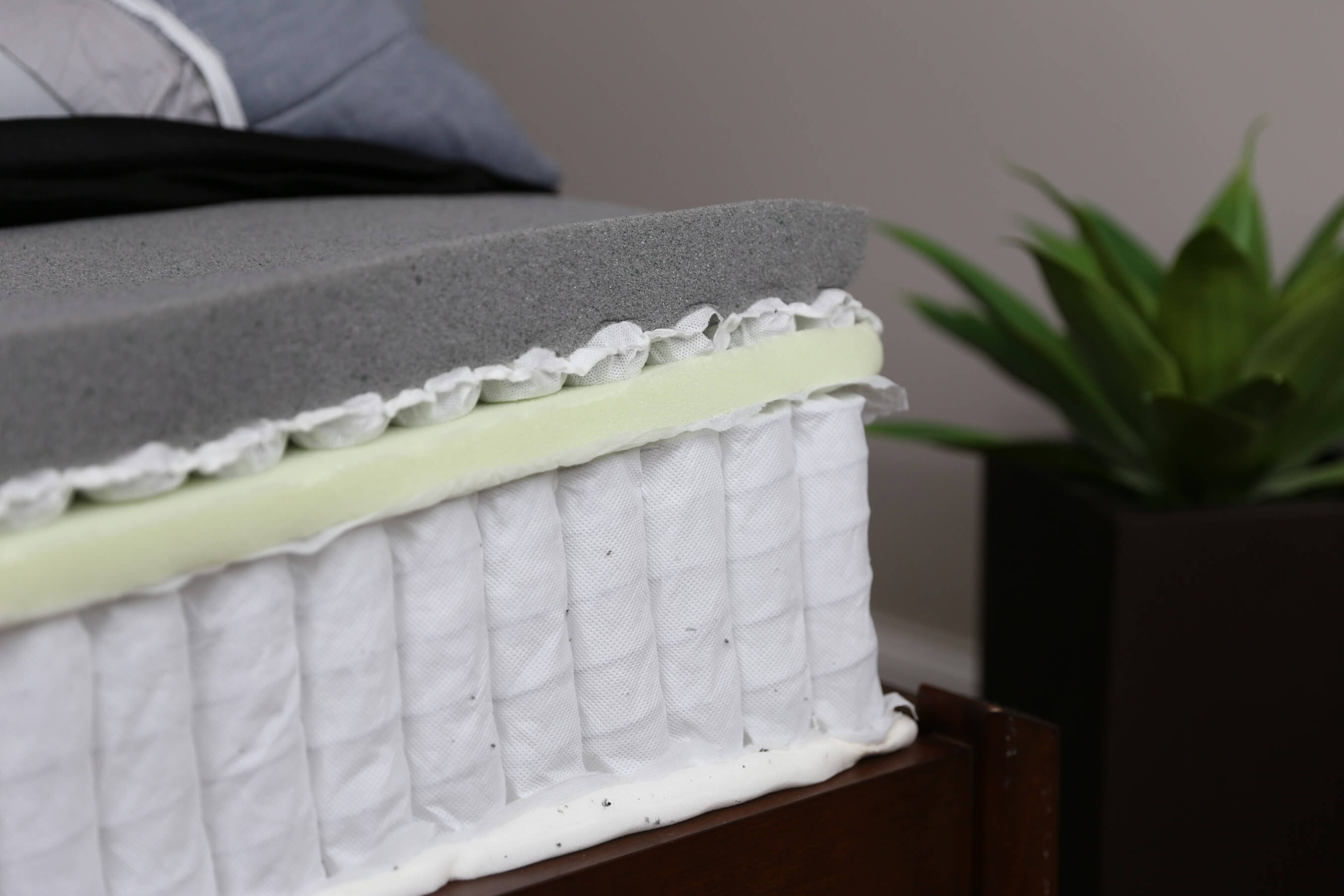 Below are the construction specifications as found on their website.
– 1″ Quilted, breathable open-cell foam with carbon fiber + graphite
– 2″ T&N Adaptive® foam with graphite + ceramic gel beads
– 1″ Transition coil
– 1″ T&N Adaptive® foam
– 6″ High quality pocketed springs with added edge support
– 1″ High quality base foam
How Much Does the Tuft and Needle Hybrid Cost?
Below are the current prices of the mattress. Keep in mind that Tuft and Needle does not offer any coupon codes. They believe in offering the best price year-round so you don't have to time your purchase around any gimmicks or holidays.
[table id=89 /]
My Tuft and Needle Hybrid Findings
The first thing I noticed about this mattress was the blue cover. It's a departure from your typical white cover. Tuft and Needle has always done a good job with the design of their covers. It shows that they pay attention to detail in every part of the construction.
Below you can see how much sinkage you get with this mattress. I put my 14 lb. bowling ball on it and it sank more on this mattress than most of the other hybrids I have tried.
Here you can see how each layer works with the cover off. Keep in mind that the cover has foam quilted into it which gives it the extra soft feel. You can also see the transition coils under the first layer of foam in this picture. These coils are not very stiff and can easily be squished with your fingers. They are a great choice because they make the top layer more breathable and resilient. If they were to use another layer of foam, or even latex, the mattress would probably feel too mushy.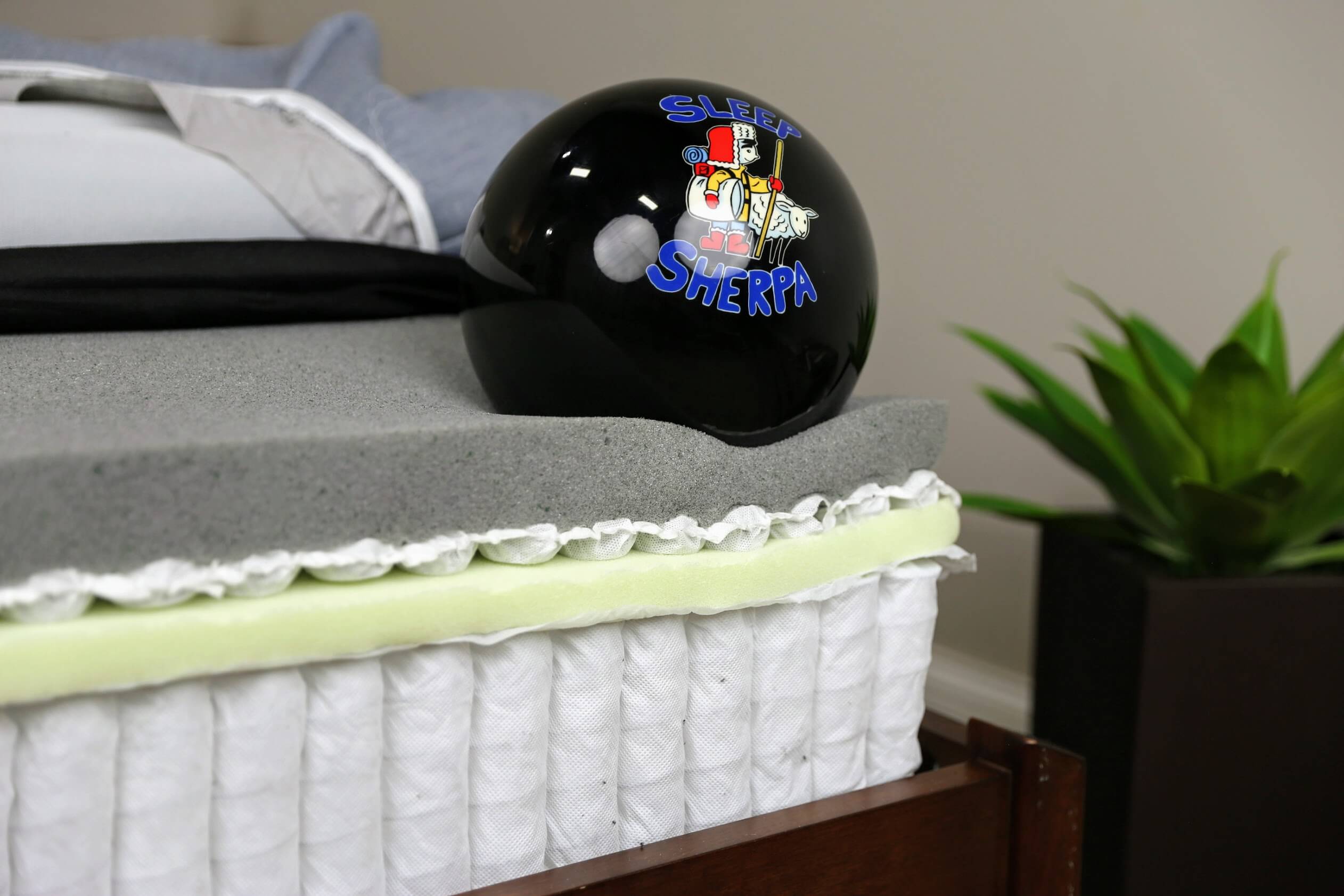 Here you can see how easy it is to compress the foam and coils.
Here's a picture showing me laying on my side. It's a little hard to see the contouring but I definitely felt like it would make an ideal mattress for side sleepers.

My Tuft and Needle Hybrid Recommendation
Overall this mattress is best suited for side and back sleepers. I think stomach sleepers will want something a bit firmer and I would recommend taking a look at the original Tuft and Needle.  In comparison to the Tuft and Needle Mint, the Hybrid offers a bit more support than the Mint can provide and is easier to change positions at night.
I really appreciate that Tuft and Needle went the distance in putting quality materials throughout the mattress. The quilted foam cover would make the mattress sleep too hot but they addressed this early by making it with open-cell foam, carbon fiber and graphite, all providing unique cooling properties.
The two sets of coils also add to the unique feel and don't come cheap which is why I think they can command the price they do. If all-foam mattresses just aren't working and you aren't impressed with the current offering of hybrids, I think you owe it to yourself to see what this one offers. It really stands out from the rest of the pack.
Learn more about the Tuft and Needle Hybrid