Best Floor Mattress
What do you do if you have more guests spending the night than your house can accommodate? You either have to ask them to leave because you don't have space for them to sleep, or you have to find another alternative. If your house has enough space on the floor, that's where you could ask your guests to sleep for the night.
Unfortunately, the idea of sleeping on the floor isn't too appealing, especially if it's winter. In fact, your guests could also take it as an insult because the floor isn't the best place to sleep in the house. But if you have a floor mattress to the rescue, not only will your guests be comfortable but also feel good about the arrangement.
Unlike what most people think, a floor mattress is not just any mattress laid out on the floor. A floor mattress is designed to be laid out on the ground and isn't compatible with a bed frame. You can always use a regular mattress for the floor, but since it is meant for a bed frame, it won't be the most comfortable thing to sleep on the floor.
The floor isn't the most recommended place to sleep in. But when space is short, a floor mattress can make sleeping on the floor a little more comfortable.
Should you sleep on the floor?
Ideally, you shouldn't sleep on any flat surface because it doesn't offer any support to your skeletal structure. The bed is also a flat surface, but an ergonomic mattress makes up for it. But the floor is usually made of concrete or hardwood and creates excess pressure on your body. This can lead to aches and pains in various parts of the body. If you have a bad back or other chronic conditions, sleeping on the floor may not be the right choice for you.
However, a floor mattress will make sleeping on the floor more comfortable. Keep in mind that there are differences between a regular mattress and a floor mattress. A regular mattress is designed to be used on the bed, and when used on the floor, it can lead to mold and mildew growth on the side facing the floor because of no ventilation. Foam mattresses are more prone to mold and should be aired out regularly.
A floor mattress has no such issues because it has been designed to be used that way. Even the side facing the floor has adequate ventilation to prevent moisture and mildew growth. Floor mattresses are thinner than regular mattresses, are foldable and can be easily stored in a cupboard when not in use. You may even keep one in your car if you become the unexpected guest anywhere.
Five best floor mattresses
Floor mattresses are easily available online or at any bedding store. They are usually much cheaper than mattresses designed for the bed, and also last a long time (because they aren't used regularly). However, they cannot be used for the bed because they are much thinner than regular foam, latex or box spring mattresses and not designed to provide much support.
Without further ado, here are the top 5 floor mattresses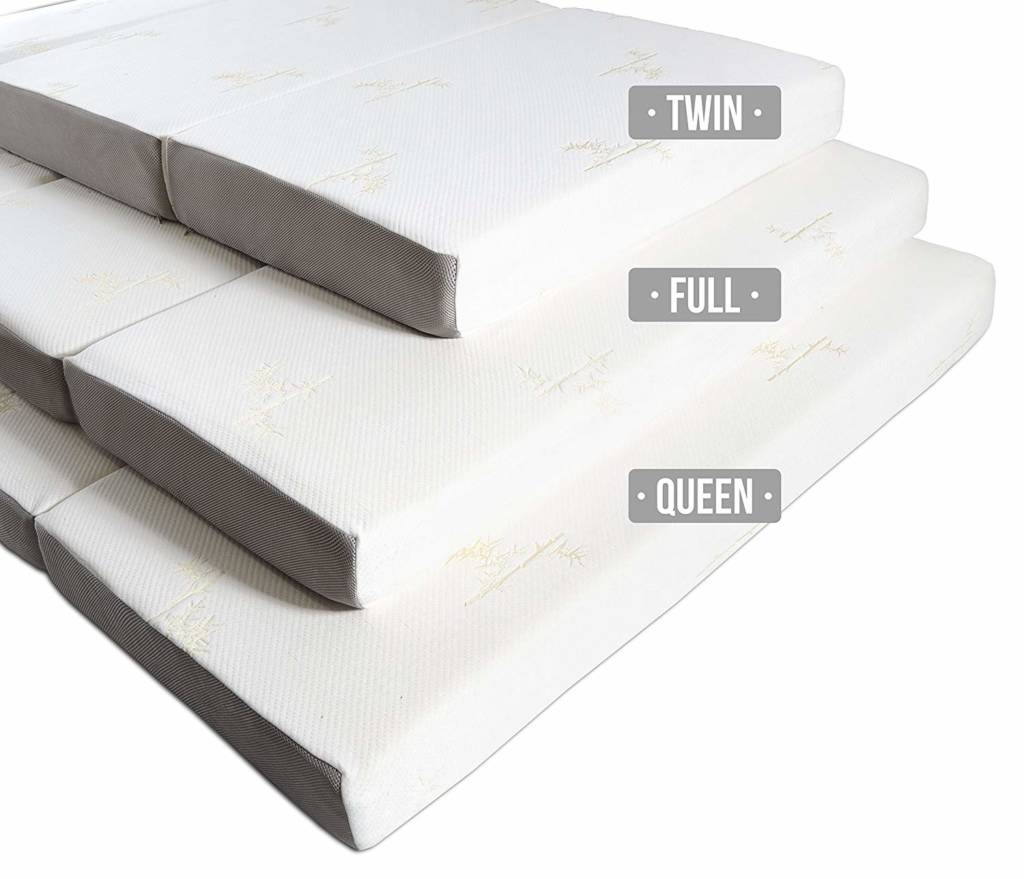 Milliard has the highest ratings among all floor mattresses. Made of memory foam, this three-fold mattress is great for sleeping on no matter where you are. Lightweight and portable, the mattress can be easily folded and stowed away when not in use. Because it's made of memory foam, it replicates the comfort and feel of a regular bed. Memory foam is also known to provide a high level of support, even if you have a bad back or conditions like arthritis. The 6-inch of thickness is ideal for a floor mattress. Available in three sizes – twin, full, and queen – the Milliard mattress is one of the highest rated because it combines comfort, support, and convenience without breaking the bank.
Pros
5-star rated
Great for indoor and outdoor use
CertiPUR-US certified memory foam
Three sizes
Removable bamboo fiber cover with a non-slip bottom
Cons
Some complain it's too soft while some find it too hard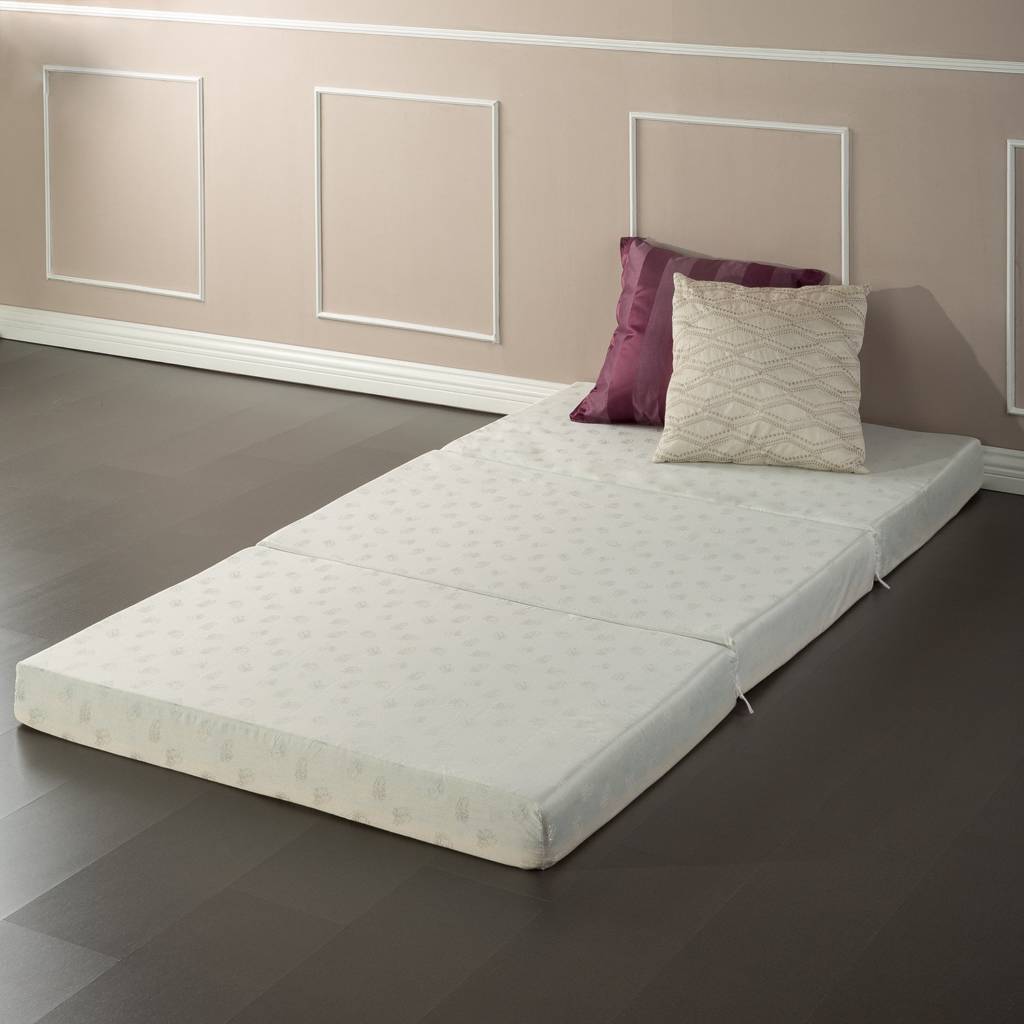 In terms of construction, Zinus is a lot similar to Milliard. It is made of memory foam and is foldable in three parts. This 4-inch mattress has 1-inch of memory foam, 2-inches of Viscoelastic Responsive foam, and 1-inch of high-density support foam. Because of this combination, the mattress provides great support on any flat surface. Not only can you use it for sleeping but also as a chair. The top layer of memory foam is designed to wick away moisture and keep you dry and cool. It retails for under $100 on Amazon.
Pros
Three distinct layers of foam
Combines support and comfort
Can be used as a chair
Top biofoam layer absorbs moisture and eliminates odor
CertiPUR –US certified foam
Cons
Available only in twin size
Some floor mattresses can be used as a chair, but this mattress by Lucid can be used as a sofa. The Lucid sofa mattress is made of 0.5-inch gel-infused memory foam and 3.5 inches of high-density base foam. Available in three sizes – Twin, Twin XL, and Queen- this sofa mattress can be used a floor chair for comfortable seating when not being used for sleeping on. The memory foam is CertiPUR US certified, resistant to dust mites and mildew growth. It also comes with a removable zippered cover that keeps the mattress clean.
Pros
Can be used as a bed or a sofa
Comes in three sizes
Resistant to dust mites and mold
Two layers of foam
Easy to stow away when not in use
Can fit three children
Cons

Better Habitat SleepReady Memory Foam Floor Mattress
Instead of folding, this memory foam floor mattress rolls up and will fit better in certain spaces than a folding mattress. It even comes with its own travel bag making it easy to store and transport. This mattress has 3 inches of dense memory foam to keep you supported and comfy all night. A twin size will provide adequate support for someone up to 230 lbs.
Pros
Rollable
Great for small spaces
Good choice for travel
Specially designed foam for floor use
Lightweight and portable
CertiPUR-US certified
Cons
Sproutwise Kids – Pack n Play Mattress
First things first: this isn't an adult bed. This mattress is meant for babies above 6 months and toddlers, and designed for use on the floor of your house, in a playpen, in a holiday home, or in a mobile van. As the name suggests, the mattress is easy to fold and store away when not in use or when traveling. This can be a great travel bed for babies and also a floor chair for toddlers. Made of natural latex foam with a waterproof liner and a zippered outer cover, the mattress also fits cribs and toddler beds of various dimensions. This isn't exactly going to solve your problem of unexpected guests, but it can definitely make traveling with kids much easier.
Pros
Hypoallergenic and free from synthetic chemicals
Natural latex foam
Great for babies and toddlers
Easy to fold and carry
Cons
Only for kids
Off-gassing
Sleeping on the floor needn't be uncomfortable with these high-quality floor mattresses. Simply get one appropriate for your space and solve the problem of unexpected guests forever.