The Bear Pillow is a memory foam pillow with phase change material built into the cover for a cool nights sleep. The Bear Pillow uses next generation foam that is softer and recovers quicker than traditional foam. This makes the pillow light and breathable. It is about 4 inches thick which makes it thin enough to accommodate stomach and side sleepers but also will work for side sleepers. This pillow is a great choice for people that like a soft pillow that sleeps cool and is not too thick.
Overview of the Bear Pillow
You can order the Bear Pillow via their website. After ordering you should receive it in about 5 business days. The pillow comes in a case like the one below, which can be reused to store the pillow or for travelling to keep it clean.
This pillow also comes with a 100 night trial period similar to most online mattresses. They ask that you try it for a minimum of 30 days and if after that time you still don't like it you can return it for a full refund. Below is a video that shows how the pillow works.
Construction of the Bear Pillow
Here are some of the highlights of the Bear Pillow according to the website.
Intuitively contours to your sleep position, supporting the natural curves of your head, neck and spine
The perfect cool and dry climate while you sleep
Dual mesh side panels for continuous airflow throughout your sleep
Hypoallergenic and antimicrobial protection
Free Shipping & 2 Year Warranty
Dimensions: 28″ x 18″ x 4″
Machine washable cover
My Bear Pillow Findings
The first thing I noticed about this pillow is that it truly is cool to the touch. This is due to the phase change material used. Bear calls this their Double Ice Fabric. Here's a closeup of the pillow. Each side of the pillow has a mesh fabric that allows the pillow to breathe.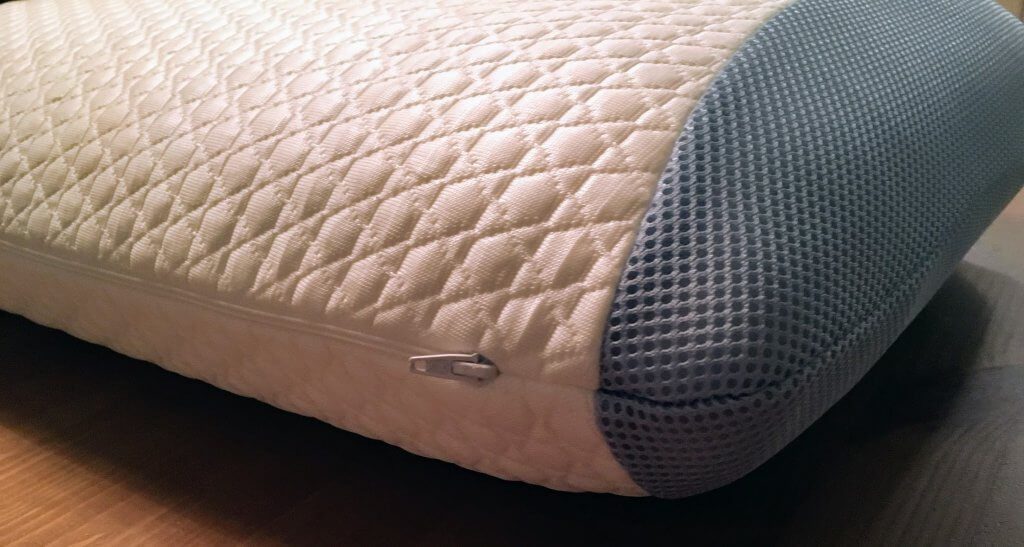 There are many memory foam pillows on the market now that also have a phase change material but I like that the cover of this pillow is washable. That means you don't need to use a pillowcase. A pillowcase will dampen the effectiveness of the cooling cover. I also found that pillowcases easily slip off pillows with phase change material. That's because the cover has a silky feel to it, very smooth.
Aside from the cooling cover, the foam inside has holes through it that help ventilate heat.
I would recommend this pillow for people that sleep hot and enjoy a lower profile pillow. It will accommodate all sleep positions but if you have broad shoulders and sleep on your side, this pillow may be too thin for you. I think this pillow is best for back sleepers and stomach sleepers and side sleepers with a smaller frame.
My Bear Pillow Recommendation
The Bear Pillow retails for $95. In comparison to other pillows with similar cooling technology, this is a good price. For instance, the Malouf Carbon Cool pillow  retails for $199 on Amazon. In addition, the 100 day trial period makes it a risk-free proposition. If you tend to sleep hot and are looking for some quick relief without having to switch out your mattress, definitely consider the Bear Pillow.