I received a free set of bamboo sheets from Nest Bedding. They now offer bamboo via their website at a very competitive price. A queen set retails for $99. Nest bedding is an exception to many of the online mattress companies in that they curate quality products for your entire bedroom at a very competitive price. Bamboo sheets are their latest offering for bedding and they are a great choice for people that want a silky feel.
What Are Bamboo Sheets?
Bamboo sheets are made from the cellulose of bamboo to create rayon. Bamboo leave and the soft inner part of the bamboo shoot are extracted through a steaming method and then crushed and spun into fibers. Bamboo is considered a sustainable material because it grows quickly and can be grown on marginal land unsuitable for other crops. It's also important to note that processing bamboo usually requires lots of chemicals to create the silky fiber end product.
Ordering and Unboxing
You can order these sheets from the Nest website here and they come in four different colors. The will arrive in about 5 business days after ordering which is the same lead time as their mattresses and other products. The come in a a nice cardboard box like the one below.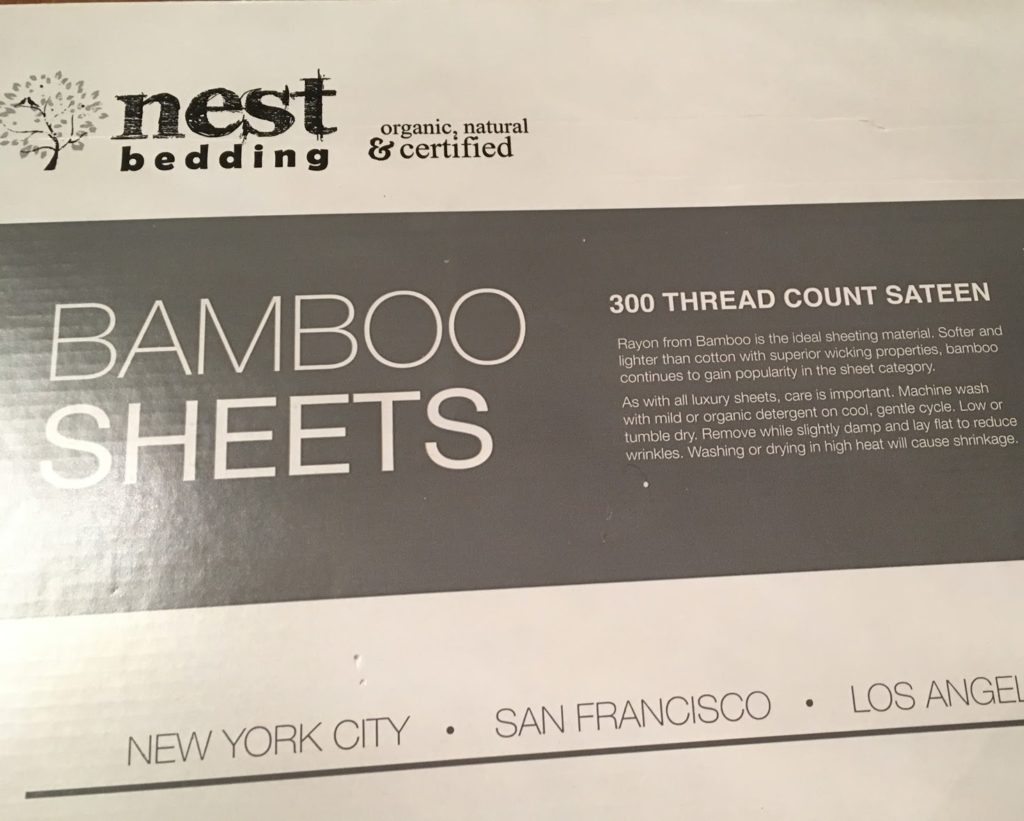 Inside the box they are encased in plastic to protect them from getting dirty.
Construction and Specifications
Below are the specifications of the bamboo sheets as listed on the Nest website:
300 Thread Count
Rayon from bamboo has anti-microbial properties, making it perfect for those with sensitive skin.
Sheets fit 8″-14″ tall mattresses.
Wash in cool to medium and tumble dry on low to medium heat. Do not bleach. Colors represented on the website my vary slightly.
Findings
I have tried out bamboo sheets from Cariloha so I have some frame of reference for bamboo. Cariloha was one of the first companies to take bamboo sheets mainstream. They have a classic and resort style set of sheets with the resort style having an even more silky feel. The Resort Collection sheets from Cariloha retail for $239 for a queen set. I found the Nest Bamboo sheets to be somewhere in between but less than half the price.
Here's a close up picture of the "cream chocolate" color pillow case to show the stitching quality:
I use my bamboo sheets primarily in the spring and summer since I am in Minnesota. I usually keep cotton or flannel on my bed in the fall and winter. Bamboo sheets have a very silky feel and drape over you to hug you but also breathe very well.
Do bamboo sheets shrink? Yes, they can! However it should be noted that these are deep pocket sheets so even after shrinking a little, they will still accommodate a deep mattress.
Conclusion
Nest bamboo sheets come with a 30 day money back guarantee so you get the benefit of trying them out risk free. If you tend to sleep hot or just like a silky feel in your bed, bamboo sheets are a great choice. Bamboo sheets are also naturally anti-microbial and mildew resistant. Bamboo is a strong fiber that should hold up after years of use and because bamboo fiber is odor resistant, they don't need to be washed as frequently.
Disclosure: We aim to highlight products and services you might find interesting, and if you buy them, we may get a small share of the revenue. I have an affiliate relationship with Nest Bedding.