Overview of the YourFacePillow
The YourFacePillow is a unique looking pillow that has been created to reduce facial contact with the underlying sleep surface, something that is known to contribute to the appearance of wrinkles and acne. It's constructed to encourage one to sleep in soldier position or the famous yoga corpse pose. Allowing you to easily sleep on your back, this pillow will keep your neck and your head in an anatomically correct position while you sleep. Unless you decide to sleep on your side with it, it has many promising features. 🙂
Why I Sought Out The YourFacePillow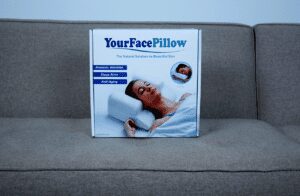 The YourFacePillow initially caught my interest because I was suffering from the worst acne I had ever experienced in all of my 28 years. I fought with my skin for an entire year, trying to do everything I could to control it. Like some mysterious crime, it was something I was committed to solving. I spent lots of money on various cleaners and creams and I also tore up my face with my own at-home extraction kit. I used it so aggressively that I would later be horrified at how many scars I had left behind. I didn't realize that at my age, delicate skin scars and folds more easily. After the year of fighting was up and with no improvement in sight, I finally paid a visit to my OBGYN only to find out that the birth control I had been taking to treat my PCOS (Polycystic Ovarian Syndrome) was no longer effective at managing my symptoms. One of those symptoms is painful and inescapable hormonal acne.
Aside from the typical surface area that zits like to occupy, hormonal acne, in particular, is another beast. Typically, it's known to appear in areas such as the jawline and neck. Described as cystic acne, these types of pimples are often deep under the skin, making them not only painful but difficult to even access (and get rid of). Some don't even come to a head, meaning there will be an evident bump on the face but no white dot in the center to know that it's ripe for popping. Some of these pimples can appear and just remain. Eventually, it's not even a zit anymore, just a raised mark for you to remember it by.
I could have at least considered that my hormones were the cause of the year-long sudden shift in my skin but the daily routine of taking my medication had become an automatic robotic ritual. One that never left any time for thinking. It was easy to neglect my health because I assumed it was already being properly managed.
That year of fighting with my skin, however, has thankfully taught me a lot. I've learned a lot about acne and specifically, hormonal acne. I also have come to understand PCOS more intellectually and I've educated myself about ways in which the skin can change and age and how to treat it well if one wishes to have a shot at aging gracefully.
It's also important to consider that how you face your day isn't all that matters. How and where you end your day is relevant too.
Where you sleep and what you lay your head on accumulates many lovely things over time.  Aside from built-up skin cells, pillows are also great containers for dirt, oil, sweat, bacteria, as well as various allergens—dust-mites and pet dander being just one example.
Aside from the respiratory problems that can result from sleeping on an unclean pillow, the cleaner our pillow, the cleaner and clearer of a face we can realistically expect. While slovenly pillows and pillowcases may not be the primary cause of acne, they are known to exacerbate acne and act as a source of irritation. What's even better than a clean pillow, if there is such a thing? How about not even letting your face make contact with your pillow? I know, I know. I've been told I'm idealistic but I know that those with sensitive skin can empathize with my concerns. Sleeping on your back and letting your face relax—with nothing in its way—usually feels and works best. And that's why this pillow is awesome.
Construction of the YourFacePillow
The YourFacePillow is made with CertiPUR Certified foam. That means that it's made without PBDEs, TDCPP, TCEP flame retardants, mercury, lead and heavy metals, formaldehyde and phthalates. Known as viscoelastic foam or memory foam, this pillow won't lose its shape or integrity over time and it's lightness and breathability makes sure that you never sleep hot. Additionally, as supportive as the foam may be, it's also incredibly soft, pleasant and comfortable. The pillow itself comes in a hypo-allergenic inner cover and of course, it also comes with a washable bamboo outer cover. There is a satin case available as well however it must be purchased separately.
The YourFacePillow comes in two size variations (Standard and Large) however the dimensions are actually the same for both—the thing that differs is that the Standard version has a slightly lower headrest and the side supports sit more closely together. The Standard size is what the company recommends for most people.
21"X12"x6"
My YourFacePillow Findings
In my YourFacePillow Review video, I provide a comprehensive look at this pillow after using it for almost a year. I discuss what it was like transitioning from being a side sleeper to a back sleeper, the challenges that came with the adjustment, as well as how this effective this pillow is for both the reduction of acne as well as wrinkles.
My YourFacePillow Recommendation
It's bizarre to think that a pillow can contribute to a more beautiful and radiant face but it's actually possible. This pillow won't solve your acne but it will keep you on your back so that your face is correctly positioned to sleep facing straight all through the night. If you can adhere to simply laying on your back, you will see that you have less breakouts and that the skin on your face does rest more proportionately. Some wrinkles may have time to smooth out, especially if they're a result of improper sleeping positioning. Continue to sleep on your back (until the end of time) as often as possible for the best anti-aging benefits.
For acne sufferers: If you find that you can't keep up with changing the pillowcase as often as you should (at least 1 to 2x/week), make use of clean towels and clean t-shirts to step in and save the day.
If you typically do not sleep on your back and are looking to gradually adjust positions, keep another pillow to the side as a just-in-case. In the event that you wake up with a stiff neck from accidentally moving in your sleep (and no longer being on your back), you may need to alternate to the second pillow, to help you cope with the neck pain while the knot heals, before returning to using the YourFacePillow again.