✓ Authorized Dawn House Dealer
✓ Lowest Price Match Guaranteed
✓ Free White Glove Delivery
✓ Free Shipping
✓ 5-Year Warranty
✓ Questions? Chat with us to get our absolute best pricing.
The Dawn House Bed is more than just a bed, it's an entire system designed to support vibrant lives as we age. The customizable sleep solution has built-in, state-of-the-art sleep monitoring and safety features designed to deliver unmatched comfort and control that allow for independence and peace of mind.
The Dawn House Bed is a revolutionary adjustable bed that combines cutting-edge technology with luxurious comfort to provide an unparalleled sleep experience. It is the brainchild of a team of sleep experts and engineers who set out to create a bed that would not only improve people's sleep quality but also help them achieve better overall health.
Here are some of the features that make the Dawn House Bed unique:
State-of-the-art health monitoring:

 The Dawn House Bed uses sophisticated sensors to track key aspects of your sleep cycle,

 including heart rate,

 respiration,

 and sleep apnea,

 as well as overall health indicators like snoring and heart rate variability.

 This data is then analyzed by the Dawn House Bed app,

 which provides you with personalized insights into your sleep patterns and health trends.

Multi-way adjustable base:

 The Dawn House Bed's base can be adjusted in multiple ways to find your perfect sleep position.

 You can raise or lower the head and foot of the bed,

 adjust the tilt of the mattress,

 and even put the bed into a zero-gravity position,

 which can help to relieve pressure on your back and joints.

Luxury design:

 The Dawn House Bed is not only packed with technology,

 but it is also beautifully designed.

 It is available in two stylish headboard options,

 slate and ivory,

 and it can be customized with a variety of other features,

 such as underbed lighting and a massage system.
In addition to these unique features, the Dawn House Bed also offers a number of other benefits, including:
Improved sleep quality:

 The Dawn House Bed's features can help you to fall asleep faster,

 sleep more soundly,

 and wake up feeling more refreshed.

Reduced pain and discomfort:

 The bed's adjustable base can help to relieve pain and discomfort from conditions such as arthritis,

 back pain,

 and fibromyalgia.

Improved mood and energy levels:

 When you get a good night's sleep,

 you'll feel better physically and mentally.

 The Dawn House Bed can help you to achieve better sleep,

 which can lead to improved mood and energy levels throughout the day.
Overall, the Dawn House Bed is a truly unique and innovative product that has the potential to revolutionize the way we sleep. With its state-of-the-art technology, luxurious comfort, and wide range of benefits, it is no wonder that the Dawn House Bed is quickly becoming one of the most popular adjustable beds on the market.
Features:
Hi-Low Adjustable Bed
Head & foot articulation: Elevate the head or foot of the bed or raise both ends for the ultimate Zero-G positioning.
Voice Control: The voice console enables the bed to be controlled using simple voice commands. The console is also a wireless charging station for a smartphone.
Remote Control: The wireless remote has an ergonomic design with high-contrast, soft-touch buttons that are backlit and easy to use – even in the dark.
Mobile App (iPhone and Android) The dedicated Dawn House App also includes controls for all bed functions in addition to providing information on sleep activity and other vital health factors.
Adjustable bed height: Raise or lower bed for ease in getting in, out of, or sitting on the bed.
Underbed lighting: Motion-activated LED lighting for better visibility in low-light settings.
Rise to wake: Set a time to gently raise the head of the bed as an alternative to an alarm clock.
Health sensors: Passively monitor sleep cycles, vital health indicators and connects to the Dawn House bed mobile app.
Anti-snore feature: Gently and automatically raises the head of the bed to alleviate the effects of snoring.
Relaxation mode: Built-in oscillating motors promote relaxation, comfort and improved circulation.
Optional Support Rail: Designed for those who like a little help getting in and out of bed, the rail moves in unison with any base adjustment.
Self-diagnostic tool: The bed can automatically run through its various functions to identify any issues and expedite technical service.
Adjustable Bed Height: The bed is 20.5" from the top of the mattress to the floor in the low position and raises 11" to a high position of 31.5"
Dawn House Foam Mattress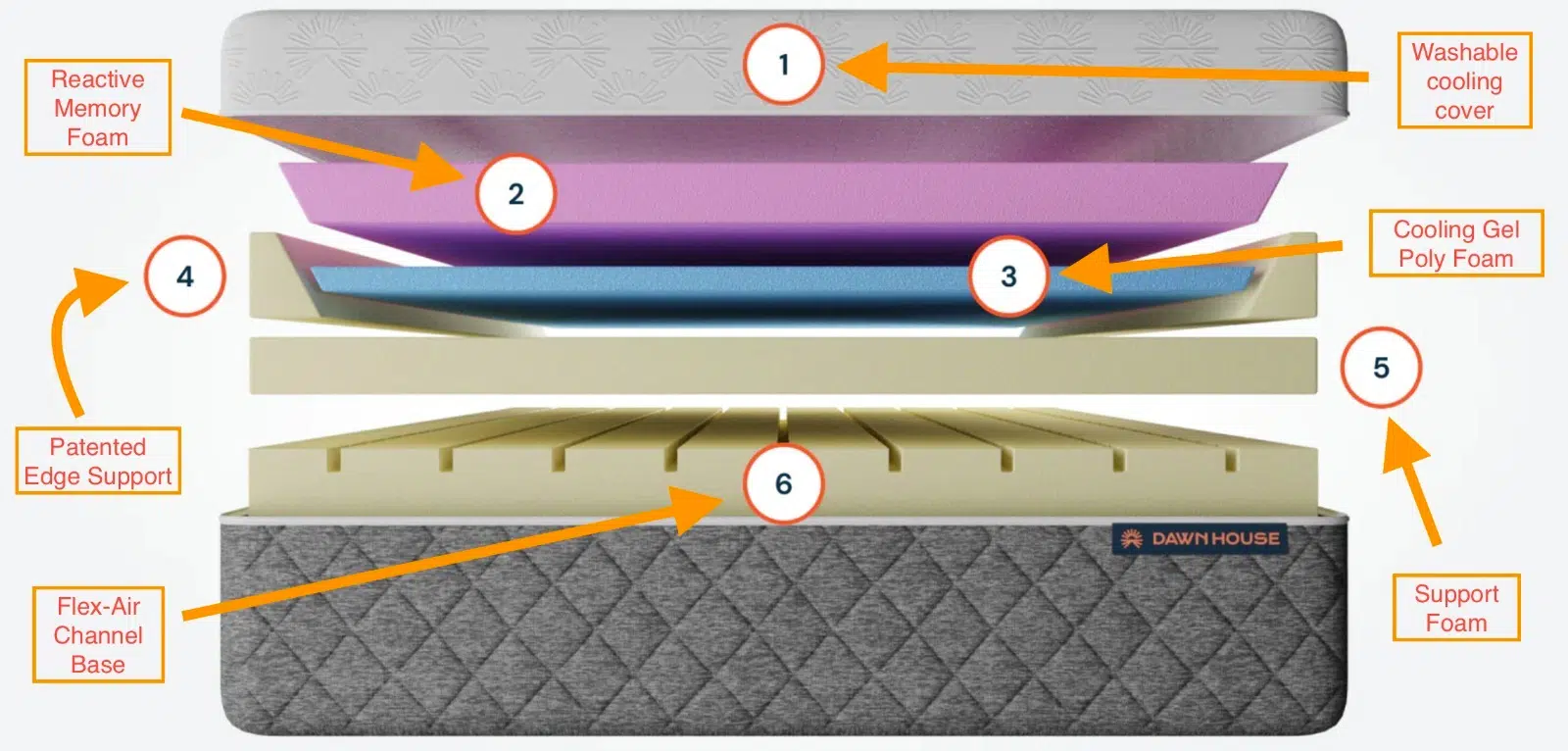 The premium Dawn House Mattress is designed to work seamlessly with the base and all its many features — it's where the ultimate sleep experience comes together.
Washable Cooling Cover Available in a range of sizes designed to fit the Dawn House mattress perfectly. Provides a layer of soft protection and maintains a consistently comfortable temperature.

Reactive Memory Foam The spring-like feel of a traditional mattress paired with modern foam that contours to the body to provide optimal support and comfort for any sleep position.
Cooling Gel Poly Foam Inherent properties of the gel foam help to regulate body temperature to allow for comfortable sleep in any climate.
Patented Edge Support The solid edge maximizes sleeping area and supports seating on the side of the bed or getting in and out of bed. It also provides stable support when leaning against or walking around the bed.
Support Foam Strategically positioned Articulated Movement Grooves enhance mattress flexibility and ensure seamless contouring when paired with the Dawn House adjustable base.
Flex-Air Channel Base Open channels allow for airflow within the mattress which improves breathability, temperature stability and mattress shape retention.
Dawn House Hybrid Mattress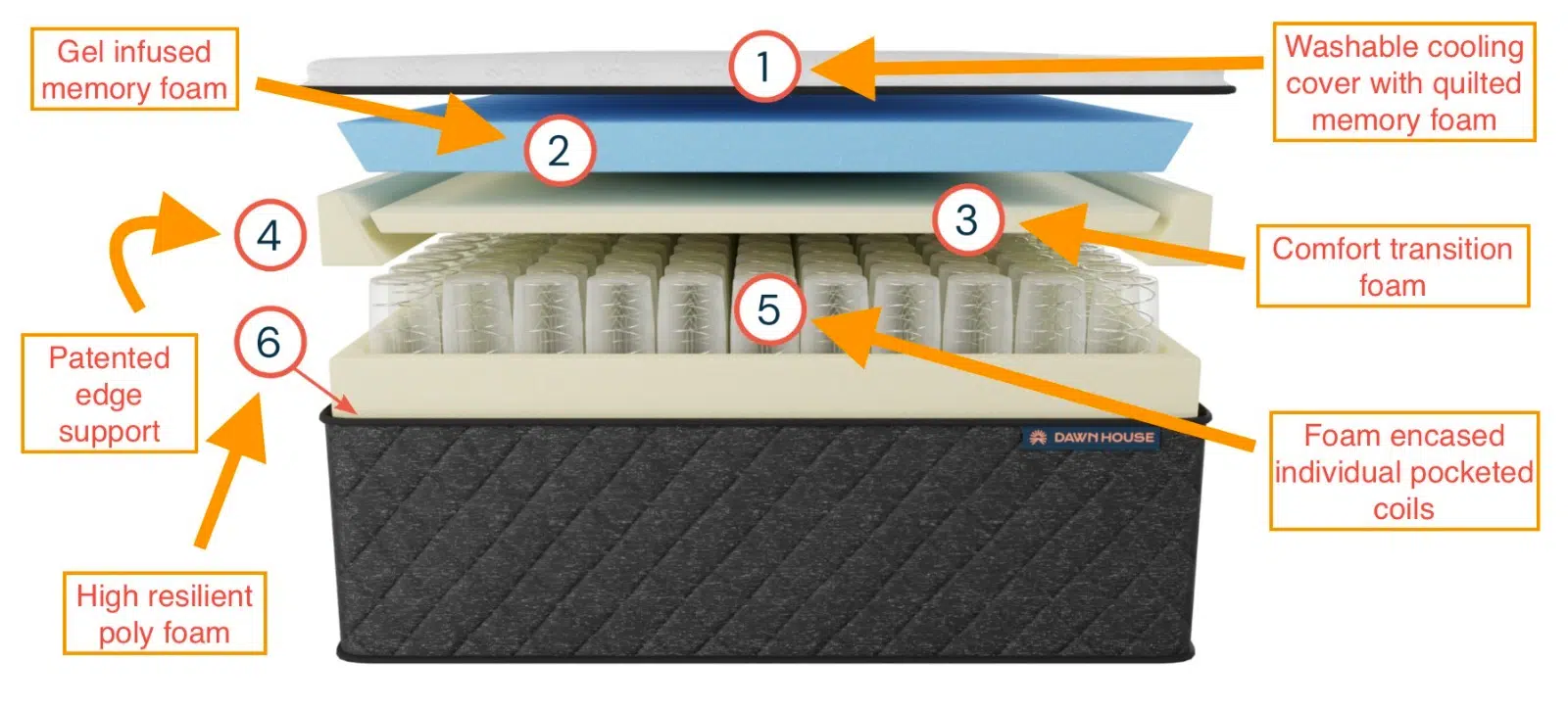 Side Bed Rails
Side rails provide additional safety for the patient and loved one. Preventing roll outs or falls.
Additional support for getting in and out of bed.
Height Range: 10″ to 16″ does not include mattresses height
Bed Size: Twin, Full, Queen, King and Split King
Maximum Back Angle: 70 Degrees
Weight Capacity: 700 Lbs.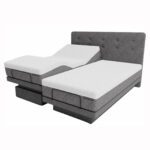 Dawn House Bed
Your review
* Review is required
Email
* Email is required
| | | |
| --- | --- | --- |
| 5 star | | 0% |
| 4 star | | 0% |
| 3 star | | 0% |
| 2 star | | 0% |
| 1 star | | 0% |
Sorry, no reviews match your current selections