The Luxe Pillow
The Luxe Pillow is a new approach to the traditional pillow. Its most appealing asset is its unique construction, which involves three separate chambers within the pillow. It looks like any other ordinary pillow but its central core is what allows it to provide the support that other pillows might not be able to.
Overview of The Luxe Pillow
The Luxe Pillow is available in goose down, as well as in a poly-fiber gel, a high-quality goose down alternative. Both pillow types are available in standard and king sizes. Luxe Pillow offers free shipping and returns on their items, a 100-night no risk sleep trial, and they use responsibly sourced goose down. This matters because responsibly sourced isn't just an indication of company values but of a higher quality product overall.
Construction of The Luxe Pillow
The Luxe Poly FiberGel Down Alternative Pillow is available in both Standard and King sizes.
For it's construction, there is a dedicated core that's been chiseled out, along with two additional chambers. This core provides stability, not allowing it to fall flat like other pillows might. It is also much more subtle in design than I realized and practically speaking, this is a plus as it's not something distracting. I tried pushing down on the pillow hoping to find it but couldn't exactly. I think the subtlety matters. It's not supposed to be noticeable, it's just supposed to be effective. That's the point!
My Luxe Pillow Findings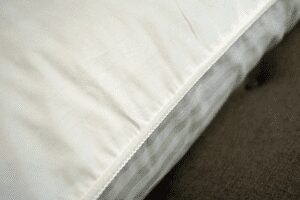 Luxe Pillow uses sustainably sourced white goose down and small-game waterfowl feather. The way they've designed it, to give you the best bang for your buck, is they filled the supportive core with high-quality waterfowl feather, which refers typically to ducks or similar animals, waterfowl are animals that like and live by the water. These types of feathers are either denser or more affordable so they can use larger quantities of it to create that internal support. The two external chambers are filled with goose down to provide the unique softness it's known for. Despite the feathers, these pillows are certified to be hypo-allergenic and there is a 300 Thread Count Pillow Protector included.
For their down alternative pillows, they use Poly Fiber Gel which is an absolutely wonderful substitute. As someone who regularly sleeps with down pillows, I wouldn't exaggerate.
To see my thoughts on the Down Alternative Pillow by Luxe Pillow, and to see me compare it to a Goose Down (and only Goose Down) Pillow, take a look at the video below that debuted on the Yawnder YouTube Channel.
The Luxe Pillow® vs The Pillow Guy: Construction, Price & Packaging Comparison
I consider the Pillow Guy company to be a direct competitor because of how similar these price points are, as well as because both cater their marketing to those interested in luxury living and therefore those looking to purchase luxury goods.
In terms of price, Pillow Guy is definitely the more expensive brand. Luxe Pillow, on the other hand, is still trying to bring value to its customers. The biggest differentiating factor in terms of price between these two brands lies in the price of their goose down pillows. I'm including the chart below to help you better understand these costs more clearly.
PILLOW TYPE
THE LUXE PILLOW
PILLOW GUY PILLOW

Standard Goose Down Pillow

$129

$189

King Goose Down Pillow

$149

$239

Set of 2 Standard Down Pillows

$229

(Saves you $29)

$329

(Saves you $49)

Set of 2 King Down Pillows

Not available in King size

$449

(Saves you $29)

Standard Poly-Fiber Gel Pillow

$79

$79

King Poly-Fiber Gel Pillow

$99

$99

Set of 2 Standard Poly Fiber Pillows

$139

(Saves you $19)

$149

(Saves you $9)

Set of 2 King Poly Fiber Pillows

Not available in King size

$179

(Saves you $19)
The reason for these price differences in the goose down products can vary. I'm assuming that it can come down to either quantity/weight of goose down, the quality of the goose down, advertising costs or simply a matter of brand perception.
With the Luxe pillow, the core of their down pillows does contain small-game waterfowl feather. This difference in composition might be what cuts cost for Luxe Pillow, allowing them to charge less for it. Goose-down in the states certainly falls on the higher end of the spectrum, typically of which consumers are well aware of.
The way I see it is if you're particular about how you like things and you "MUST HAVE GOOSE DOWN," I'm assuming you'll disregard the price in exchange for getting what you want. If you, however, want to keep an open mind and are looking to save a little bit of money then the Luxe Pillow is a great alternative. We are talking about a $100 difference for a set of 2 Standard Down Pillows, for example.
Both companies charging the same price for their down alternative pillows makes a lot of sense, being that they're both constructed with the same material, poly-fiber gel. Their costs for this must be close to identical depending on the quantities it's being purchased in but I'll tell you first hand, poly-fiber gel feels amazing. It felt amazing with the Pillow Guy Pillow and it feels amazing with the Luxe Pillow too. I think that both companies offer these at reasonable rates considering these are higher end products that are beautifully constructed.
One thing that stood out tremendously to me is the difference in packaging, referring to the initial experience a consumer has with a company's product. The Pillow Guy packaging was rather plain but Luxe Pillow went all out and something like this makes all the difference for me. Check out my review of the Pillow Guy Pillow to see what I'm referring to.
My Luxe Pillow Recommendation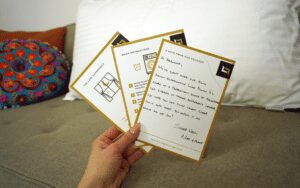 Overall I'm quite impressed with the Luxe Pillow and it's creators. The one thing that's missing is their company story. I'm curious to learn what it is. Their website doesn't have an "about" section and that's a great place where a company can gradually build rapport with consumers. In this time and age brand loyalty is gained not just through the creation of great products but by sharing the WHY of what they do. Simon Sinek elaborates greatly on this topic in his Ted Talk entitled, "How great leaders inspire action." Companies that are willing to share the story behind who they are and what they make are more likely to provoke an emotional reaction from their customers. Right now, Luxe Pillow, to me, does not have a face and I think it should be wearing someone's. In my opinion, that's all they need.