A Sensible Sleep Monitor and Alarm
Sense Sleep Tracker Manufactured by Hello Inc.
Overview:
Want to know how well you slept last night and what factors affected your sleep? Then the Sense Sleep Tracker from Hello Inc. may have the answers.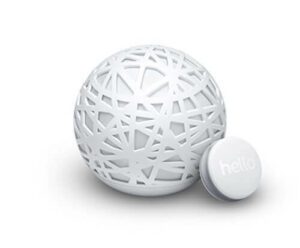 According to the manufacturer, Hello Inc.,… "Sense is the smart sleep tracker and wakeup alarm that improves your sleep, wakes you up feeling great, and shows how the environment of your bedroom affects your rest.
By monitoring the environment of your bedroom and recognizing your sleep through your movement during the night, Sense is able to give you the full picture of your sleep.
Your Sleep Timeline shows you a complete overview of our sleep cycle, punctuated by key events from your night. Together, you'll see how external disturbances — like a car alarm going off outside your window, for example — can affect how well you sleep.
Unlike a normal alarm, Sense's Smart Alarm analyzes your sleep cycle to know when you're sleeping lightly, and wakes you up at the optimal time to start your day off right.
Simply set your alarm, choose from one of 15 beautiful wake tones, and Sense will gently wake you while you're in the lightest phase of sleep, up to 30 minutes before your set time."
Package Contents:
Sense Sleep Monitor Base Unit (Monitors room environment – available in Charcoal or White)
Sleep Pill (attaches to your pillow – monitors movement)
USB Power Adapter

Sense Sleep Monitor Base, Sleep Pill, USB Power and Canister Package

USB Power cable
2 Hello stickers
Get Started card
Safety instructions
Monitoring Sensors:
Accelerometer (in Sense Sleep Pill)
Room Temperature (in Sense Base Unit)
Room Humidity (in Sense Base Unit)
Ambient Light (in Sense Base Unit)
Air Particulate Matter (in Sense Base Unit)
Ambient Sound (in Sense Base Unit)
Product Requirements (not supplied with unit):
WiFi Network
Apple or Android Smartphone or tablet (see vendor site for list of compatible devices and OS versions)
Sense App for Smartphone or Tablet (Available free from Apple iStore or Google Play Store)
Video Review:
Findings:
We have found the Sense sleep tracker system to be elegant in design and VERY easy to setup.  We installed the app on a Apple iPad. It took less that 5 minutes to do the bluetooth pairings and configure for WiFi.
As part of the setup, the app asks you to create an account and enter your age, height, weight and gender. And in order to better optimize the monitoring for you, from time to time it asks you questions such as whether you are a light sleeper or whether you like to sleep in a warm or cool room.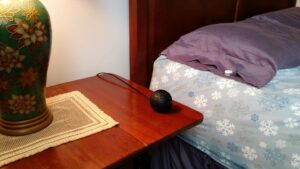 We like the fact that the "pill" motion sensor attaches to the pillow instead of being required to wear a tracking device on your person. But a word of caution… Be sure to remove the Sense sleep "pill" before washing the pillow case. As it is only the size of a quarter, it is easy to overlook and get thrown in with the wash. A replacement pill costs $49.
We do wish the USB power adapter was designed a little bit differently. If you plug it into some power strips, you might find that its shape prevents you from using the next socket over. This is a minor issue.
This is just an initial review of the Sense Sleep Monitor System.  We will be providing an update to this review once we have used it for a few nights.
We hope that the Hello Inc. Sense Sleep Tracker System makes sense to you as a tool to monitor your sleep and manage your bedroom environment. Please give us your thoughts and comments. If you already have a Sense System, let us know how it is working for you by posting to the comment section below.
Availability:
You can order the Sense Sleep Monitor at Amazon for $129