The Elegear Revolutionary Cooling Blanket
Hot sleepers don't have it easy and in some cases, we can't help that we sweat when we sleep. It's a problem, not just for us but especially when we're sharing the bed with someone else. Sometimes sleeping hot makes it difficult to even get solid sleep at night, which can then impact so many other parts of our lives. I'm a hot sleeper myself so I can relate. It's certainly not ideal. The Elegear Revolutionary Cooling Blanket for hot sleepers is designed to keep you cool and sweat-free overnight. By wicking away sweat quickly and efficiently, the blanket keeps you cool and comfortable without any added stress. It was created with the intention to help you wake up feeling relaxed, refreshed, and dry.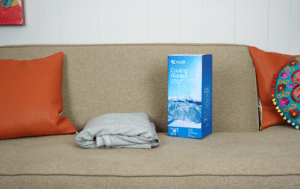 Overview of The Elegear Revolutionary Cooling Blanket
The Elegear Revolutionary Cooling Blanket comes with a 30-Day Money-Back Guarantee for any reason, making it an irresistible offer for anyone who is tired of waking up drenched in sweat.
All their products come with a 30-Day Money-Back Guarantee. Used and undamaged products can be returned for full refund within 30 days of purchase. 
Construction of The Elegear Revolutionary Cooling Blanket
One thing I'd like to note is that it's better to pay attention to the actual dimensions of the blanket, rather than the name or classification of the size, when it comes to purchasing. Some of their sizing/names don't seem to line up with traditional bedding sizes so just be aware of this. Look at the actual in/cm provided and not the name.
| | |
| --- | --- |
| ELEGEAR BLANKET SIZES | INCHES |
| "Twin" | 51" x 67" |
| "Twin" | 59" x 79" |
| "Queen & King" | 79" x 86" |
| "King" | 90" x 108" |
| | |
| --- | --- |
| TRADITIONAL BLANKET SIZES | INCHES |
| Twin | 66" x 95" |
| Full | 80" x 90" |
| Queen | 90" x 100" |
| King | 108" x 100" |
| California King | 110" x 100 (varies) |
When it comes to the materials of the Elegear Revolutionary Cooling Blanket, one side is made of 100% cotton and the other side (the cooling side) is made of 80% mica nylon and 20% polyethylene. This mica nylon and polyethylene blend is what gives Elegear's Arc-Chill Fabric its cooling abilities.
It first wasn't clear if Arc-Chill was Elegear's trademark or a separate company all together but I eventually figured it out. I checked out Arc-Chill's Facebook page and when I clicked the main CTA button to "Learn More," it redirected me straight to Elegear's website so yes, Arc-Chill is most likely a trademark of Elegear.
The Elegear fabric is a smart fabric, which requires some care if you want to maintain it and have it last. Excess heat can destroy some fabrics; some textiles just do not belong in a drying machine. So, while it is machine washable, it should be handled as a "delicate," and it should also be air-dried, and Elegear further emphasizes, preferably "in the shade."
My Elegear Revolutionary Cooling Blanket Findings
I was completely skeptical about Elegear's revolutionary cooling blanket. Amazon products can be hit or miss, Elegear doesn't sound at all like a domestic brand name (because it isn't) so I didn't trust it and I wondered how much of its popularity was due to hype. My experience on Amazon has been mostly good, and I would think like most people, I've experienced my share of being met with both high-quality and low-quality products when it came time to arrive. It's probably silly to doubt it so much; they do, after all, have the best customer service experience ever; they don't even rely on USPS or UPS for their own shipping. They have their own planes, their own trucks! They ship at lightning speed and if you're unhappy, you can return almost anything and everything. But enough about Amazon for now.
Elegear surprised me in a very positive way. While I was filming the review, I had a difficult time distinguishing how to get the best "experience" and how to best "test" the fabric. Knowing the Q max value and understanding the Q max index intrigued me on an intellectual level but it didn't answer my questions. After taking a few days away from the product, I eventually figured it out and I realized what everyone else has said: it really is cooling!
If you want to test the fabric, you need to cover a lot of surface area. I tried this out by cloaking it over my bare shoulders and later after laying it down on my bed, and then laying on top of it. Then I really understood and felt the difference. Covering a hand or a piece of your arm probably won't do it justice and that was my initial mistake. It's also going to confuse you if you're covered in a lot of fabric as it is; I got the best impression/effect on bare skin.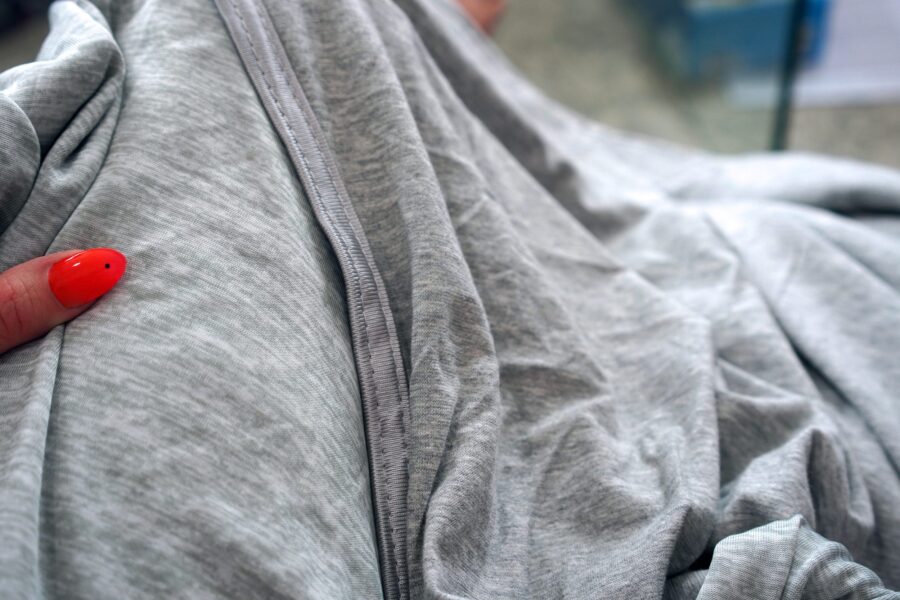 I'm glad I didn't force a decision and come here and proclaim that it's ineffective because that wouldn't be true. Elegear's Revolutionary Cooling Blanket works but it's also not a block of ice so your expectations should be kept in check. I first suggest understanding just how "cooling" you want it. Maybe sleeping with an ice pack will work for some people but for something more subtle and gentle, and that doesn't require nearly as much thought, a cooling blanket could do.
My Elegear Revolutionary Cooling Blanket Recommendation
The Elegear cooling blanket promises to keep you free of sweat and cool during the night. For those that can't sleep without one, a blanket like this can be exactly what you need for the warmer months until winter takes us all back to hell. It was designed with hot sleepers in mind. I have no doubt that those prone to hot, sleepless nights could benefit from a cooling blanket like this one.