Domus Pillow by Urban Bloom
The Domus Pillow is the best selling pillow of the Urban Bloom line. It's straightforward, ergonomic, ideal for any sleep style and comes with just enough subtle features that give it a super modern and lux feel. The company's personally engineered memory foam is so interesting to the touch that it'll blow your mind. All of this is wrapped up in a cool grey removable hypoallergenic cover with lovely leather detailing to keep your level of sleep as healthy as possible. The Domus Pillow comes with a 10-year warranty and a 90-Day Sleep On Us Satisfaction Guarantee.
Overview of the Domus Pillow
The actual memory foam pillow is accessible from the pillowcase so you're a zipper pull away from exploring what the foam is really all about. It's a single piece of foam so there is nothing messy to fear, which is a big plus. Sometimes a non-customizable/changeable pillow can really be much more preferable, not to mention stress-free.
This entire package deal of pillow is designed to help you sleep as COOL as possible but obviously, not ice cold :). There are a few ways that the Domus Pillow manages its temperature regulation. The first step is thanks to its foam core that provides consistent pressure distribution that allows for supportive sleep by way of pressure point relief. The density of the memory foam is quite interesting. You really have to touch it to understand it.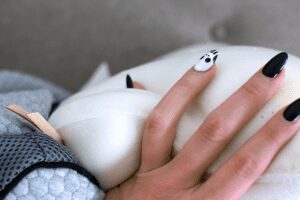 In addition to the actual density of the pillow is how cleverly Urban Bloom has addressed breathability. They have designed and drilled actual holes through the memory foam pillow, to the point where you can stick your finger from one end of the pillow through the other. These are dispersed all around the pillow and while it shows taking the concept of breathability pretty literally, what wiser way to do so but in exactly this manner? When you squeeze the pillow you can really hear the air traveling through these open spaces. The following element that also aids in a cooling experience is the extra wide mesh gusset within the pillowcase. This creates an additional passive airway channel thus aiding in further heat dispersion. A mesh gusset is also a huge plus for side sleepers, as it really helps to bridge the distance between one's ear and shoulder.

Construction of the Domus Pillow
While the Domus Pillow comes in only one size, I think it's quite honestly the perfect size. It's not too big or too small, it is quite literally just right. It measures 20″ wide x 28″ long x 4″ deep. A "standard" pillowcase is 20" X 26" and a Queen pillowcase measures 20" X 30" so size-wise the pillow should work just fine with your bedding.
My Domus Pillow Findings
After having tried out the Domus Pillow, whenever I lay my head on it, I can't help but think of how awesome science is. A pillow like this would not be possible without some incredible engineering and I consider this to be a high-quality memory foam pillow. In fact, I was surprised it was priced below $100 because when you see this memory foam it REALLY is quite mind-boggling. It conforms perfectly to every angle of your neck and shoulders, making it difficult to resist when I want to dub it a "high-performance pillow" because as ridiculous as it may sound, it's precisely how it feels.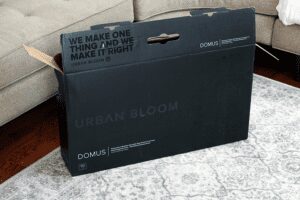 Every part of it this pillow is washable and I'm grateful a company exists that isn't scared to address the element of cleanliness because as they say "cleanliness is Godliness" but not just that folks, a cleaner life usually means a much healthier one. I think a lot of people buy pillows and sometimes have no idea what to do with them later; "to clean or not to clean, that is the question." It's frustrating and sad one has to emphasize it but there is more to a clean bed than just a clean pillowcase. The Domus Pillow is cleanable both inside and out. What that means is the pillowcase can be thrown in the washing machine (but read the instructions, of course) and the actual memory foam pillow itself can be run through water. The direction is to run the memory foam under cold water until it runs clear and the company recommends doing this once a month.
My Domus Pillow Recommendation
The moment I saw the Domus Pillow, I couldn't help but think that it looked like the more attractive sibling of the iSense Pillow but let's be honest, it's so much more than just a good looking pillow. Aesthetics do matter a lot to me on a personal level, I am a very visual and creative person so I'll notice certain things others may not but it's really about what's past the cover that impressed me. I think your life will only change for the better when you allow your tired head to rest on a memory foam pillow for the night.