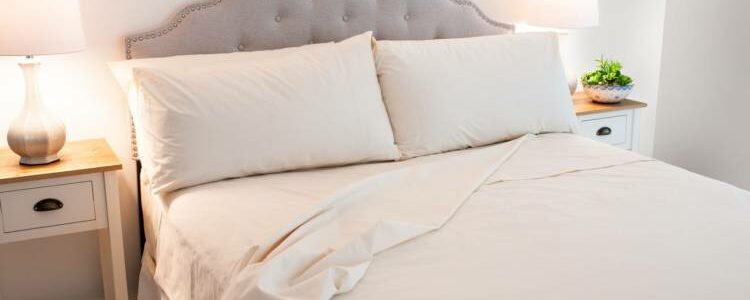 <h2 class="entry-title"><a href="https://yawnder.com/american-blossom-linens-pure-american-made-sheets/" rel="bookmark">American Blossom Linens Review</a></h2>
Recently updated on February 21st, 2023 at 05:38 am
American Blossom is not another typical bedding startup. They have been manufacturing sheets in the USA for 115 years in Thomaston Georgia. American Blossom is a family company that not only provides quality bedding, they are also helping bring back jobs to their local community. They are the only brand in the USA that is spun, woven, sewn and packaged in the USA that uses USA organic cotton. There is no other brand that I know of that is completely made in the USA. There's so much to like about American Blossom as a company and their sheets are wonderful too!
Overview of American Blossom Sheets
For this review, I received a king-size set of unbleached, natural, organic cotton sheets. These can be ordered through their website and should arrive about a week after placing your order. American Blossom also offers free shipping in the lower 48 states and an unheard of 2-year "happiness guarantee" which means you get to try the sheets for 2 years and if for whatever reason, you aren't satisfied you can return them for a full refund. To offer such a long guarantee means they really stand by their product. I've had sheet sets before that barely make it through the first wash.
How Much Do American Blossom Sheets Cost?
Below are the current prices of the sheets. You can choose between either natural or white as a color.
| Size | Price |
| --- | --- |
| Twin | $229 |
| Full | $249 |
| Queen | $289 |
| King | $299 |
| California King | $299 |
| Split King | $345 |
Construction of American Blossom Sheets
Below are the construction specifications of the sheets according to their website.
Made from 100% West Texas Organic Cotton
Color Natural (Unbleached in the warm beige shade) or White
Heavier, more durable fabric than the flimsy imported sheets commonly sold by major retailers
Environmentally friendly cotton, pure, chemical free softness
Made in the USA ethically and sustainably
Deep 16″ pockets and wider, stronger encased elastic from North Carolina
"Top or Bottom" labels act as visual cues to help you place the fitted sheet
Top sheets are considerably larger in both the width and length which will insure a secure tuck, top to bottom and side to side
Higher thread count does not guarantee higher quality sheets. Many imported sheets have manipulated and untrue thread counts. American Blossom developed a custom fabric which is approximately 180 threads per square inch
Machine washable & dryable
Will fit modern Bed in a Box foam mattresses, traditional spring and foam mattresses
My American Blossom Findings
Your sheets will arrive in a box like the one below.
Inside I found a nice card from the company and a small gift.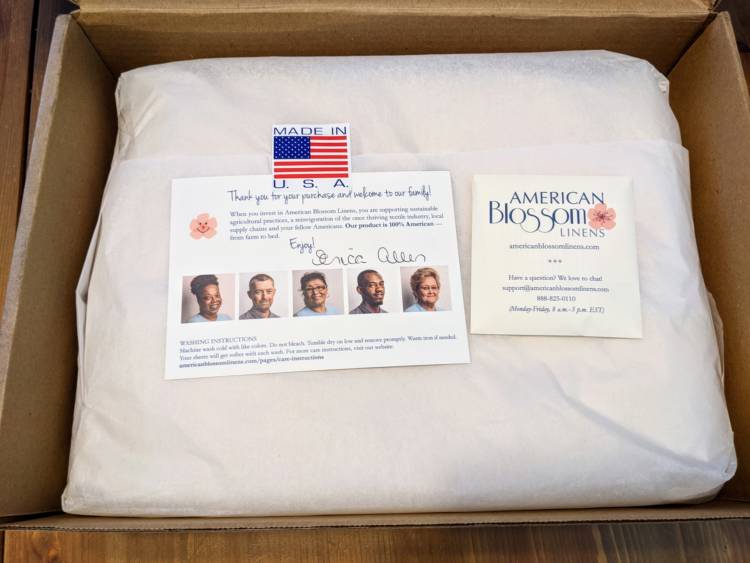 I also received a couple bags of locally grown herbal tea.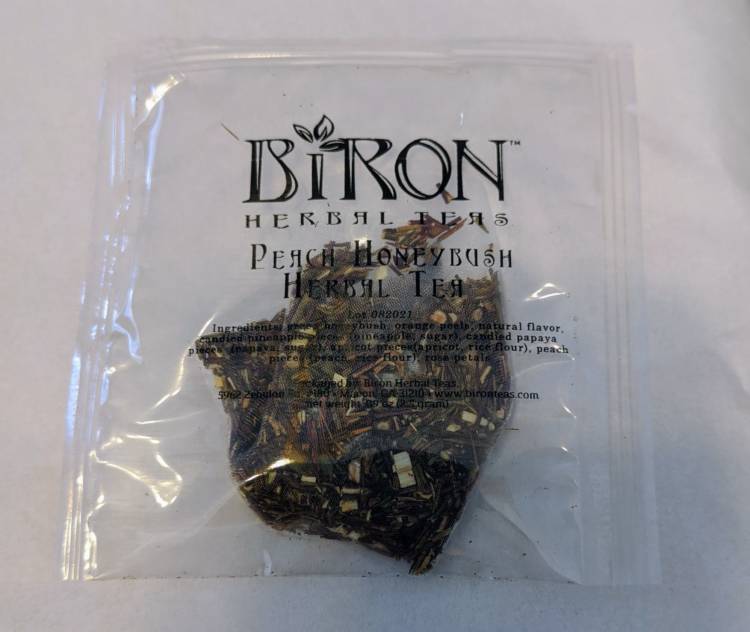 Your sheet set will come with a fitted sheet, flat sheet, and 2 pillowcases. King and Queen sets come with 4 pillowcases which no one else does. As you can see the natural set the I received won't be a stark white like the white set.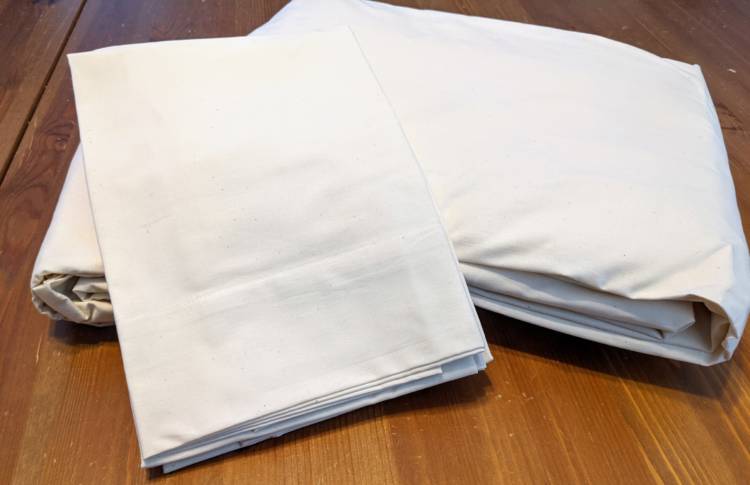 Here's their tag showing that they are in fact Made in the USA with organic cotton.
True to their word, the fitted sheet measures 16 inches deep which means it will accommodate any mattress including all the online brands.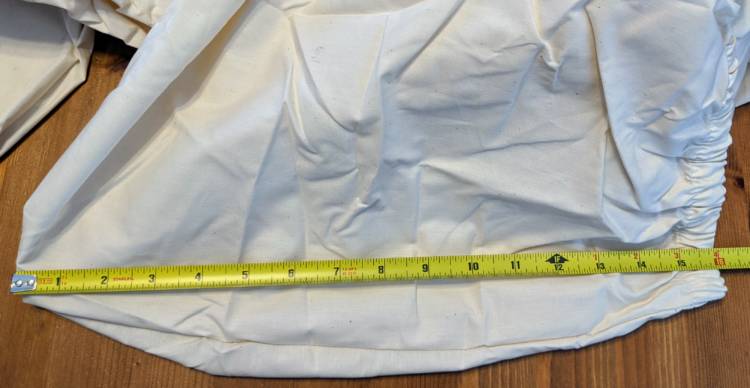 They also label the top and bottom of the sheet so you don't have to guess which is the short end while making your bed.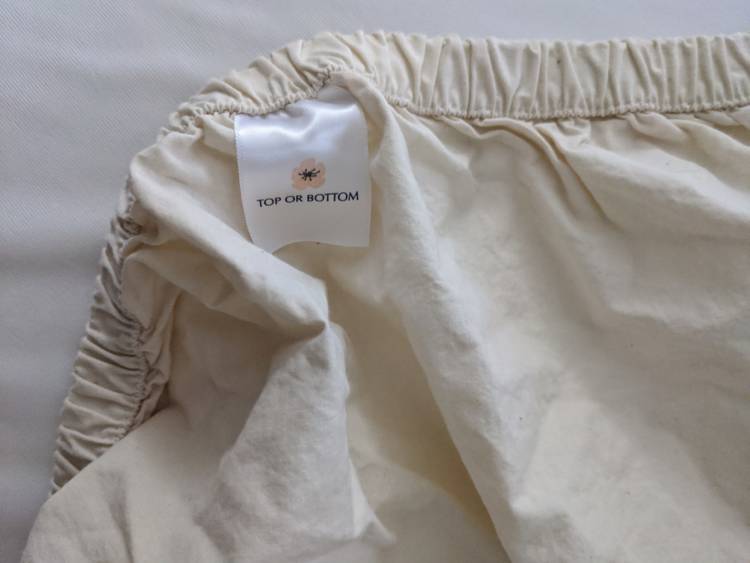 T
The sewing is superb on these sheets. I didn't find any loose threads. Just holding these sheet I could tell that they will last many, many years.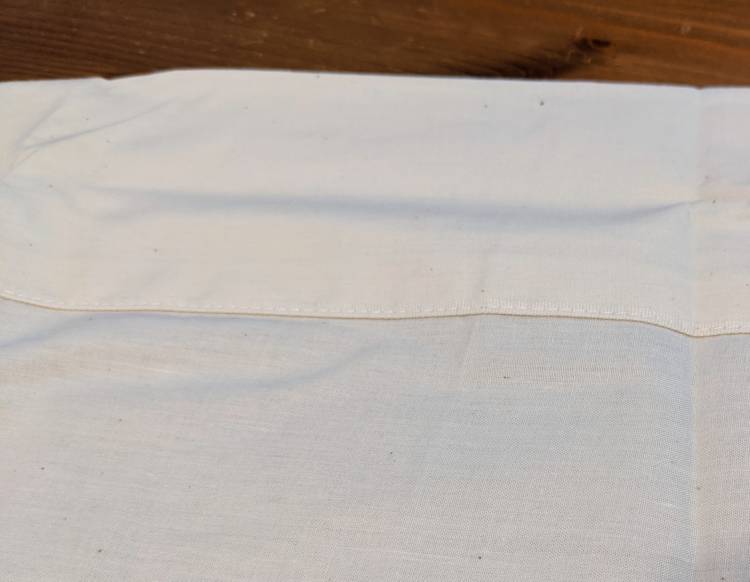 My American Blossom Sheets Recommendation
American Blossom really stands apart from other bedding products I have reviewed. They are clearly in the business to make a quality product while taking care of their employees. I like that this is a business that has been around for over 100 years and is a family business that keeps a close eye on quality and customer service.
The sheets are some of the best I have tried. Added to that they are certified organic cotton so they are pesticide-free and made right here in the USA. Their cotton is certified organic by the USDA. While certainly not cheap, I expect them to last a very long time and I'm sure you will soon find them a, "go to" sheet set in your linen closet.

<h2 class="entry-title"><a href="https://yawnder.com/cotton-care-sheets-review/" rel="bookmark">Cotton & Care Sheets Review</a></h2>
Recently updated on February 12th, 2020 at 08:00 pm
Editor's Note: This post contains affiliate links, which means I receive a commission if you make a purchase using these links. For full details visit the disclosures page.
Update January 2020 Cotton and Care is no more!
Cotton and Care is the latest Made in the USA brand of sheets. I recently received a free king size sheet set for review. These are Supima Cotton sheets that currently retail for $149 for a queen size. What is Supima Cotton? Supima cotton is an extra long staple cotton that is grown in the USA. Supima is stronger than regular cotton which makes is more resistant to tearing and pulling and ultimately will last longer. The typical fiber length of conventional cotton is 1 inch while Supima cotton averages 1.4 inches in length. Pima cotton and Supima cotton are basically the same but Supima cotton is grown exclusively in the USA.
Authentic Egyptian cotton is also ELS (Extra Long Staple) like Supima cotton however the vast majority of "Egyptian Cotton" is fake.
Overview and Unboxing Cotton & Care Sheets
Cotton and Care was created by Evan and Lisa, a husband and wife team who are self described, sleep enthusiasts from Las Vegas who sought out to get a great night's sleep and make a positive impact in the world.
Cotton and Care has partnered with Water.org to provide a safe water source to someone in need. According to their website, they will donate over 50% of the profits to Water.org. And, since Water.org says that they can provide a safe water source to someone for $25, this can really go a long way.
I really like companies like this that give back. Not only can you sleep well on their sheets but sleep with a clean conscience knowing you have helped someone in need.
After you place your order they should arrive to your door in about a week. The sheets will arrive in a box like the one below.
Here's a picture of the wrapping that the sheets come in. Overall it is a pleasant unboxing experience.  It comes with a nice welcome letter.
My Cotton & Care Findings
I found that these sheets are an excellent value. You get the quality of Supima cotton at an amazing price. Here are the prices of the sheets in all sizes.
Twin $119
Twin XL $119
Full $139
Queen $149
King $159
California King $159
Here are the construction details of the cotton and care sheets
Set includes flat sheet, fitted sheet, and 2 pillowcases
Twin and Twin XL contain only 1 pillowcase
King and Cal King come with king pillowcases
Heavy duty elastic around the entire fitted sheet
Pre-washed & ready for your bed
100% premium Supima® cotton
250 thread count
Will continue to soften with each wash
Machine washable
Sheets are up to 16 inches deep
Here's what you get with a king set…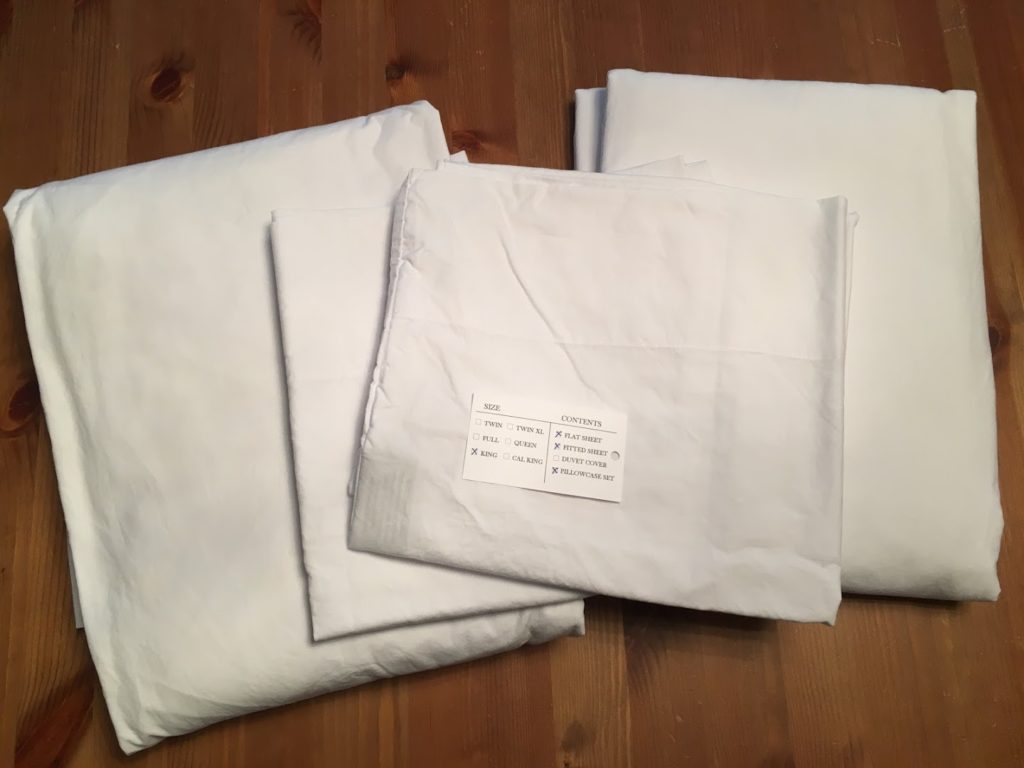 In terms of feel these sheets are light and smooth that will only get softer after a few washes. Out of the box they are a little stiff but will soften as you use them. These are a 250 thread count sheet which is a little on the lower end but that also helps with breathability.
Here's a picture of the inside of the flat sheet with the tags. As you can see they proudly list the Made in the USA mark.
Here's a closer look at the flat sheet. The stitching is nice and clean. Right now this company only sells a white set but I anticipate they may do more colors in the future.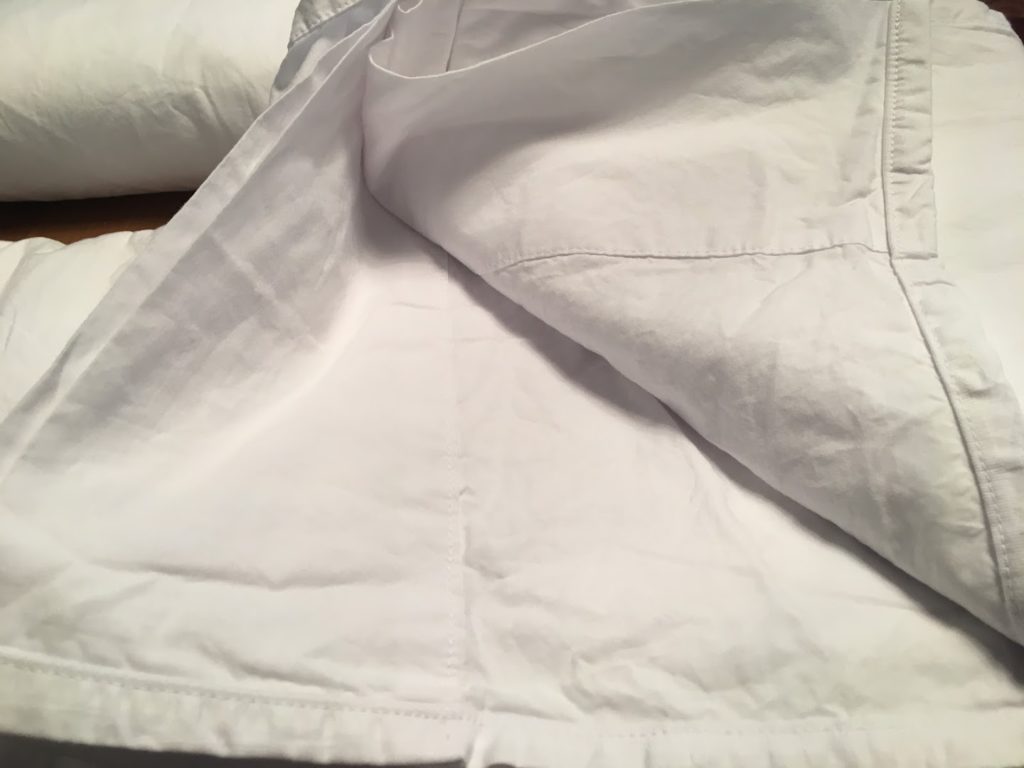 In conclusion, these are a wonderful set of sheets that are light and breathable. They are a great way to support USA companies and they are very high quality so should last many years before needing to replace.
Recently updated on February 2nd, 2019 at 03:15 pm
Editor's Note: This post contains affiliate links, which means I receive a commission if you make a purchase using these links. For full details visit the disclosures page.
I received a free set of Authenticity Sheets for review. Authenticity sheets are the first sheets I have reviewed that are 100% made in the USA. Decades The United States textile industry has been on a steady decline since the 90s but is now showing signs of life due to companies like this. Below is a graph from the USDA that illustrates the decline in textile employment.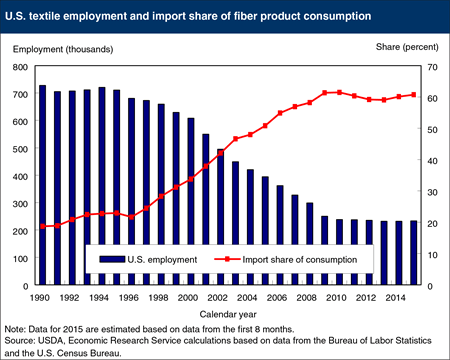 Not only are these sheets made in the USA they also source the cotton in the USA as well.
The cotton is grown in California in the San Joaquin Valley.
The sheets are cut and sewn in the Carolinas and the tags are woven in California.
The elastic on the fitted sheet made in Georgia
As for the shipping, the boxes are printed and made in Illinois and are shipped out of Georgia. It's truly 100% American-made from start to finish.
If we all spent an extra $64 a year on goods made here in America we would create 200,000 new jobs!
According to the Bureau of Labor Statistics, the textile and apparel industry has had it hard, losing 1.2 million of the 1.6 million textile and apparel jobs from 1990 to 2012 as companies moved overseas.
Ordering Your Authenticity 50 Sheets
When you order your sheets, they are shipped out within 2-3 days and your sheets will usually arrive in about a week. Below is a video of me opening a box of Authenticity 50 sheets.
Specifications and Construction of Authenticity 50 Sheets
These sheets are certified Supima Cotton.  The name Supima comes from "superior pima" it is an extra long staple cotton that comes from the Gossypium barbadense plant seen below:
This cotton is very comparable to long staple Egyptian cotton. Both are very breathable, have good consistency, breath well and are durable.
These sheets are a percale weave with a 250 thread count. This thread count makes the sheets more breathable. Because the fibers are long, they are more durable. You also get a more consistent feel throughout the sheet.
These sheets are also formaldehyde free. formaldehyde is used to create "wrinkle free" clothes.
My Authenticity 50 Findings
Below is a picture of the sheets right out of the box
Below is a photo of the fitted sheet: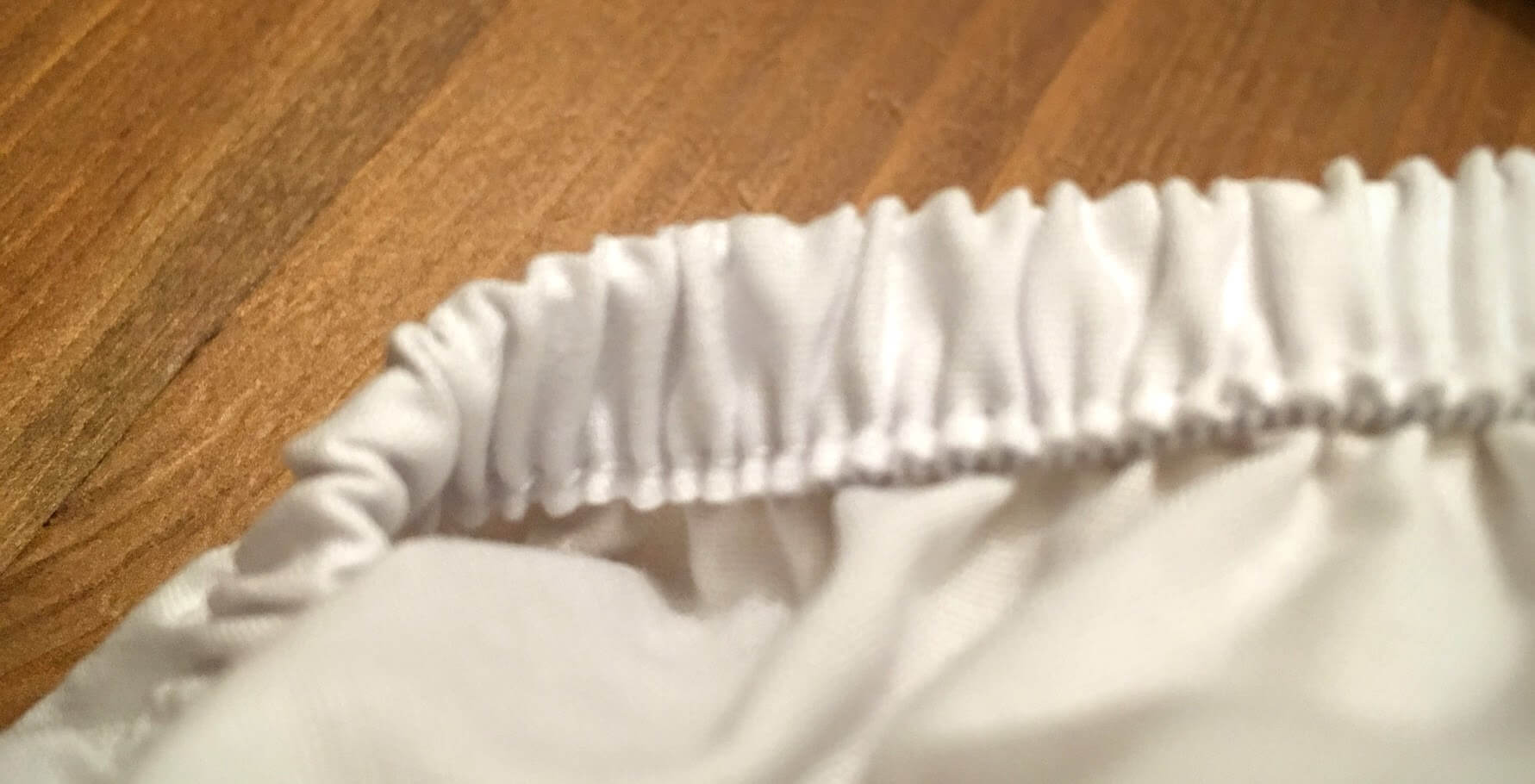 After one wash the sheets were still sort of rough. That's because they don't stone wash these sheets. It's an added cost. So instead the saving are passed on to you. This is similar to the organic sheets I have reviewed. They are going to take about 3 washes before you can really appreciate the softness. It's not like they were unbearable after the first wash, I just knew they had more potential.
I should also note that because formadehyde is not used, the sheets will come out of the dryer a bit more wrinkled than those that are treated. To me this isn't an issue since my sheets aren't out on display for people to see and the wrinkles begin to relax after you make you bed.
My Authenticity 50 Recommendation
 There are other Made in the USA sheet companies out there but I haven't come across one like Authenticity50. Not only are their sheets made in the USA but so is the cotton. They don't have any showroom costs and don't mail out annoying catalogs to your home either. They sought out to make quality American made sheets from, "seed to stich" and they have done a fine job! I expect to see more colors and patterns come online as this company continues to grow.
Disclosure: We aim to highlight products and services you might find interesting, and if you buy them, we may get a small share of the revenue. I have an affiliate relationship with Authenticity50