Osaki OS-4D Pro Ekon Plus
Experience the most humanlike massage from Osaki.
OS-4D Pro Ekon+ has been upgraded to an innovative advanced 4D massage chair. Experience living life better with features ranging from: Ergonomic SL Track Design, Adjustable Back Heating, True Calf Kneading, Powered Automatic and Manual Controlled Foot Rest, A Unique Side Panel Quick Control with Rotary Switch Design, Wireless Phone Charger, and Motorized Phone Holder. With 12 Unique Auto programs and 6 different Manual modes, each manual mode has an additional style to it as well.
The OS-4D Pro Ekon+ Massage Chair you will have absolute control over your Massage experience. The Advanced 4D mechanism will provide 5 different levels of 4D, 6 Speeds, and 3 width ranges.
Innovative Human hand quad style massage rollers and SL-shaped guiding track conform to the ergonomic principle. The Ekon Plus combines both the S and L track technology for an exceptional massage experience, and it is providing an even larger range of motion for the rollers to reach. The S-Track rollers will contour the natural curvature of your spine. The L-Track extends from your neck, all the way down past your lower back, and finally wrapping underneath the back of your thighs. The L-Track offers about 50% more massage area than your average S-Track chairs.
The Ekon Plus offers 5 levels of air compression adjustment. There are multiple airbags located throughout the massage chair to offer a full body massage experience. Airbags are located at the shoulders, arms, waist and pelvis, and the calf areas. This compression massage helps to continue increasing blood circulation throughout the body to relieve pain and tension.
With 12 Unique Auto programs and 6 different Manual modes, each manual mode has an additional style to it as well. Mimic human hand Kneading, Tapping, Knocking, Shiatsu, Sync, and 4D Shiatsu massage Techniques for custom-tailored relaxation.
The Ekon Plus has heating pads located on the Lumbar area. If offers 3 levels of heating adjustment which is a great compliment to the roller and airbag massage. Heating the body's temperature is known to increase blood circulation and loosen tense muscles.
---
OS-4D Pro Ekon Plus Massage Chair Specs
User Height: 5'0 – 6'4 ft
Max. User Weight: 280 lbs
Levels of Air Compression: 5
Number of Auto Programs: 12
Timer: 10-30 mins
Upright Dimensions: 34″ x 64″ x 48″
Recline Dimensions: 34″ x 72″ x 45″
Weight: 335 lbs
The Ekon Plus is equipped with 2 Stage of Zero Gravity, giving the user a weightless feeling during the massage. This gives the user an option on how far back they want their chair to recline automatically, or you can adjust the chair manually with the remote.
The OS-4D Ekon+ can Slide forward and relines to save space and provide the utmost relaxing positions.
On the upper section of the leg rest, the air massagers will rotate in a circular motion to add a new dimension to the calf massage. For the foot portion addition components have been added to stretch and massage the bridge and heel of the foot. The experience is like no other.
---
The Ekon Plus offers 3 underfoot rollers provide all-direction pressure massage for the reflex zone. Underneath the feet there are spinning reflexology rollers to provide an outstanding foot massage. The rollers under the feet will travel along the sides and middle of your feet to provide a more hand on kneading experience. Along with the foot rollers the calf portion will inflate to the appropriate amount of pressure and then initiate a calf kneading massage. Allowing the calf portion to provide a calf kneading motion will increase the blood flow of the legs, helping them to reach a higher level of relaxation.
---
OS-4D Pro Ekon Plus Massage Chair Features
Advanced 4D Technology
Ergonomic SL-Track
3 Levels Adjustment Back Heating
Body Scanning
True Calf Kneading
2 Stage Zero Gravity
Powered Automatic and Manual controlled Footrest
Automatic Extendable Footrest
12 Unique Auto Programs
6 Massage Styles
Bluetooth Audio
Wireless Phone Charger
Unique side Panel & Quick Control with Rotary Switch Design
Motorized Phone Holder
---
The footrest can extend automatically to customize the user's leg length, you may also use the quick controller rotary switch to adjust the footrest according to your needs. The footrest can extend by 17cm automatically for various users of different height ranges.
Tune in your favorite music through your media devices to immerse yourself in soothing massage and music.
Side panel controller is designed that the user can easily control the chair without using a remote tablet. The user can adjusting 4D intensity, reclining positions, Zero Gravity, Auto massage program and Heating function.
Wireless charging receptacle to charge any device when needed or use the USB port next to the mobile phone/controller organizer for charging.
---
Your Satisfaction with Osaki is Guaranteed:
The Lowest Price Guaranteed
Free 3 Year Parts/Labor Warranty
Free 5 Year Parts Warranty
Free Shipping & No Sales Tax in the U.S.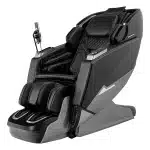 Osaki OS-4d Pro Ekon Plus
Your review
* Review is required
Email
* Email is required
| | | |
| --- | --- | --- |
| 5 star | | 0% |
| 4 star | | 0% |
| 3 star | | 0% |
| 2 star | | 0% |
| 1 star | | 0% |
Sorry, no reviews match your current selections