✓ Authorized Nolah Dealer
✓ Lowest Price Match Guaranteed
✓ 120 Night Risk-Free Trial / Lifetime Warranty
✓ 2 Free Pillows
✓ Free Shipping Free Returns
✓ Questions? Chat with us to get our absolute best pricing.
Nolah's Best-Selling Mattress
Introducing the Pinnacle of Sleep Technology: The Evolution 15″ Hybrid Mattress
Sleep enthusiasts have long awaited a mattress that combines unparalleled support, advanced cooling, and luxurious comfort. The wait is over with the Evolution 15″ Hybrid Mattress.
Noteworthy Features of the Evolution 15″ Hybrid Mattress
1. Pioneering Cooling Technology
Graphite-Infused AirFoamICE™: This signature feature stands as a testament to innovation. Infusing graphite, renowned for its superior heat conduction properties, with the state-of-the-art AirFoam ensures that users experience a serene and cool slumber, as body heat is effectively drawn away.
2. Unmatched Pressure Relief
Microscopic Air Pockets in AirFoamICE™: These tiny pockets play a pivotal role in distributing the user's body weight, thereby alleviating undue tension around critical areas such as joints.

HDMax™ Tri-Zone™️ Coils: Designed meticulously, these coils provide targeted relief, focusing especially on areas prone to pressure buildup. Furthermore, the individually-wrapped coils ensure motion isolation, making certain that disturbances remain minimal.
3. Superior Spinal Support
The layered design of the mattress ensures that while the upper layers provide a cushioning effect, the lower coil layers impart robust support. These coils adapt to movement and weight distribution, ensuring comfort regardless of the sleeping position. Emphasizing spinal health, the HDMax™ Tri-Zone™ coils are compartmentalized into three specific support regions, including a dedicated lumbar support section.
4. Built to Last
The Evolution 15″ isn't just about immediate comfort; it promises durability. With a commendable 15-inch thickness, this hybrid mattress comprises seven trustworthy layers, including a protective cover, high-resilience foam, and sturdy 8-inch coils. The perimeter coils, with their 13.75 gauge, augment edge support, enhancing the overall lifespan of the mattress. A foundational layer, made from recycled plant fibers, further stabilizes the coils above, guaranteeing longevity.
5. Next-Generation AirFoamICE™
Graphite-infused AirFoamICE™ sets a new benchmark. While retaining the gentle contouring and pressure-relieving attributes of the original AirFoam, its cooling characteristics are unparalleled.
6. Luxurious Quilted Euro Topper
For those who crave the indulgence of luxury hotels, the premium 2-inch quilted Euro topper is a dream come true. This layer, reactive to movements, envelopes the user, adapting perfectly to their contours.
7. AirBreath™ Heat Escape Gusset
An innovative addition, this breathable gusset positioned at the mattress's top edge ensures optimal temperature regulation. It allows body heat to escape while drawing in cool ambient air, thwarting any humidity buildup inside the mattress.
8. Environmentally Conscious Construction
Beyond its sleep benefits, the Evolution 15″ Hybrid Mattress is CertiPUR-US® Certified, ensuring the foam used is both comfortable and environmentally responsible.
9. Versatile Use
Designed for flexibility, the Evolution 15″ Hybrid Mattress is compatible with any bed frame type, be it box springs, platforms, slatted bases, or adjustable bases.
10. Choice in Firmness
Offering customization, the hybrid Nolah Evolution is available in three firmness levels. Each variant, equipped with pocketed coils and adaptive foam, guarantees comprehensive pressure relief, optimal spinal alignment, and impeccable lumbar support.
Conclusion
In the realm of sleep solutions, the Evolution 15″ Hybrid Mattress stands tall, offering an experience that amalgamates cutting-edge technology with unparalleled comfort. For those who settle for nothing but the best, this mattress is a testament to what modern sleep science can achieve.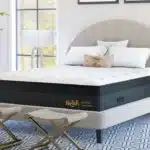 Nolah Evolution 15
Your review
* Review is required
Email
* Email is required
| | | |
| --- | --- | --- |
| 5 star | | 0% |
| 4 star | | 0% |
| 3 star | | 0% |
| 2 star | | 0% |
| 1 star | | 0% |
Sorry, no reviews match your current selections