10 Grove is a company named after the company's founder, Rana Argenio's childhood home in Houston, Texas. Instead of simply bringing sheets to market, she aspires to create a sense of home with an entire collection of bedding using Italian fabrics that are sewn in the USA. This company takes a direct-to-consumer model that limits markups that traditional retailers charge and passes those savings on to you. I received a free set of their Madison collection sheets in a sateen weave for review.
Overview of 10 Grove
10 Grove sheets are available exclusively through their website. Aside from their sateen weave, you can also choose a percale weave as well as other styles including the Mercer, Irving and Hudson. I was given a free set of the Madison style sheets in a sateen weave for review. This style does not have any banding like the other styles.  According to their website, 10 Grove sheets can be returned, within 30 days of delivery. Items must be unwashed, unused, and undamaged–and include the original packaging. Returns will be refunded in the original payment form, minus shipping and handling fees that may have been charged. 
After you place your order, your sheets will arrive in a box like the one below. 1o Grove gets high marks for presentation and these would make an excellent gift as the wrapping is just about done for you and they are a pleasure to unbox.
Inside the box, you will find that each piece is packaged in a French envelope which is a nice touch and really gives you a luxury experience right off the bat.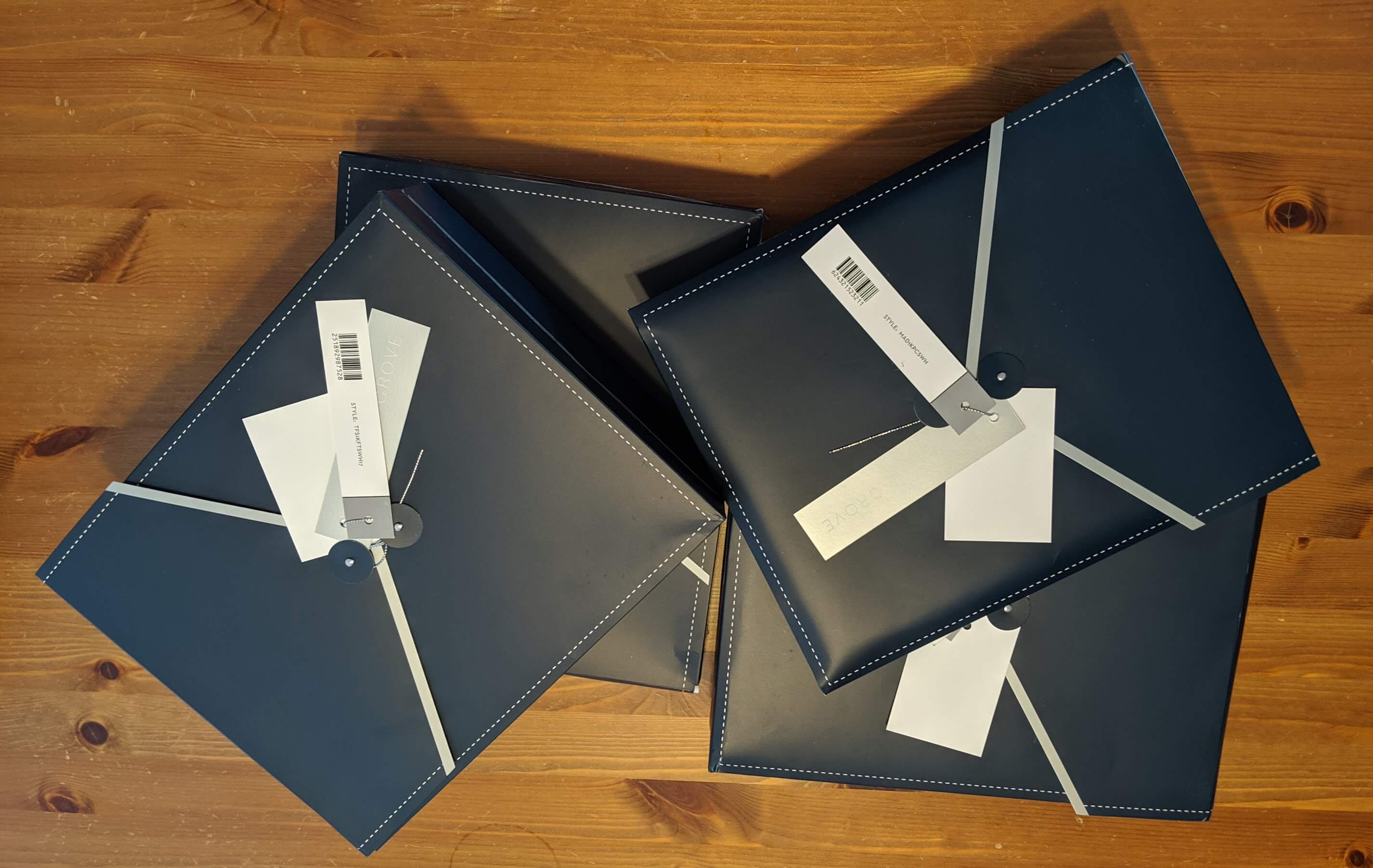 You also get a cloth bag which I assume would be used to keep the sheets when not in use. I advise having 2 sets of sheets so that you can use one while you launder the other set. Having a cloth storage bag allows them to breathe. I never store my sheets in plastic containers.
Each piece is folded neatly in the envelopes. You can also find the 10 Grove logo on each piece which looks great but it is also useful when trying to match sets. My linen closet fills up quickly so being able to identify these sheets from the rest quickly, makes life just a little easier.
How Much Do 10 Grove Sheets Cost?
Since I received the "A Little Something Extra" set for this review. I listed the prices below. This includes 1 fitted sheet, 1 flat sheet and a pair of pillowcases. Keep in mind this is before any discounts advertised on the site.
[table id=91 /]
10 Grove Sheets Construction
Long staple Egyptian Cotton
Woven in Italy
Cut and sewn in Texas
Level 1 Oeko-Tex Standard 100 certified
My 10 Grove Sheets Findings
Right out of the box I noticed that the stitching was extremely well done. These are light and airy sheets. Here's a photo showing some of the border along  a pillow case.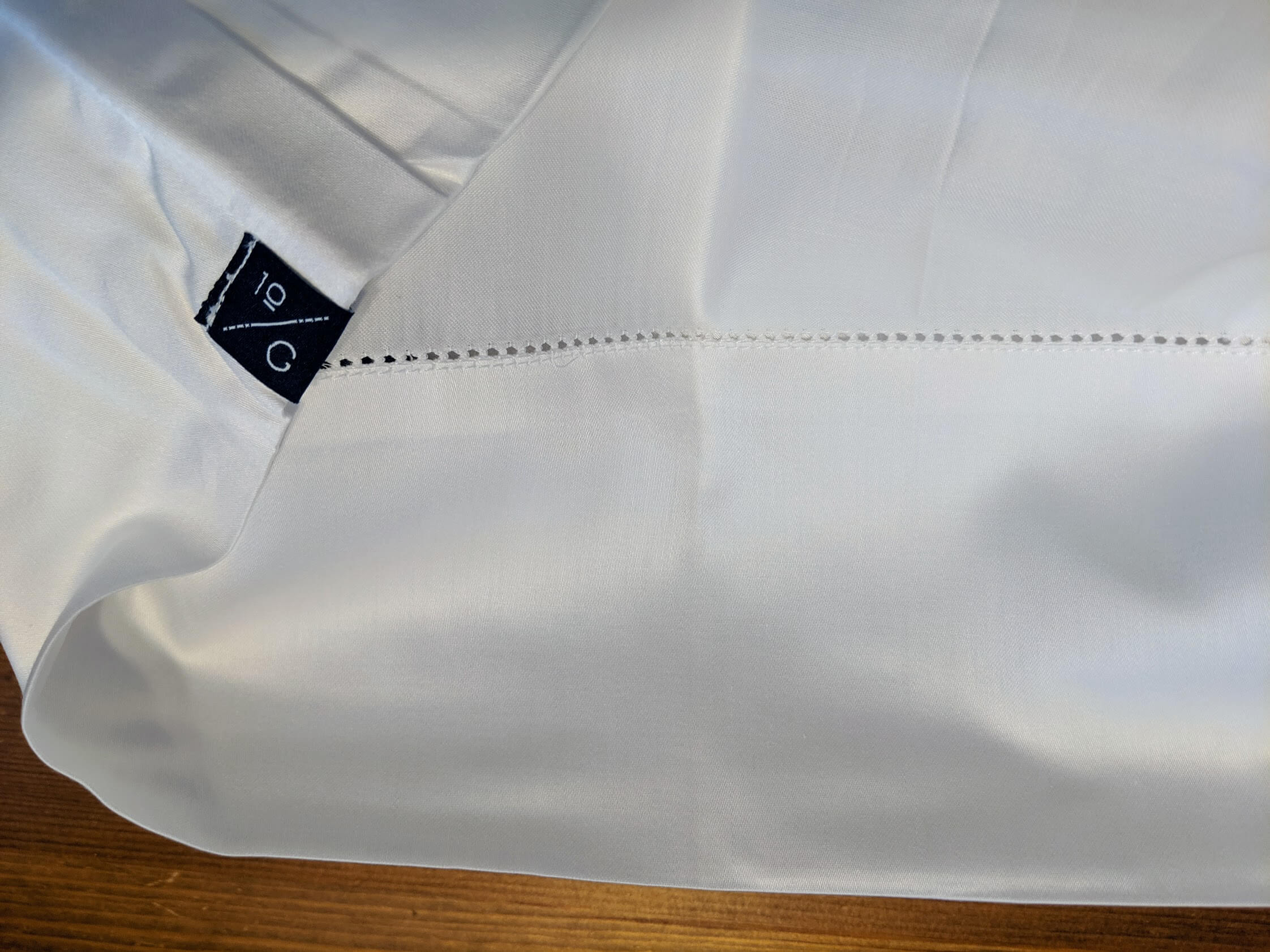 Each envelope has a tag like the one below describing its contents.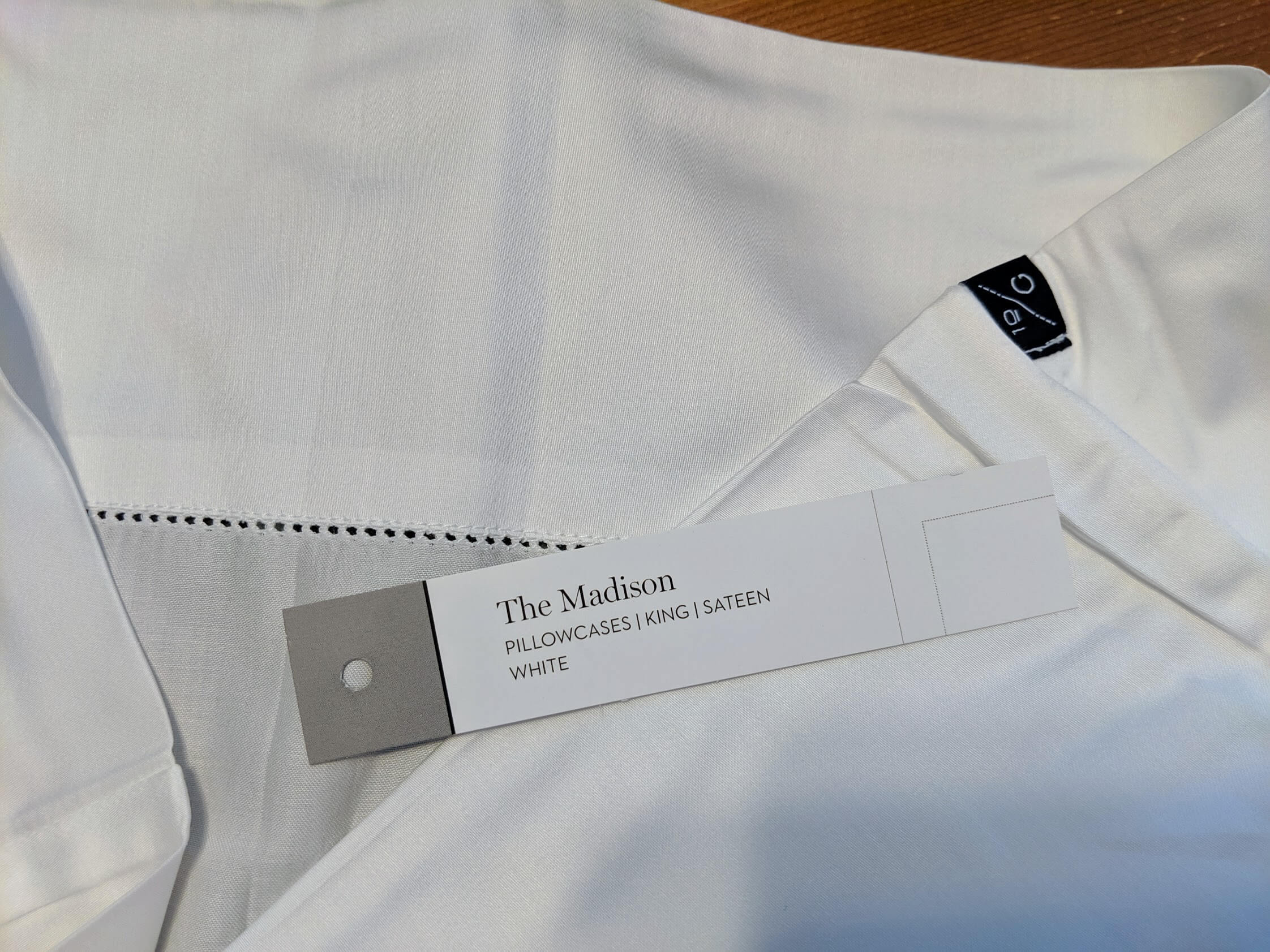 The fitted sheet is over 15 inches deep so it will accommodate just about all mattresses. Anything more than this and you risk the sheet not fitting tightly on the mattress.
You also get a card showing you how to use the bedding. You would think that's obvious but 10 Grove places their label in certain places to you know which is the short end of the fitted sheet and where to orient your duvet cover. Making your bed becomes just a little less frustrating.
10 Grove also offers care instructions. Often people gloss over these and wash bed sheets like their normal laundry. Bad idea. If you use hot water and fabric softeners it can ruin the feel of the sheets so make sure to stick to the recommendations to fully enjoy your bedding. I would suggest washing it on cold for the first few cycles then you can switch to warm but I advise against hot and avoid using bleach. You should also be careful not to over-dry the sheets as this can make them feel scratchy.
Here's another shot of the 10 Grove label on the flat sheet.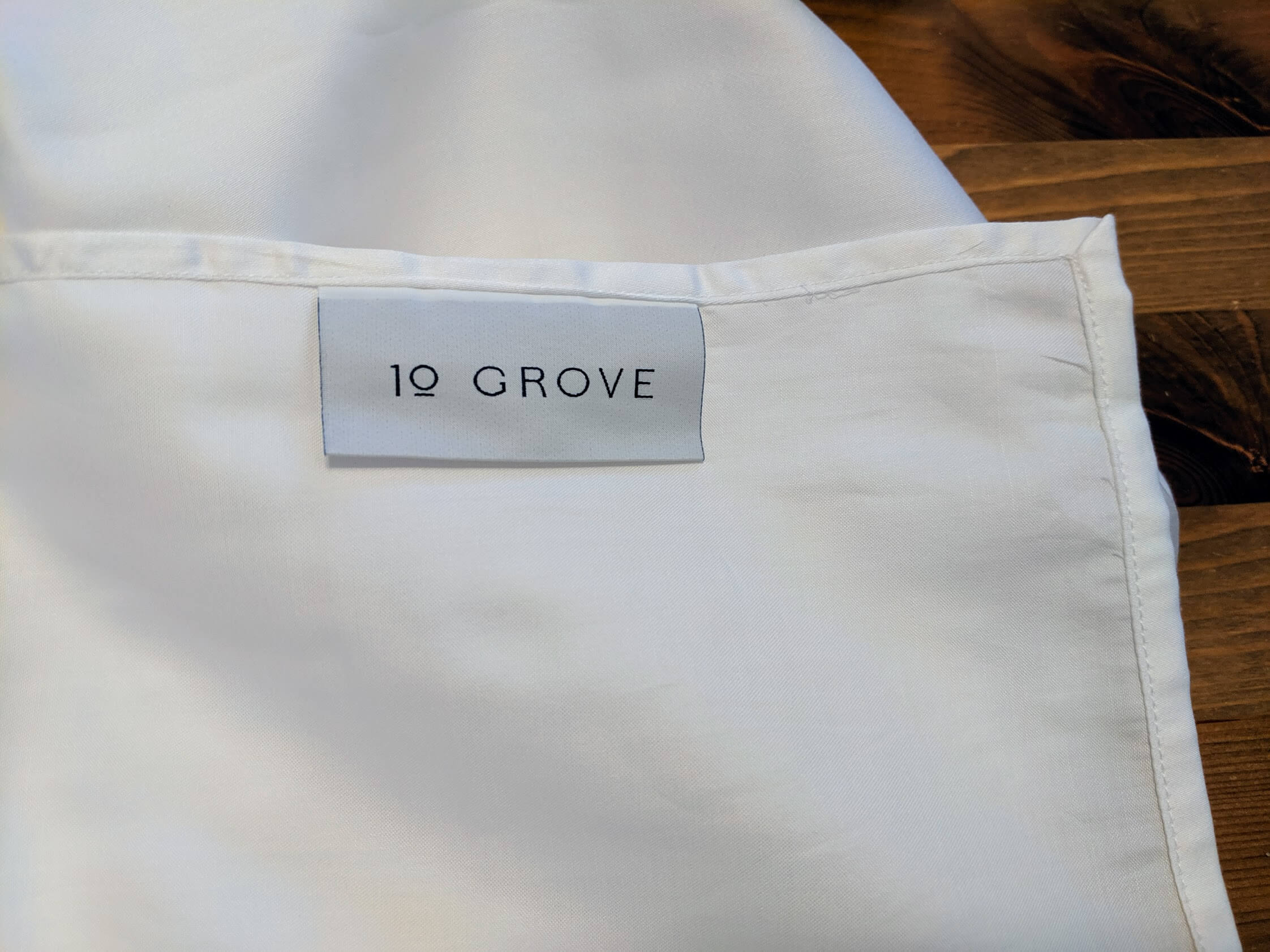 10 Grove added a zipper to the bottom of their duvet cover. I prefer this over a button as it just makes the bottom look neater and it is easier than buttoning and unbuttoning each time you want to wash it.
In case you forget, they also include the wash instructions on the duvet.  You can also see that there is a loop in each corner of the duvet cover to tie your duvet. This is the best method for securing the duvet insert. I have used clips and buttons in the past and they always come loose eventually.
My 10 Grove Recommendation
I am really impressed with the presentation of the 10 Grove Sheets. It was fun to unbox each piece and appreciate all the detail. They have done a wonderful job with the look and construction. Getting Egyptian Cotton sheets with Italian sewing at this price point is remarkable. It took about 3 washes for these sheets to break it and soften up to what I wanted but once they did they felt great.
Learn more about 10 Grove