Yaasa is building a reputation for its sleek design and the Yaasa ONE mattress is no exception. I received a free Yaasa One mattress for review and although it doesn't have as much of a luxury feel as the original Yaasa mattress, for the money, it's a really good value a queen size currently retails for $899. However, if you really want to maximize your value, they have a killer deal going on. If you buy the Yaasa adjustable bed you will get a free Yassa ONE mattress. If you want to learn more about their adjustable bed check out my full review.
Overview of the Yaasa ONE
This mattress comes shipped in a box like just about all the others I have reviewed on this site. It is made in the USA and shipping is fast. You can expect to receive this mattress about 5 business days after placing your order.
Here's a picture of the box that will arrive at your door.

This is what it looks like right out of the box. This mattress has springs but can still be roll packed because it is made with pocket coils.
When you cut open the plastic, the mattress will start to expand. It is packed very tightly but will come to shape quickly. The first thing you notice is that the springs will pop into shape and then the top layers of foam will begin to slowly expand.
How Much Does the Yaasa ONE Mattress Cost?
Below are the current prices of the mattress.
[table id=28 /]
Construction of the Yaasa ONE
Here are the construction details as listed on their website.
Cooling Infinity Foam
Our unique foam construction provides contoured support & breathability for the coolest night's sleep.
Comforting Transition Layers
Our responsive transition layers provide a supportive balance for your individual needs.
Supportive Pocket Coil System
This advanced pocket coil system provides long lasting durability and responsiveness across the entire surface of your bed.
My Yaasa ONE Findings
In terms of firmness, I would rate this on the firmer end of the spectrum. More of a medium firm. You'll notice that you don't get all that much sink. The coil system will keep you supported and this also makes it easier to move around on the mattress. If you don't like the stuck in the mud feel, this mattress would be a good choice.
Here's a picture of my 14 lb. bowling ball on the mattress to give you an idea of how much sink you could expect compared to other mattresses I have reviewed.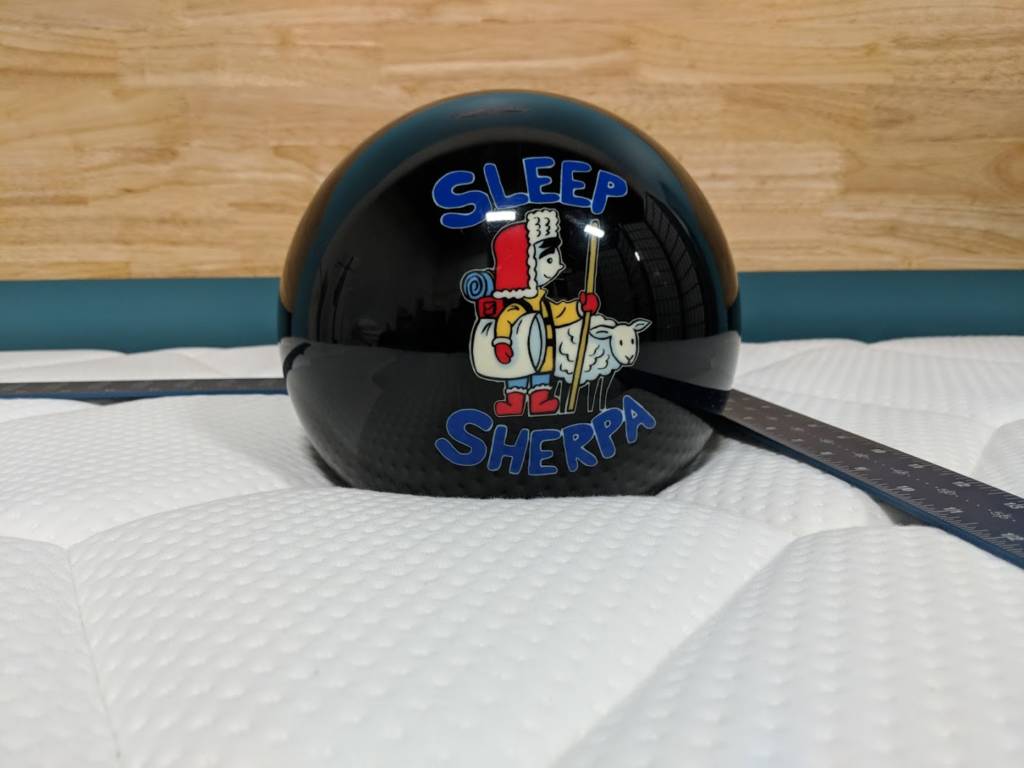 In the video below you can see how much bounce you get with the mattress. Since there is a coils system you will get some motion transfer as well but not much.
Here's another look inside the mattress to show you how each layer reacts. This is a rather simple construction but if you are looking for a hybrid mattress slightly on the firmer side, this does the job.
My Yaasa One Recommendation
If you are looking for a hybrid mattress that doesn't trap heat and has great support, this is an excellent choice. What makes it an even better choice though is if you are also in the market for an adjustable bed. If you buy the Yaasa Adjustable Bed you will get a matching size Yaasa One for free with it. Right now a queen size adjustable is $1,499 so if you are set on the Yaasa One, for an extra $600 you get a sleek, durable, adjustable bed with it!
Learn more about the Yaasa One