PONS has one of the coolest and stylish beds on the market right now. This bed is super easy to assemble as requires no tools and has built in USB ports on each side of the bed so that you can recharge your devices while you recharge in your sleep. A queen size PONS bed retails for $1,199 but with the $100 coupon code below you can get one for just shy of $1,100. This bed looks great and is very sturdy. Because it's easy to setup, it's also easy to take down making it an ideal bed for people on the move.
Overview
You can order the PONS bed direct from their site. What I really enjoy about it is that there is no risk in buying one as it comes with a 30 free trial period where you can return it for a full refund if you don't like it withing that time. It also comes with free shippin AND free return shipping so you truly aren't out anything.
The PONS bed will arrive in 3 boxes like the ones seen below. This makes for easy delivery and easy transport into your bedroom.
Below is a video overview of the bed. As you can see there is no slat system, instead it is 3 pieces of wood that fit into the frame providing a stable surface with no noise.

Specifications
Weight, 185 lb.s, Queen size
Primary Materials, solid hardwood and engineered wood with a wrapped veneer
Electrical unit, power (30W, 15W per pair of USB ports)
6ft power cord
Width 65.25″
Length 86.375″
Findings
Like I said, installation is super easy. The boxes are even numbered so you know which one to open first. Even the boxes are well designed. As you can see below there is extra padding around the edges to keep the bed from getting damaged. The first box also includes an instruction manual but, again very easy.
Here's a picture of the frame as it is setup. You simply attach each end to the headboard by inserting the hooks at the end of the side boards into the headboard.
Once the sideboards are connected to the headboard and footboard, you can then add the center supports. Thes just sit inside the N shape seen in the picture above.
Below you can see the rails installed. Make sure you plug in the headboard to an outlet at this point since it is easier to access. This will give you power to the USB ports on both sides of the bed.
The final step is adding the 3 base boards. They have cutouts for your hands to drop them into place easily.
Here's what it looks like with all of them installed. There is no rattling as the are engineered very well and will make your mattress sit flush against the side rail.
Here's a picture of the USB ports in the side of the bed: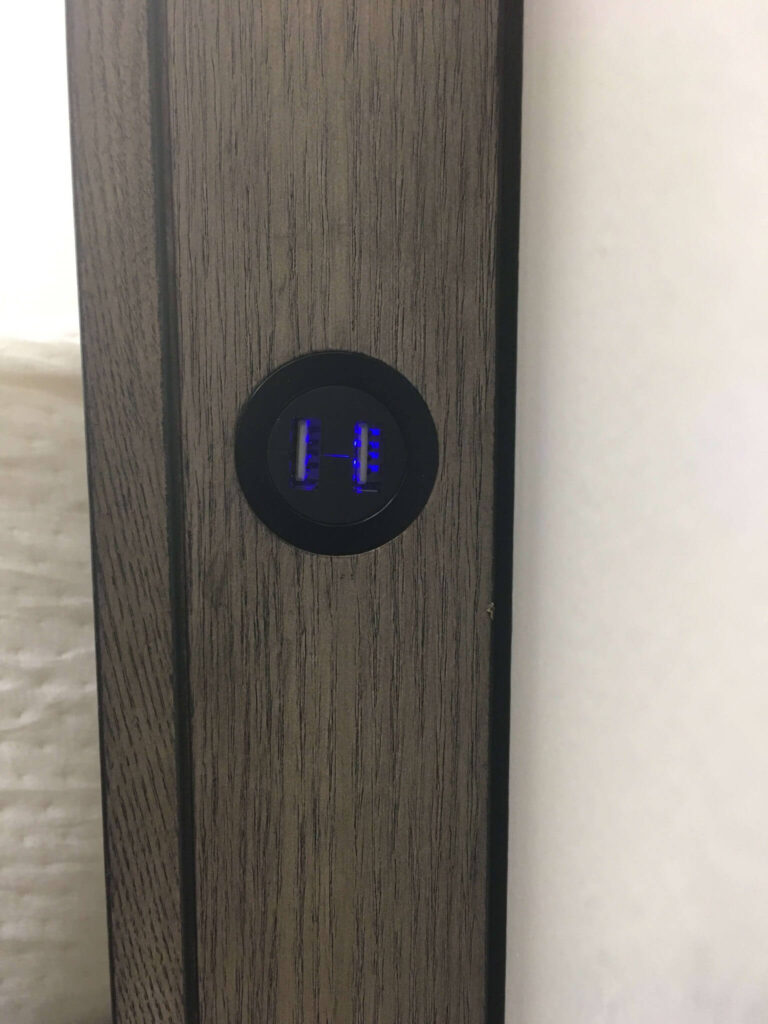 This bed frame comes in 3 colors, Driftwood, which is the color I received, Acacia and Black. These colors are neutral to go with all types of decor and styles.

Conclusion

This is a quality bed frame that should last many years. It will work with memory foam and inner spring matttresses just fine. It has solid support to give you the best performance out of your mattress. I appreciate how sturdy it is and the fact that there are no bolts that could come loose or squeak over time. It is considerably more than many of the bed frames I have reviewed but the quality is there and it really shows.
You can get $100 off a PONS Bed Frame with coupon code PONS100 at checkout. Shop PONS