Brentwood Home is one of my favorite brands. They are very intentional about the construction and look of all their products. The quality is there every time with every new product offering and their new line of sheets are no exception. I was recently given a king set of the luxury organic cotton sheets for review in a 600 thread count, they have another version for sale in a 400 thread count. These sheets are super smooth and airy with a clean look making them ideal for any bedroom.
Overview of Brentwood Home Sheets
You can order your sheets directly from Brentwood Home. They will arrive in a box like the one below. Sort of like a shoebox but sturdier so that your sheets don't get stained or damaged during transportation.  These sheets come with a 100-night trial where you can try them on your bed for 100 nights and if you don't like them, return them for free for a full refund. They also come with a 1 year warranty. This is the first I have heard about sheets coming with a warranty.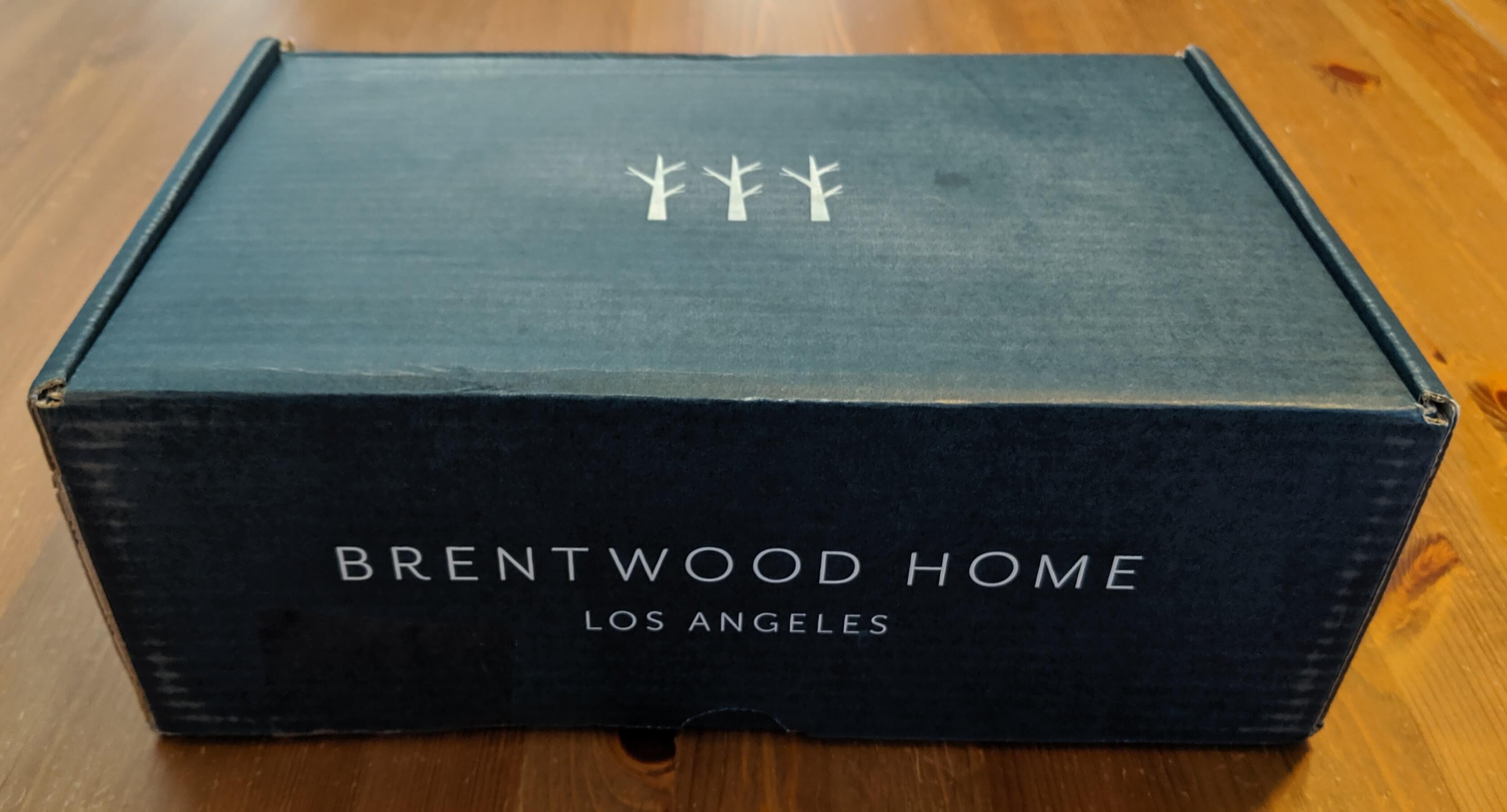 Inside you will find that the sheets are wrapped in tissue paper with the Brentwood Home logo. It kind of feels like unwrapping a gift.
Underneath the tissue paper, the sheets are put inside a self packaged pouch.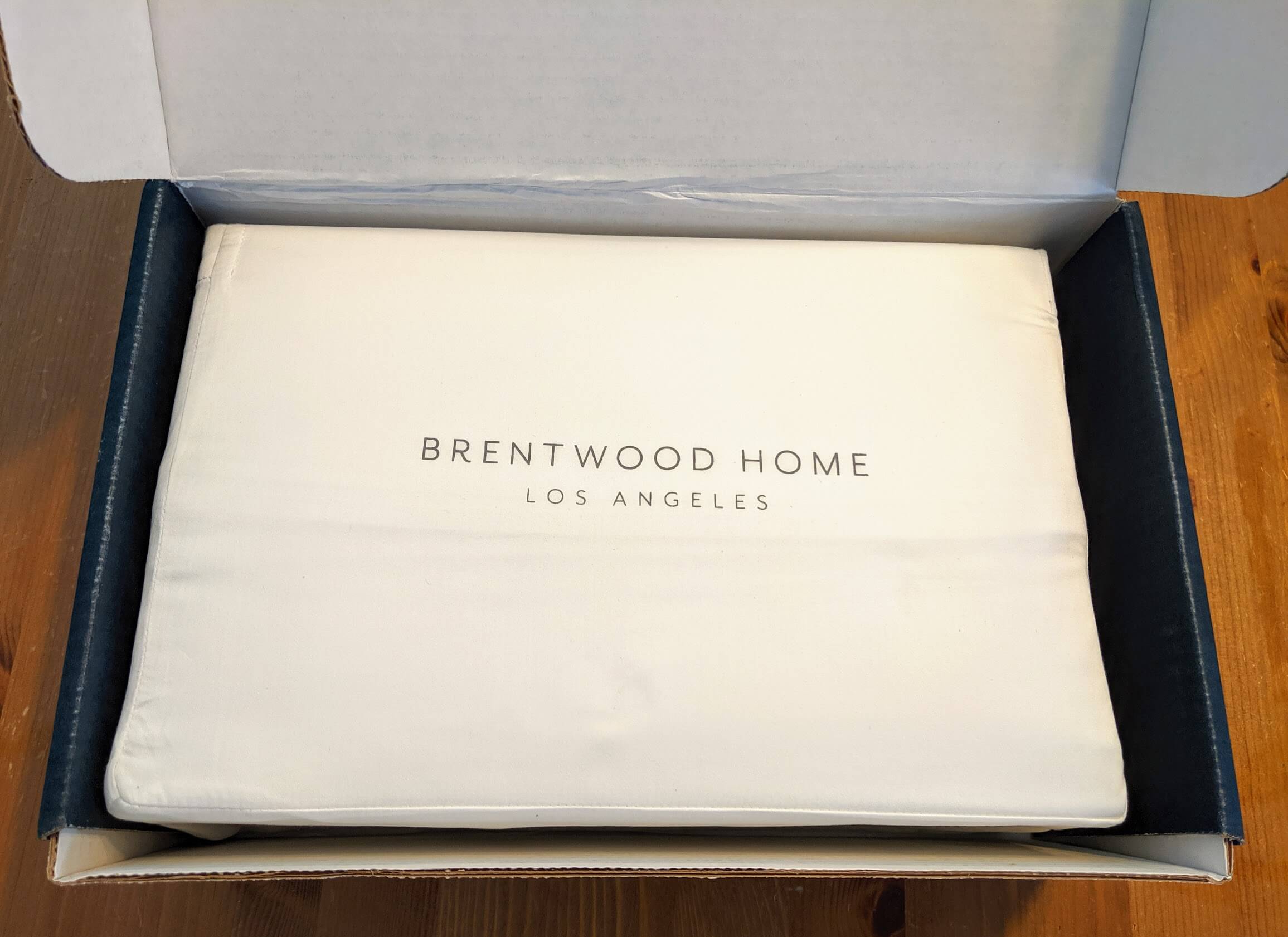 Here's another shot of the pouch which you can reuse. It's too small to store the sheets unless you want to iron and fold the sheets extremely well.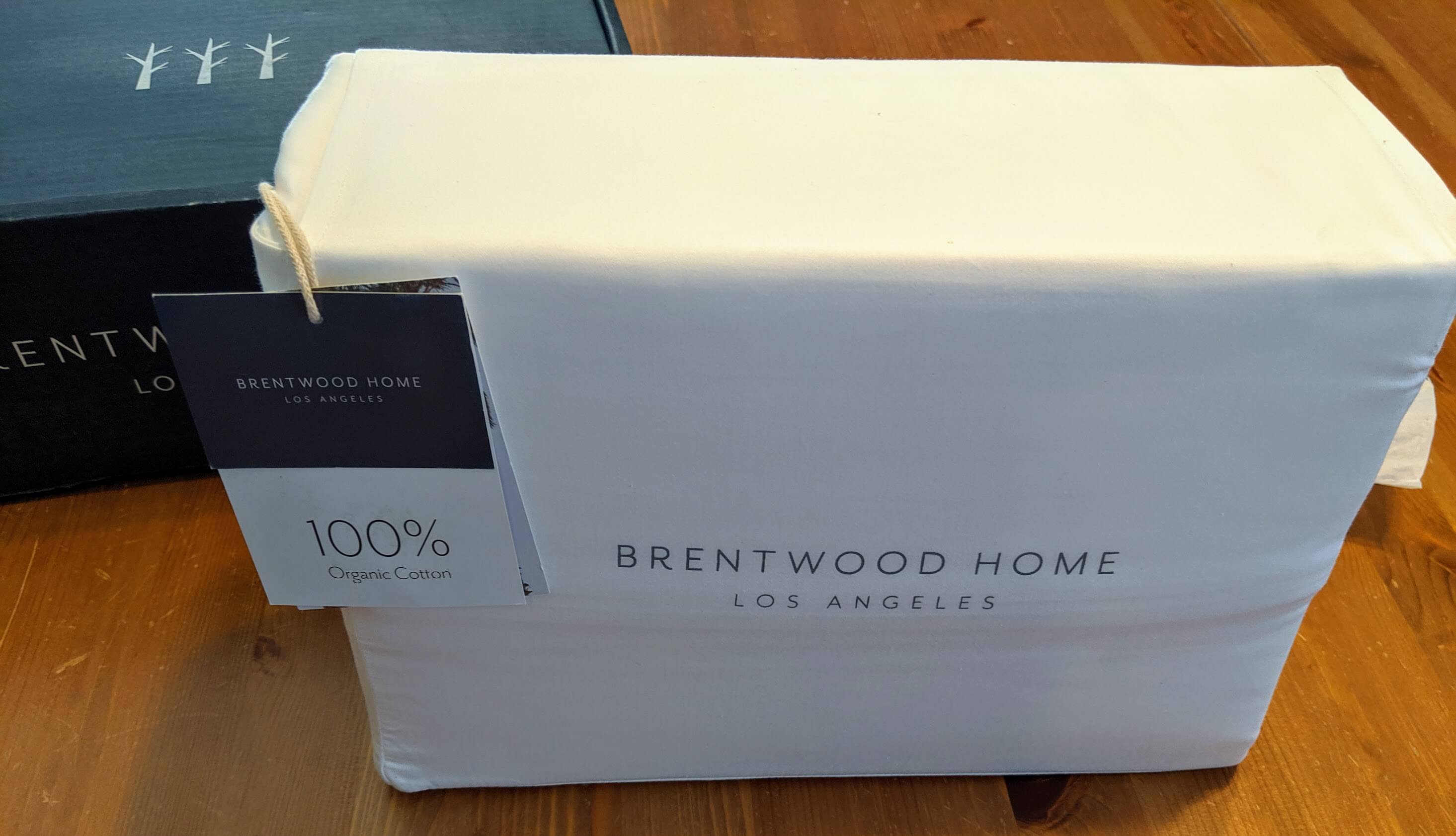 The back of the pouch has coconut buttons to close.
Construction of Brentwood Home Sheets
Below are the construction specifications as listed on their website. Keep in mind that for this review I tried the 600 thread count sheets.
Sateen weave
100% Organic India cotton.
Cotton grown without chemical pesticides or fertilizers.
Available in a single-ply 400 or 600 threads per inch (TPI).
Pocket dept of 16″
What's included:
Sheet sets include: 1 Flat Sheet, 1 Fitted Sheet, 2 Pillowcases.
Twin and Twin XL sheet sets come with 1 Pillowcase. Standard pillowcases fit all sizes except Kings. King pillow cases fit King and California King.
Certifications:
GOTS® Organic Certified: It is the worldwide leading textile processing standard for organic fibres.
STANDARD 100 Certified by OEKO-TEX®: Ensure this product has passed strict testing for banned chemicals and harmful substances.
MADE SAFE® Certified: Ensure no known or even suspected toxins that could harm human or ecological health are present.
My Brentwood Home Sheets Findings
Right out of the box these sheets feel silky smooth. You'll notice that the stitching is excellent and they are going to be slightly thicker than the 400tc version.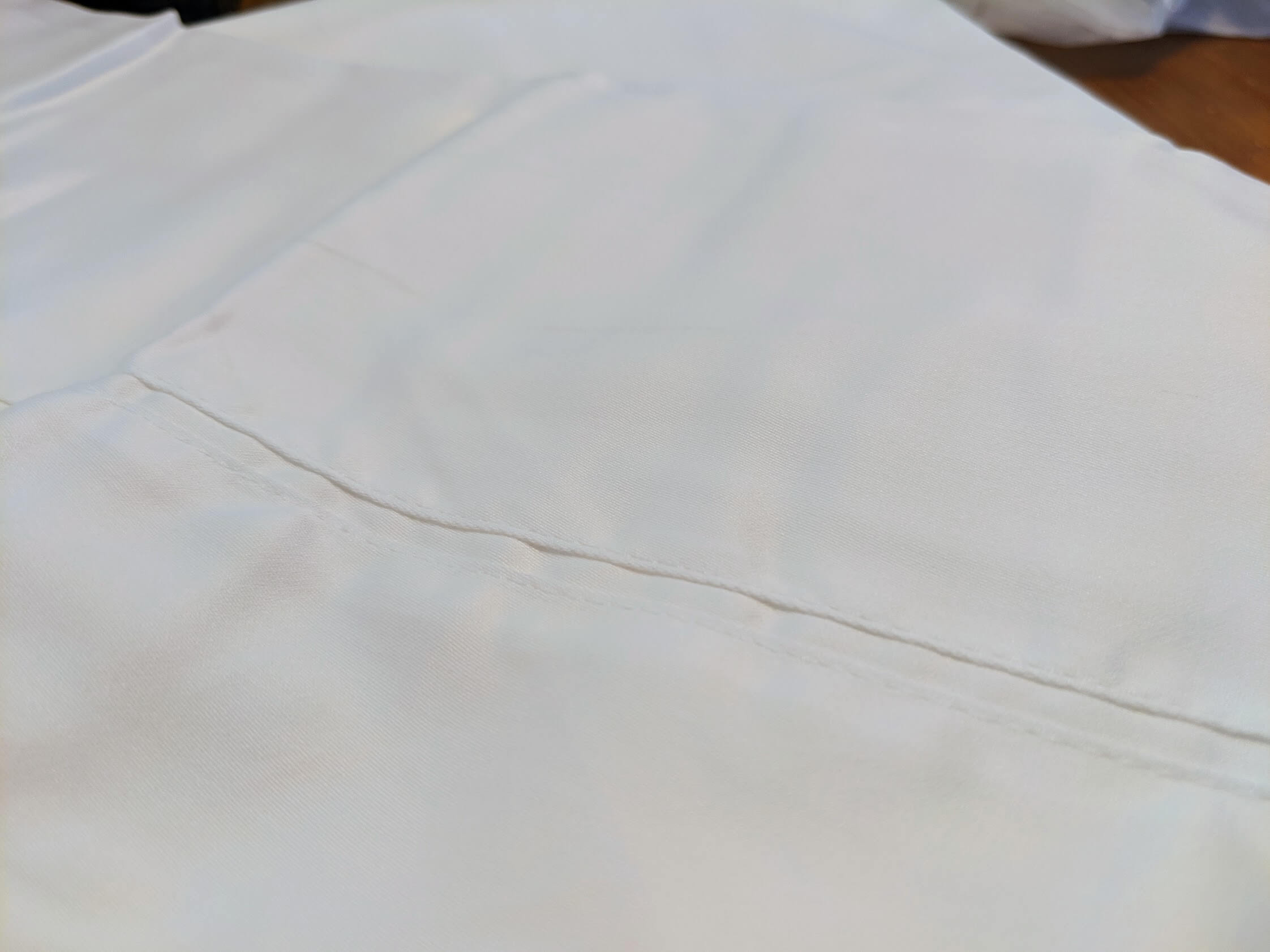 You will find the Organic Cotton certification number on the sheets as well.
These are the backs of the labels including care instructions and the fact that these are also Fair Trade sheets. You can find a lot of organic cotton sheets these days but not all of them are Fair Trade which means that the workers are paid living wages.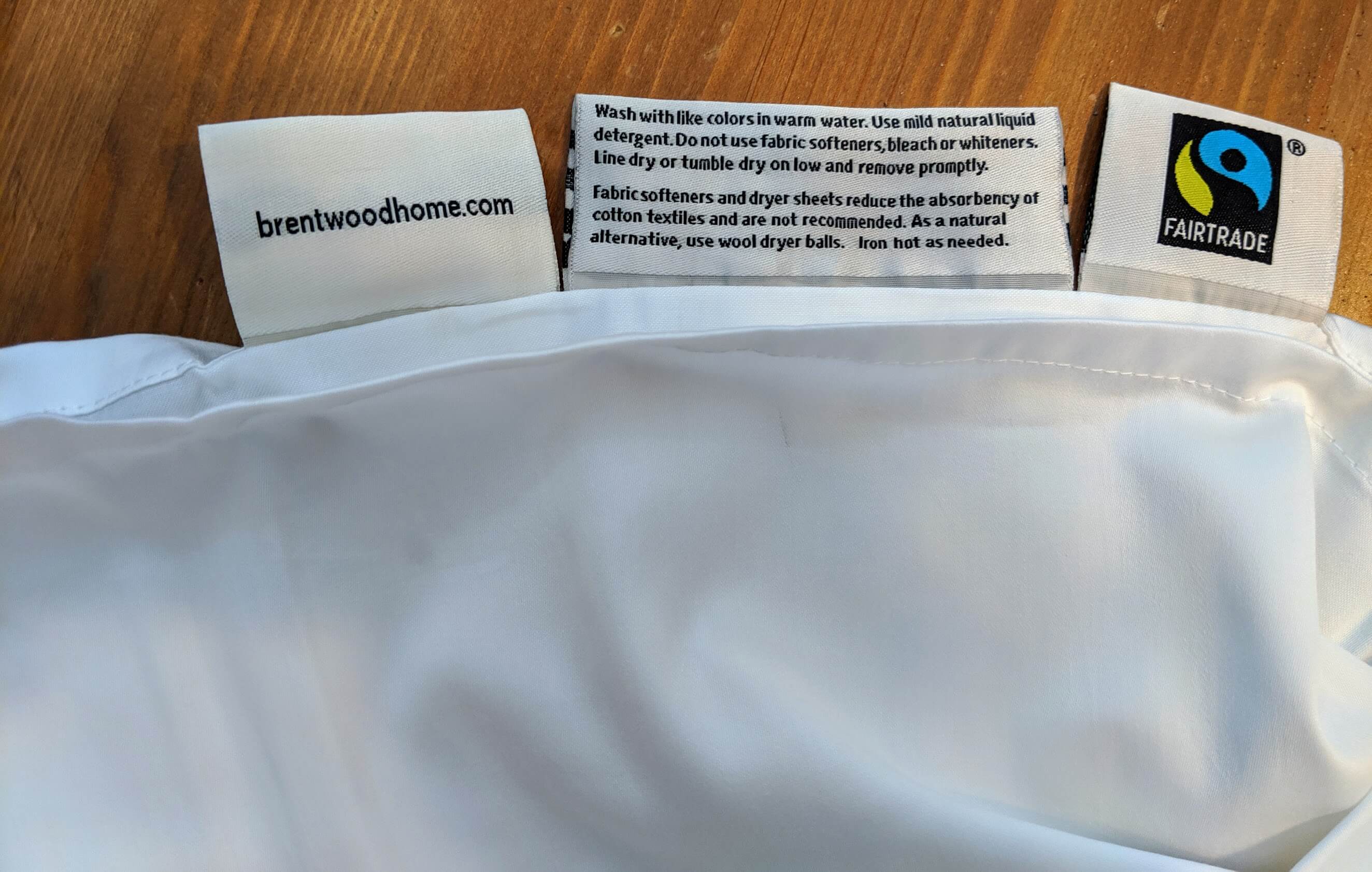 Here's a closeup of some of the stitching on the sheets.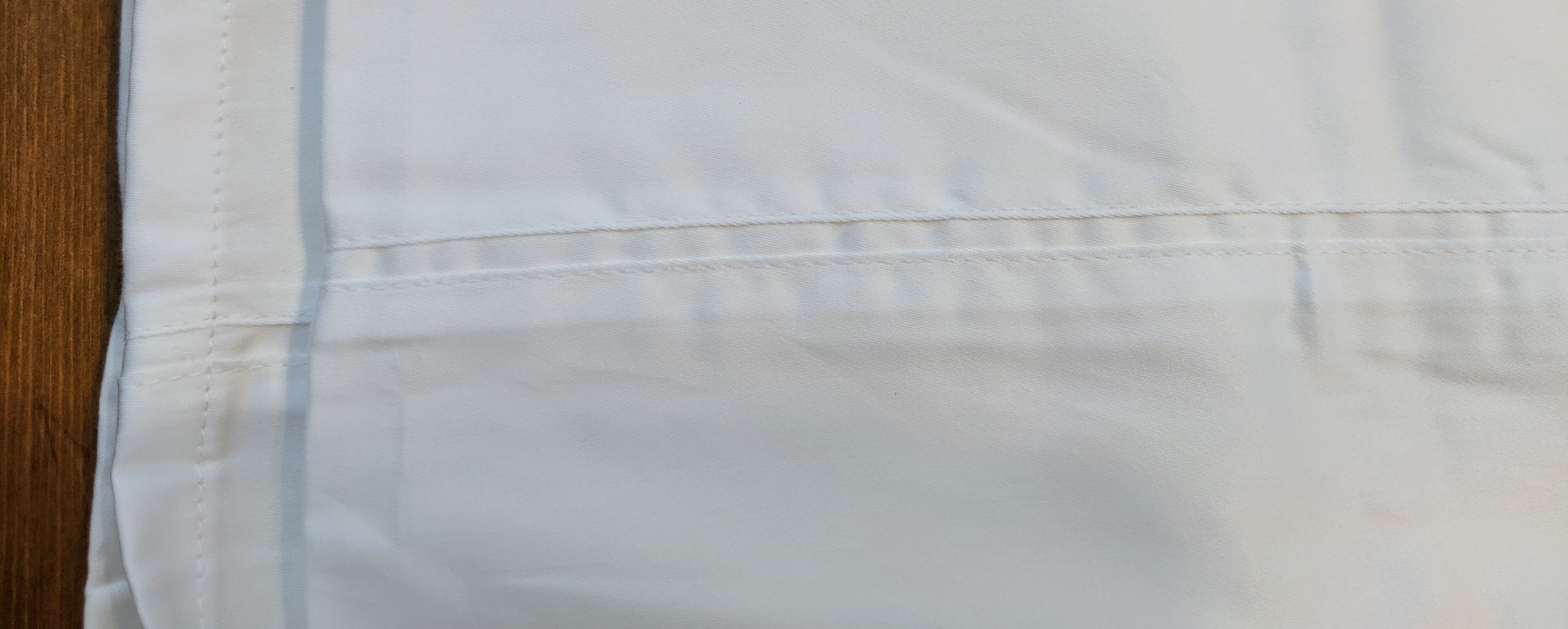 The fitted sheet has a label noting the short side which saves time when making your bed.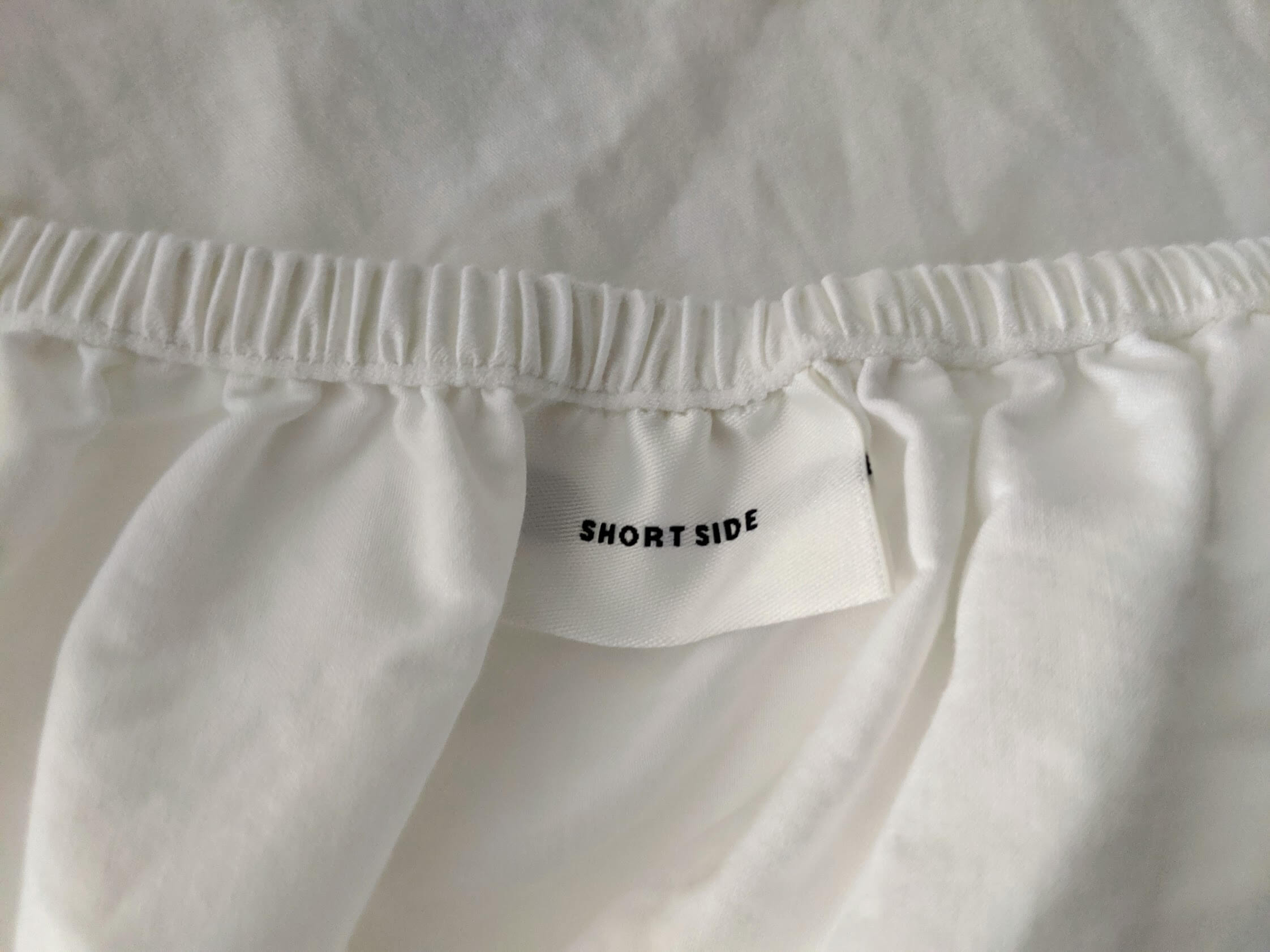 I also really like the fact that they have envelope pillowcases. This means there's a flap that will cover the end of the pillow and hold it in the pillowcase. I much prefer these over regular pillowcases because they make your bed look neater and you don't have to worry about constantly stuffing your pillow back in.
My Brentwood Home Sheets Recommendation
Brentwood Home has really struck a good balance between softness and breathability. Granted the 600tc sheets will not be quite as breathable as their 400tc version but they are extremely soft and smooth right out of the box and even after the first wash. There was not break-in period needed with these sheets. The pockets measure 16 inches deep so they will accommodate the thickest of mattresses without coming loose. At $170 for a king set they are very well priced given the construction and the fact that they are 600tc, organic cotton and Fair Trade. It's very hard to find this type of construction in organic cotton and are well worth it. Since you get 100 days to try them out plus a 1-year warranty they would be a good choice for anyone also in the market for a mattress.