Recently updated on March 12th, 2019 at 08:03 am
Purple Plush Pillow by Purple
Purple is known for it's strange and innovative products so when they decided to release a more traditional type of pillow, I wasn't sure what to think. This pillow doesn't claim to be everything that it's not. It's customizable, yes, that's true but not in a way that would bore you and while it is a more traditional take on the pillow, it doesn't claim to be yet another down-alternative pillow, because it isn't and it doesn't feel like one. It doesn't have to.
Overview of the Purple Plush Pillow
Purple's take on a more "Traditional Type" of pillow isn't exactly traditional, which is why for Purple, it works. They don't DO ordinary so there had to be something to this pillow that is uncommon. While it is a customizable or adjustable pillow, their approach is different when compared to how others in the industry choose to execute this type of product. Most adjustable pillows mean you pull a zipper to take out or put stuffing in. In Purple's case, no amount of fill ever leaves the pillow. Instead, the firmness can be changed by pulling two zippers either open or closed. When both zippers are closed, the pillow has a firmer feel. When they are open, it has a softer feel.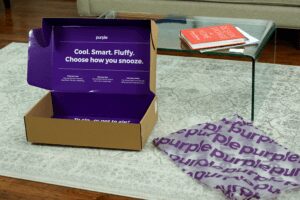 For those who aren't entirely convinced, the pillow comes with a 100-Night Trial and for those who choose to commit, it also comes with a 1-Year Limited Warranty.
It retails for $49 on their site and considering the brand and the feature of customization, it's a really fair price. They could have asked for more, given the overall company reputation, but it's nice they stayed within the realm of more-or-less middle class affordability.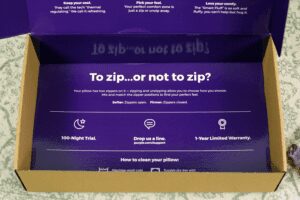 Construction of the Purple Plush Pillow
The Purple Plush Pillow is composed of "interlocking denier poly fiber puff balls." Don't let the vocabulary sway you though. This is just Purple being unique and poetic with their wording. This is the industry standard pillow fill used in most non-down pillows that aren't made of foam. Then again, I'm not an engineer and this poly fiber might be more special and specific to the pillow's function than I'm aware of.
The cover is made of 60% Lyocell and 40% Nylon. It's designed to be thermoregulating and moisture-wicking. It comes in only one size of 26" X 18" and while this was fine for me, it might not do the trick for larger people, as it is kind of standard. Too standard for Purple standards. It weighs 3.6 lbs and while that already sounds like too much, it's actually crazy light. Light and fluffy like a cloud. I've tested quite a few pillows and this one is among those that weighed the least.
My Purple Plush Pillow Findings
I was absolutely stunned to find that the pillow isn't just a gimmick. It seems too good to be true: a pillow whose loft is adjustable without needing to remove or add any filling. But how can that be? The best way I can explain the function of this pillow is to compare it to a closed bag filled with air.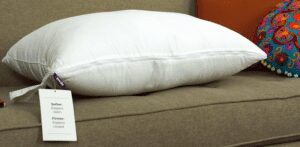 The more air it has inside, the more compressed it'll be so the firmer the bag will feel overall. The less air it has inside, the less compressed it'll be so the softer the bag will feel if you were to lay or press on it. Despite the fact that this is a pretty simple concept that would make sense to most people, when it came to the application of it in the actual pillow itself, I was surprised the airflow, which is regulated by the opening or closing of zippers, made a difference in how the pillow felt. Structurally, it makes sense it would work but we're not talking about a closed plastic bag filled with air, we're talking about a pillow, something that requires airflow. I guess that's where the engineers come in. So does it make a difference? Yes. Opening the zippers did in fact make it softer and closing them did make it firmer.
As for the other elements of the pillow and product overall, I give it an A+ all around. The packaging was discreet at the door but loud upon opening. I appreciate the branding effort Purple puts into their products (the bold color, the large font typeface, etc) and customer experience overall. The pillow cover material is lovely. It has a bright white color, a luxurious sheen and a soft pleasant touch. The zippers are premium quality, not something one has to fear will break easily.
I found it to be more supportive than a down pillow and more firmer than one too. For someone who needs solid neck support, I'm not 100% this will be enough but then again, I have more neck and shoulder spasms than anyone I know so I can't deny that my disposition calls for some extra TLC.
As a side note, the pillow is FULLY washable which is a really nice feature.
My Purple Plush Pillow Recommendation
After having slept on the Purple Plush Pillow for about a week now, I have to say that I like it quite a lot. The ability to customize the loft by way of pulling two zippers is pretty incredible for someone who has changing needs or if it's meant to serve as a gift. I like a softer feeling pillow and this one suits me just fine. The only thing I'm uncertain of is it's thermoregulation. I have slept hot a few nights in a row with this pillow so I'm not sure what to make of it. Unfortunately when it comes to that, that's something in which results do vary but I do like the pillow and I'm not looking to give it away anytime soon.
Editor's Note: This post contains affiliate links, which means I receive a commission if you make a purchase using these links. For full details visit the disclosures page.