Fall in love with the perfect mattress with one of our three comfort options. Our plush bed is perfect for alleviating muscle and joint pain while our firm mattress will support aching back pains with ease. Are you trying to decide between a plush vs firm mattress? Look no further than our Luxury Firm mattress – The perfect combination of back support and plush contour ideal for couples who disagree between plush vs firm mattresses.
A good night's sleep is essential to maintaining a healthy lifestyle, and the Luuf Mattress is designed to give you just that. With its unique construction, the Luuf Mattress provides exceptional support and comfort, ensuring that you wake up feeling refreshed and energized. Its advanced cooling technology keeps you cool all night long, so you can say goodbye to those hot and restless nights. The Luuf Mattress is also hypoallergenic, ensuring that you breathe easy and wake up feeling rejuvenated.
Durability
The Luuf Mattress is built to last. Made with high-quality materials and expert craftsmanship, this mattress is designed to withstand years of use without losing its shape or support. Its advanced design provides support where you need it most, ensuring that you wake up feeling rested and pain-free. With its exceptional durability, the Luuf Mattress is the last mattress you'll ever need to buy.
Affordable Luxury
You don't have to spend a fortune to experience the comfort of luxury. The Luuf Mattress provides exceptional comfort and support at an affordable price, making it the perfect choice for anyone who wants to experience a great night's sleep without breaking the bank. With its advanced design and high-quality materials, the Luuf Mattress is the perfect combination of luxury and affordability.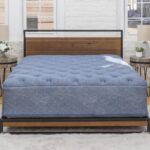 Luuf
Your review
* Review is required
Email
* Email is required
| | | |
| --- | --- | --- |
| 5 star | | 0% |
| 4 star | | 0% |
| 3 star | | 0% |
| 2 star | | 0% |
| 1 star | | 0% |
Sorry, no reviews match your current selections