Pillar Sleep
Pillar truly has a superior build, substantial feel and quality compared to competitors. Pillar is thicker than most models, has better cooling properties with a more supportive coil unit and stronger edge support.
Trial Length / Warranty: 120 Night / Lifetime Warranty
Made In: : USA: Chicago
Type: Innerspring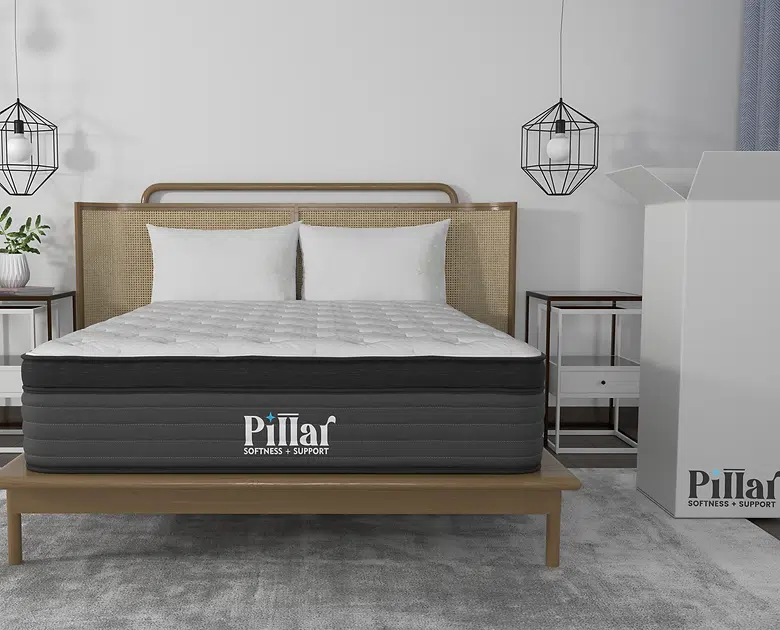 With a quarter of a century of experience in the mattress industry under our belt, we're thrilled to present an in-depth analysis of the Pillar Mattress. This formidable sleep solution earns an impressive 9.5/10 on our comfort and pressure relief scale. Our comprehensive review explores the facets of this uniquely crafted hybrid mattress that stands 15″ tall, boasting three generous layers of gel foam, memory foam, and cooling graphite foam.
An Overview of the Pillar Mattress
Retailing at $1799 for a queen size, the Pillar Mattress is available in two comfort levels: Medium Soft and Medium Firm. We put the Medium Soft variant to the test in our sleep lab. With its lifetime warranty and a 120-night, no-questions-asked trial period, the Pillar Mattress immediately establishes itself as a luxurious and customer-friendly choice.
Upon first contact, we were pleasantly surprised by the mattress's luxurious feel and body contouring capabilities, especially well-suited for side sleepers like us. Our team greatly appreciates an extra "poofy" quilted pillow top as long as it does not compromise the mattress's stability, and the Pillar Mattress ticks this box impeccably.
What sets the Pillar Mattress apart from the rest is the use of graphite-infused memory foam. This innovative material is proficient in heat dissipation, preventing any discomfort caused by the accumulation of body heat. This foam is also anti-microbial, odor-resistant, and durable.
An Expert Dive into the Pillar Sleep Mattress Performance
Our meticulous 10-point test on the Medium Soft Pillar Sleep Mattress yielded impressive results. It hit the sweet spot between firmness and softness, providing an ethereal, cloud-like sleep experience distinct from a traditional innerspring mattress.
Diving into the Construction
The ample layers of foam strategically positioned above the 8″ pocketed coil system certainly piqued our interest. The coil section features specific zoned areas, including stiffer coils around your hips and lower back. This design drastically reduces compression and rutting, making it a commendable choice for edge-of-the-bed sitting.
Our evaluation also revealed that the Pillar Sleep Mattress expertly maintains spinal alignment, thereby preventing potential discomfort during sleep. This is largely due to the firmer zoned torso area that prevents your back from bowing.
The CertiPUR-US® Commitment
The Pillar Sleep Mattress's commitment to safety and quality is noteworthy. The use of CertiPUR-US® certified foams ensures that your mattress is free from harmful chemicals and emissions.
With the Pillar Sleep Mattress, you can rest easy knowing that your sleep sanctuary is both comfortable and safe.
Delving into the Details
Our bedroom environment testing offered fascinating insights into the Pillar Sleep Mattress's performance. Scoring was based on a blend of objective and subjective interpretations of data points.
We were particularly taken with the quilted pillow top's exquisite craftsmanship, the memory and support foam's density, and the innovative use of graphite-infused foam. Together, these components ensure the Pillar Sleep Mattress does not falter in pressure relief or temperature regulation.
Advanced Cooling System: The Pillar Sleep Mattress comes with the enhanced GlacierICE fabric for the pillow top exterior. This fabric is ingrained with Phase Change Technology (PCT), designed to actively draw body heat, convert it into cooler energy and deliver an immediate, noticeable cool touch. Given these attributes, it's safe to say the Pillar Sleep Mattress is an excellent choice for individuals who sleep hot or experience hot flashes due to post-menopausal symptoms or other medical conditions.
Smooth Movement and Superior Edge Support: The medium-soft variant of the Pillar Sleep Mattress provides a buoyant support that counteracts any significant sinkage. This enables seamless movement, making it perfect for side and back sleepers who frequently adjust their position during sleep. I experienced a profound 7-hour sleep on the Pillar Sleep Mattress without disruption, leaving me more rejuvenated than when sleeping on my significantly firmer Tempur-Pedic.
The mattress's quilted pillow top, coupled with the two lower layers of memory foam and graphite foam, works excellently to minimize motion transfer. This feature is particularly beneficial for restless sleepers who share their bed with a partner or pets.
Comfortable Intimacy: The Pillar Sleep Mattress accommodates couples comfortably, ensuring no undue sinking that might require struggling to get out of the mattress's middle. The mattress has an approximate weight limit of 250lbs per person, translating to a combined weight capacity of about 500lbs. It's a compelling choice for intimacy due to the cozy, embracing sensation it imparts, potentially providing better stability during vigorous activities. Although the covering material is somewhat smooth, using a mattress protector and cotton sheets of 300-500 thread count could enhance the grip.
Value
Economic Value: Awarding a perfect score of 10 for this aspect, I compared The Pillar Mattress to a selection of hybrid foam and coil mattresses with similar designs. Priced at $1799 for a queen size, The Pillar Mattress emerges as a much more cost-effective choice while maintaining the high-quality elements often found in premium or resort-style mattresses. For instance, the Serta Black Hybrid Mattress, which has a similar design, retails at $2499 for a queen size, but without any distinct benefits to justify the additional cost.
Layered Design: Typically, mattress designers utilize a 2-inch thickness for each layer. However, Pillar innovatively amalgamates three distinct 2-inch layers, summing up to a total of 6 inches, thereby maximizing pressure relief. Perfecting this layered design is akin to creating an ideal cake recipe; it necessitates a deep understanding of foam densities. Further insights about ILD and foam density can be found here.
Material Composition: Above the pocketed coil unit, Pillar employs three layers of specific foam types: graphite-infused memory foam, pressure-relieving foam, and a sturdier layer of high-density support foam. The exterior layer, which serves as the body contact surface, is a quilted pillow top made from a hypoallergenic blend of cotton and rayon.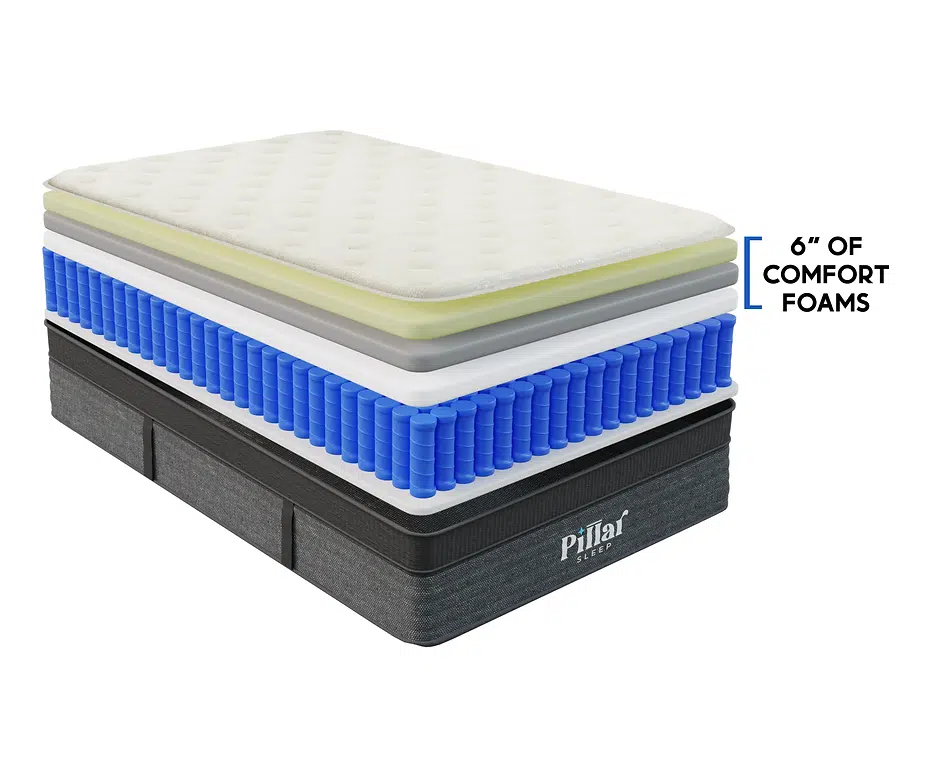 Pillar Sleep
Pillar truly has a superior build, substantial feel and quality compared to competitors. Pillar is thicker than most models, has better cooling properties with a more supportive coil unit and stronger edge support.
Trial Length / Warranty: 120 Night / Lifetime Warranty
Made In: : USA: Chicago
Type: Innerspring