I received a set of 1500-thread count microfiber bed sheets from Peach Skin Sheets to review. It came in a white box with Peach Skin tape and logos. I expected the frills to stay contained within the packaging, but when I opened the box, I was overcome with peaches! The inside of the packaging itself was covered from tip to tail, corner to corner with little peaches. I loved it so much, I just had to keep the box, and you can bet that I'm going to use it to send my friend's next birthday present.
But obviously the fun didn't stop there, because the sheets came wrapped in orange tissue paper with a personalized card! With a puppy! There's even a puppy on the instruction card, too!
Tightly tucked away in the tissue paper was a zippered pouch with a little peach keychain. I love how they really took to their brand and ran with it to the extreme—I was almost expecting the sheets themselves to be peach-colored!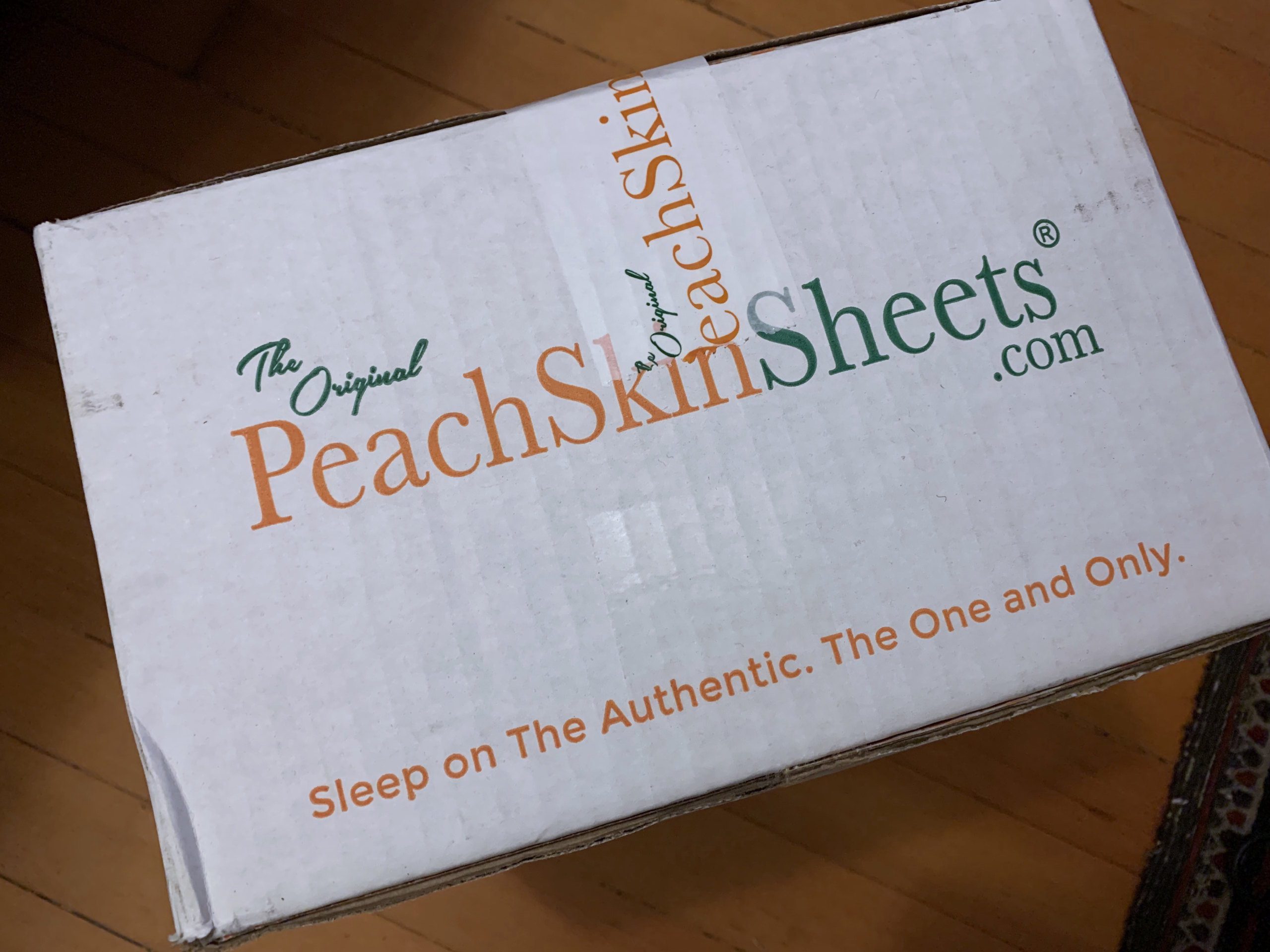 Peach Skin Sheets Construction
I've never slept on anything with a thread count over 700, and even that was pushing it because before that I had never ventured beyond 400. What I learned from Homestead—that higher thread count doesn't necessarily mean higher quality—is all said and good, but the 100% microfiber polyester Peach Skin sheets clock in at 1500-thread count and they are out of this world. Coming in at $80 new, these are much much less expensive than organic cotton sheets, but you can really feel the difference between the two fabrics.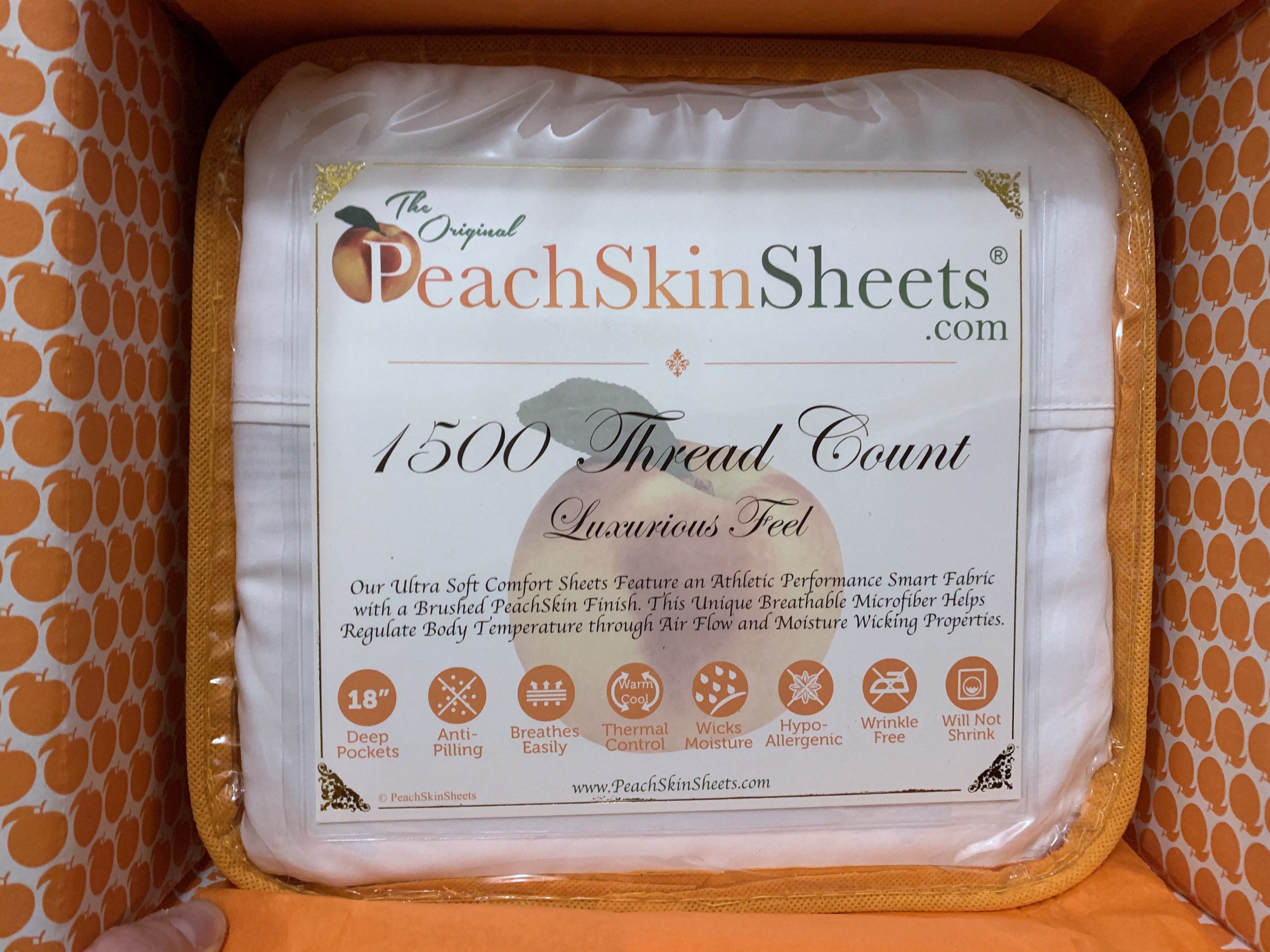 They were super soft initially, but after the first wash they felt even softer; not to mention they also lost their strange plasticy smell—probably from the zipper pouch. I did some snooping around the sheets and I came across a few interesting quirks. First off, the seams do not look as clean and sleek as on other sheets; they are strongly contrasting and very visible.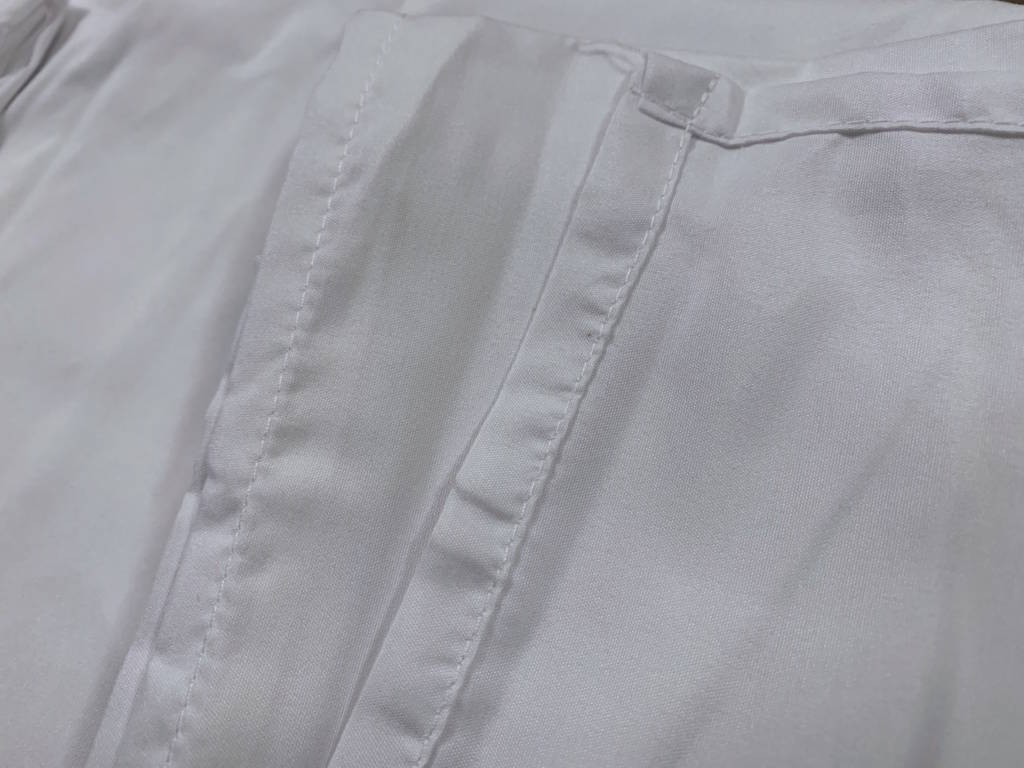 Second, the elastic band on the fitted sheet feels like it's not attached to the sheet itself, but rather is just sewn into a narrow sleeve. These are just observations, but there are a couple disappointing quirks, too.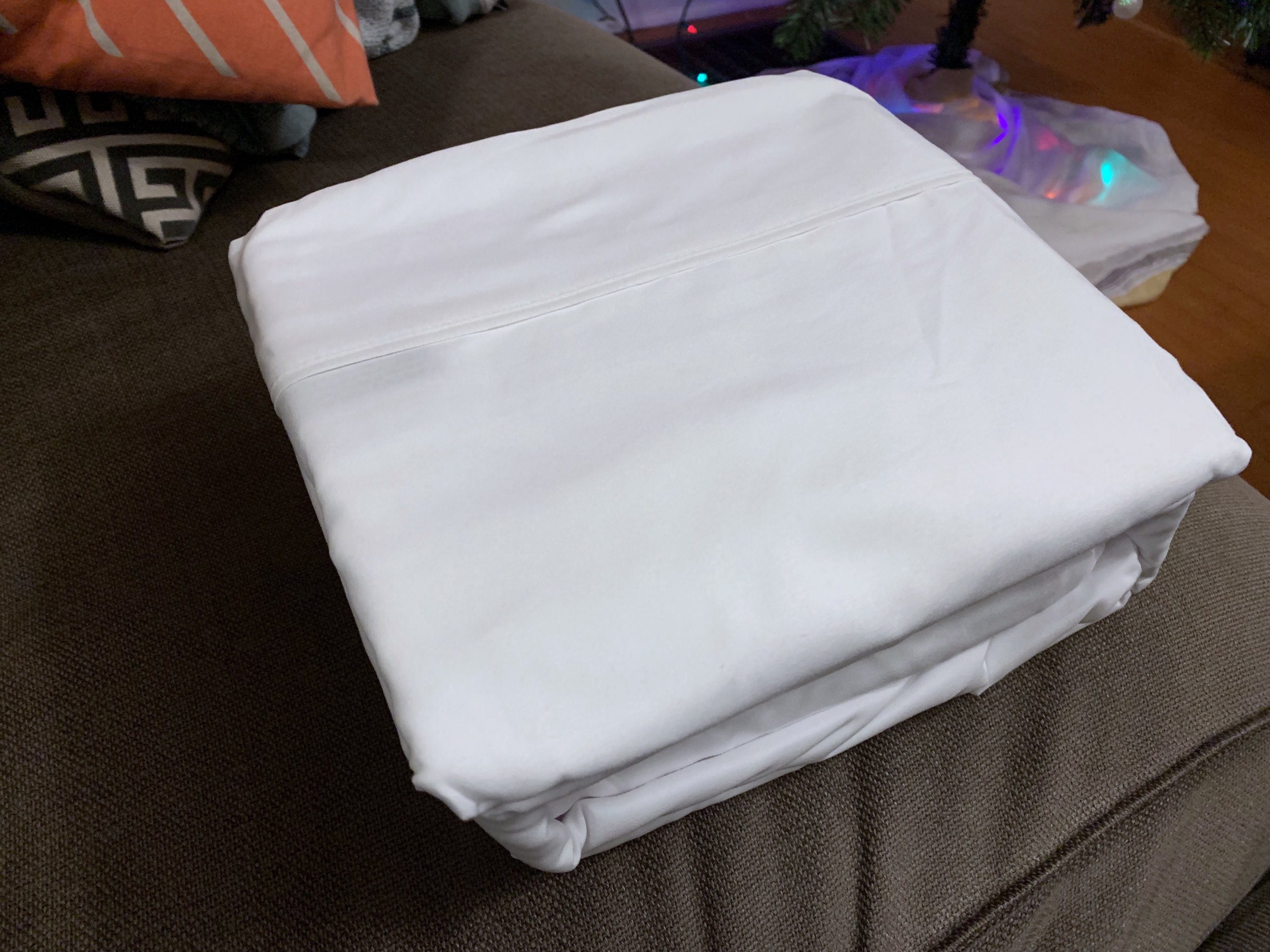 The fitted sheet fits my queen-size mattress perfectly, but the flat sheet seems a bit… narrow. It fits the length of my bed exactly—with enough overhang to tuck in—but the sides barely make it. After one night's sleep, the flat sheet was untucked, whereas others I've tried have stayed tucked for days—I'm not a very aggressive sleeper.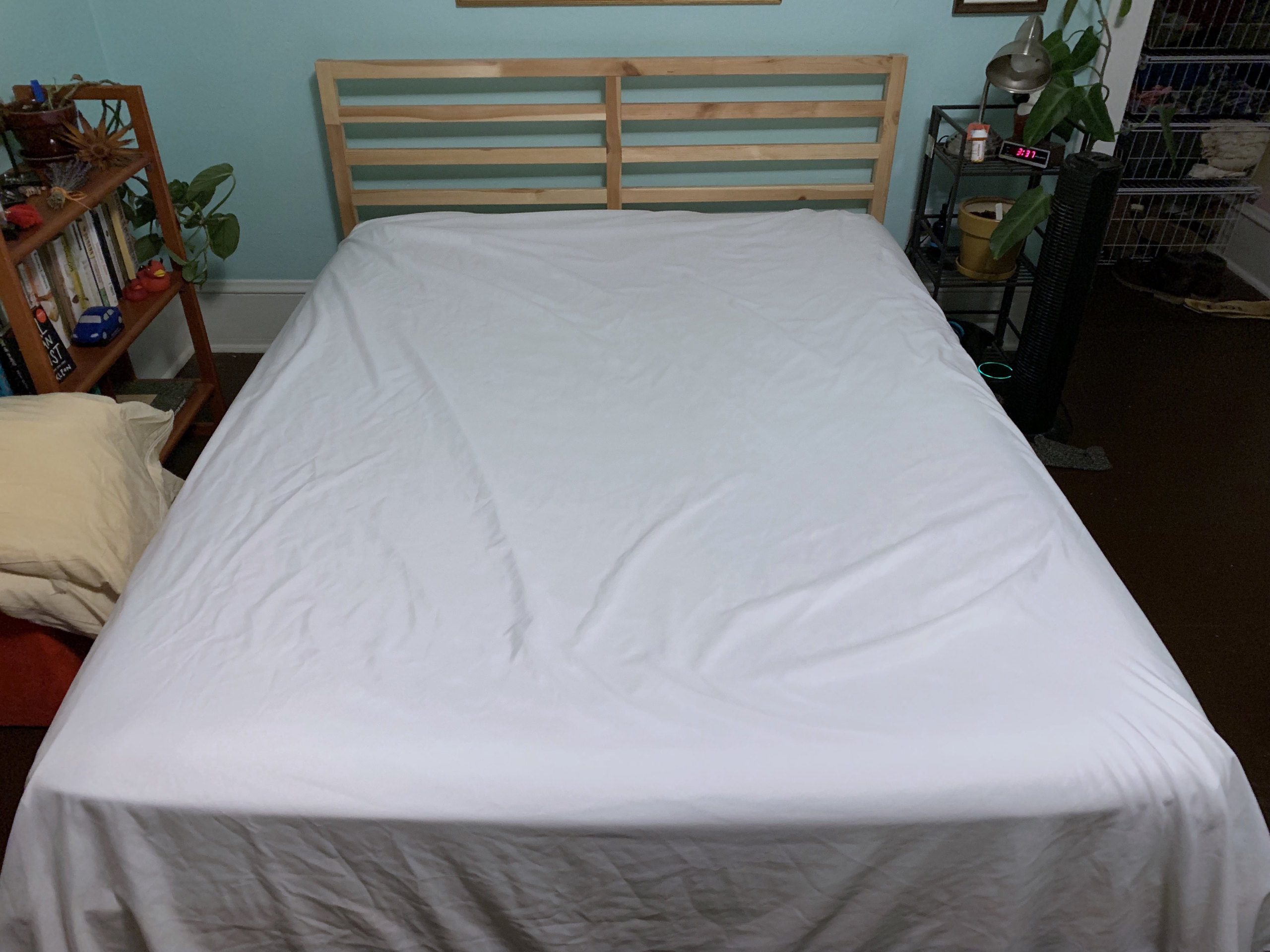 The other disappointing aspect is not a real concern for me, but it's worth mentioning that on the zipper pouch it states that the pockets are 18 inches deep, when in reality they are 13 inches and 13.5 inches when you include the elastic band. Luckily, I do not have an extra tall mattress, but the air mattress that I use when my sisters visit is a tall mattress, and I thought that these might be the perfect sheets to fit. Unfortunately, they have even smaller pockets than the Homestead sheets do.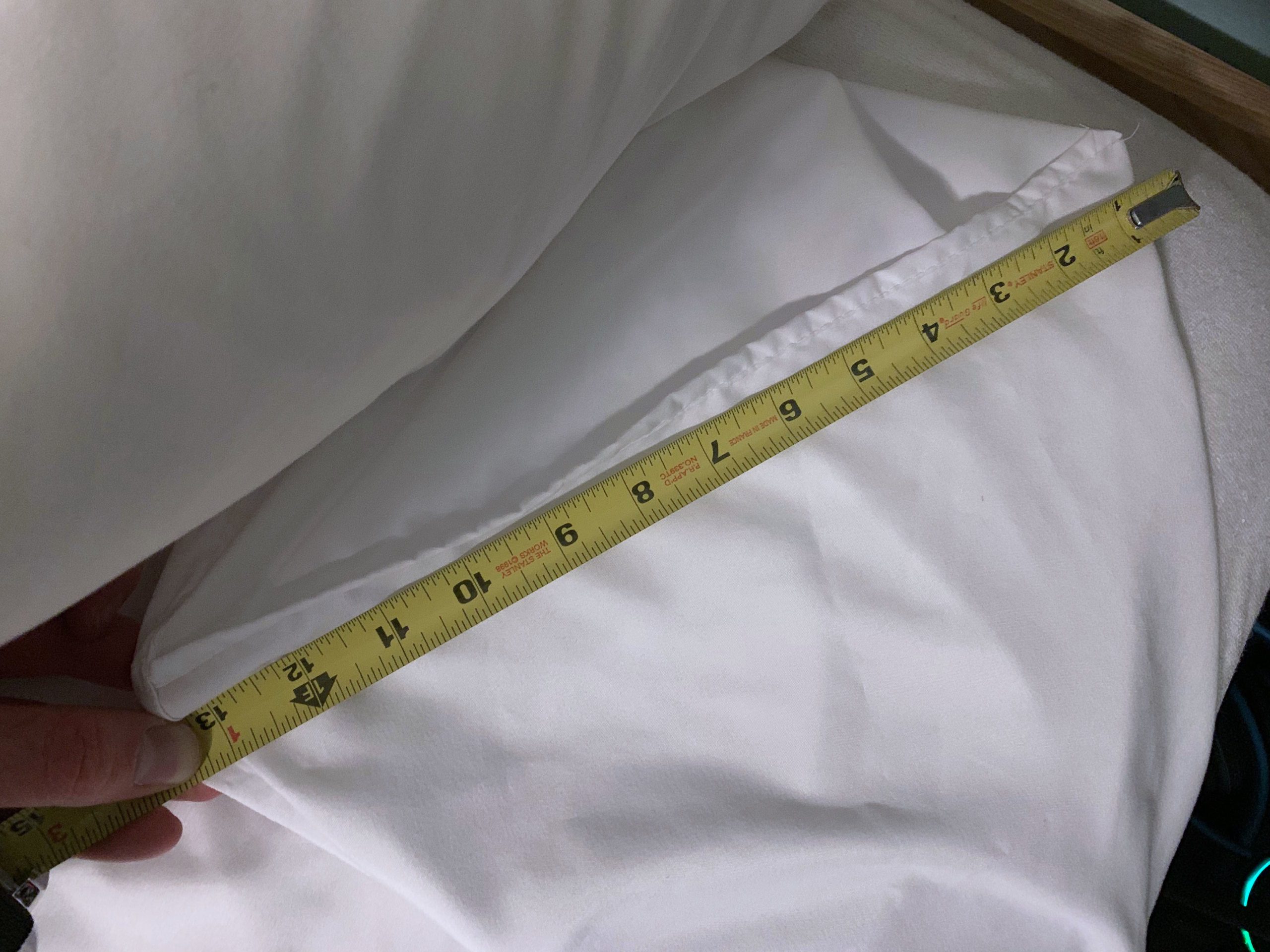 My Peach Skin Sheets Findings
Sliding between Peach Skin sheets is an experience that everyone should have at some point in their lives—it's a dream. It's strange though, the first thing that came to my mind when I was sandwiched in between them was that they feel almost like hotel bed sheets. I love sleeping in hotel beds so this is not a negative critique, but there is something about the feeling of newness and adventure that comes with a night's sleep in a hotel. When you're in a hotel, you're usually going somewhere, and when you sleep on these sheets, you go somewhere every time your head hits the pillow.
My Peach Skin Recommendation
As great as the sheets feel, there was one real downside for me: they are very hot. I was surprised because the reviews online say that Peach Skin's high thread count microfiber sheets are super breathable, cooling, and moisture-wicking but in my house my room temperature is in the mid to low 60s and I needed a fan to keep cool. I was just as warm with only the Peach Skin Sheets as I am with other sheets… plus a blanket… and a comforter. I doubted myself for the whole week, trying all sorts of different arrangements, but every time I found myself waking up because I was too hot. As I've mentioned in the past, my body tends to run pretty warm, so I was really looking forward to cool, breezy, breathable sheets, but unfortunately these did not work for me.