[vc_column_text class="sleep-sherpa-exclusive-deal"]

Get 15% off your  Ojai Mattress with coupon code SleepSherpa15 Activate Here[/vc_column_text]
The Ojai Mattress is a latex and foam mattress from Brentwood Home with a Tencel fabric cover. I rate this mattress to be a medium feel. People looking for a more plush mattress with sink should consider the Oceano or Cedar mattress instead.  Brentwood Home now has three flagship mattress which are the Ojai, Oceano and Cedar. Each has a unique feel and story but all exude the quality and craftsmanship that Brentwood Home has become known for.
Overview of the Ojai Mattress
The Ojai mattress is sold exclusively through the Brentwood Home website. The mattress comes with a 120 night trial period where you can try it out in your home and if you don't like it, you can return it for a full refund. The way returns work is that you would donate the mattress to a local charity and then email your donation receipt to Brentwood Home for a full refund. There are no shipping charges and no return charges either. It's a clean break.
The Ojai Mattress retails as follows:
Twin: $795
Twin XL: $859
Full: $995
Queen: $1,195
King: $1,395
CA King: $1,395
Split King: $1495
This makes the Ojai the most affordable mattress of their three offerings.
Here's a video of me on the Ojai explaining some of the features of the mattress. This is one of the few mattresses on the market that has foam, springs, latex, and tufting. Lots of value here.
Construction of the Ojai Mattress
Tencel Stretch Knit Cover
Eco-friendly, plant based fiber is softer than silk and more breathable than linen. A 4-way stretch knit allows you to reap all of the pressure relieving benefits of the comfort layers while staying cool. It's been hand-tufted to secure the layers without chemical adhesives that can block airflow.New Zealand Wool
Untreated New Zealand wool wicks away moisture, allows for air circulation, and regulates temperature for comfortable sleep through the seasons.1.5-Inch Flo Foam
This responsive and sensitive layer of CertiPUR-US Certified Flo Foam will conform to your body to provide perfect pressure relief
Density: 4lb/ft3, ILD: 121.5-Inch Gel Memory Foam
Gel memory foam relieves pressure points by distributing weight evenly across the mattress. Ideal for couples, it isolates motion so you won't disturb your partner while you sleep.
Density: 4lb/ft3, ILD: 101-Inch Natural Latex
Adds responsiveness so you never feel stuck. All natural and free of synthetic ingredients. Our latex made with the Dunlop process.
Density: 4.0lb/ft3

8-inch Individually Wrapped Base Coils
Quantum Edge Combi-Zone base coils are strategically positioned to provide support to the hips, back, and shoulders. Reinforced coils around the perimeter keep the edges rigid and supportive. Coils are individually wrapped for precise response to your body's shape and movements.
Counts: Twin: 756, Twin XL: 772, Full: 1016, Queen: 1130, King: 1414, Cal King: 1384, Split King: 1544
The Ojai is a fairly simple construction but Brentwood uses quality materials throughout.
The cover is made with Tencel fabric. The main benefits of Tencel are that it is more breathable and moisture absorbent than cotton and less prone to wrinkles. Tencel has a soft, silky feel which makes it an ideal cover for a mattress.
The fire barrier is made with hydrated silica sand.
The cover is also made with New Zealand wool which helps to regulate temperature. If you have ever worn wool socks, you'll know what I'm talking about.
Under that, you will find a 3-inch layer of cooling gel memory foam which provides the pressure relief.
Under that is a layer of latex for a little bit of bounce making the mattress easier to move around on.
Another signature of the Brentwood lineup is that this mattress is hand-tufted. This reduces the need for extra glue to keep the layers of material together. Here's a photo fo the tufting. Not only does this look great but it serves a purpose and is not something most mattress companies offer, especially at this price point.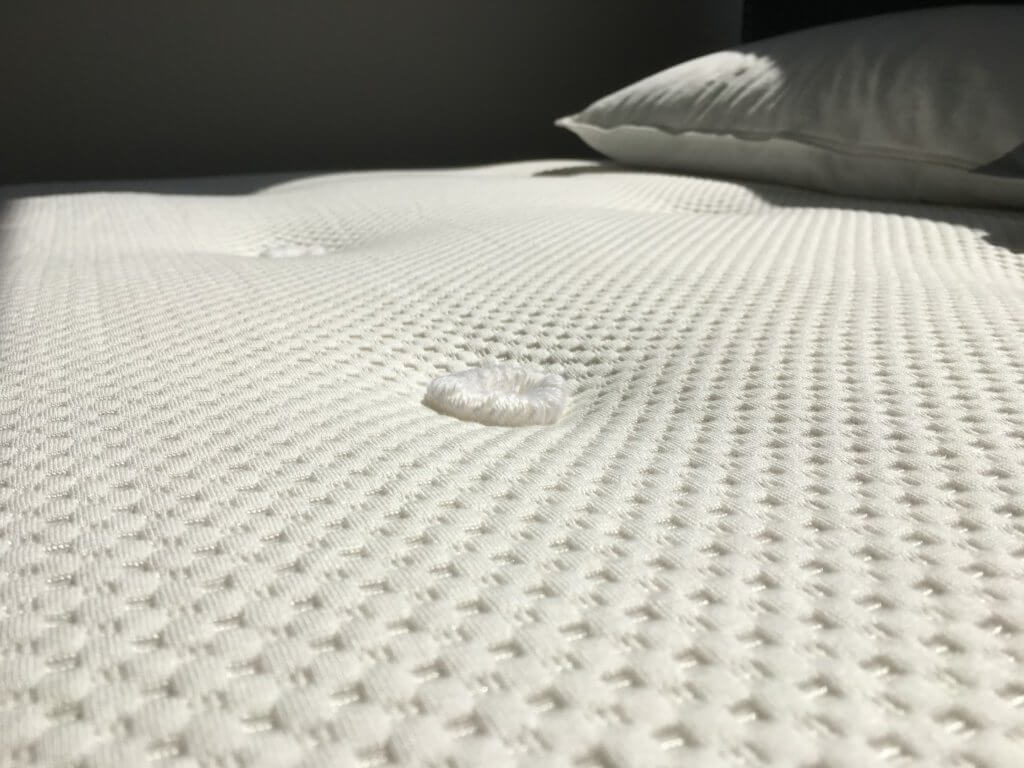 This mattress is backed by a 25 year limited warranty. Many online brands aren't even over 2 years old. Brentwood has been in business making mattresses for over 30 years so a warranty like this carries weight.
My Ojai Mattress Findings
This mattress will feel more like a quality traditional mattress than a typical memory foam mattress. I think that's because they use latex and hand-tufting which tightens up the mattress and doesn't allow you to sink into it too much.
Here's a photo of my bowling ball on the mattress to illustrate sinkage.
This mattress is super easy to move around on. As you can tell from the video above you are going to sleep more "on" than "in" this mattress.
Here's a video showing how much motion transfer you can expect. I expected a bit more than this but I think with the tufting along with the 3 inches of gel foam you get good energy absorption.
Couples shouldn't have to worry about waking each other up on this mattress during the night.
Here's a video showing heat dissipation using my thermal camera. This is the only Brentwood Home mattress with a Tencel cover and it seems to draw heat away faster than the others.
My Ojai Mattress Recommendation
The Ojai is the perfect mattress for someone looking for a medium firm mattress with a touch of luxury. This mattress looks amazing and feels great for someone seeking a firm and supportive base. At this price point, you would be hard-pressed to find the materials and construction in a similar mattress.
With a 120 night free trial period I think people seeking a firmer supportive mattress owe it to themselves to give this one a try. It deviates from the typical 3 layer foam offering found all too often and offers a feel you won't find anywhere else.
[vc_column_text class="sleep-sherpa-exclusive-deal"]

Get 15% off the Ojai Mattress with coupon code SleepSherpa15  Activate Here[/vc_column_text]