Recently updated on March 9th, 2023 at 05:20 am

Get 20% off your Molecule Mattress with coupon code sherpa20 at checkout Activate Here
What is MOLECULE?
MOLECULE products are used by some of the world's top athletes including Tom Brady, Russell Wilson, Alex Morgan and many others.
All MOLECULE products are Air-Engineered™ from the ground up, leveraging the latest technologies in material science and manufacturing, to maximize airflow and regulate your body's core temperature – which has been proven to optimize your most restorative sleep cycles.
It comes conveniently shipped to your doorstep in a box and is compressed and wrapped.

How Much Does The Molecule Cost?
Below are the current Molecule Prices
| Size | Retail Price | Costco Price |
| --- | --- | --- |
| Twin | $599 | NA |
| Twin XL | $699 | NA |
| Full | $799 | NA |
| Queen | $949 | $549 |
| King | $1,149 | $649 |
| Cal King | $1,149 | $649 |
Molecule 2 Prices
| Size | Retail Price |
| --- | --- |
| Twin | $1,099 |
| Twin XL | $1,149 |
| Full | $1,399 |
| Queen | $1,499 |
| King | $1,899 |
| Cal King | $1,949 |
How Does the Molecule Mattress Work?
Molecule is backed by science.

Your body needs to regulate its body temperature during sleep to achieve maximum recovery. (Slow wave sleep)

Every Molecule product is designed to regulate body temperature during sleep to achieve maximum recovery.
Molecule use proprietary technology to achieve optimal body temperature during sleep.

Designed in cooperation with sleep experts from institutions such as Weill Cornell Medicine

Features of the MOLECULE M1:

Advanced Cover

Features Phase Change Material to regulate the microclimate between your body and the sleep surface. As your body temperature changes throughout the night, an embedded temperature sensitive polymer, responds dynamically, adjusting evaporation and cooling.

RestoreFLO: Open cell gel infused memory foam

Consistent airflow even when compressed
Cooling gel

RecoveryFLO: 3-zone dynamic response layer

Precision-contoured 3D geometric surface provides targeted, self-adjusting support for different parts of the body.

ContourFLO: Maximum support
Here's a video overview of the Molecule 1.
Here's another video explaining the features of the Molecule 2
Who Sleeps on a Molecule Mattress?
Molecule has many athlete brand ambassadors. Their slogan is that we are all athletes meaning we all need proper rest and recovery to perform our best the next day. Here are a few athletes that sleep on a Molecule:
Tom Brady
Russell Wilson
Nastia Liukin – 5 time olympic medalist
Susan Francia – 2 time olympic gold medalist
Ryan Hall – American record holder for marathon and half marathon
Sara Hall – 2012 US National cross country champion
Construction of the Molecule 1 Mattress
FEATURES
12" 3-layer design
RestoreFLO™ Gel-Infused Open Cell foam
ADVANCED FEATURES
3-zone RecoveryFLO™ adaptive support layer
Advanced cooling cover
All layers are 100% polyurethane foam
2" RestoreFLO™: ILD: 9, Density: 2.5
3" RecoveryFLO™: ILD: 40, Density: 1.65
7" ContourFLO™: ILD: 35, Density: 1.5
Cover is 98% Polyester, 2% Lycra
Construction of the Molecule 2

FEATURES
12" 3-layer design
Proprietary MolecularFLO™ Extreme Open Cell foam
7x the airflow vs traditional memory foam
ADVANCED FEATURES
5-zone RecoveryFLO™ adaptive support layer
Advanced cooling comfort cover
Antimicrobial treatment
My Molecule Findings
The Molecule has a stretchy knitted cover that works well with the mattress. This is the first mattress I have reviewed where the cover is made with microban technology. Even though it has microban, I would still advise using a mattress protector just to keep it in pristine condition.
In the picture below is my 14 lb. bowling ball on the mattress. It sinks a good amount which means your hips and shoulder will get good pressure relief.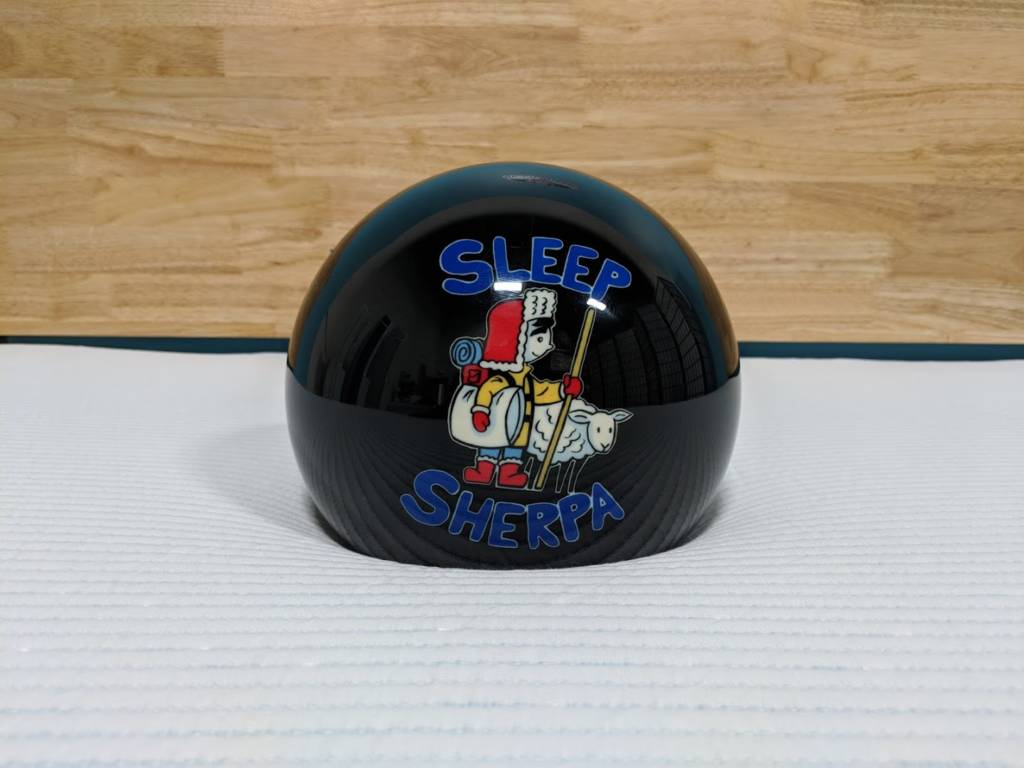 Here's a quick video showing how much bounce and motion transfer your can expect with this mattress. There is little motion transfer and not a lot of bounce but it does recover quickly.
Here's a peek inside the Molecule where you can see each distinct layer. The blue layer is the recoveryflo layer which has channels for air to dissipate.
Here's a closer look at the recoveryflo layer.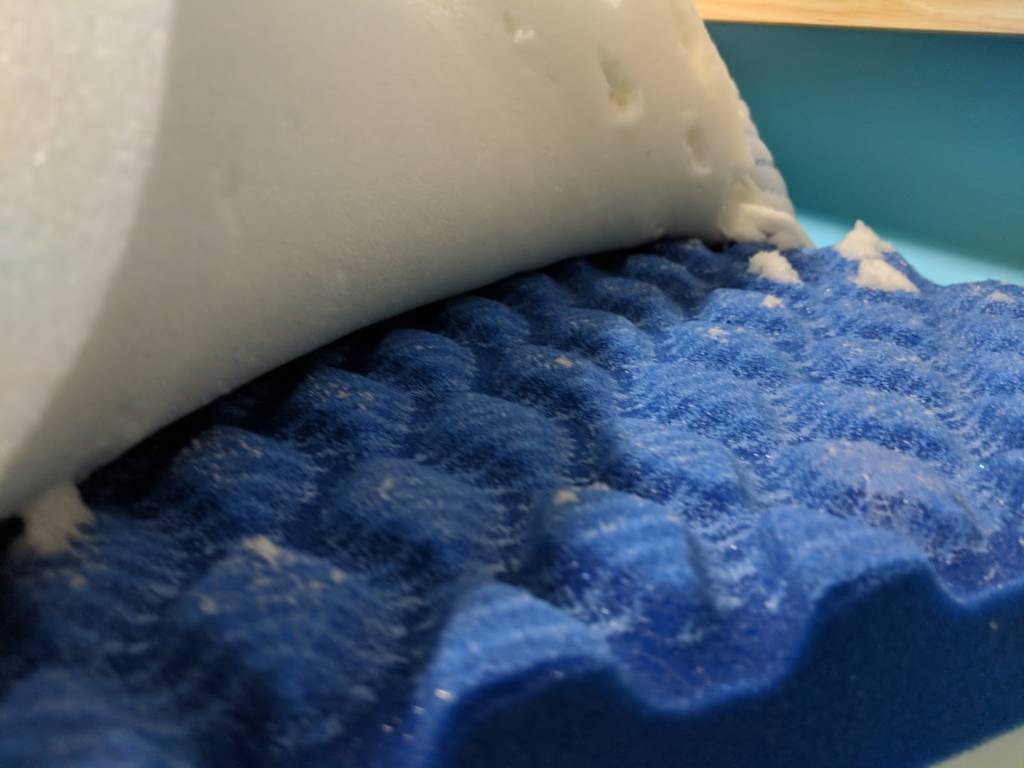 Here's a video which shows how the layers react. Notice that they recover very quickly. It's also really easy to squish this mattress which means it will contour quickly too.
My Molecule Recommendation
The Molecule is not your typical 3 layer foam bed. It looks like one and even feels similar to some others I have tried but what sets it apart is that it is one of the coolest sleeping foam mattresses I have tried. A popular way to address heat issues in mattresses is to use a phase change material in the cover which is cool to the touch but this effect is temporary and eventually, the mattress will heat up. Molecule has designed the foam and cut of the foam for maximum breathability where using phase change materials isn't necessary.
I found this mattress to be a bit on the softer end of the spectrum and for that it may not be best for stomach sleepers but most back sleepers and definitely side sleepers will appreciate the contouring, cooling and pressure relief this mattress offers.
This is a unique opportunity to experience the same recovery-focused sleep as top athletes for at a very affordable price.

Get 20% off your Molecule Mattress with coupon code sherpa20 at checkout Activate Here