Recently updated on March 9th, 2023 at 05:14 am
I recently received the Horizon Bed Frame from Modway. This is a steel frame that is easy to assemble and very sturdy. It retails for $120 on Amazon. This base is a great choice for people looking for storage room underneath, no squeaks and sturdy enough to support 1,300 lbs.
Overview
Modway is a company that brings some of the latest styles to market at an extremely competitive price. Their products are often seen in television shows such as Modern Family. What I like about Modway is that they have a nicely curated lineup of products that all work well together. They have clean, modern designs that can really make a space look refreshed. This bed frame comes in different colors. For this review I received the green frame but you can also get it in the following colors:
Brown
Green
Gray
Blue
Red
Silver
White
Yellow
I found it interesting that they didn't have a black option but the color certainly adds some interest. If you're going for a minimalist bedroom look, this is a great option.
Specifications
The queen size frame weighs 41 lbs.
Dimensions: 60 x 80 x 14 inches
Replaces bed frame and box Spring
Sturdy powder coated Steel frame
Generous 14" storage space
Easy to assemble and fold away
Non-marking foot caps
Supports up to 1,300 lbs.
Assembly
Setting up the Horizon bed frame is a straight forward process. There aren't that many bolts needed and it can be done by one person. Below is a picture of the bed once I set it up. It comes in two halves that fold. You unfold each half then bolt them together at the middle.
Here it is again from another angle. You can see that there are middle support legs.
Below you can see how it bolts together. There are also spacers that you put in between the two pieces so that it won't squeak and have proper separation.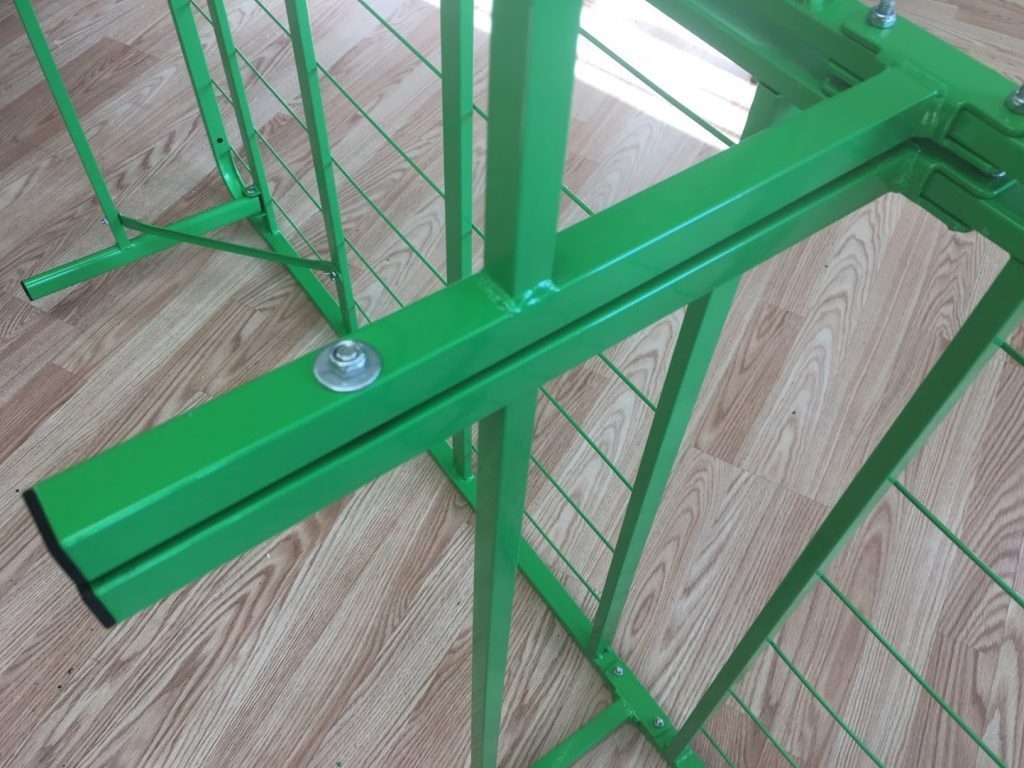 Conclusion
I have this frame in the Yawnder Showroom in Minneapolis and it has been holding up great with many people trying out the mattress on top of it. It certainly stands out with the green color and makes a statement so make sure to choose the color that will best match the look and feel of your room.
I really like these bases for people that want to have a modern, clean, minimalist look at a very affordable price. I think they are perfect for people who move frequently as they can be broken down easily and aren't that heavy. They are also a great choice for people in apartments that need extra storage under their bed. There are other options out there for these types of frames but this one hasn't had any issues with squeaking so far.
People that upgrade from a queen to a king will often ask if they need to get a new box spring as well. For the vast majority of mattresses you do not need a box spring. Instead of spending the money on a box spring you can get a bed frame like this which costs less than a box spring and is much more versatile.
Shop the Horizon Bed Frame