[Tagline]
The Luna Weighted Blanket is one of the best values for your money. Luna also has the most variety of sizes of weighted blankets to choose from. They offer everything from a kid's size to one that will fit a king-size bed. There are plenty of colors and patterns to choose from as well as different fabrics depending on if you want a cozy or cool feel. For this review, I received a queen size weighted blanket. Everything from the sewing to the look and feel was great.
Ordering Your Luna Weighted Blanket
You can order your blanket directly from the Luna website or through Amazon. Luna is also available for purchase in Canada through their website. It really doesn't matter which site you use since they both offer a 30-day refund window and you are responsible for returns no matter which site you buy it through. Since I have Amazon Prime, it makes sense for me to buy through Amazon although you may find more fabric options through their website. You should also check the price on Amazon and Luna, when I last checked, the price on the Luna website was considerably less.
Your Luna blanket will arrive in a box and inside the box you will find a zippered case that you can use to store the blanket when not in use. Just keep in mind that you need to fold it tight for it to fit back in.
It also comes with instructions that include washing instructions. Both the inner later and outer shell are washable. I would advise washing the outer shell more frequently than the inner part since it is so heavy.
Here's a picture of the blanket out of the packaging. This is a heavy blanket but it doesn't have that much volume and so will look fairly normal on your bed if you are going to use it every night.
Construction of the Luna Weighted Blanket
This blanket is also Oeko-Tex certified meaning it incorporated natural, sustainable materials. This is really the same as a cotton blanket except that there are glass beads inside that create the weight.
Incorporating glass beads is the most common construction for weighted blankets and the best way to evenly distribute weight and allowing the blanket to conform to your body. There are other weighted blankets like Bearaby that use large heavy knit cables which looks great and is breathable but it doesn't conform as well as the Luna.
This blanket looks great and I was impressed with the overall feel. It feels like a nice set of sheets.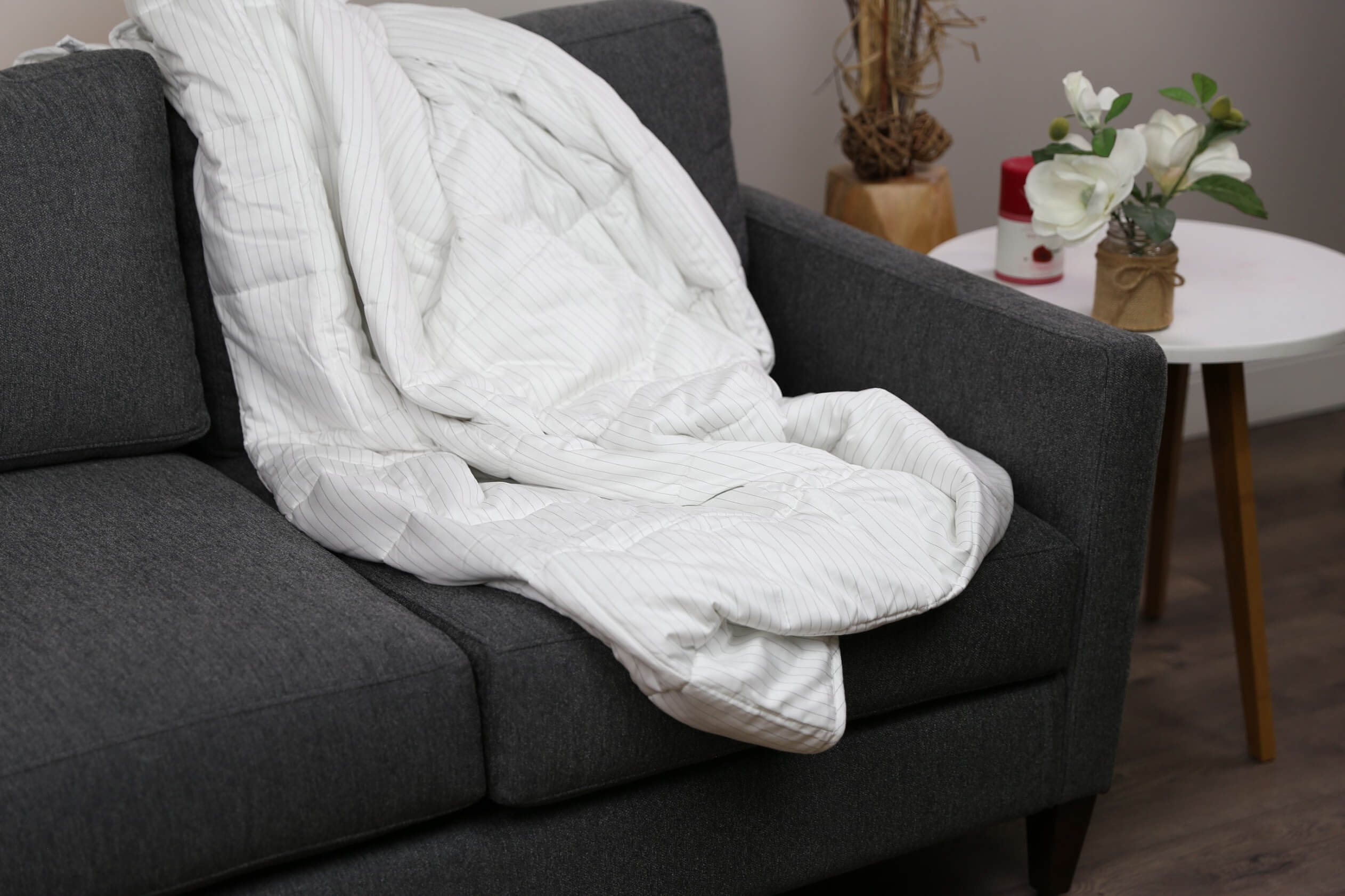 Here you can see me using the blanket. Normally I use a weighted blanket while meditating or lounging on the couch. It can be tempting to purchase a large weighted blanket but you need to keep in mind what you will be using it for. If you will be sleeping with it every night in bed, then a larger blanket makes sense. Although most people use them as a blanket in their living room, in which case a smaller size is more practical. Especially if you will be moving it from room to room or you need to fold it after each use.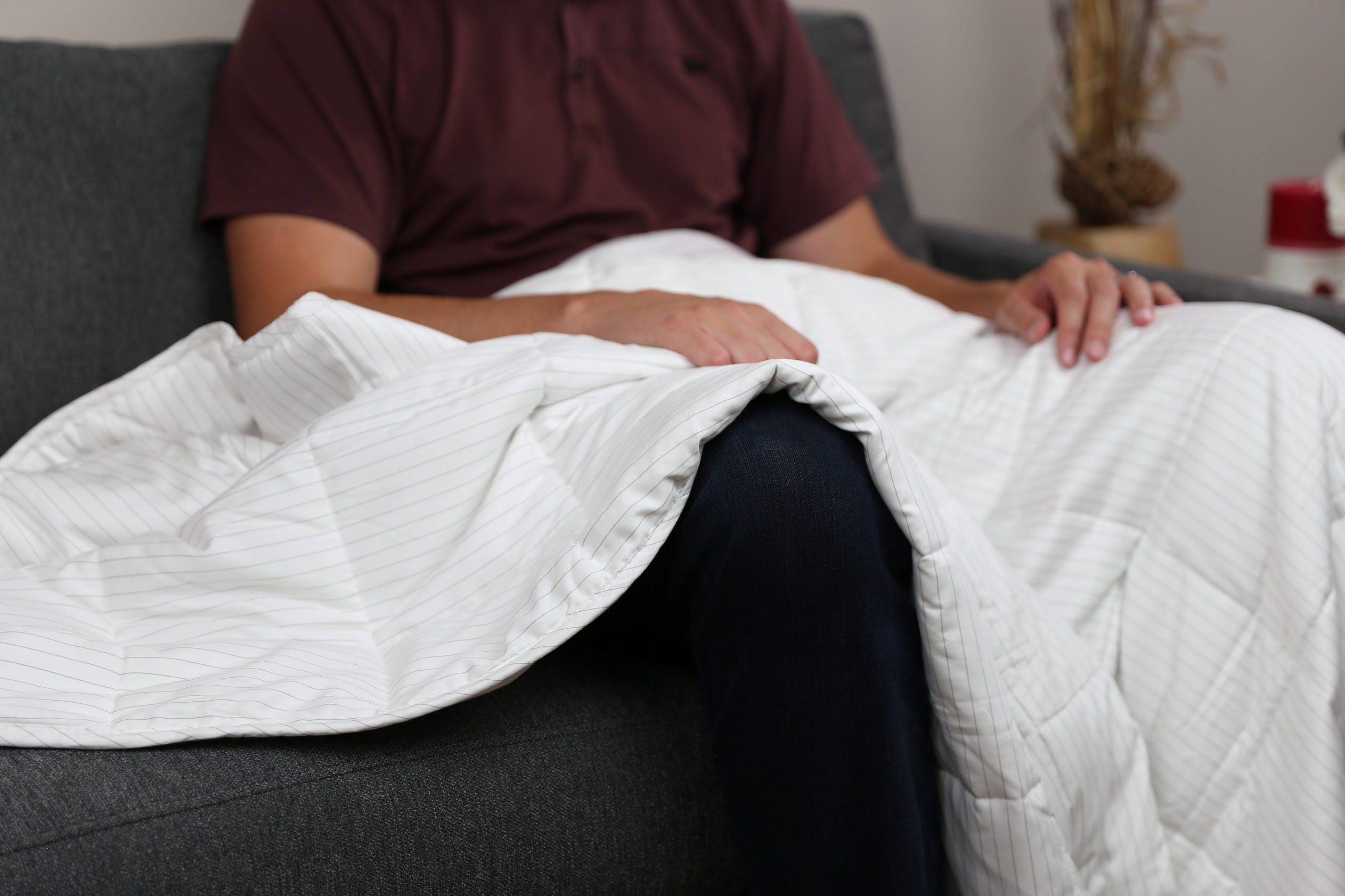 How Much Does the Luna Cost?
The price varies depending on what fabric and size you choose. Their original cotton weighted blanket similar to the one I received starts at $39.99 in a kid's size, if you buy directly through their website. A king-size can go over $130 depending on the weight which makes it an incredible value.
My Luna Weighted Blanket Recommendation
There are dozens of weighted blanket brands to choose from. They have exploded in popularity because they provide immediate relief for anxiety and help you stay relaxed. However, there is no magic to how they work, they are simply heavy blankets. What I look for is quality construction, feel, look and price. Luna checks all these boxes. They have received well over 6,000 positive reviews on Amazon and so it's not just me touting the brand.