[Tagline] I received a queen size Joybed LX for review recently and was glad to finally be able to review a natural mattress made without latex. This is a great choice for people with latex sensitivities that are still looking for a natural mattress. The LX model is the firmest of their offerings followed by the LXC and LXP. Yet none of the models contain latex. Instead, they incorporate layers of wool, cotton and with the LXP, a layer of nano coils to build more cushioning. With a queen size starting at $965, this is a solid price for a natural mattress. Joybeds is a brand started by a mattress manufacturer out of Grand Rapids Michigan with over 100 years experience in the industry. What you get is a solid mattress with a unique construction.
Overview of the Joybed
You can order your Joybed directly from their
website
. It will ship quickly as it is made in the USA and comes with a 120-night trial which means free shipping to you and free returns if you decide you don't like it within the trial period. The mattress will arrive via UPS to your doorstep in a box. This mattress doesn't have foam and so will be ready to sleep on just a few hours after opening. Here's a quick video overview of the mattress.
How Much Does the Joybed Cost?
Below are the prices of the Joybed LX model as listed on their website. [table id=44 /]
Construction of the Joybed
The Joybed LX and the other Joybed models have a fairly simple construction but they are layered in a way to provide good transitioning. Below are the construction details of the LX model as listed on their website.
Fabric Cover Organic Cotton
Inside Material Layers Plant Fiber Cotton Wool Cotton Padding
Innerspring Support Pocketed Coils with Active Edge Support
All the materials come from American suppliers. From the top down:
We start with a top layer of innovative plant fibers woven to provide fire protection, naturally. Without chemicals, potato and bean plants are woven into a layer creating a safe, fire resistant mattress. And because it's plant based, it's also breathable and adds to your sleeping comfort.
Next is a cotton layer we source from a southern, family owned American supplier. Cotton fibers are naturally soft and breathable, allowing air to circulate around your body. The fiber's superior structure helps wick away and release body moisture as you sleep. Your sleep is improved in a dry and comfortable environment which helps you sleep better and wake more rejuvenated in the morning – a key to a healthier life! Cotton is naturally hypoallergenic keeping a clean and healthy sleeping environment without the use of chemicals. In fact, cotton farming is regulated by the USDA as a food crop, in addition to being annually renewable, recyclable and biodegradable. Cotton is also more durable than foam and will hold its loft longer than foam, which compresses faster than cotton over time.
Underneath the cotton is a layer of wool. Unlike synthetic fibers which are smooth, wool fibers have a textured surface that hold large amounts of air serving as a year round comfort layer keeping you cool and dry as you sleep. Wool helps regulate your sleeping temperature by keeping you cool when it's hot and keeping you warm when it's cold. Wool also helps wick moisture away as you sleep keeping you dry. When your body is able to sleep in a breathable bed that's cool and dry, you're able to sleep deeper, longer and awake feeling stronger and more alert. Wool's fiber structure also has the added benefit of being naturally fire resistant. Learn More About Cotton & Wool.
We then put a second, generous layer of cotton.
All of these natural comfort materials are supported by individually pocketed coils that contour to your body and provide proper support. There's also a double column of coils along the outer edges providing robust edge support so you can sit or rest comfortably all the way to the edge of the bed. They're encased in a synthetic wrap, a rare use of man-made materials (less than .01% of the mattress by weight.) We even use a plant based glue to adhere certain materials in the spring system.The number of individually pocketed coils by size:

King 975
Cal King 958
Queen 789
Full 681
Twin 536
My Joybed Findings
Here's what the mattress looks like right out of the box. It will come to shape almost instantly so you can sleep on it in just a few hours. Most foam mattresses take longer to come to shape. You can see in the picture below that it is not folded, just rolled. This eliminates the potential for any creases in the mattress.
Here's a photo illustrating how much the mattress sinks using my 14 lb. bowling ball. The LX model which I received is their firmest and they rate it a 3.5 out of 10 with 10 being the softest and I would say that's an accurate assessment.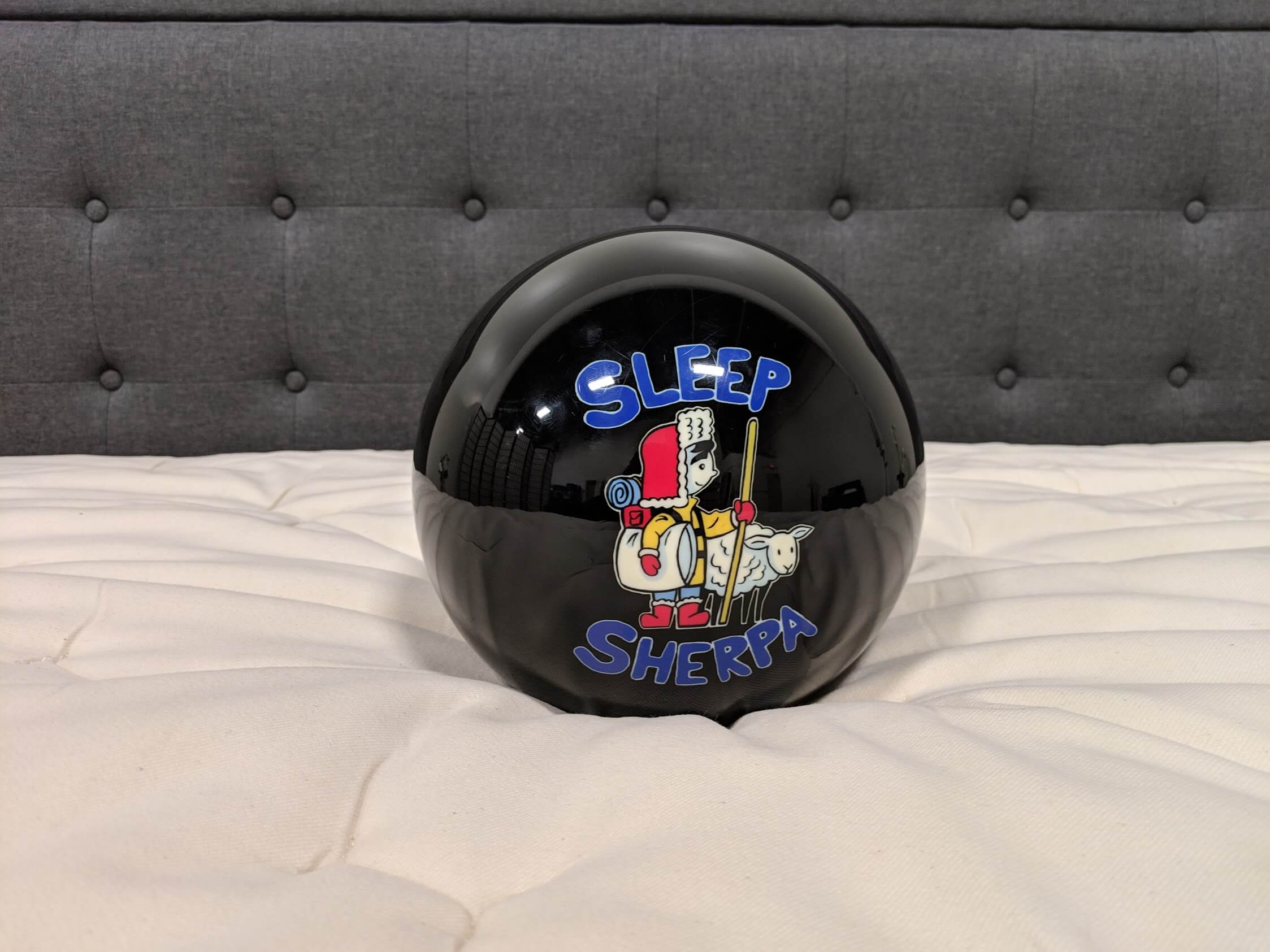 The video below illustrates motion transfer on the Joybed mattress. Although it has springs, the pocket coil system is designed to isolate motion. You will get a bit of motion transfer but not all that much. Here's a look inside the Joybed LX where you can see the layers in more detail. The main comfort layers are cotton and wool with the springs providing support and contouring. Compared to a spring and latex mattress, this mattress doesn't have as much bounce or sink to it.
Here's a view showing edge support. This mattress was designed to have a double column of coils around the perimiter for better edge support. This way you get to maximise the sleeping area of the mattress. Many people I have spoken with prefer to sleep right up to the edge. And because there isn't foam or latex to provide extra sinking, this is the ideal mattress for that.
My Joybed Recommendation
The Joybed is a great choice for people looking for a natural mattress without foam or latex. It's hard to find this construction among the online brands but Joybed is now a great choice. If the firmness of the LX isn't attractive to you, take a look at the LXC and LXP models. The LXC is a Vegan-Friendly mattress, made without wool but also softer giving you a medium firm feel. If you prefer plush, go with the LXP which adds in nano-coils to provide extra sink and contouring to mimick a latex feel.
Learn more about Joybeds