[Tagline]
The Helix Plus is a spring and foam hybrid mattress designed to give heavier sleepers proper support and pressure relief throughout the night. Because it was designed with plus size sleepers in mind, it should also last longer than a traditional mattress. A queen size currently retails for $1,190 but there are discounts available here to make it an even better deal. In keeping with Helix's philosophy of custom comfort, they also offer the option to buy a cover that is cool to the touch helping you fall asleep just a little bit faster.
Overview and Ordering the Helix Plus
The Helis Plus is available exclusively through the Helix website. It comes with a standard 100-night trial where you can return it for a full refund within 100 nights of using it, that includes free shipping to you and free returns. It also has a 10-year warranty. This mattress comes shipped in a box like the one below. 
How do helix mattresses ship such a heavy mattress in a box this size? They use multimillion-dollar equipment to precisely package and vacuum seal these mattresses so they can be shipped without damage. 

When you open the box, you will find a nice little manual about the mattress.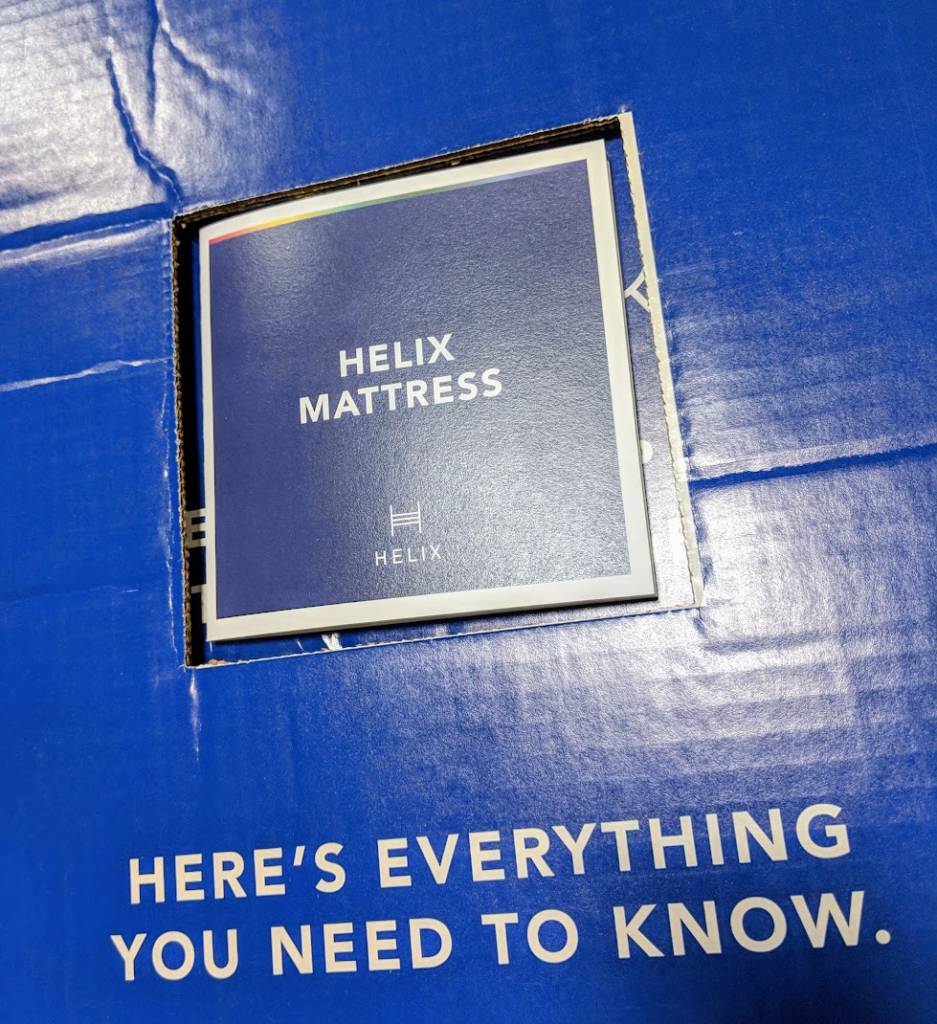 Here's what it looks like compressed and out of the box.
It doesn't take long for this mattress to come to life. The spring system is engaged immediately and the top layers of foam will take a few hours to fully expand but if needed you could sleep on this mattress within 3 or 4 hours. It will take a full day for it to fully expand though.
Here's a quick video explaining some of the features of the Plus.
Construction of the Helix Plus
Below are the construction details as listed on the Helix website.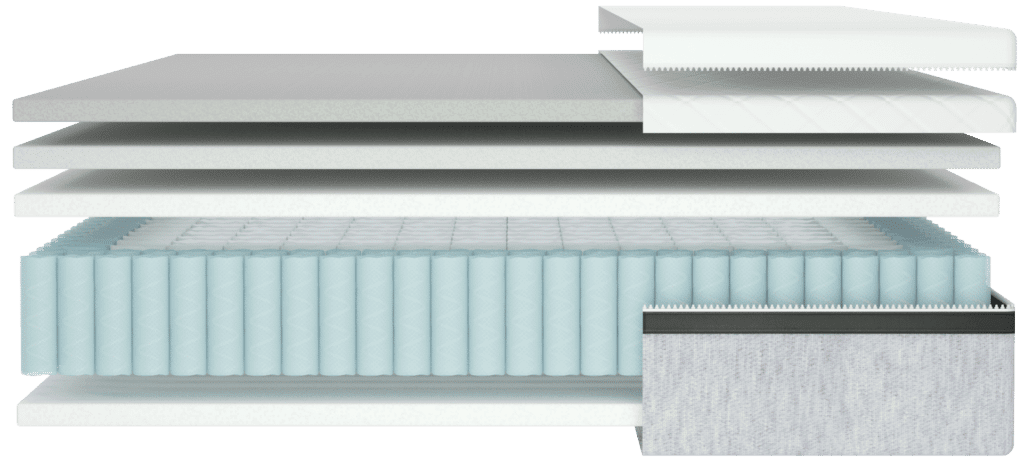 Cover: Helix Two Touch Design
Each mattress comes with a top cover layer with stretch and a soft touch as well as a lower cover layer for airflow and breathability.
Comfort Layer: Helix Dynamic Foam
Our special latex-foam hybrid alternative, designed to be denser to contour to your body. Medium feel. Density: 3.75 PCF.
Comfort Layer: Ultra Dense Memory Foam
Uniquely pressure relieving, we use Memory Plus Foam – a special Helix blend. Density: 4.0 PCF.
Transition Layer: High-Grade Polyfoam
Providing ergonomic support and cushioning, the transition layer has a higher IFD to match your body type. Extra support.
Body Shape Layer: XL Wrapped Coils
Hundreds of individual taller coils designed to cradle and support heavier weight. Reinforced perimeter to provide edge support.
Base Layer: DuraDense Foam
The bottom foam layer of the mattress provides base support and durability to the entire mattress.
Here's what the inside looks like.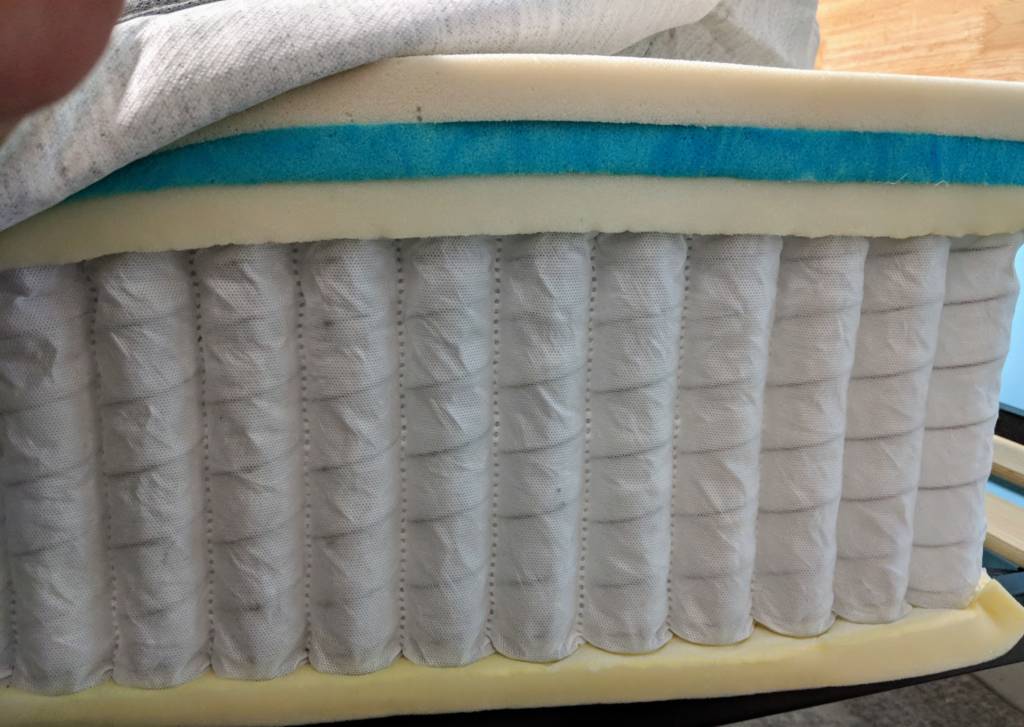 How Much does the Helix Plus Cost?
Here are the latex prices and price after discount.
[table id=18 /]
My Helix Pus Findings
I have reviewed other mattresses for plus size sleepers including the Big fig and Winkbed Plus. In comparison to these, I found the Plus to be a bit softer. I weigh about 200 lbs. so I may not qualify for a heavy sleeper but in comparison to the other mattresses, this did feel softer.
The picture below shows how much sink you get with a 14 lb.s bowling ball.
Here's another shot of sinkage towards the edge of the mattress. The coil system in this mattress uses a heavier gauge coil around the perimeter for better edge support so you can use the entire mattress and sleep right up to the edge.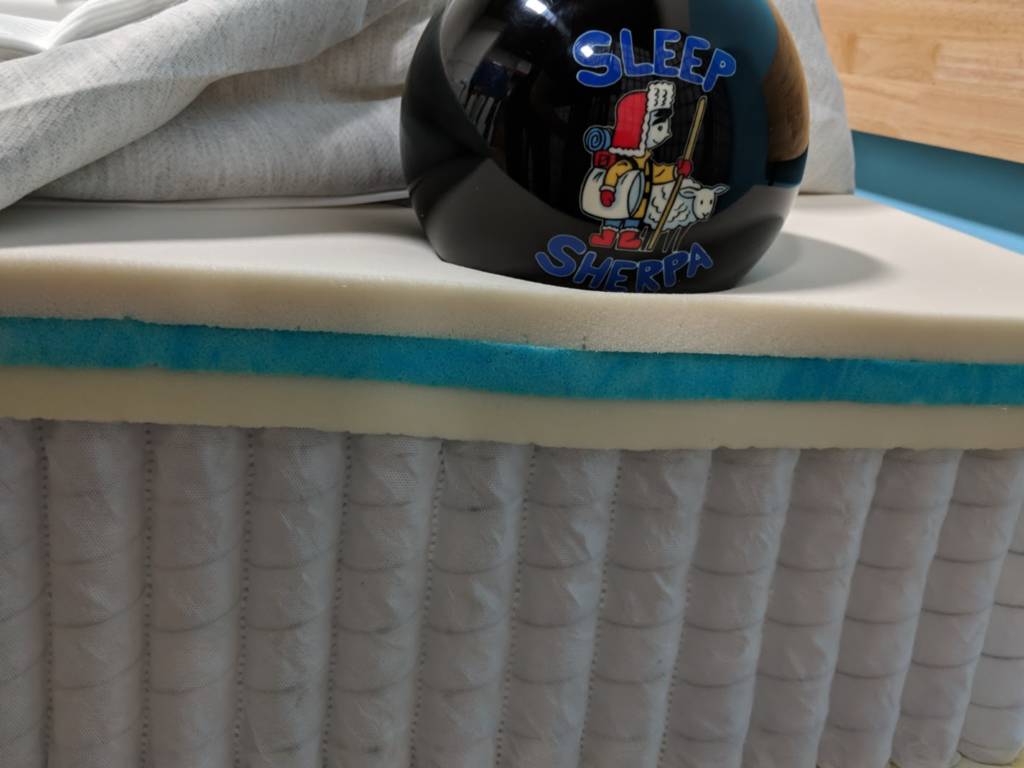 Here's a video illustrating motion transfer on the mattress. You will get some motion transfer because of the coil system but they are pocket coils and move independently so not as much as you would with a traditional coil system.
Here's a look at the inside of the mattress so you can see how each layer responds.
This mattress has a removable cover that could be washed or switched out for the cooling cover. The, "Ultra-Cool Cover" is an extra $125.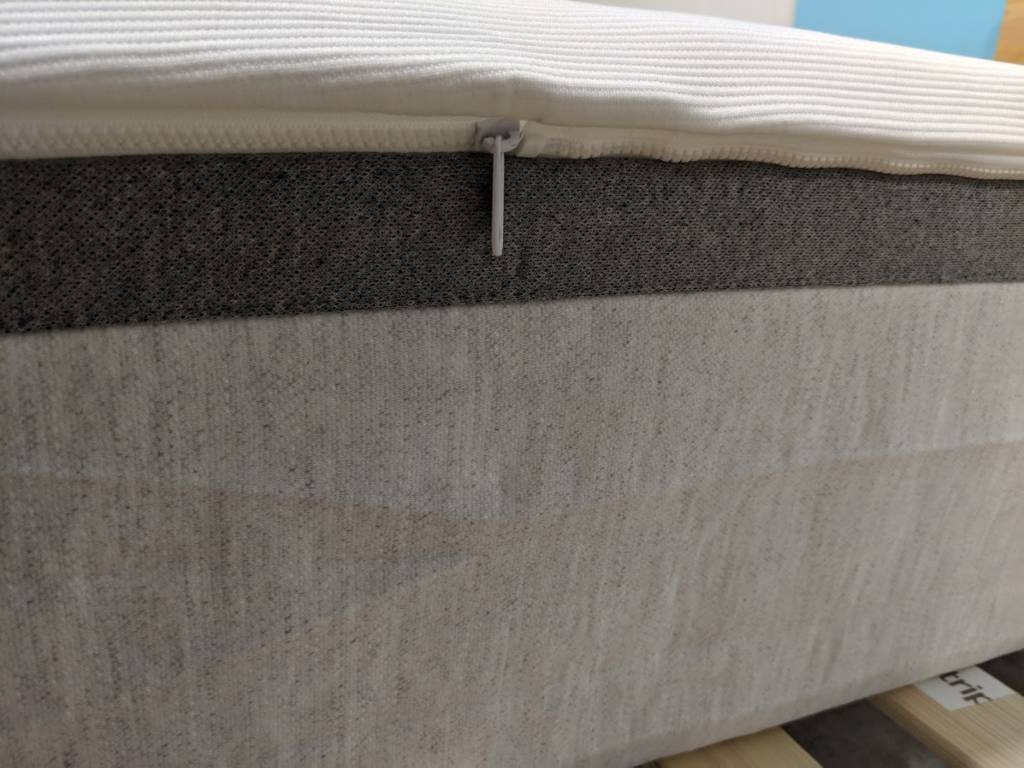 Helix Nightfall vs Winkbed Plus
Both the Helix Nightfall and Winkbed Plus are designed for heavy sleepers but there are some distinct differences. The Winkbed Plus is made with foam, spring and latex while the Helix Nightfall is made with Springs and foam. 
The Helix Nightfall is considerably softer than the Winkbed Plus and so is not ideal for stomach sleepers. Stomach sleepers should instead take a look at the Winkbed Plus. 
There are more foam layers at the top of The Helix Nightfall than the Winkbed Plus but the Winkbed Plus has quilted foam in the cover to give it a pillow top feel. 
The Helix Nightfall weight limit is 1,000 lbs. while the Winkbed Plus weight limit is 900 lbs so advantage Helix Plus. Compare this to the Big Fig weight limit which is 1,100 lbs. but is also the firmest of the three mattresses for heavy people. 
The Helix Nightfall, Big Fig and Winkbed Plus are the best hybrid mattresses for heavy people due to their high density foam layers, heavy duty coils. 
The He
Here's what it looks like underneath the top cover. There's another cover underneath this to provide more breathability so that you aren't directly under the foam.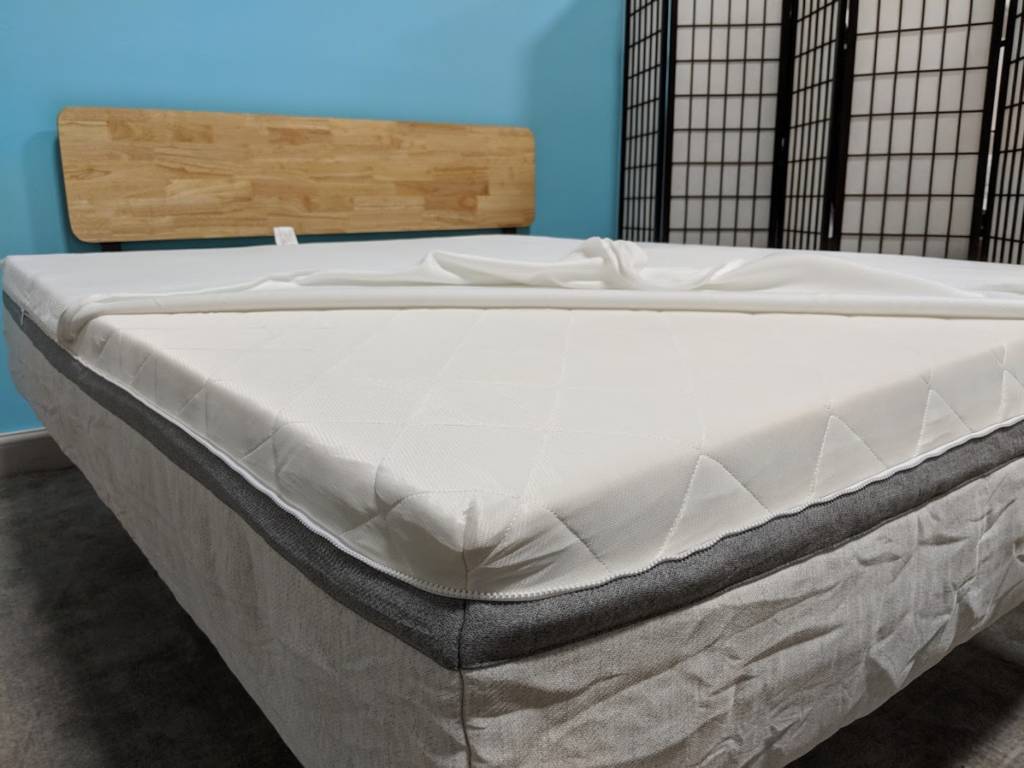 My Helix Plus Recommendation
If you are a heavier sleeper and are frustrated with the lack of options out there, the Helix Plus is a welcome addition. It provides a softer feel with great pressure relief without sacrificing durability. The construction is well thought out in that the coil system provides great cradling of your body. The ultra-dense foams will hold up well over time and won't feel too firm because of the cushioning you get from the coils.
Overall if you are a heavy sleeper, over 250 lbs. and looking for a softer cozier mattress that is breathable and still offers great support, the Helix Plus an excellent choice.
Helix PLUS Mattress: Frequently Asked Questions
1. What is the Helix PLUS mattress?
The Helix PLUS is a specialized mattress offered by Helix Sleep. Designed with maximum support in mind, this mattress is targeted towards plus-size sleepers and those who prefer a more robust, firm sleep surface.
2. What materials are used in the Helix PLUS mattress?
The Helix PLUS mattress is a hybrid design combining several layers of high-quality materials. From top to bottom, these include a Tencel cover for cooling and moisture wicking, a comfort layer of Helix Dynamic Foam, a layer of Ultra-Dense Memory Foam for pressure relief, high-grade polyfoam, and a base of individually wrapped XL coils for added support. It also features a layer of DuraDense Foam for added durability.
3. What sizes is the Helix PLUS available in?
As of my knowledge cutoff in September 2021, the Helix PLUS is available in all standard sizes: Twin, Twin XL, Full, Queen, King, and California King.
4. How firm is the Helix PLUS mattress?
The Helix PLUS is rated as a medium-firm mattress, falling around 7 on the firmness scale where 1 is extremely soft and 10 is extremely firm. This makes it suitable for sleepers who prefer a firmer surface and need added support.
5. Is the Helix PLUS mattress suitable for side sleepers?
While comfort is subjective and depends on individual preferences, the Helix PLUS's medium-firm feel and high-density memory foam layer can provide the pressure relief necessary for side sleepers. However, individuals who prefer a softer mattress might find it a bit firm.
6. How does the Helix PLUS handle cooling?
The Helix PLUS mattress includes several features that assist with cooling. The breathable Tencel cover and the Helix Dynamic Foam layer are designed to promote airflow and wick away moisture. The innerspring layer further aids air circulation, keeping the mattress cooler than all-foam counterparts.
7. Can you try the Helix PLUS mattress before you buy it?
Yes, Helix Sleep offers a 100-night sleep trial for the Helix PLUS mattress. This means you can try the mattress at home to make sure it's right for you. If it's not, you can return it for a full refund during this period.
8. What is the warranty on the Helix PLUS mattress?
The Helix PLUS mattress comes with a 15-year limited warranty. This covers certain defects in materials and workmanship. Be sure to read the full warranty for all the details.
9. Where can I buy the Helix PLUS mattress?
You can buy the Helix PLUS mattress directly from the Helix Sleep website. The company offers free shipping in the United States. Be sure to check if any brick-and-mortar stores carry the Helix line if you prefer to try before you buy.
10. How is the Helix PLUS mattress delivered?
The Helix PLUS mattress is a bed-in-a-box model, which means it's compressed, rolled, and shipped in a box to your door. After unboxing, it will expand to its full size.
Helix PLUS Mattress: Pros and Cons
Pros:
1. Designed for Support: The Helix PLUS mattress is built specifically to cater to plus-sized sleepers or those who prefer a firmer feel. Its reinforced support system, including the layer of XL wrapped coils and high-density memory foam, provides excellent contouring and weight distribution.
2. High Durability: Thanks to its robust construction, including a layer of DuraDense foam, the Helix PLUS mattress has a reputation for long-lasting performance. It's designed to resist sagging and maintain its shape over time.
3. Excellent Edge Support: The Helix PLUS provides superior edge support compared to many other mattresses, thanks to the reinforced perimeters in the coil layer. This feature is especially beneficial for people who often sit on the edge of the bed or sleep near the edge.
4. Cooling Properties: With its breathable Tencel cover and open-coil design promoting airflow, the Helix PLUS mattress can help maintain a cool sleep environment, an asset for those who tend to sleep hot.
5. Trial Period and Warranty: Helix offers a 100-night sleep trial and a 15-year warranty, allowing customers to test the mattress and have long-term peace of mind about their purchase.
Cons:
1. Potentially Too Firm for Some: While many appreciate the support offered by the Helix PLUS, it may be too firm for some sleepers, particularly those who prefer a plush, soft feel or lightweight individuals who might not compress the mattress enough to benefit from its conforming properties.
2. Motion Isolation: Although the Helix PLUS does a decent job at limiting motion transfer due to its hybrid construction, all-foam mattresses generally perform better in this aspect. This could be a minor drawback for light sleepers who share the bed.
3. Limited In-Store Availability: Helix primarily sells online, which means customers usually can't try the mattress in a store before buying.
4. Initial Off-Gassing: Like many bed-in-a-box mattresses, the Helix PLUS may emit a slight off-gassing odor when first unboxed. However, this smell is non-toxic and typically dissipates within a few days.