Recently updated on June 4th, 2021 at 07:11 pm

Get 25% off Store Wide at checkout Activate Here
Nothing is more important than good sleep, and nothing is more important for a good sleep than a good solid mattress that just knows your body and sleep style. A good mattress makes the difference between a deeply healthy, relaxing sleep and a night spent restlessly tossing and turning on the bed.
Country Living has been making its name in the mattress world for quite some time now. They are one of the most popular brands out there. Their mattresses are renowned for a high quality that matches a high value for money segment. They offer you a super-supportive mattress that does not compromise on style and comfort, making it the perfect bid for any mattress hunter out there. This review will take you through the different mattress types offered by Country Living, helping you decide which one fits your preference perfectly.
About Country Living
Country Living is a magazine that focuses on all things home and home furnishings. It focuses more on rustic living and stays true to its name, "Country Living." First published in Dec 2015, this magazine has since then branched into digital publications and stays on top of all country trends. Reach out for this if you want a good country recipe to jazz up that lovely dinner set you purchased or dazzle your friends with the stylish country decor inspired by one of their articles.
Recently this hugely popular lifestyle and furnishing magazine have launched their very own in-house range of Welcome Home Mattresses. These mattresses are meant to inspire a country-style rural living streak into your urban space. The mattress is ideal for both farm and city dwellers looking for a good comfortable mattress to sum up their bedroom furnishings.
The Welcome Home Country Living Mattress Collection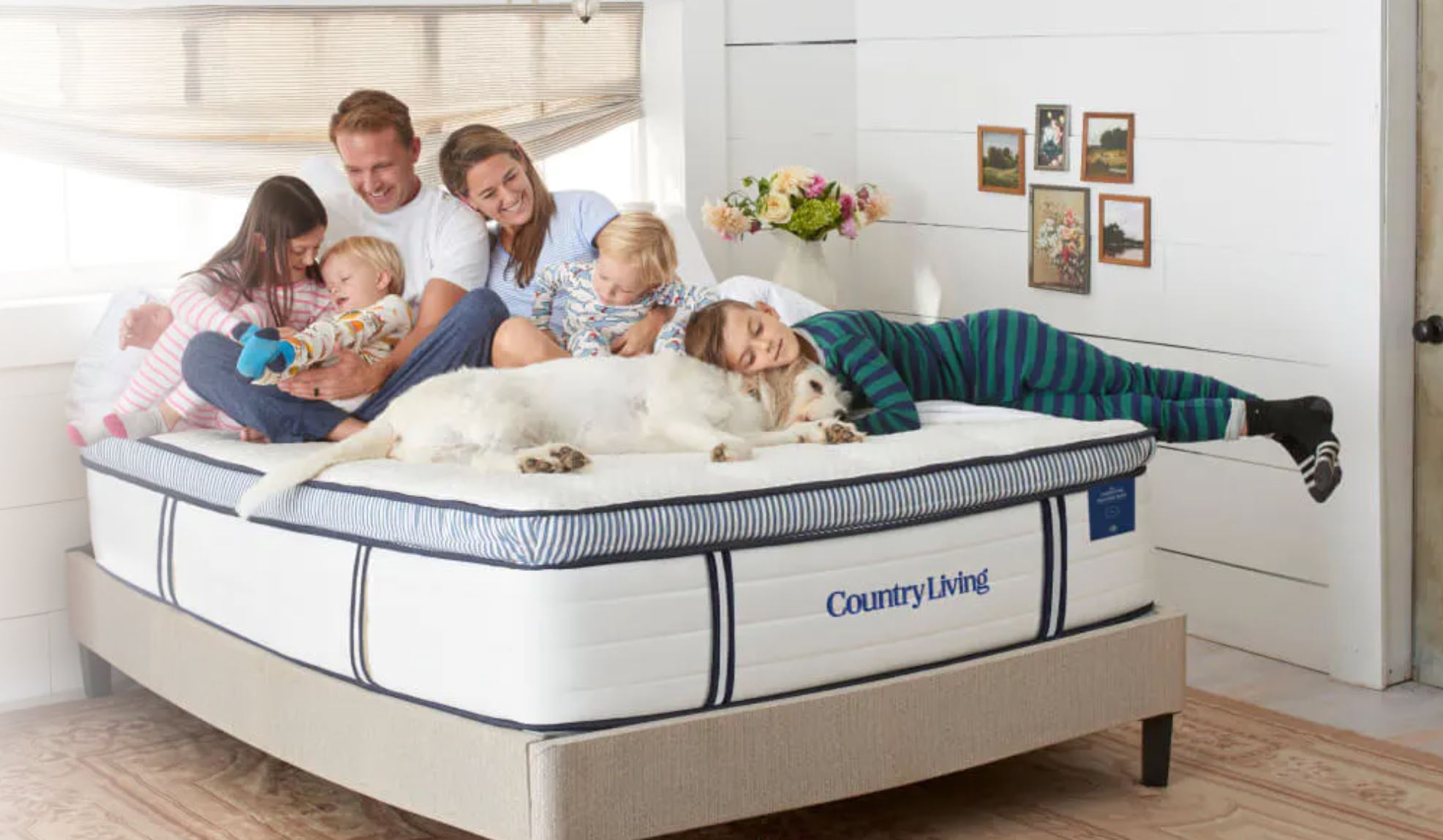 | | |
| --- | --- |
| Pros | Cons |
| Perfect for all seasons | It tends to sag on the edges |
| Good bounce | High price point |
| Perfect comfort and support balance | |
The Napa mattress in the Welcome Home Collection of Country Living is their plushest and most luxurious mattress on offer. The mattress spells indulgence with its 16-inch depth that is made up of 8 amazing layers to offer you the best cozy wrap-around feeling you can get. The mattress features a two-coil system that gives you optimal support and keeps those aches and pains at bay. This, combined with the pillow top style, ensures you feel like you are sleeping on a cloud every single night.
The materials used as well as the structure of this 16-inch mattress, ensures that it remains warm during winter and cool during summers. It also maintains the optimal body temperature regulation system during those hot and sticky humid monsoons. The firmness is customizable as per your preference, and this mattress is available in 6 standard sizes.
Features
1 Inch Memory Foam Infused with Copper
1-inch High-Quality Poly Foam Layer
2 Inch Titan Hyper-Flex Foam
1 Inch Micro Coil
9 Inch Supportive Coil Mechanism
Breathable Cooling Cover
1 Inch Firm Base Support
Available in 6 Sizes
Lifetime Warranty
Here's a video overview of the Hudson Mattress
| | |
| --- | --- |
| Pros | Cons |
| Customizable level of firmness | The price point is not competitive |
| Available in all sizes | |
| Good back and shoulder support | |
This is a 13-inch mattress with a pillow top style that will transport you straight to a lush and tranquil green forest reserve. It is a mid-level mattress that lies between the other two mattress types offered by Country Living. It is crafted with 4 inches of memory foam that remembers your body curves perfectly supported with another 8 inches of the coil to give you perfect balance between comfort, support, and bounce.
The materials used in the mattress are all responsibly sourced. The outer quilting is cotton, and the mattress layers include the cotton quilt, two different types of foam, and high-density polyfoam. Needless to say, this ensures that the mattress does an excellent job of temperature control. You can choose your level of firmness, but the best reviews are with the medium level of firmness. Country Living has the best in between the two sides of firmness with the medium firm. Added to this is the best back support you can get from a mattress. This makes the "Hudson Mattress" a sure shot winner for one and old.
Features
1 Inch Memory Foam Infused with Copper
2-inch Medium Density Poly Foam Layer
Cotton Quilted Cooling Cover
2 Inch Double Stitched Quilting
8 Inch Zoned Coil Mechanism
1 Inch Firm Base Support
Available in 6 Standard Sizes
Lifetime Warranty
Here's a video overview of the McKinney mattress.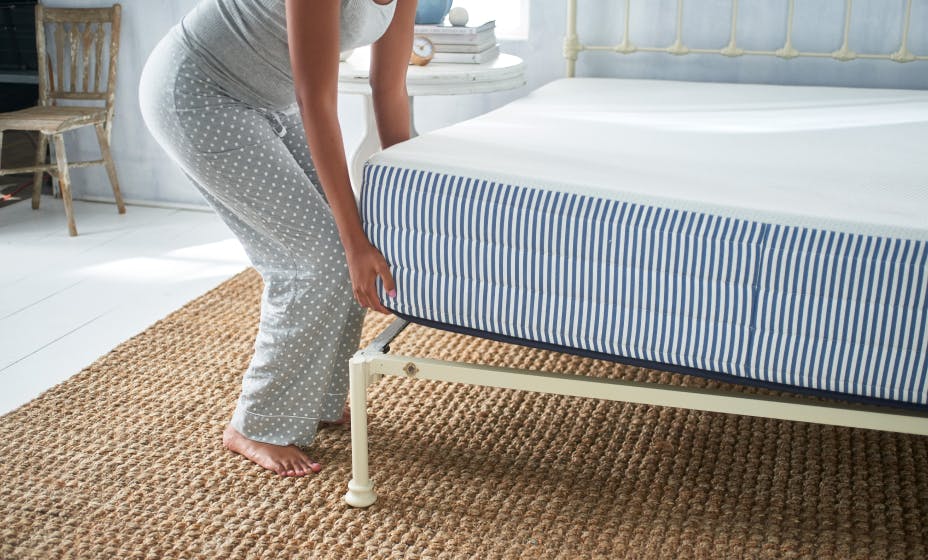 | | |
| --- | --- |
| Pros | Cons |
| Ideal for kids and adults alike | Loses the bounce very quickly |
| High back support | |
| Good durability | |
If you are looking for a durable mattress that will stick around for some years without any major issues, then the McKinney mattress is just the thing for you. It effortlessly combines support, style, and good comfort.
The two-layer foam construction allows for good air circulation, making it a good choice for any season. The mattress comes with 3-inch foam that is infused with copper to give you a fresh crispy temperature regulation that stays through the years. Further, the 1-inch cooling gel-infused foam makes body temperature regulation even better by drawing the heat away from your body while you sleep. You are no more waking up at night to find yourself covered in sweat.
Features
Cooling Cotton Cover
3 Inch Copper Infused Top Foam Layer
1 Inch Gel Infused Foam
8 Inch Support Foam Core
Available in 6 Sizes
Lifetime Warranty
Common Features of the Country Living Mattresses
One of the biggest drawbacks of buying online is that the mattress comes to your doorstep packed, and you need to carry it inside and unbox it. Then you have to place it properly on the bed. This process can be tiresome and tedious, not to mention back-breaking for quite a few.
With Country Living, you do not have to worry about that account. The mattress comes to you rolled up in a casing in a dehydrated form. You can easily carry it inside and place the rolled up matter on the bed. Then cut the wrapping around the mattress and wait for it to inflate to the proper size. The whole process is very easy and highly convenient.
Apart from this, each of these lovely mattresses is made 100% in the USA. They also come with the best free night trial offered by any brand in the USA. You get a good 18 months trial period with any of these mattresses and a full refund if you return them within the trial period. All you have to do is raise a return request, and the mattress is picked up by the company at no extra cost to you. They are also all available in the standard six sizes from twin to cal-king, and the level of firmness is also customizable with each one.
Wrapping Up and Final Thoughts on the Country Living Mattress
The Welcome Home mattress range from Country Life is truly a mattress that welcomes you back. All three types of mattresses are perfect for a good night's rest and combine the key elements of balance and support perfectly. They are also durable and customizable, which adds to their high value for money.

Get 25% off Store Wide at checkout Activate Here