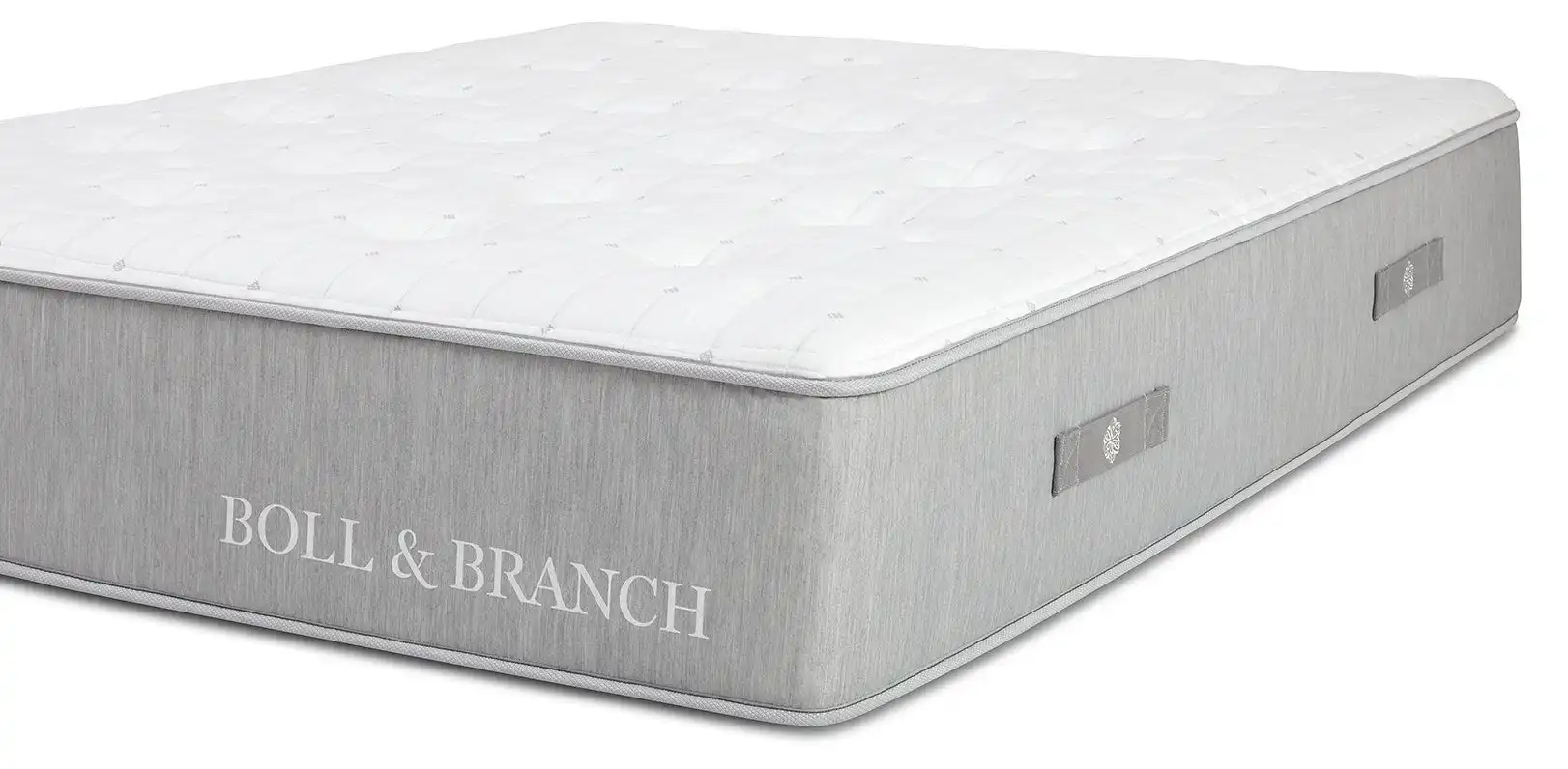 In an industry often characterized by overstated promises and underwhelming realities, the Boll & Branch Mattress emerges as a distinct offering that combines comfortable sleep, reliable support, and sustainability in an exemplary manner.
The first thing that captures attention is the bed's thoughtful design, aimed at delivering a restful, undisturbed sleep night after night. The mattress's handcrafted tufting not only adds to its aesthetic appeal but also keeps the layers intact, preventing any lump formation or unwanted shifting over time.
Crafted with four unique layers, the Boll & Branch Mattress ensures a balanced blend of comfort and support. The top layer, comprised of organic wool and poly fiber, strikes an effective temperature balance, keeping you warm in winters and cool in summers. It further acts as a natural flame retardant, a safer alternative to chemical flame barriers found in many other mattresses.
The second layer is where the comfort truly starts to seep in. The layer of graphite-infused natural latex, besides being naturally hypoallergenic, offers a cushioning effect that instantly relieves pressure points. With a medium-firm feel, it contours to your body's natural shape, allowing for restful sleep with minimal disturbances.
The mattress's core is formed by the third layer, a system of individually pocketed coils. Arranged in five ergonomic zones, these coils ensure an optimal balance of support and flexibility, reinforcing the mattress's medium-firm comfort rating. Moreover, the edge-to-edge coil support promotes an even sleeping surface and increases the usable bed space.
The last layer, a layer of high-density polyfoam, forms a sturdy base for the mattress, adding to its durability and stability. It works in tandem with the coil system to provide overall structural support to the mattress, ensuring it retains its shape and support over the years.
The mattress's eco-credentials are impressive too. Boll & Branch utilize only ethically sourced, GOTS (Global Organic Textile Standard) certified organic cotton, and latex in their mattress. This dedication to sustainability sets them apart in an industry not well-known for its environmental considerations.
Another aspect worth mentioning is the brand's commitment to customer service. With a generous 100-night trial period and a 10-year warranty, Boll & Branch stands firmly behind the quality and durability of their product.
However, some users may find the Boll & Branch Mattress's premium pricing a drawback. Nevertheless, for those who value quality sleep, eco-friendly materials, and lasting durability, the mattress's high cost might well be a worthwhile investment.
In conclusion, the Boll & Branch Mattress is a commendable combination of comfort, support, and sustainability. It offers a premium sleep experience, aligns with eco-conscious values, and is backed by a confident warranty. Its price may be on the higher end of the spectrum, but for those who value sleep quality and sustainability, it's a price worth paying.
Boll & Branch Mattress vs. Avocado Mattress
In the world of premium, eco-friendly mattresses, two names that consistently crop up are Boll & Branch and Avocado Green. Both are renowned for their commitment to sustainability, quality craftsmanship, and customer service. While they share similarities, they also offer unique characteristics worth exploring to make an informed buying decision.
Let's delve into this detailed comparative review.
Comfort & Support:
The Boll & Branch Mattress focuses on medium-firm comfort with its four-layer design: a wool-poly fiber top, a graphite-infused latex layer, a zoned pocketed coil system, and a high-density polyfoam base. This combination results in a balanced comfort level with optimal support for the spine and effective pressure point relief.
On the other hand, the Avocado Green Mattress features a similar structure with an organic cotton cover, a layer of organic wool, Dunlop latex, and a zoned pocketed coil system. However, Avocado's mattress tends towards the firmer side, providing extra support but potentially lacking in plushness. An optional pillow-top version is available for those seeking a softer feel.
Materials & Sustainability:
Both companies utilize GOTS certified organic cotton and latex, standing firm on their commitment to eco-friendliness. Boll & Branch edges out slightly with its graphite-infused latex, providing a unique approach to temperature regulation. Avocado, however, offers eco-conscious consumers an option with vegan certification, replacing the wool layer with organic cotton in the Vegan Mattress variant.
Durability & Warranty:
When it comes to durability, both mattresses stand their ground. The Boll & Branch's handcrafted tufting and solid polyfoam base ensure long-lasting durability, while Avocado's robust coil system and Dunlop latex layer contribute to an extended lifespan. Both companies offer a 10-year warranty, a testament to their confidence in the product.
Price:
Boll & Branch tends to be on the pricier side, reflecting its high-end positioning. Conversely, Avocado offers a more affordable premium option. While the optional pillow-top variant increases the price, it still comes in under the cost of a Boll & Branch Mattress.
In summary, the choice between Boll & Branch and Avocado Green largely depends on individual preferences and budget. If you prefer a medium-firm comfort with premium service and cost isn't a concern, Boll & Branch may be your go-to option. However, if firm support, vegan options, and a lower price point hold more sway, Avocado Green would be an excellent choice.