Recently updated on February 12th, 2020 at 08:04 pm
4Sleep is no more! Check out the Tuft & Needle Mint instead.
4Sleep mattress is the newest online mattress startup to come on the scene and I was given a free 4Sleep mattress to review. They are located out of Peachtree Georgia. Given I have already reviewed many bed in a box startups, I was hoping that this mattress would have something new to offer, and it did.
Ordering the 4Sleep Mattress
It's super easy to order a 4Sleep mattress. Just go to their website, pick your size, enter your credit card number and address and voila, a new mattress will arrive at your doorstep in about a week.  It is sent with tracking information so you will get an update when it will be delivered so you can be prepared. It is a seamless process.
Unboxing
The 4Sleep mattress comes in a very nice box as seen below. It even comes with some bonus gifts.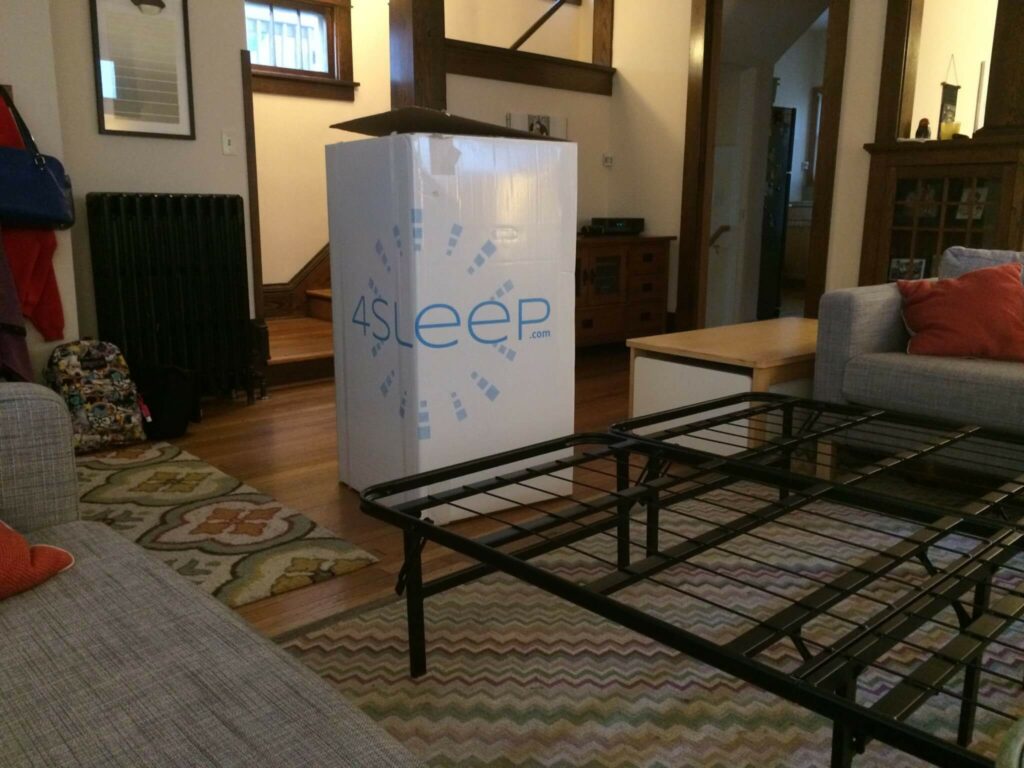 What's this?
Its a microfiber case that works perfectly for an iPad or iPad nano! Below is a picture of it with my iPad nano. So nice, I can always use more microfiber cloths to clean my screens.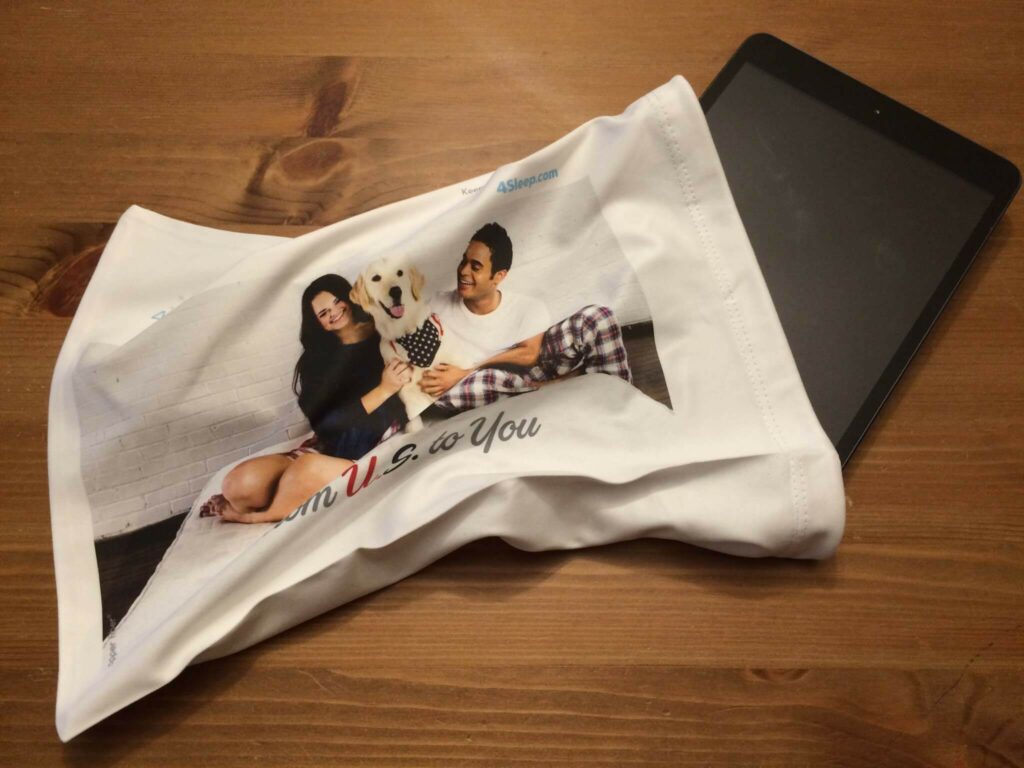 Here's a video of part of the unboxing process. It is basically the same as all the other mattresses in a box I have opened.
Construction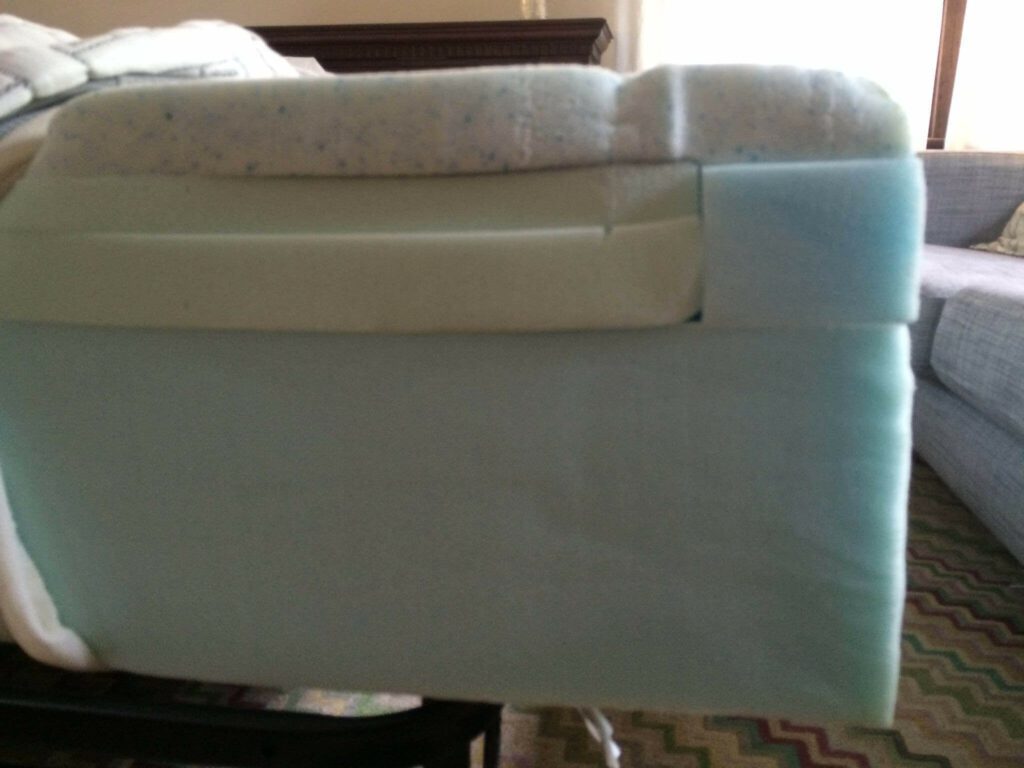 The 4sleep mattress has layers of material as well as a piece of sturdy foam along the sides of the mattress to keep it from sagging and from you rolling off it at night.
Here's a detailed explanation of the 4 layers according to their website:
Top Temperature Responsive Gel Memory Foam Layer:
Maintains the ideal temp zone for optimal sleep, adapts to body contours for relief in pressure-sensitive areas, eliminates discomfort for less tossing and turning.
Second Motion Control Layer:
Motion boosting + energy absorption for the double whammy of minimized motion transfer between partners while still allowing great bounce.
Third Super Resiliency Layer:
Prevents sinking and cratering, maintains correct body alignment.
Premium Foam Base Layer:
Maintains the correct balance between conforming comfort and proper support. Ensures mattress endurance and longevity.
Built-in Side-to-Side Edge Support:
You won't sink, slide or roll off the mattress. This added benefit is not available in most other foam mattresses.
It also has a removable cover that has a zipper on the bottom of the mattress. I really like the design of the mattress at it gives you a sense of texture. It cover is very breathable and looks great.
The side edge layer is a  nice touch. Making the edges just a bit firmer makes the mattress more sturdy and won't make you fell like you're going to fall off the mattress.
Here's a video from the company that goes into the layers in a little more depth.
Findings
I sleep great on this mattress. To give you some context is was softer than the S Bed but harder than the Leesa and Yogabed. This bed also has less bounce to it than the Leesa, YogaBed and Nest Beds. Here's my bowling ball video that test bounce and motion transfer.
As you can see there is very little motion transfer here. Great if you have a partner that gets a little restless during the night however you aren't going to sink into the mattress and have to dig yourself out.
This mattress lives up to its claims and comes in at 11 inches in depth. That's more depth than many of the mattresses I reviewed. While depth doesn't always equal quality, it is certainly a good indicator.
4sleep mattress recommendations
The 4Sleep is an excellent mattress. With some mattresses, you really can't feel the different layers. Not so with 4Sleep. You can tell that each layer is working to provide either support or pressure relief. The mattress does a good job with heat dissipation which is hard to accomplish with memory foam and even harder given the amount of layers it has. This mattress has great aesthetics and a solid 90 day return window for you to fully try it out and make a sound decision. While is slightly pricier than the other competitors, its a marginal difference considering it should last you 8-10 years.
Disclosure: We aim to highlight products and services you might find interesting, and if you buy them, we may get a small share of the revenue. I have an affiliate relationship with 4Sleep.